A customized print-friendly version of this recipe is available by clicking the "Print Recipe" button on this page.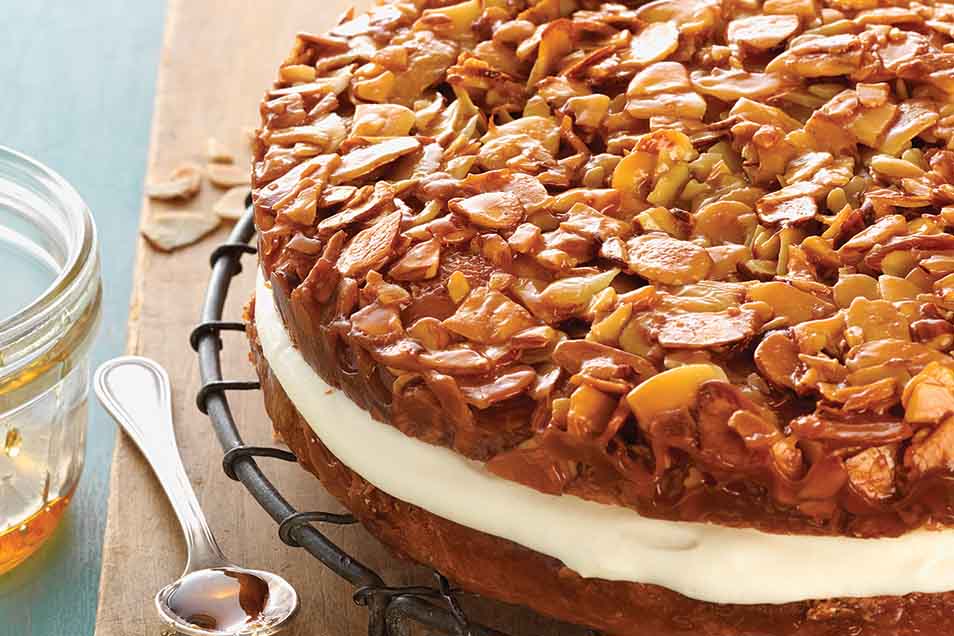 One popular offering at our cafe in Norwich, Vermont is Bienenstich, a yeasted, buttery pastry dough, German in origin, filled with a rich vanilla custard cream, and topped with honey-glazed sliced almonds. Enjoy a sliver with your afternoon coffee or serve as a fitting end to a light early-summer dinner.

Our home-size version was inspired by a recipe in Modern Baking magazine.
Ingredients
Topping
3/8 cup (6 tablespoons) butter
1/3 cup sugar
3 tablespoons honey
2 tablespoons heavy cream
1 1/2 cups sliced almonds
Filling
2 teaspoons unflavored gelatin (about 2/3 of a packet, or 3 to 4 sheets)
2 tablespoons water
1 cup heavy cream, whipped to very soft peaks
3-ounce package instant vanilla pudding mix
1 1/2 cups milk
1 teaspoon vanilla extract
Instructions
To make the dough: Combine all of the dough ingredients and mix, then knead — by hand, mixer, or bread machine — until the mixture forms a smooth, supple dough.

Place the dough in a lightly oiled bowl, turn to grease all sides, cover the bowl with a proof cover or plastic wrap, and let it rise for 60 minutes, until it's puffy.

To shape the dough: Transfer the dough to a lightly oiled work surface, fold it over to expel any excess gas, then divide it in half. Roll each piece into a ball, then pat and stretch each ball into an 8" circle. Place the circles into two lightly greased 8" cake pans; don't worry if the dough shrinks away from the edges of the pans.

Cover with plastic, and allow it to rise/rest for 30 minutes — the gluten will relax, making the dough easier to work with — then gently stretch and pat it to reach the edge. Make the topping while the dough is rising.

To make the topping: Melt the butter in a small saucepan set over medium heat. Add the sugar, honey and cream. Bring the mixture to a boil, and boil it for 3 to 5 minutes, until it's taken on a very light gold color. Stir in the almonds, let cool slightly, then spread over the dough in the pans.

Preheat the oven to 350°F.

Bake the Bienenstich in a preheated 350°F oven for 25 to 28 minutes, until the edges are golden brown and the topping is bubbling. Remove it from the oven, and cool in the pan for 30 minutes, to allow the topping to firm up.

Run a knife around the edges of the pans to loosen any stuck-on dough, and flip each cake over onto a plate, then flip back onto a rack so the almond topping is up. Cool completely before filling.

To assemble the Bienenstich: Carefully split each of the cakes in half horizontally, so that you have four thin, round cakes. This is best done using a serrated knife; cut slowly and check as you go to make sure you're staying on a straight line. Set the cakes aside.

To make the filling and finish the cakes: Soften the gelatin in the 2 tablespoons water, then heat the mixture (in a microwave set on low, or over low heat in a saucepan) until the gelatin has melted and the mixture is clear. Let it cool slightly.

Fold a bit of the whipped cream into the gelatin, then fold that back into the remaining whipped cream.

Mix the instant pudding with the milk and vanilla, stirring for 2 minutes as the box directs. Immediately fold the whipped cream/gelatin mixture into the pudding (the pudding will begin to set up, so work quickly). Use this faux pastry cream to fill the cakes. Serve immediately, or refrigerate until you're ready to serve.
Nutrition Information
Serving Size

1 slice, 101g

Servings Per Batch

2 cakes, 16 servings
Amount Per Serving:
Calories

314 cal

Calories from Fat

Total Fat

19g

Saturated Fat

Trans Fat

Cholesterol

71mg
Sodium

216mg

Total Carbohydrate

17g

Dietary Fiber

2g

Sugars

13g

Protein

6g
* The nutrition information provided for this recipe is determined by the ESHA Genesis R&D software program. Substituting any ingredients may change the posted nutrition information.
Tips from our bakers
We really like this method of making pastry cream; both the ease of preparation, and the delicious final product. The whipped cream makes the filling very rich, while the gelatin stabilizes it, so it'll stay firm (and not "weep") in your pastry for days, if necessary. When we're in a hurry, and know we're making a pastry that doesn't have to keep for a long time, we simply prepare instant vanilla pudding mix using heavy cream instead of milk, spiking it with an extra shot (a teaspoon or two) of vanilla extract. Either of these two methods produces a filling that's wonderful for cream puffs, éclairs, napoleons (if you ever make those at home), cakes, or other filled confections.
For an alternative sweetener version that really puts the flavor of honey up front, add a tablespoon of honey to the brioche dough.
For a honey-sweetened filling, make this pastry cream recipe, using 1/3 cup of honey instead of sugar, and adding 2 teaspoons of unflavored gelatin mixed with 2 tablespoons of cold water (let it sit for a few minutes before adding) to the milk in the pan. Don't add the whipped cream; use the filling as is once it sets.
Reviews
I have been to Germany, and I have had an actual Bienenstich (Bee Sting) cake. This type of cake is a favorite of mine so I was excited to try this recipe. I followed the instructions exactly, and had two issues with this cake. The first is the lack of rise. As multiple other reviewers have mentioned my two cakes essentially didn't rise. I used KAF flour and was very careful with the measurements. My fast rise yeast is fresh. I used a bread machine to knead the dough for about 9 minutes before allowing it to start rising. I don't know why it didn't rise, but that appears to be the most common complaint throughout all prior reviews for this recipe. There was certainly no splitting the cake into two pieces as each one came out looking a bit like a pancake. The second issue occurred with the filling. It clumped. Badly. This appears to be the second most common complaint throughout all of the reviews for this recipe. I used 2/3 of a gelatin packet as directed, and did fold some of the whipped cream into it as directed. Next time, I plan to carefully measure out 2 tsp's, and pass the whipped cream and gelatin mixture through a sieve before adding it to the instant custard portion. Hopefully, that will at least ameliorate the second problem. All of that said, the cake was still extremely tasty, and worth another shot. As another reviewer had suggested, this cake would make an excellent Blog topic. Given a lot of people's difficulty in making it, more expert and detailed instructions with pictures might help. I am still stumped by why it didn't rise. All I can think is to try increasing the rise times next go round. I will in Orlando FL where having enough humidity is never a problem, even in January. I'm not really sure what else I can do differently.

Hi Mary. We're sorry to hear that you had trouble with this cake and would love to help troubleshoot. We'd like to clarify the kind of yeast used here — our recipe calls for instant yeast, which is a bit different than rapid rise yeast. We just want to make sure you're not using a rapid rise formulation, as it will only provide one strong rise and lose its oomph before the end of the process. The mixing time might have been a tad long as well, we might suggest shortening it a bit and then adding some time if the dough isn't quite a smooth ball yet.
For the clumpy filling, if you end up with clumps and are looking to pass the gelatin and whipped cream mixture through a sieve we'd suggest doing this with the bit of cream you've stirred into the gelatin rather than with all of your whipped cream. You might also just need to not cool the gelatin as much or mix a bit more of the whipped cream with the gelatin, which is easier to smooth out.
We will certainly pass along your suggestion that a blog post about this cake would be helpful. If we can help troubleshoot further, please feel free to reach out to our friendly Baker's Hotline folks at 855-371-BAKE (2253). Kindly, Morgan@KAF
I baked this recipe twice. The dough rose minimally after over an hour then I pressed into a pan and let it rest. I rose again minimally. After baking I had a thin cake layer barely able to separate into half. Also the almond honey topping was fallen no after when cutting into squares. Since it is as made for family I assembled as best I could but I would never recommend this recipe.

We're sorry to hear this recipe didn't turn out as you were hoping it would, Sonja. It sounds like your yeast might not have been fresh, compromising the rise of the final cake. Another reason why your cake might not have risen as much as expected is if too much flour was added to the recipe. This can make the cake heavy and dense, and make it difficult for the yeast to do its job. To ensure you're using the right amount, we recommend checking out the "Measuring Standards," link next to the ingredients header above. You'll see that either measuring your flour by weight using a scale, or fluffing and sprinkling the flour into your measuring cup are the best ways to ensure your recipe turns out perfectly. Kye@KAF
First attempt at this recipe and I've never eaten or seen one before. I think I should have let the dough rise longer the second time. My house tends to be cool. They look short but when I cut them the finished product looked okay. Also, I think I let the gelatin cool for too long and I also got lumps in my whipped cream. I scrapped that version and went with the alternate one at the end of the recipe. I now wonder if using one box of pudding with 1 1/2 cups of whipping cream is enough for both Bienenstich? For the original recipe it was the whipped cream PLUS the pudding made with milk. I will definitely try making this again.
I made this as is. I used Saf yeast and warm water, added the butter last, using the paddle of my mixer. Made sure the butter was mixed in, then let it rest for 10 min, then pressed it out in the cake pans. Let rise for about an hour and a half. Very simple. This went to an Octoberfest party and got many rave reviews. It is not very sweet, which I loved, and I guess other guests did too. I'm not a cake fan, but this one is so thin and the filling is nearly as thick as the cake, so it was nice. The serrated knife worked like a charm.
Never having made a yeasted cake before I think this recipe was a little too vague for me. Would it be possible to add more information about how long to knead and how much the dough should have risen after each rise? It smells amazing and the topping is delicious, and hopefully next time I can get it to rise properly!

We're glad you gave this recipe a shot, Julie. Some of the information you referenced is intentionally not included because it can vary widely based on your ingredients and method (are you kneading by hand, a bread machine, stand mixer, etc). It's better to use visual cues to gauge doneness: the dough should be kneaded until it's smooth, bouncy, and springs back when poked (usually about 5-8 minutes by hand). You can follow the general rise times listed in the recipe; it's not essential for the dough to double in size but it should look visibly puffy. Happy baking! Kye@KAF
I love this recipe. I old like encourage one change. Instead of all the butter and honey for the topping I simply scatter the almonds, which I have toasted, on the top and sprinkle a 1/4 cup of honey powder over the top. Bake as usual.
The cake didn't rise much at all...was dense and yeasty tasting...the topping, however was awesome! I'll use it...but on s diff cake

Lisa, it sounds like there may have been a bit too much flour added to the cake dough, causing it to be heavier and more dense than intended. To ensure you're using the right amount, we recommend either measuring your flour by weight using a scale, or fluffing and sprinkling the flour gently into your measuring cup one spoonful at a time before leveling off with a knife. This will help you measure light cups of flour that weigh about 4 1/4 ounces per cup, and cakes that are ethereally light. Happy baking! Kye@KAF
Am in the process of making this. Some recommended changes for the recipe. Step 1 should have the words both mix and knead. The lack of the word knead caused me to not knead much at all, because I was only trying to mix. I wasn't sure if I wanted the gluten build-up (this is my first yeasted cake). Also, you talk about having a four layer cake, but the picture is only two layers. The recipe should include options for both.

Thanks for sharing your feedback with us. We've added the word "knead," to the recipe instructions in the hopes of making it more clear. You don't want to necessarily develop a lot of gluten, but you do want the dough to have some structure so it can rise and have a light, fluffy texture. Happy baking! Kye@KAF
I've been invited to attend a German dinner for Christmas Eve, and to bring a dessert. I did a trial bake on this cake from a different recipe and it turned out pretty but the cake was so yeasty tasting we ended up tossing it. I may have underbaked it, but it called for a lot more yeast. I tried this recipe for my second trial bake and it turned out delicious. I used KA flour. I had to add a TBSP+ of water to make the dough smooth and supple. I used the dough setting on my Breadman machine. I recommend using a rolling pin rather than patting the dough into flat rounds by hand. My tops came out uneven using my hands for this. Also recommend using cake pans with high sides as mine were shallow and the caramel from the topping ran all over the oven floor, and smoking up the kitchen! I was not careful about folding the pudding into the whipped cream/gelatin mixture, just used a wire whip, and it was just fine. Cutting the top layer in advance, as mentioned by other reviewers, is genius.
followed directions step by step, used newly purchased instant yeast according to directions. Weighed the dry ingredients too, just to be sure. The dough barely rose at all during the proofing stage. I can't imagine making two cakes with this small quantity of dough. The cake was heavy, dense and flat. I didn't even bother making the filling, because the cake was such a disappointment.

Hilda, we're sorry to hear you had so much trouble with the cake portion of this recipe. We're wondering about what kind of flour you used, as well as how the dough was mixed. It's important that the flour has enough protein in it to support the structure of the rising cake. Too soft of a dough will fail to rise. It's also key to mix and knead the dough together long enough to develop the gluten. (This can take 10+ minutes if kneading by hand.) We'd love to help you troubleshoot further if you give our Baker's Hotline a call at 855-371-BAKE(2253). We look forward to helping you with this. Kye@KAF