A customized print-friendly version of this recipe is available by clicking the "Print Recipe" button on this page.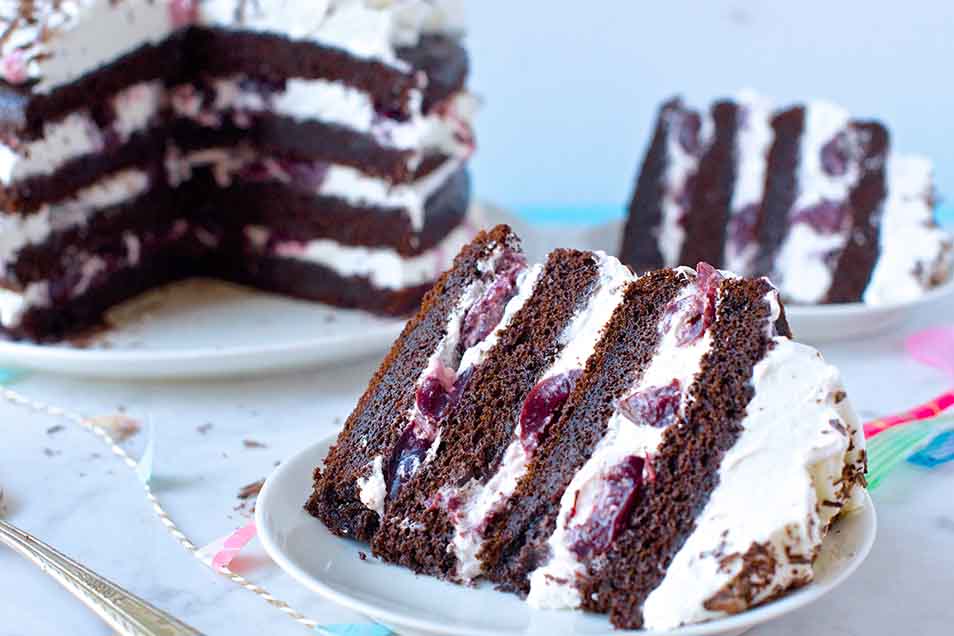 Chocolate and cherry are a classic pairing in this traditional cake from the southwest region of Germany, which has inspired our own mile-high rendition.
Ingredients
Cake
1 cup Double-Dutch Dark Cocoa or Dutch-process cocoa
2 cups sugar
½ cup buttermilk powder*
2 tablespoons Cake Enhancer, optional, for moist texture
2 teaspoons baking powder
½ teaspoon baking soda
1 teaspoon salt
2 cups water*
2/3 cup vegetable oil
2 teaspoons vanilla extract
4 large eggs
*Or substitute 2 cups liquid buttermilk for the buttermilk powder and water.
Filling
28.5-ounce jar Sour Cherry Pie Filling, or 1 can cherry pie filling
1/8 teaspoon cherry flavor, optional
3 cups heavy cream
¼ cup confectioners' sugar
1 teaspoon vanilla extract
4 ounces grated dark chocolate
Instructions
Preheat the oven to 350°F. Grease two 9" cake round cake pans.

To make the cake: Combine the cocoa, flour, sugar, buttermilk powder, cake enhancer, baking powder, baking soda, and salt.

In a separate bowl, whisk together the water, oil, and vanilla. Gradually beat the wet ingredients into the dry ingredients.

Add the eggs one at a time, beating until well blended. Pour the batter into the prepared pans.

Bake the cakes until a tester comes out clean, about 25 to 30 minutes. Cool the cakes in the pans for 15 minutes, then turn them out onto a rack to cool completely.

To make the filling: If you're using a jar of sour cherry pie filling, strain the cherries from the syrup and reserve both; add the cherry flavor to the syrup. If you're using canned pie filling, don't drain; if you're using cherry flavor, simply stir it into the pie filling.

Whip the cream, slowly adding the sugar, and then the vanilla. Whip until stiff peaks form.

To assemble the cake: Cut each layer in half horizontally. Place the first layer on a cake board or plate and brush a coating of cherry syrup over the surface. If you're using canned pie filling and don't have cherry syrup, skip this step.

Spread a 1/2" layer of cream onto the cake, and top with 1/3 of the cherries. Repeat with two more layers of cake-syrup-cream-cherries, and top with the final layer of cake.

Use the remaining cream to coat the sides and top of the cake. Decorate with the grated chocolate. Refrigerate the cake until you're ready to serve, up to a few hours; the whipped cream in the filling will gradually deflate, so better to serve this cake sooner rather than later.

Yield: one tall 9" layer cake.
Reviews
The cakes turned out tasty, but too flat to easily split in half for layering. I wonder whether there might be a mistake in the recipe regarding the order in which the ingredients are added? I read in the answer to a review from another reader that a flat cake can be the result of overheating the cake or adding too much flour. I was careful with the amount of flour, but followed the instruction when they stated to incorporate the liquid ingredients with the dry ones and THEN add each egg separately and mix well after each addition. While doing that I was wondering about overbearing. Wouldn't it make more sense to add the eggs to the wet ingredients, mixing well, and then add everything to the dry ingredients with less stirring? Please help with your input...

Thanks for reporting back on your experience with this recipe, Susanne. We're glad to hear that you so enjoyed the flavor but sorry the layers came out too flat to split. There are many different paths to a tasty cake, as well as many reasons a cake can come out denser and flatter than intended. Over-creaming is one, measuring out a heavy cup of flour and/or an oven that runs cool are others. While we've had good results with the instructions as written (despite the possibility for overbeating), we're curious to see if there's more we can do to help ensure a full rise. If our additional testing leads to any changes or added tips, we'll be sure to report back in the recipe headnotes, so stay tuned! Mollie@KAF
I adapted this recipe to be gluten free and cupcake sized. I substituted the flour for a mix of KAF gf blends (I only had 1 1/2 c of the baking mix, so I used 1/2 c of the measure for measure, too) and added a tsp of xantham gum for good measure. They were awesome! The batter made more than 24 cupcakes, so I had some in a 3 cup baking dish on the side. I put the batter together before I preheated the oven since I like to let gf batters sit for a few minutes before I use them. Before I put them in the lined muffin cups I gave the batter another quick stir. It was thick, but really easy to work with and rose like a dream! They took about 25 minutes to cook. After they were cool I cored the cupcakes, filled them, and topped with whipped cream and Haribo cherry gummies. I filled half of them with straight cherry pie filling and half of them with a mixture of chopped cherry pie filling and booze soaked cherries (we keep a jar in the liquor cabinet). They were definitely a hit, and I'll be using this chocolate cake recipe for GF chocolate cupcakes in the future. Thanks, KAF!!!
I have many German friends and have made Black Forest Cakes with them. One thing that is always added is a sprinkling of Kirschwasser (cherry type of liquor) on each layer of cake before frosting. This adds a great authentic flavor to this cake.
Thankyou soooo much it provided us awesome black forest cake it was too simple for understanding.
I was somewhat disappointed in this recipe, especially after spending a fair amount of money to buy KAF flour, cocoa, and the Chukar cherries. I must say, the cherries were excellent and I liked the not-too-sweet whipped cream as a filling/frosting. The cakes just didn't work out for me. The batter was very thin and the cakes just did not rise well. I'm an intermediate baker, so this isn't my first rodeo. I double checked everything and followed the recipe exactly, except for the optional cake enhancer. While the cakes tasted good, they weren't tall enough to cut and get four layers. I ended up having to make another set of cakes (using a different recipe) in order to have enough to make four layers.

Sarah, it sounds like some elements of this cake worked out beautifully while others fell flat. The most common reasons why cakes turn out thinner than intended is over-mixing the cake batter or too much flour being added to the batter. While the latter may seem counter-intuitive, if flour is scooped directly into measuring cups instead of being fluffed and sprinkled, the batter will be heavy and not rise properly. We recommend using a scale for best results. We hope this helps improve the results of cake recipes in the future for you, whether you're using this recipe or any other. Good luck! Kye@KAF
Just starting to bake mine. To the person who wants the whipping cream to last two days, don't it will taste like butter. There is a whipping cream stabilizer called Whip it. You can find it in most stores near the baking soda and flour. If you can't finish your cake in a day decorate a1/4 or 1/2 cake. It is easy enough to whip up fresh cream.
I made this recipe in a 9" x 13" pan and cut the cake into two layers. It didn't have the dramatic flair of a tall cake but it was easier to cut into squares for a group. It worked great and everyone loved it.
Yum. 'Nuff said? Really, there are no more words. My only request is for a way to stabilize the whipped cream. To last just a few more days.

Great question! Add 2-3 tablespoons of Instant ClearJel to the sugar in the filling to make it a bit more sturdy and long-lasting. Happy baking! Kye@KAF
I did not care for this recipe. I followed the directions exactly, with the exception of the cake enhancer, which was recommended. I will say if that one ingredient is going to change a cake so dramatically, add it as a regular ingredient. I made this cake using both the volume and gram measurements and the batter was much thinner than I was expecting. The cake was dry and dense and didn't rise that much. Also, there was not much of a chocolate flavor, even though I bought an expensive cocoa powder. Overall, disappointing and I will not make again. I also agree with another reviewer that traditional cherry pie filling should not be used.

We're sorry to hear this recipe did not meet your expectations. The cake enhancer is an optional ingredient as it makes the cake more tender and rise higher; we like the result is has in cakes, but it's not necessary. We've shared your feedback with our Recipe Team concerning the taste and texture, which will be considered in future discussions about this recipe. If you'd like to share your thoughts future and chat with a baker about this recipe, you can reach us at 855-371-BAKE(2253). Kye@KAF
Made this black forest cake for my husband's birthday, and it was absolutely delicious! Halved the recipe to make a 4 layer 6" cake, and it worked out perfect. I was afraid it would be too sweet, but I balanced it out with less sweetness in the whipped cream. I usually don't review recipes, but this one was so good that I had to. Thanks for the great recipe! Will be exploring more of the KA website.