A customized print-friendly version of this recipe is available by clicking the "Print Recipe" button on this page.
Chocolate Mousse Cake with Raspberries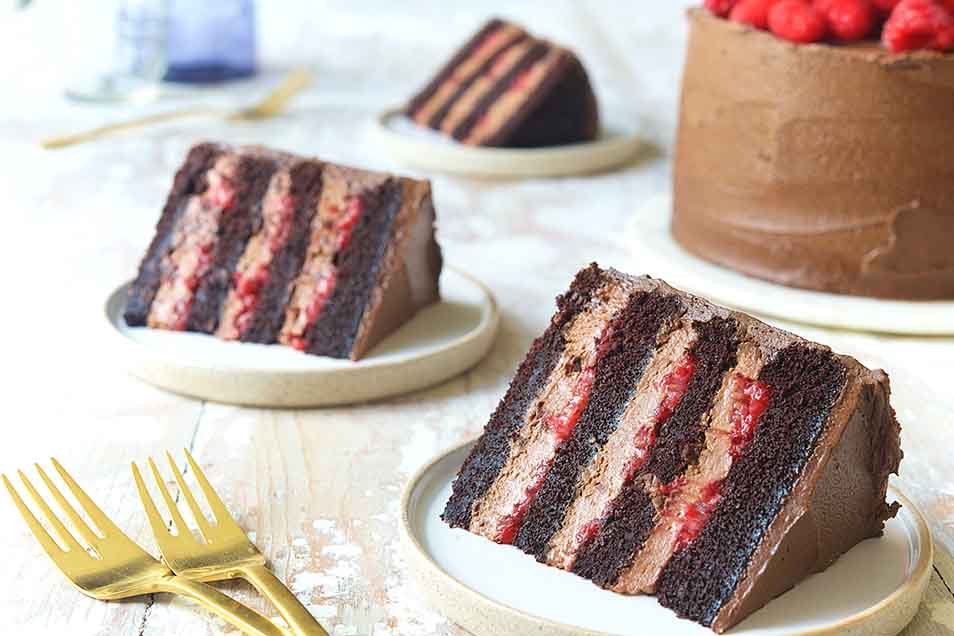 This intensely moist and fudgy cake is filled with chocolate mousse and fresh raspberries, then iced with rich chocolate frosting. With its four towering layers and striking appearance, it's perfect for extra-special occasions. Our thanks to Sharon Kurtz of Emmaus, PA, who took top honors with it at the Great Allentown Fair; and subsequently at the national 2010 Great Cake Contest, sponsored in part by King Arthur Flour.

Baking gluten-free? For great results, substitute King Arthur Gluten-Free Measure for Measure Flour for the all-purpose flour in this recipe; no other changes needed.
Ingredients
Cake
1 3/4 cups King Arthur Unbleached All-Purpose Flour or Gluten-Free Measure for Measure Flour
2 teaspoons baking soda
1 teaspoon baking powder
1 teaspoon salt
2 cups granulated sugar
1 cup unsweetened cocoa powder, natural or Dutch-process cocoa
1/2 cup vegetable oil
1 cup buttermilk or yogurt (Greek or regular; nonfat, low fat, or full fat)
1 cup boiling water
2 teaspoons vanilla extract
3 large eggs
Filling
2 tablespoons soft butter
8-ounce package cream cheese, at room temperature
1 cup confectioners' sugar, divided
1/2 teaspoon vanilla extract
1/8 teaspoon salt
2/3 cup semisweet chocolate chips, melted
1 cup heavy cream
1 teaspoon Instant ClearJel, optional*
1/2 cup semisweet chocolate mini chips, optional
1 1/2 to 2 pints fresh raspberries, washed and dried
*See "tips," below.
Frosting
1/2 cup vegetable shortening, butter-flavored preferred*
8 tablespoons (1/2 cup) unsalted butter, at room temperature
1/4 teaspoon salt
4 cups confectioners' sugar, sifted
1/2 cup unsweetened cocoa, natural or Dutch-process*
1/4 cup milk
1 teaspoon vanilla extract
*See "tips," below.
Instructions
Preheat the oven to 325°F. Lightly grease two 8" round pans at least 2" deep (and preferably 3" deep); four 8" round pans at least 1 1/2" deep; or three 9" round pans. If you have parchment rounds, line the pans with parchment, and grease the parchment. Note: If your pan assortment doesn't include any of these particular combinations, you can bake the cake batter in batches; the unbaked batter won't suffer while awaiting its turn in the oven.

To make the cake layers: Weigh your flour; you'll find its weight by toggling to "ounces" at the top of the ingredient section above. Or measure it by gently spooning it into a cup, then sweeping off any excess. Whisk together the flour and remaining dry ingredients in a large mixing bowl; or combine thoroughly using a stand mixer equipped with the whisk or beater attachment. Check to make sure there aren't any hard lumps in the mixture; if there are, press them through a sieve.

Combine the oil, buttermilk or yogurt, boiling water and vanilla in a medium bowl or large measuring cup. Add to the dry ingredients and beat at medium speed for 30 seconds to 1 minute, until the batter is smooth.

Scrape the sides and bottom of the mixing bowl, then beat in the eggs one at a time. Mix on medium speed for another minute, or until smooth.

Divide the batter among the prepared pans. Bake for 45 to 50 minutes for two 8" pans; or 25 to 30 minutes for four 8" pans or three 9" pans, until the cake just begins to pull away from the edge of the pan, and a tester inserted in the center comes out with just a few moist crumbs. Remove from the oven and place on a rack to cool for 15 minutes. Run a table knife around the edge of each pan to free the crust, and turn the cakes onto the rack to cool completely. While the cake layers are cooling, make the filling.

To make the filling: In a large mixing bowl, combine the butter, cream cheese, 3/4 cup (3 ounces) of the confectioners' sugar, vanilla, and salt, mixing at medium-low speed until smooth. Melt the chocolate; a minute or less in the microwave should be sufficient to soften the chips enough that you can stir them until completely melted and smooth. Add the melted chocolate to the bowl and mix on medium-high speed for 1 minute, or until a bit lightened and fluffy.

Whisk together the remaining 1/4 cup confectioners' sugar with the Instant ClearJel. Beat the heavy cream until soft peaks form, then add the confectioners' sugar mixture. Beat just until the cream is stiff; guard against over-beating, which will turn the cream grainy. Fold the whipped cream into the cream cheese mixture; scrape the bowl, and stir to combine any sticky residue. Finally, fold in the chocolate mini chips, if you're using them.

Split the cake layers horizontally if you've baked two deep 8" cakes; trim any domes off the tops if you've baked three or four individual layers. Place the first layer on a serving plate (line the edges with strips of waxed or parchment paper to keep the plate clean), and spread it with one-third of the filling (1 cup; 7 5/8 ounces; 216g). Cut 1/2 pint of raspberries in half lengthwise (rather than around the circumference), and place them over the filling, covering its entire surface. Repeat until all the layers are stacked; place the last layer bottom-side up for a flat surface on top.

Once the layers are assembled with filling and raspberries, place the cake in the refrigerator or freezer for at least 30 minutes to firm it up. This will make frosting the cake much easier since the layers are less likely to slide around and chilling helps prevent the cake from shedding crumbs as you frost. While the cake is chilling, make the frosting.

To make the frosting: In a large bowl, beat together the shortening, butter, and salt.

Sift the confectioners' sugar and cocoa through a strainer to remove any lumps, and gently beat into the butter mixture alternately with the milk. Add the vanilla. Beat on medium-high speed for 2 minutes, or until fluffy.

To finish the cake: For the best-looking cake, do the frosting in two steps. First, spread a very thin layer of frosting around the sides and across the top; this is called a crumb coat. You should actually be able to see the cake through the frosting in spots, it's that thin. Refrigerate the cake for 20 minutes to let this layer set up.

Once the cake is chilled, use the remaining frosting to coat it thoroughly and evenly. The frosting will be thin, but the cake should be completely coated, with no bare patches. If you have any leftover frosting, use it to pipe decorations on the top and/or around the base.

Refrigerate the cake until ready to serve. Garnish with fresh raspberries just before serving.

Store any leftovers in the refrigerator for up to 3 days; freeze for up to a week.
Nutrition Information
Serving Size

1 slice, 143g

Servings Per Batch

24
Amount Per Serving:
Calories

453

Calories from Fat

225

Total Fat

25g

Saturated Fat

11g

Trans Fat

0g

Cholesterol

64
Sodium

300mg

Total Carbohydrate

57g

Dietary Fiber

3g

Sugars

46g

Protein

4g
* The nutrition information provided for this recipe is determined by the ESHA Genesis R&D software program. Substituting any ingredients may change the posted nutrition information.
Tips from our bakers
Substitute 1 cup hot brewed coffee for the water in the recipe, if desired; this will enhance the cake's chocolate flavor without adding any coffee flavor of its own. Alternatively, add 1 1/2 teaspoons espresso powder to the batter along with the other dry ingredients.
The total weight of the cake batter will be about 50 ounces (1417g). To ensure your layers are all the same size, divide the batter's weight by the number of layers you're baking, and weigh the amount into each pan. For two deep 8" layers, use about 25 ounces (709g) batter in each. For three 9" layers, use about 16 1/2 ounces (468g) in each pan. For four shallow 8" layers, use about 12 1/2 ounces (354g) batter in each pan.
Instant ClearJel will help stabilize the filling if the cake is baked and served during particularly hot weather.
When making the frosting, use natural cocoa for mild, milk chocolate-type flavor and lighter color. For darker frosting with richer, more assertive chocolate flavor, use Dutch-process cocoa.
Substitute 1/2 cup unsalted butter for the shortening in the frosting, if desired. If the weather is particularly hot, shortening will help stabilize the frosting.
Cake layers, frosting, and filling can all be made up to three days ahead, and the cake assembled just before serving. Store the layers, well wrapped, at room temperature; refrigerate the frosting and filling in airtight containers or tightly covered bowls. When you're ready to assemble the cake, remove the filling and frosting from the fridge and warm at room temperature until soft enough to spread easily.
The entire cake can be made ahead and frozen, tightly wrapped, for up to a week. (Don't add the fresh raspberry garnish on top if you're going to freeze the cake.) Thaw cake overnight in the refrigerator before serving.
Reviews
Instead of chocolate chips on the filling, I substituted seedless low sugar raspberry jam. My family loved it. I have made it both ways.
Oh dear, sweet baking gods. I made this cake (three times) and I was suddenly the most sought after guest at parties. I so appreciate the fact that you can make components of this cake ahead of time, and then assemble it the next day. I had tried the mousse alone, and thought the cream cheese gave it too much tang, but paired with the cake, it was PERFECT. I would also try this out with fresh strawberries as well. One comment I had was my cakes did sink in the middle all three times, making the final product kind of lopsided (but still delicious, and, quite honestly, mammoth). But the cakes still had decent height and when piled up on top of each other, made for an enormous, healthy (there is fruit in it), glorious reason to be alive.

Hi there, fellow baker! We're thrilled to hear that this cake is so well-loved by you and your friends and family! Most often when a cake falls a bit in the middle it's because it just needed a tad longer in the oven to finish setting up the structure. We'd suggest when checking your cake for doneness, that in addition to using a toothpick or cake tester you look to see that the sides of the cake pull away from the pan slightly and when you press on the top it springs back. We hope this helps and happy baking! Morgan@KAF
This cake was a huge hit! I was not surprised, after reading the reviews. I doubled the recipe (the cake only, not the filling or frosting) and made 2 12-in layers (did not cut them further), since I needed to serve 30 people. There were only 2 slices left! I had some trouble with the frosting--it separated and looked ugly (probably because I forgot to look at the instructions and added the milk all at once), but someone online suggested adding melted chocolate, which I did, and it all came together again! I would love to make a less-sweet version, so if you can suggest places to cut back on the sugar without sacrificing consistency, please advise. Thanks so much!

Hi there, Deborah! We're so glad to hear that you enjoyed this cake! If you'd like to experiment with making things a little less sweet, we'd suggest reducing the sugar in the cake a bit. We wouldn't recommend reducing it more than 25% though, as the cake won't be as moist and tender. Happy baking! Morgan@KAF
This cake is so moist and delicious! I baked two 8" rounds and cut them in half for four layers. There was just barely enough chocolate frosting for the outside, so I would recommend making more if you plan to do any decorating. The cake is beautiful though if you simply decorate the top with fresh raspberries. I will make this cake again and again! :)
Made this once before, added espresso powder and froze the cake assembled. Stayed extremely moist and perfect.. Was the best chocolate cake I've ever had. The raspberry filling knocks it out of the park. Was a big hit and am making it again for another dinner party. Love KAF recipes and the reviews are also so helpful.
Quite a few steps but came out AMAZING. I added coffee instead of water and let the coco 'bloom" before adding to the rest of the ingredients (I used dutch process for everything),I didn't add the chocolate chips to the mousse. Made the cake and the mousse a day ahead assembled the night before. Also, I made a 9x13 because I was bringing it to a party and it came out just fine. The chocolate raspberry combo is just phenomenal, oh so good. I will definitely be making it again.
Absolutely delicious, I used raspberry Greek yogurt in it. A showstopper!! My only complaint is the nutrition information. I KNOW it will be high for a cake, but they're unrealistic. I'd love to see somebody manage to cut a 4 layer cake into TWENTY FOUR slices. I certainly can't.
One of the best chocolate cakes I have ever had! It was the biggest hit at the party and people asked for the recipe. I added 8 oz. of brewed coffee instead of boiling water, used natural cocoa instead of Dutch process and did not use the chocolate chips in the filling. It was moist, decadent, complex, substantial and a chocolate lovers dream! The raspberries enhanced the chocolate flavor and elevated it to unprecedented levels of deliciousness. Thank you King Arthur flour for the amazing recipe!
Made exactly as written in 3 pans. The cake itself was moist and very rich in chocolate flavor, my new favorite chocolate cake recipe! The chocolate mousse with raspberries was to die for! Adding the very fudgy frosting layer was, in my opinion, too much chocolate. I think when I make it again I will leave it elegantly unfrosted. But my coworkers ate all of it! It was also better the second day.
Made it for my husbands birthday last week. It was delicious. Him and everyone else that had piece loved it, even small kids. I will definitely be cooking it again.