A customized print-friendly version of this recipe is available by clicking the "Print Recipe" button on this page.
Chocolate Mousse Cake with Raspberries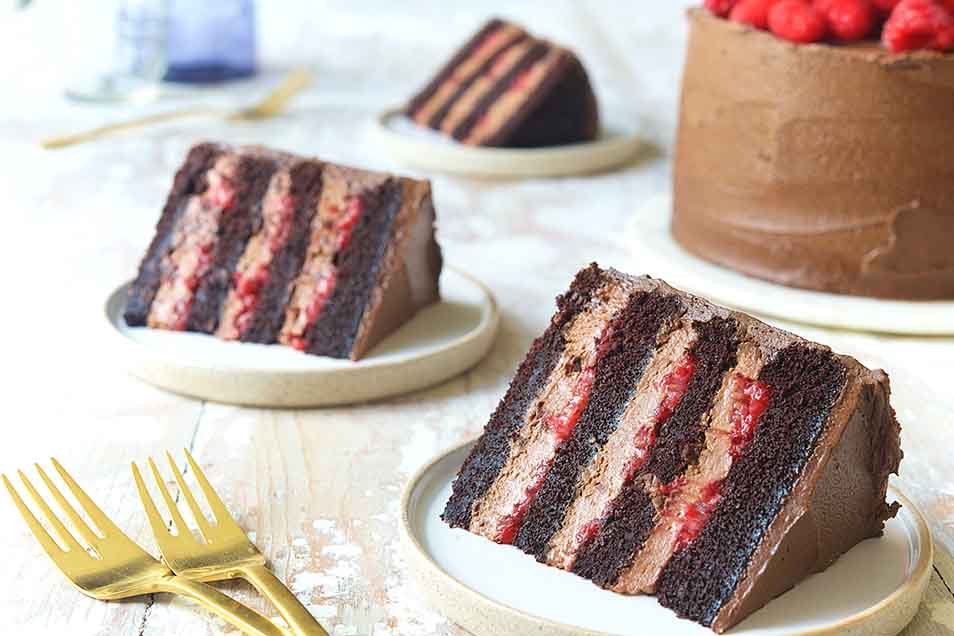 This intensely moist and fudgy cake is filled with chocolate mousse and fresh raspberries, then iced with rich chocolate frosting. With its four towering layers and striking appearance, it's perfect for extra-special occasions. Our thanks to Sharon Kurtz of Emmaus, PA, who took top honors with it at the Great Allentown Fair; and subsequently at the national 2010 Great Cake Contest, sponsored in part by King Arthur Flour.

Baking gluten-free? For great results, substitute King Arthur Gluten-Free Measure for Measure Flour for the all-purpose flour in this recipe; no other changes needed.
Ingredients
Cake
1 3/4 cups King Arthur Unbleached All-Purpose Flour or Gluten-Free Measure for Measure Flour
2 teaspoons baking soda
1 teaspoon baking powder
1 teaspoon salt
2 cups granulated sugar
1 cup unsweetened cocoa powder, natural or Dutch-process cocoa
1/2 cup vegetable oil
1 cup buttermilk or yogurt (Greek or regular; nonfat, low fat, or full fat)
1 cup boiling water
2 teaspoons vanilla extract
3 large eggs
Filling
2 tablespoons soft butter
8-ounce package cream cheese, at room temperature
1 cup confectioners' sugar, divided
1/2 teaspoon vanilla extract
1/8 teaspoon salt
2/3 cup semisweet chocolate chips, melted
1 cup heavy cream
1 teaspoon Instant ClearJel, optional*
1/2 cup semisweet chocolate mini chips, optional
1 1/2 to 2 pints fresh raspberries, washed and dried
*See "tips," below.
Frosting
1/2 cup vegetable shortening, butter-flavored preferred*
8 tablespoons (1/2 cup) unsalted butter, at room temperature
1/4 teaspoon salt
4 cups confectioners' sugar, sifted
1/2 cup unsweetened cocoa, natural or Dutch-process*
1/4 cup milk
1 teaspoon vanilla extract
*See "tips," below.
Instructions
Preheat the oven to 325°F. Lightly grease two 8" round pans at least 2" deep (and preferably 3" deep); four 8" round pans at least 1 1/2" deep; or three 9" round pans. If you have parchment rounds, line the pans with parchment, and grease the parchment. Note: If your pan assortment doesn't include any of these particular combinations, you can bake the cake batter in batches; the unbaked batter won't suffer while awaiting its turn in the oven.

To make the cake layers: Weigh your flour; you'll find its weight by toggling to "ounces" at the top of the ingredient section above. Or measure it by gently spooning it into a cup, then sweeping off any excess. Whisk together the flour and remaining dry ingredients in a large mixing bowl; or combine thoroughly using a stand mixer equipped with the whisk or beater attachment. Check to make sure there aren't any hard lumps in the mixture; if there are, press them through a sieve.

Combine the oil, buttermilk or yogurt, boiling water and vanilla in a medium bowl or large measuring cup. Add to the dry ingredients and beat at medium speed for 30 seconds to 1 minute, until the batter is smooth.

Scrape the sides and bottom of the mixing bowl, then beat in the eggs one at a time. Mix on medium speed for another minute, or until smooth.

Divide the batter among the prepared pans. Bake for 45 to 50 minutes for two 8" pans; or 25 to 30 minutes for four 8" pans or three 9" pans, until the cake just begins to pull away from the edge of the pan, and a tester inserted in the center comes out with just a few moist crumbs. Remove from the oven and place on a rack to cool for 15 minutes. Run a table knife around the edge of each pan to free the crust, and turn the cakes onto the rack to cool completely. While the cake layers are cooling, make the filling.

To make the filling: In a large mixing bowl, combine the butter, cream cheese, 3/4 cup (3 ounces) of the confectioners' sugar, vanilla, and salt, mixing at medium-low speed until smooth. Melt the chocolate; a minute or less in the microwave should be sufficient to soften the chips enough that you can stir them until completely melted and smooth. Add the melted chocolate to the bowl and mix on medium-high speed for 1 minute, or until a bit lightened and fluffy.

Whisk together the remaining 1/4 cup confectioners' sugar with the Instant ClearJel. Beat the heavy cream until soft peaks form, then add the confectioners' sugar mixture. Beat just until the cream is stiff; guard against over-beating, which will turn the cream grainy. Fold the whipped cream into the cream cheese mixture; scrape the bowl, and stir to combine any sticky residue. Finally, fold in the chocolate mini chips, if you're using them.

Split the cake layers horizontally if you've baked two deep 8" cakes; trim any domes off the tops if you've baked three or four individual layers. Place the first layer on a serving plate (line the edges with strips of waxed or parchment paper to keep the plate clean), and spread it with one-third of the filling (1 cup; 7 5/8 ounces; 216g). Cut 1/2 pint of raspberries in half lengthwise (rather than around the circumference), and place them over the filling, covering its entire surface. Repeat until all the layers are stacked; place the last layer bottom-side up for a flat surface on top.

Once the layers are assembled with filling and raspberries, place the cake in the refrigerator or freezer for at least 30 minutes to firm it up. This will make frosting the cake much easier since the layers are less likely to slide around and chilling helps prevent the cake from shedding crumbs as you frost. While the cake is chilling, make the frosting.

To make the frosting: In a large bowl, beat together the shortening, butter, and salt.

Sift the confectioners' sugar and cocoa through a strainer to remove any lumps, and gently beat into the butter mixture alternately with the milk. Add the vanilla. Beat on medium-high speed for 2 minutes, or until fluffy.

To finish the cake: For the best-looking cake, do the frosting in two steps. First, spread a very thin layer of frosting around the sides and across the top; this is called a crumb coat. You should actually be able to see the cake through the frosting in spots, it's that thin. Refrigerate the cake for 20 minutes to let this layer set up.

Once the cake is chilled, use the remaining frosting to coat it thoroughly and evenly. The frosting will be thin, but the cake should be completely coated, with no bare patches. If you have any leftover frosting, use it to pipe decorations on the top and/or around the base.

Refrigerate the cake until ready to serve. Garnish with fresh raspberries just before serving.

Store any leftovers in the refrigerator for up to 3 days; freeze for up to a week.
Nutrition Information
Serving Size

1 slice, 143g

Servings Per Batch

24
Amount Per Serving:
Calories

453

Calories from Fat

225

Total Fat

25g

Saturated Fat

11g

Trans Fat

0g

Cholesterol

64
Sodium

300mg

Total Carbohydrate

57g

Dietary Fiber

3g

Sugars

46g

Protein

4g
* The nutrition information provided for this recipe is determined by the ESHA Genesis R&D software program. Substituting any ingredients may change the posted nutrition information.
Tips from our bakers
Substitute 1 cup hot brewed coffee for the water in the recipe, if desired; this will enhance the cake's chocolate flavor without adding any coffee flavor of its own. Alternatively, add 1 1/2 teaspoons espresso powder to the batter along with the other dry ingredients.
The total weight of the cake batter will be about 50 ounces (1417g). To ensure your layers are all the same size, divide the batter's weight by the number of layers you're baking, and weigh the amount into each pan. For two deep 8" layers, use about 25 ounces (709g) batter in each. For three 9" layers, use about 16 1/2 ounces (468g) in each pan. For four shallow 8" layers, use about 12 1/2 ounces (354g) batter in each pan.
Instant ClearJel will help stabilize the filling if the cake is baked and served during particularly hot weather.
When making the frosting, use natural cocoa for mild, milk chocolate-type flavor and lighter color. For darker frosting with richer, more assertive chocolate flavor, use Dutch-process cocoa.
Substitute 1/2 cup unsalted butter for the shortening in the frosting, if desired. If the weather is particularly hot, shortening will help stabilize the frosting.
Cake layers, frosting, and filling can all be made up to three days ahead, and the cake assembled just before serving. Store the layers, well wrapped, at room temperature; refrigerate the frosting and filling in airtight containers or tightly covered bowls. When you're ready to assemble the cake, remove the filling and frosting from the fridge and warm at room temperature until soft enough to spread easily.
The entire cake can be made ahead and frozen, tightly wrapped, for up to a week. (Don't add the fresh raspberry garnish on top if you're going to freeze the cake.) Thaw cake overnight in the refrigerator before serving.
Reviews
This is one of the most delicious cakes I've ever baked! The instructions really clarified the process to ensure the results were great ... thank you!. Noe I'd like to bake this cake for a diabetic friend. Can I just substitute a sweetener for the sugar? And use unsweetened cocoa and chocolate? Any advice would be appreciated. Thanks.

Hi Anne! We're glad that you enjoyed this recipe! Our expertise is in baking and we can't advise on what might be right for those who need to follow special diets. We'd recommend checking with your friend for recommendations on what works for them. Additionally, we don't test our recipes using sugar substitutes, so you'll have to do some experimenting and will want to use a sweetener made for baking as well as check with the manufacturer for their suggested uses. Best of luck and happy baking! Morgan@KAF
I'm not typically a fan of raspberries, but in this recipe, they offered such a pleasant burst of flavor among the chocolate. I've baked many things for my husband, but so far, this is his favorite!
Had to come back to review again. I realized by mistake I used sour cream instead of cream cheese. next time ill use cream cheese. I recommend my mistake, though filling was delicious with sour cream. and it is the rectangular Celebration pans from KAF that I used Joann
I finally tackled this recipe. After putting it off for months BUT I wanted to use the Celebration pans. so I did oh boy, I should have have called hotline before I made it It rose too high for pans. wound up making three layers. top one thinner. cake is delicious, and filling is delicious...reminds me of a cake called Parisian sold in Gelsons market here in Los Angeles. which is loved by all. I didn't make frosting it didn't sound like something I would like. I put filling on top. I need to figure out how to use the celebration pans in recipes ? The pans lose the decorative sides since cake sticks to sides. and I put shortening and flour but still sticks in sides. I will make again, so good Joann

Hi fellow baker! This is a fairly soft cake to be baked in the Celebration pans. It's possible — but it is possible that the design won't be as crisp as it would with a dryer recipe. We recommend greasing the pans with pan spray such as Everbake or Vegalene, both of which are designed specifically for baking. Most cooking sprays aren't up to the task of dealing with such high sugar contents, which are prone to sticking. Usually, when the cake is done, it will begin to pull away from the edges of the pan. If this doesn't happen, running a small offset spatula around the edge right after it comes out of the oven can help loosen any stuck crumbs. Annabelle@KAF
I just baked this cake. I did 2 8 inch layers but they are each only about 2 inches high. Is this correct??

That sounds about right to us, Becky! That will give you 2 thick 1" layers per cake. You may get a slightly higher rise with a fresh jar of baking powder and a fresh box of baking soda. Annabelle@KAF
I used the filling and frosting to make s Buche de Noel. So good. Wish I could share a photo. It was beautiful.
Delicious cake and very impressive. Thanks for the recipe.
My rating is for the cake only and for the gluten-free variation. I considered it a failure and made another cake using your "Gluten-Free Chocolate Cake" recipe, which came out better texture-wise. The cake is for Christmas dinner so I can't comment yet on taste. This Mousse Cake came out like a brownie, was underbaked in the center (despite clean tester) and collapsed on itself in a way that left it with a wider base and a distinct step to the narrower top. I am an experienced cake baker but this was my first attempt at a gluten-free cake. I did have to use another highly-rated 1:1 brand after trying five (!) stores and not finding yours. For the second cake, where the recipe did specify the 210 degree internal temperature, I also separated the eggs and folded in beaten egg whites at the end, and baked at a slightly lower temperature. I wonder if whether, for cakes at least, its better to use recipes designed for gluten-free flour rather than substituting it in. BTW love your Baker's Helpline! Thanks.

Hi there, Carol. We're happy to hear that you enjoyed the Baker's Hotline as a resource and that in the end, you found a recipe that worked out for you! We are very surprised to hear of your results with the gluten-free variation of this cake. Without knowing what the other 1:1 flour is made up of though, it is hard to say why you ended up with those results. We've found that cakes do quite well with our Gluten-Free Measure for Measure Flour, so it shouldn't be required that you use a gluten-free recipe rather than converting one calling for wheat flour in the future. Additionally, for future baking adventures you can find our store locator at the bottom of our site. We hope this makes it easier to find the products we've used to test our recipes. Kindly, Morgan@KAF
Delicious!!! It was worth the work. Made this and took it to a family gathering and it was a huge hit. The other desserts were barely touched.
If you look you'll see I wrote a very positive review just a few days prior to writing this one, which is still true. The problem that caused me to give this review only 2 stars is that I made it gluten free. I have a GF family member and when seeing the recipe notes that I could use the measure for measure flour with great results I thought well, why not. Now everyone can enjoy this out of this world cake. Well... let me tell you it's not that easy. The entire texture of the cake was changed and after I split the layers to fill them they crumbled into a pile of...well... crumbs! There was also a gritty texture to the cake. The crumbly texture would not have been the end of the world had I known it would happen. I just wouldn't have split the layers and I would have CAREFULLY filled them and made a two layer cake. But because I've made this cake several times before and thought I had it nailed I made it the day of the party and ended up with a terribly stressful mess! I did manage to piece it all together with chocolate mousse and a LOT of work. I was late for the party and not happy. The cake was very good, no where near the show stopper it was last year but best of all, the gluten free family member didn't show up! Just be careful if you're baking GF, it's FRAGILE to say the least and needs to be handled as such. DO NOT split the layers or you'll end up putting a puzzle together! KAF please jump in here and comment at any time, I'd LOVE to hear your thoughts!

We're happy to try and troubleshoot here, Noel! This wasn't the experience we had when baking this recipe with Measure for Measure, so we're genuinely surprised that it was such a frustrating experience.

If you're ever baking gluten-free for your family member, there are a couple of tips that could help. Gluten-free cakes usually need to be a couple degrees warmer in the center — 210°F rather than 205°F. It's possible that the cake needed a little more time to reach that internal temperature, as a classic sign of underbaking is a crumbly texture and a very uncooperative cake.

Something else that some folks like to tweak when baking something gluten-free is to add an additional egg to give some additional strength from the protein of the egg whites.

We'd be interested in getting a few details from you to see if we can figure out where things may have gone awry, so please give us a call at our free and friendly Baker's Hotline at 855-371-BAKE (2253) so we can assist you further. Kindly, Annabelle@KAF