A customized print-friendly version of this recipe is available by clicking the "Print Recipe" button on this page.
Blueberry Coffeecake with Lemon Streusel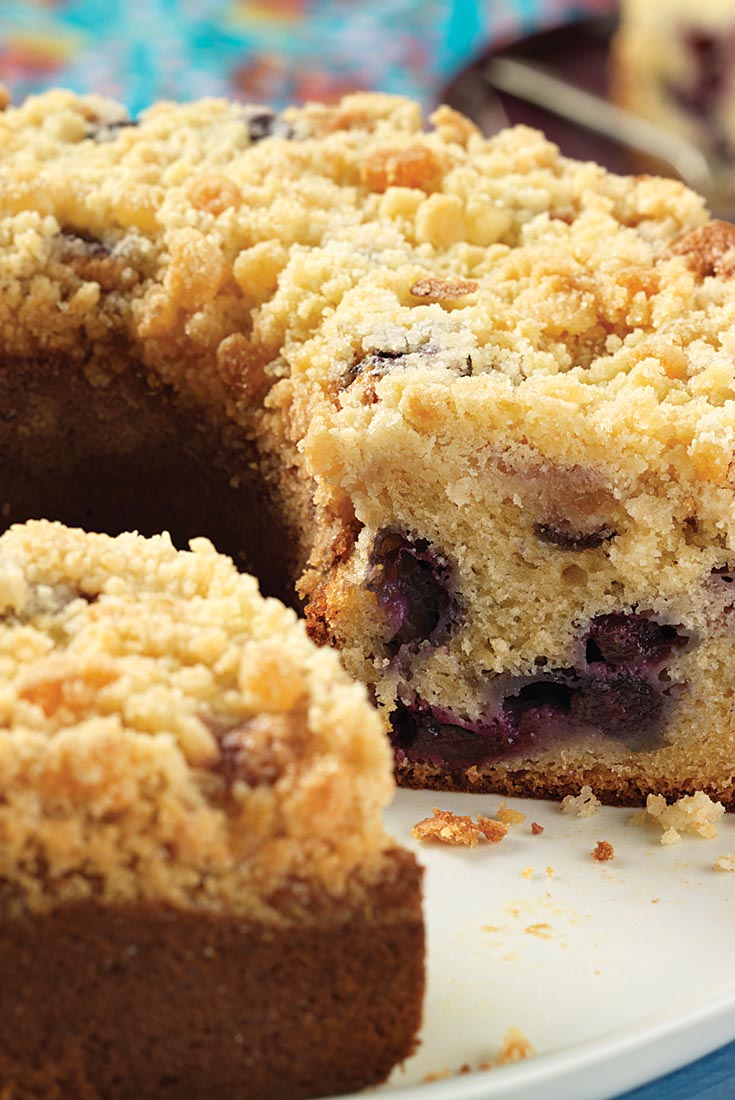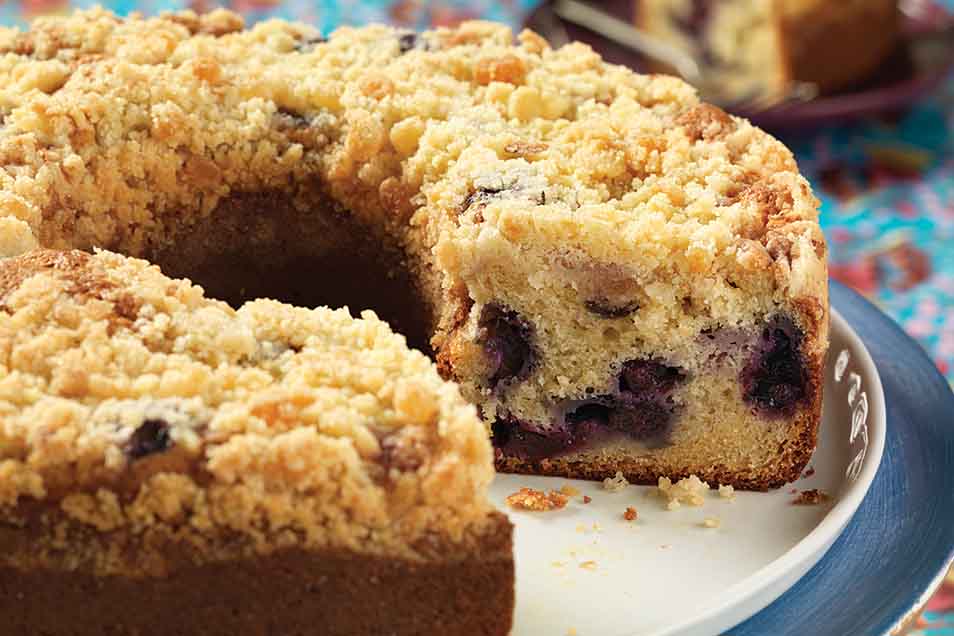 A tender coffeecake, loaded with blueberries, and topped with a unique white streusel studded with tangy pieces of candied lemon peel. Lemon oil is added for extra punch, a perfect counterpoint to the sweet berries.
Ingredients
Lemon Streusel
1/2 cup granulated sugar
pinch of salt
1/2 cup candied lemon peel
6 tablespoons butter, softened
3-4 drops lemon oil, or 1/8 teaspoon lemon extract
Cake
8 tablespoons butter, softened
1 cup granulated sugar
2 large eggs, room temperature
1 cup sour cream, room temperature
1 teaspoon vanilla extract
1 teaspoon baking powder
1/2 teaspoon baking soda
1/2 teaspoon salt
2 cups fresh or frozen blueberries, well drained
Instructions
Preheat your oven to 350°F. Lightly grease a 10" tube pan; a 9" x 13" baking pan, or two 8" x 2" round pans.

To make the lemon streusel: In a medium-sized bowl whisk together the sugar, flour, and salt. Gently toss the candied peel until it is well coated. If you prefer smaller pieces of peel, you can pulse the mixture 10-12 times with a food processor at this point. For a bigger lemon "bite" leave as is.

Work the softened butter into the flour/peel mixture until it resembles granola, some larger chunks, some smaller. Sprinkle on the lemon oil and toss again to combine. Set the mixture aside.

To make the cake: Beat the butter and sugar until light colored and fluffy. Add the eggs one at a time and beat after each addition. Be sure to scrape down the bowl well each time. Beat in the sour cream and vanilla.

In a separate bowl, whisk together the flour, baking powder, baking soda and salt. Add to the batter, mixing until combined. Avoid over-beating or the cake will become tough.

Gently fold in the blueberries until well distributed throughout the batter. Pour into the prepared pan(s); sprinkle the lemon streusel evenly on top.

Bake the cake for about 40 minutes (in the tube pan), or 30 to 35 minutes in the 9" x 13" or cake pans, or until a toothpick inserted into the center of the cake comes out clean. Remove from the oven, and cool on a rack for 15 to 20 minutes before serving.

Yield: about 2 dozen servings.
Nutrition Information
Serving Size

1 (65g)

Servings Per Batch

24
Amount Per Serving:
Calories

200

Calories from Fat

80

Total Fat

9g

Saturated Fat

5g

Trans Fat

0g

Cholesterol

35mg
Sodium

130mg

Total Carbohydrate

29g

Dietary Fiber

1g

Sugars

16g

Protein

3g
* The nutrition information provided for this recipe is determined by the ESHA Genesis R&D software program. Substituting any ingredients may change the posted nutrition information.
Reviews
WAS ASKED TO BRING A DESSERT TO A BRUNCH....THIS SEEMED LIKE A GOOD CHOICE. DIDN'T HAVE ANY CANDIED LEMON PEEL BUT HAVE A TREE FULL OF MEYER LEMONS SO MADE IT MYSELF....A LITTLE EFFORT BUT TURNED OUT GREAT AS DID THE CAKE....A BIG HIT! OTHER REVIEWS WORRIED ABOUT GETTING THE CAKE OUT OF THE PAN (I USED ANGEL FOOD PAN). I CUT PARCHMENT PAPER ABOUT AN INCH WIDER THAN PAN WITH A HOLE IN CENTER TO FIT OVER TUBE INSERT. THEN CUT A SLIT ON BOTH SIDES OF PAPER IN THE MIDDLE AND LAID IT IN THE PAN WHICH HAD BEEN BUTTERED. WHEN IT WAS BAKED AND COOLED REMOVED AND CAREFULLY PICKED UP THE PAPER BY THE EDGES AND TRANSFERRED TO THE SERVING PLATE AND PULLED OUT THE TWO PAPER HALVES.. SLICK....NO PROBLEM!
I didn't have the candied lemon peel, so made it only with the lemon oil. Gave it a delicate lemon flavor which was lovely. This was a moist, flavorful coffee cake, one of the best I have ever made. Will become a staple in my household and a go to for work breakfast parties!
I used lemon zest & juice in streusel (no extract or candied zest on hand) and 2% Greek yogurt instead of sour cream. It is still a wonderful dish. I sliced and froze this. A few seconds in the microwave and you can taste the fresh berries and lemon.
Wow, I was surprised at how well this turned out...A wonderful, light, and flavor filled coffee cake. I enjoyed making the candied lemon peel as I've never done that before (it was quite easy). Regarding the lemon peel, before using it I finely 'diced' it which I believe adds to the enjoyment of this recipe. I'll be making this often...no doubt about it!
I baked this cake using K.A. flour. It was a flavorful and light cake. I beat the butter and sugar for 5 min. w/ a stand mixer, since the instructions didn't indicate how long. Having said that, however, even at 350 degrees in a Nordicware tube pan this cake wasn't baked at the 40 min. mentioned in instructions. I saw that a few other bakers had this same problem. My cake was baked at one hour. The other item is that I would chose another pan next time as I found it wasn't that easy to cut that cake in a tube pan, and I didn't want the streusel all over. Tactical issues. Therefore, I also didn't invert the cake the way one normally would -- in order to preserve the topping. The issue that 3 of us had: the canned lemon peel (in a plastic bag) that I bought from you at K.A. a few months ago is not suited for this cake. I just opened it, too. Def. not in our opinions. The peel was hard and dry, despite assurances a few months ago online that it would 'soften up' in baking. Well, it didn't. It became harder. In fact, my husband commented, 'You could break a tooth on this peel'. I had warned him. Because I thought the same thing. What happened to the moist candied lemon peel product K.A. used to sell in the round containers? Other customers lamented it's disappearance, as well as myself. The better orange peel as well - gone. The supermarket doesn't carry it either. Now, I'll prob. bake this cake again...when I can find the properly soft, tender lemon peel. Another thought: some of the supermarket blueberries were mammoth. Other bakers might want to consider that. I prefer a more modest size berry for baking a cake, and will make sure I have a better size next time. Dusting them with flour first so they don't sink in the cake, prob. should have been mentioned in the instructions. Yes, I know I could make my own peel, but I would rather just bake.
First of all, the amount of blueberries is WAY too much. It took 65 minutes in a tube pan and when I cut into it, the blueberries were a clumped together at the bottom of the pan. Top part of the cake was good but bottom looked like it wasn't cooked. I used frozen blueberries ...disappointed.

Thank you for giving this recipe a go, Pat, and for taking the time to reach out. We've shared your feedback with our recipe team to take a look at as the baking time discrepancy is concerning. Per blueberries, please feel free to use the amount that looks right to you. We are big on blueberries and prefer a juicier, fruit-filled coffeecake, but understand it isn't everyone's favorite. You can also try adding the blueberries on top of the batter after it's already in the pan. This will allow them to sink in and be more evenly suspended throughout the cake. We hope this helps, and thank you again for your feedback. Annabelle@KAF
question: I am about to make this for the first time. After baking - do you turn upside down onto a plate, and then flip it over again, so that the streusel is on top? Seems like you will loose streusel in the process.......

Amy, we tend to serve this coffeecake right in the pan that it's baked in to prevent the streusel from falling off the top. We offer a range of pans to choose from, so we hope you can find one that suits your fancy. If you want to try turning the cake out of the pan, place a plate or baking sheet on top of the cake and then turn it over, putting another plate underneath and flipping it right-side up again. Some of the streusel may come loose, but you can sprinkle any errant crumbs back on top. Happy baking! Kye@KAF
You will not be disappointed with this recipe. This is my second time making it and folks think it came from the bakery. I think the lemon oil is a must have. It's another KAF keeper! Delicious :)
Just trying to find out if the "batter" is supposed to be extremely stiff. I found it very stiff and difficult to work with although it tastes very good.

It sounds like you might be scooping your flour directly from the bag, causing it to compact in the cup. While the batter should be thick, it should still be pourable and easy to work with. To ensure you're using the right amount of flour, try measuring your flour by weight using a scale, or fluffing and sprinkling the flour gently into your measuring cup one spoonful at a time before leveling off with a knife. This will help you measure light cups of flour that weigh about 4 1/4 ounces per cup. This should help! Kye@KAF
This has now become my go to recipe for any needed coffeecake. Moist, light and wonderful flavor!! Love it!