A customized print-friendly version of this recipe is available by clicking the "Print Recipe" button on this page.
Bread Machine Bread - Easy As Can Be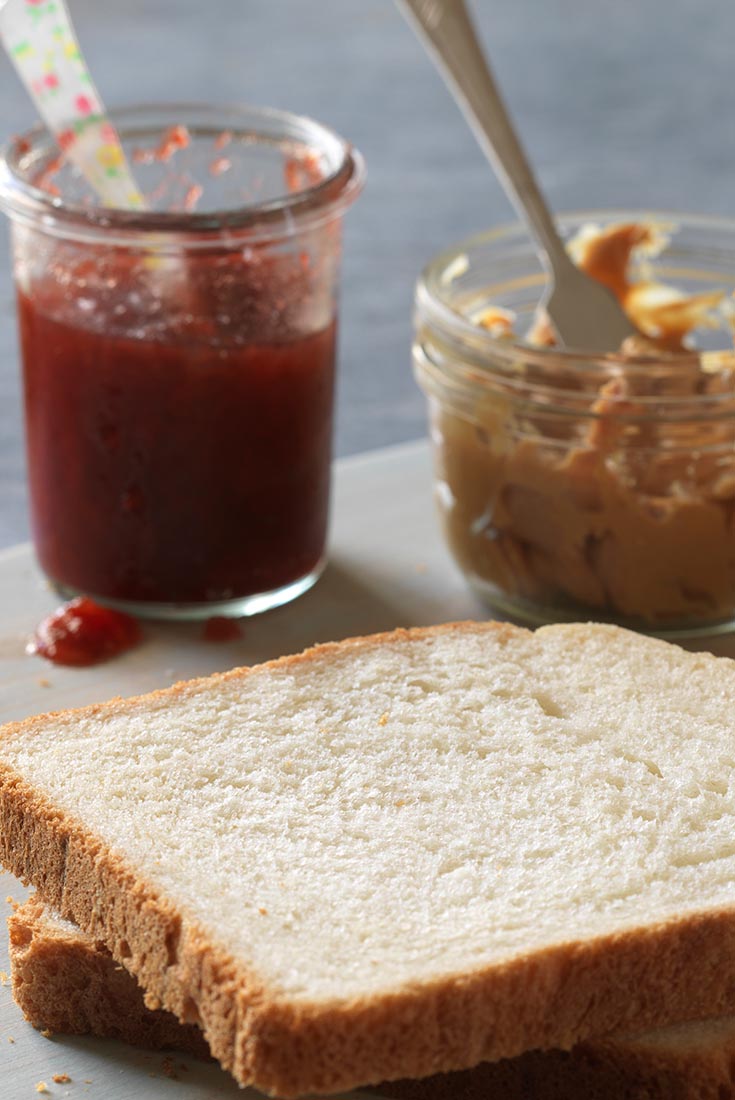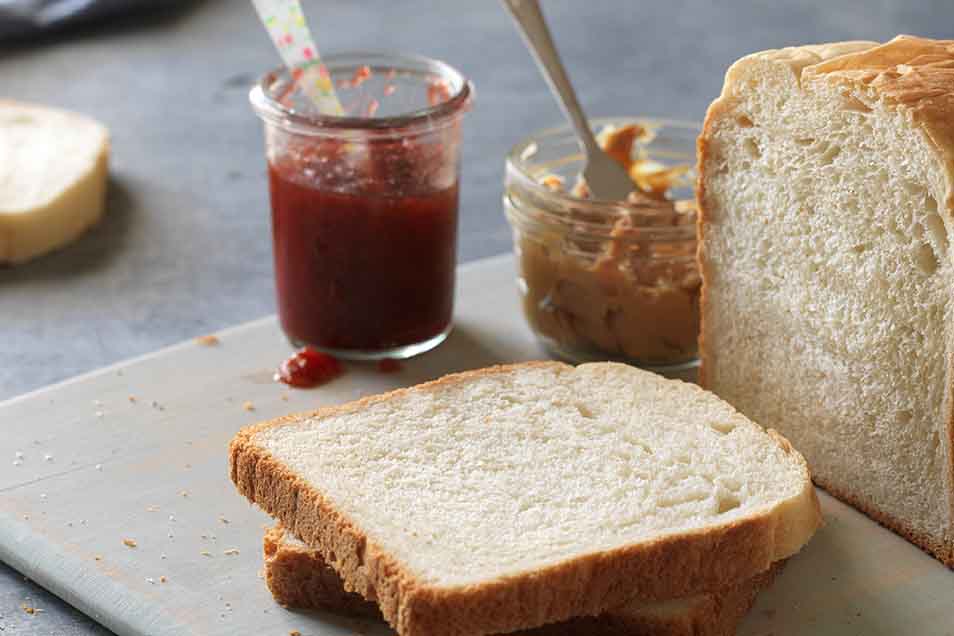 King Arthur Unbleached All-Purpose Flour is perfect for bread machines. Its high protein level (11.7 grams per cup), and the quality of that protein, allows you to use it in recipes calling for either bread flour or all-purpose flour. This recipe makes a reliably high-rising loaf, with soft, springy texture and nicely balanced flavor.
Ingredients
For large (1 1/2 to 2-pound) machine
For small (1-pound) machine
2/3 cup lukewarm water
1/4 cup lukewarm milk
2 tablespoons butter
2 1/2 cups King Arthur Unbleached All-Purpose Flour
5 teaspoons sugar
1 1/4 teaspoons salt
1 teaspoon active dry yeast or instant yeast
Instructions
Put all of the ingredients into your machine in the order recommended by the manufacturer.

Program the machine for basic white bread, and press Start.

When the loaf is done, remove the pan from the machine. After about 5 minutes, gently shake the pan to dislodge the loaf, and turn it out onto a rack to cool.

Store, well-wrapped, on the counter for 4 days, or freeze for up to 3 months.
Nutrition Information
Serving Size

47g

Servings Per Batch

18
Amount Per Serving:
Calories

120

Calories from Fat

20

Total Fat

2.5g

Saturated Fat

1.5g

Trans Fat

0g

Cholesterol

5mg
Sodium

200mg

Total Carbohydrate

21g

Dietary Fiber

1g

Sugars

2g

Protein

3g
* The nutrition information provided for this recipe is determined by the ESHA Genesis R&D software program. Substituting any ingredients may change the posted nutrition information.
Reviews
I even did an oops I read the amount of sugar wrong somehow I even questioned it and looked again still the same misread. Anyway I have a sweet bread sort of like the Hawaiian bread. IRS delishous and it will be great for our grilled cheese sandwiches with tomato soup tonite. I didn't make this in the bread maker.
Made this tonight. Super simple. Smell and taste was fantastic. Top fell a bit and when I cut it, it looked like someone had tried to eat their way out of the loaf, chunks were missing. Using Zo Virtuoso. Carefully measured ingredients by weights, brought water and milk to 105 degrees, layered ingredients into pan in order recommended for Zo. Any idea what I did wrong? Full disclosure, I plopped it out of bread bucket ASP and immediately cut it. Did not allow it to cool.

Hi Timma, there are a number of reasons why bread sometimes develops holes in it as it bakes. The dough needs to be mixed for just the right amount of time in order to develop the structure. You can try switching up the kneading settings on your machines to see if that helps. Holes also sometimes appear if there is gas trapped in the dough. You'll want to be sure the dough is completely de-gassed before it rises a second time. You can give the machine some help by turning the dough out of the bucket and folding it over onto itself a few times before putting it back into the machine to rise and bake. Lastly, check the proofing time to be sure it's not over-rising. Give some of these factors a consideration and then give our Baker's Hotline a call at 855-371-BAKE (2253) to troubleshoot further. Kye@KAF
After failing at making homemade bagels yesterday, I was desperate for something to turn out right. I should have known that using a King Arthur flour recipe would do the trick - this turned out amazing! I chose the 1.5lb loaf setting and medium crust. My heart soared when I peeked in and saw my dough ball perfectly formed. I couldn't remove it from the breadmaker right away because I was out of the house but when I got home I was delighted to find the perfect golden brown loaf inside. I'll be making this recipe again- THANK YOU!
Our go to recipe. Perfect every time. We make our bread twice a week with both recipes. As of late the 1lb size works best for our family.
Love this recipe! It came out almost perfect. I was nervous about the cooking time and did not bake it quite long enough. I will bake it according to directions tomorrow. But it still near perfect!
Wonderful recipe. I think I miscalculated the yeast, it raised but then at the end of the baking cycle, it went down. The taste is perfect and kept the crust light, which made it nice and tasty. My husband loves bread and he enjoyed it very much.

You're right in thinking that loaves that rise and then collapse at the very end of baking typically have too much yeast added to them and as a result overproof. The good news is the fix is easy: simply reduce the yeast by 1/4 teaspoon the next time you make this recipe and your final loaf should be perfect. Happy baking! Kye@KAF
This is absolutely the Best bread machine bread we (including a 10 yr old) love this bread so much! I add the warmed milk and water to the yeast and then everything else , I also cut up the butter into small pieces to distribute it better. It does rise above the pan when baked but it still does not take any of the deliciousness away, it is just slightly mushroom shaped. This recipe is definitely our go to white bread from now on. Thank You!!
Best bread machine recipe, hands down!! After I purchased a bread machine, I struggled to make a good loaf! But after finding this recipe, I'm all set! I use these proportions as my base, and sometimes tweak it with substitution of 50% wheat flour; while also adding oregano, garlic flakes, ginger powder, basically using whatever spices I have available in the house. Also, since I live in India, I substitute ghee for butter. I also experimented with using these ingredients, making just the dough, and then baking it as stuffed garlic bread. The family loved it! Thank you for this recipe! :)
This loaf of bread was perfect, the best I have ever made in a bread maker. The secret for me was the amount of yeast. After reading the FAQ and learning how to prevent the "crater top bread" I usually got with my bread machine's recipe, I decided to try this recipe. Wow!! This will forever be my fav. Thank you for the FAQ guidance and great recipe. I can't wait to try more.
Made this twice because the first time it didn't come out, figured I'd done something wrong. Especially since the reviews are awesome. So attempted it a second time. Followed the recipe exactly both times. BOTH times it has come out in just big chunks and gross. A brick is lighter in taste and texture than this crappy bread!!! Now I'm out a $$$ for the flour that is not cheap as it took the whole bag for 2 loaves.

We're sorry to hear you had such a frustrating baking experience, Mel. We realize it can be disappointing to use up expensive ingredients and then not have the recipe turn out the way you hoped it would. There are a number of common pitfalls when it comes to baking loaves in bread machines, and we'd love to help you overcome those challenges. We'll need a bit more information about your ingredients, process, and machine before we troubleshoot further. We hope you'll give our friendly bakers on the hotline a ring at 855-371-BAKE(2253) so we can dive into this further. Kye@KAF