A customized print-friendly version of this recipe is available by clicking the "Print Recipe" button on this page.
Brown Sugar Sour Cream Pound Cake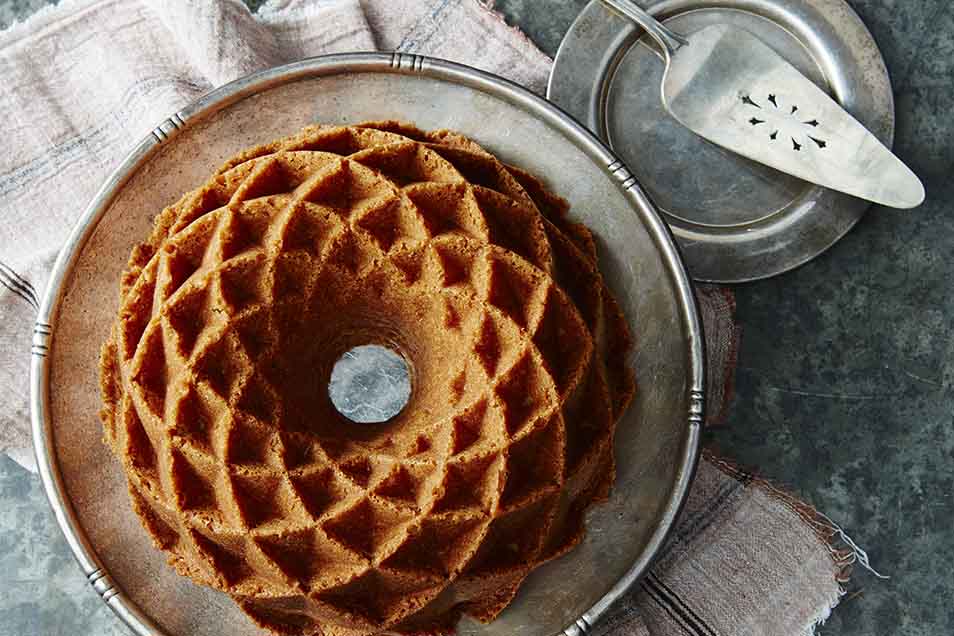 Tender, just sweet enough, and with a bit of tang, this cake is perfect with fresh berries. Or ice cream. Or both!
Ingredients
16 tablespoons (1 cup) butter, at cool room temperature
1 cup light brown sugar, packed
1/2 cup granulated sugar
2 large eggs
1 teaspoon baking powder
1 teaspoon salt
1/4 teaspoon baking soda
1 cup sour cream
1 1/2 teaspoons vanilla extract
Instructions
Preheat the oven to 350°F. Lightly grease a 9- or 10-cup Bundt pan.

In a large bowl, use an electric mixer to beat the butter and sugars at medium speed for about 2 minutes. The mixture will be light and airy, and will have lightened in color. For a visual, see our video, how to cream butter and sugar.

Add the eggs one at a time, beating for a minute or two between additions. Scrape the sides and bottom of the bowl, and beat briefly to recombine any residue.

Add the baking powder, salt, and baking soda, then gently beat in half the flour.

Gently mix in the sour cream and vanilla, then add the remaining flour, mixing just until blended.

Scoop the batter into the prepared pan, and bake for 55 to 60 minutes, until a cake tester or toothpick inserted in the center comes out clean.

Remove the cake from the oven. Cool it in the pan for 15 minutes before turning it out of the pan onto a rack to finish cooling. Cool completely before slicing.
Reviews
Prepared the recipe exactly as written and it turned out perfectly. Mine baked up in 50 minutes.
I didn't intend to make this cake. I started out making banana bread. I put brown sugar and butter in a bowl, then reached for my bananas and found they were far too ripe. (I don't think they're supposed to be liquid and bubbling!) So I searched for a pound cake recipe that used brown sugar and found this. Amazing. It's very light for a pound cake, but still very good. I love the flavor with the sour cream and brown sugar. I'm thinking of making it with some espresso powder next time. Delicious and easy!
I've made this cake several times and it does not fill the bundt pan and it was only half full when baked. It did seem as if there's not enough flour and eggs in the recipe to fill a 10 cup pan. The flavour is wonderful so it's still worth making. I used light muscovado brown sugar which has a really nice colour and flavour. I've been making cakes for about 60 years so I feel I have experience.
Wow and Wow! I almost didn't make this after reading the reviews, so glad I did. I made it in a stand mixer, butter just soft, seen all the talk about over mixing, did the 2 minutes as suggested by King Arthur. Mixed the rest in the steps listed really again just till mixed. So moist and flavorful and I don't really like pound cakes but this is so good! just wish it was bigger, I might double it next time and try a browned butter glaze, but really people this has so much flavor and just from brown sugar. Don't change anything and give this a try, you will love it!
Just cut into it after popping it out of my bundt pan and letting it cool. Sadly, my cake deflated after I took it out of the oven (don't overbeat your batter!), but my family and I are in love with this cake. It has a moist, tender crumb and isn't too sweet. I love the slight tang from the sour cream. Can't wait to serve this with whipped cream and berries! I will definitely be making this again.
This is a wonderful potluck dessert. It travels so easily. Serving it today with mascerated mixed berries and whipped cream. I doubled the recipe to ensure a full Bundt and saved a smaller loaf for us!
I'm bummed. This batter was YUM. I will try it again. I've now had 2 bundt cakes beat me, and I'm not sure what's going on. I suspect my butter was too soft to begin with, (so I tried not to over cream) and I'm not sure what brand of flour I have in the container, but will try again with King Arthur. It seemed a little too delicate and I did add a little extra. Both times the cake has fallen while in the oven after testing for doneness. The 2nd time I was actually trying to get the temp probe back in it. I burned my hand and jarred the oven. So would this cause a cake to fall even if the structure wasn't compromised by the other factors? (soft butter/unknown flour). I'm also wondering if reverse creaming would work on this type cake. (I'm pretty sold on it after using that method on a few others.)

We're sorry to hear this recipe gave you trouble with your pans. We'd love the chance to talk through the recipe with you, so we encourage you to reach out to our free and friendly Baker's Hotline staff to help troubleshoot at 855-371-BAKE (2253). You should have better results using our flour, it sounds like whatever flour you used didn't have quite enough strength from gluten to hold itself up after it had risen in the oven. We want to help make the next one lovely! Kindly, Annabelle@KAF
Apparently I spent my whole life waiting for this cake- it is perfect! Slightly tangy and absolutely delicious.
I think this is one of the best cake that I ever ate. In my recipe I used just light brown sugar. And believe me, its worhy it,
I made this exactly as written - but instead of flouring the pan, I buttered and sugared the bundt with raw sugar to add a sweet crunch on the outside.. so good. I served with a bourbon caramel sauce and toasted pecans and a small scoop of vanilla ice cream - it was a hit. Making it again today!