A customized print-friendly version of this recipe is available by clicking the "Print Recipe" button on this page.
Easy Gluten-Free Almond Cake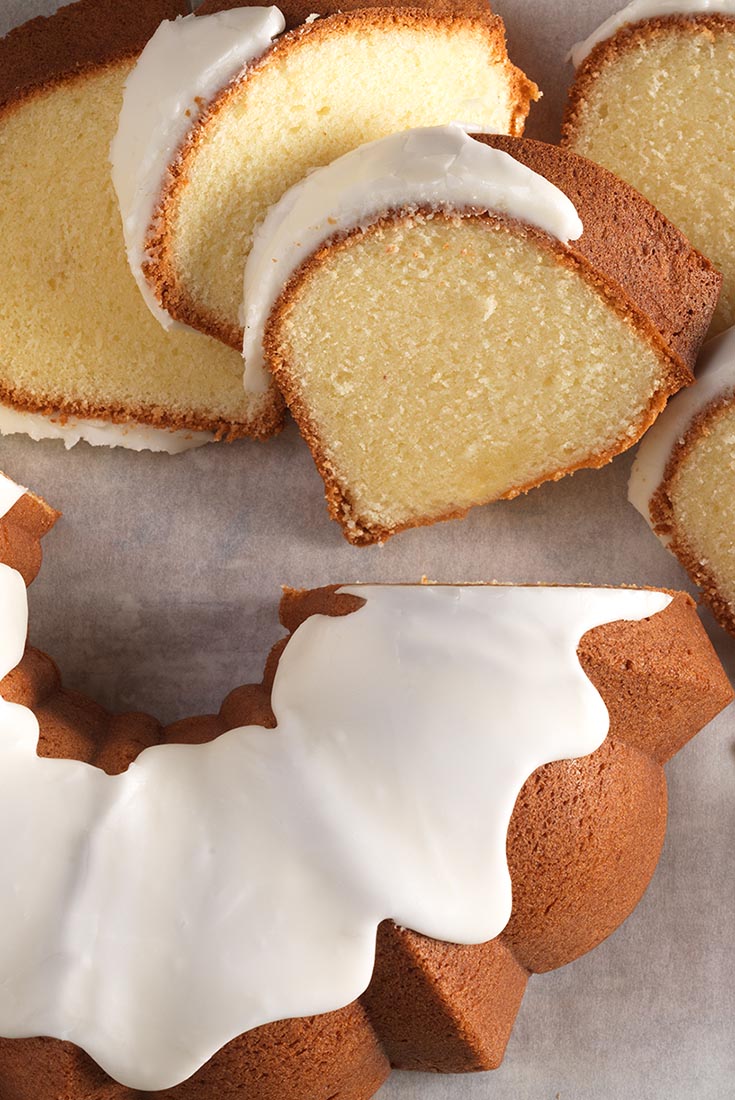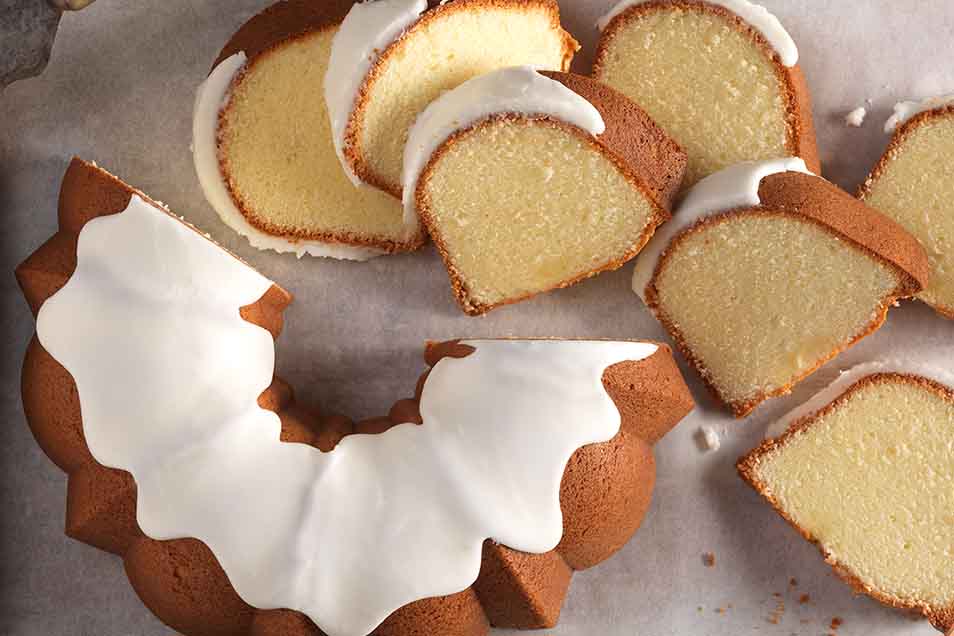 Rich and fragrant, this is an easy way to transform your gluten-free cake mix into an elegant dessert — either a Bundt or layer cake.
Ingredients
Glaze
1 cup confectioners' sugar, sifted
1/4 to 1/2 teaspoon almond extract, to taste
4 to 6 tablespoons milk or cream
Instructions
Preheat the oven to 325°F (for a Bundt cake), or 350°F (for round layers). Lightly grease a 12-cup bundt-style pan; three 8" round pans, or two 9" round pans.

To make the cake: Mix together the cake mix and almond flour.

In a separate bowl, beat the butter and oil together, then beat with the almond extract and half the almond flour/cake mix.

Add the eggs one at a time, beating slowly just until combined after each addition.

Add 1/3 of the milk at a time, alternating with 1/3 of the dry mix. Beat until smooth, scraping the bowl after each addition.

Pour the batter into the prepared pan.

Bake the Bundt cake for 50 to 60 minutes; the 9" layers for 34 to 36 minutes, or the 8" layers for 28 to 30 minutes. The cake's crust will be golden brown, and the middle will feel firm when pressed. The internal temperature should be 210°F to 212°F.

Remove the cake from the oven, let it cool in the pan for 15 minutes, then turn it out of the pan onto a rack.

To make the glaze: Whisk together the glaze ingredients; begin with the smallest amount of liquid.

Add milk or cream until the glaze is the texture of molasses.

Drizzle over the cooled cake. Sprinkle with sliced or slivered almonds, if desired. Layers can be stacked, filled, and iced with your favorite frosting.

Yield: 1 cake, about 16 servings.
Tips from our bakers
If you don't have almond flour, grind 2/3 cup blanched almonds with half the mix in your blender or food processor until powdery, then combine with the rest of the cake mix.
For an extra-special celebration cake, our test bakers loved the towering look of the triple-decker 8" round layers.
Reviews
I love this cake and have made it three times. Each time someone will ask for the recipe and each time I tell them all about King Arthur and the wonderful products offered that are Gluten Free. This Almond Cake is great with fresh strawberries and of course, whipped cream.
This cake is DELICIOUS!! It has the texture and flavor of pound cake and you'd never know it's GF. My daughter and I have celiac so I made this for Easter and no one could tell it was GF. We will definitely be making this again soon!
This recipe was wonderful. I used it to make a GF King Cake. Would love a recipe for an actual GF King Cake.
Made this cake for a child's gluten free birthday dinner. It is so good that I made it again for a birthday gathering of non-gluten free - except for me. No one even knew it was gluten free. It is moist and flavorful. Even my husband loved it and he usually doesn't do gluten free.
This recipe is AMAZING! It is easy to follow and I love the convenience of using the cake mix. The cake comes out delicious and its a perfect consistency. I have made this cake 3 times and everyone who has tried it has raved about it. I have only made it as an almond cake but can definitely see how it would work as a lemon cake as well. This is now my go-to gluten free dessert!
I've made three variations on this recipe. I subbed in Earth Balance for all recipes since we are GF/DF. 1. I subbed in 1 tsp of vanilla for the almond extract and used it for making our Easter lamb cake. 2. I added sour cherries on top of the 9" round before baking. Sprinkled it with powdered sugar after it cooled. Yum! I want to try to make these as muffins. 3. I subbed in 1 tsp vanilla for the almond extract and added 1 tsp of fresh ground nutmeg. Served it with strawberry/rhubarb compote and whipped cream. Our GF version of Courtin' Cake. No one knew it was GF/DF.
Followed directions for the cake as shown, and it turned out fantastic. Moist and delicious. Made a simple almond flavored cream cheese frosting instead of the icing in recipe and it was great. So I thought- this would make a great cake base for other flavors! I made a Blood Orange Bundt by exchanging the milk for blood orange juice (I zested the oranges first and used all the zest too) and orange extract for the almond extract. Made the same cream cheese frosting again but used blood orange juice and the zest again. Exeryone at work loved it! Can't wait to try another flavor!
I baked both gluten free almond cakes published on the website and although we enjoyed both cakes we found the easy recipe using the King Arthur yellow cake mix to be the better tasting of the two.
I made this cake without the glaze because I needed to wrap it and travel with it by bus. It was still great without the glaze and I got many compliments. Everyone had seconds! I will try it with the glaze next time. I think it would be nice with berries or a berry sauce.
This cake was the BEST cake I have ever made or eaten! I made this recipe using lemon oil instead of almond extract but otherwise exactly as written. It has a prefect texture, lightness, flavor & appearance. I have failed miserably to ever get all that with my gluten-free baking in almost 4 years of trying. I only wish this recipe would come up with a google search. I found it by looking for a gluten-free brownie recipe (which by the way you can make right from the King Arthur Brownie Mix Box using half the butter called for (I use 1/2 stick not a whole stick of butter) & there will be none left-delicious. Hats off to King Arthur for making our gluten-free lives so much tastier!!