A customized print-friendly version of this recipe is available by clicking the "Print Recipe" button on this page.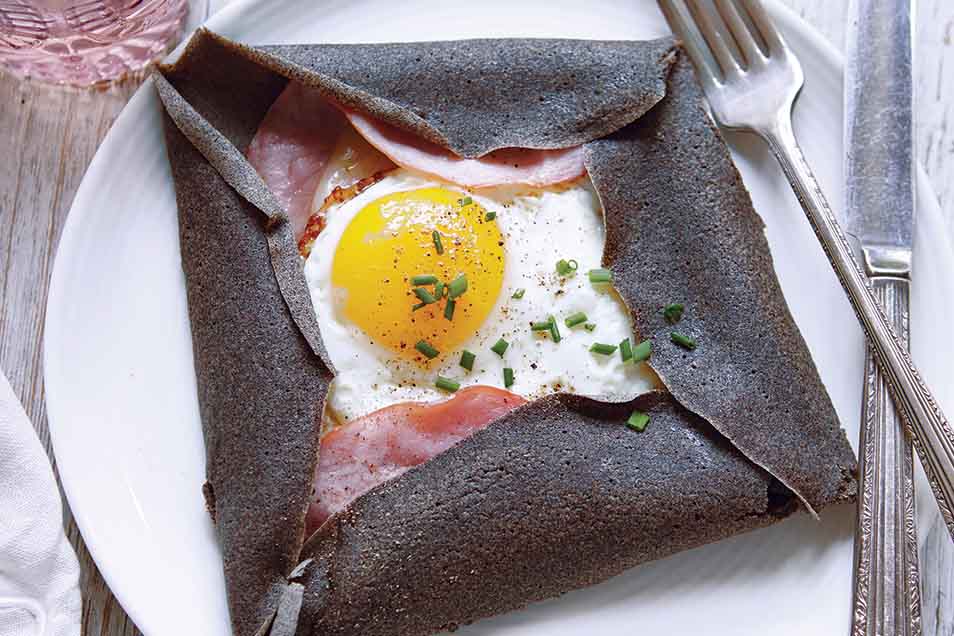 Also referred to as galettes in Brittany, France, buckwheat crêpes have gained in popularity in this country in large part because they're a tasty, gluten-free alternative to a traditional crêpe. A common galette filling in France is cheese and ham with a sunny-side-up egg on top. But with all the savory fillings out there, we encourage you to experiment and share your own favorite combinations of meat, fish, cheese, eggs, vegetables, fruit, nuts, etc.
Ingredients
1 cup buckwheat flour
3/4 teaspoon salt
2 large eggs
1 cup milk: 1%, 2%, or whole
1 tablespoon melted unsalted butter
1/4 to 1/2 cup water
Instructions
To make the crêpe batter: Combine all the ingredients (except water) in a blender, and blend until smooth.

Cover the batter and let it rest in the refrigerator for at least 2 hours, or overnight.

When you're ready to make crêpes, thin the batter with water, using less water for thicker crêpes and more water for thinner ones.

Preheat a crêpe pan or non-stick skillet over medium-high heat. Lightly grease the pan with butter, oil, or pan spray, then pour in enough batter to thinly coat the bottom of the pan; swirling the pan as you pour the batter will help ensure an even coating.

Cook the crêpe for 1 to 2 minutes on the first side, until it's golden and lifts from the pan easily. Flip it over and cook for another 1 to 2 minutes on the other side.

Transfer cooked crêpes to a plate, stacking them on top of one another, and keeping a towel over them.

Fill as desired; serve warm.

Yield: 10 to 12 crêpes.
Tips from our bakers
To prepare a traditional Galette Complète (pictured above), place your crêpe pan on medium heat, and when the pan is hot, place a crêpe on the pan to reheat on one side. Flip the crêpe and top with 2 tablespoons grated Swiss cheese and a thin slice of cut ham. Cook until the cheese is melted and the underside is browned. In a separate pan, fry an egg to desired doneness. Place the egg in the center of the crêpe, then fold the edges towards the center to make a square. Serve immediately.
Reviews
I am sorry but I do not know anyone who would happily eat this raw egg wrapped in a piece of leather..... Girl! Presentation is everything!

This is definitely a heartier style crepe. If you're looking for something more delicate-looking, we suggest typing "Parisian street vendor crêpes" into the search bar of our site. It should be a recipe that's more up your alley. Happy baking! Kat@KAF
Flour quality is very important. I bought NonKing Arthur flour and the recipe I made did not come out well. I bought King Arthur and the result was very authentic. Several years ago I had a french student for a week in the summer and he taught me this recipe but we had to make them twice to get a proper result. The flour made all the difference. I have made them since with great results every time. Disclaimer. I do not work for nor have I ever worked for King Arthur, but I do love to cook.
Easy, fun, delicious. I only had buttermilk and that worked beautifully. Will be making lots of crepes for years to come.
Easy recipe to make, but the buckwheat I used has a different taste compare to home taste (Brittany). I was wondering if it was due to my flour, Hodgson Mill, no King Arthur around here. Does the American Buckwheat has a different taste than the French Buckwheat (Sarrazin)? Of course, you have to have had the opportunity to try some in France to be able to compare. I hope some of you can help. Thanks

Our experts in the test kitchen replied by saying, "Location, location, location. Flour milled from identical varietals can vary greatly depending upon growing conditions, also milling technique." We hope that helps answer your question. Kye@KAF
Yum! Nice recipe. Easy to work with. ---- As for my favorite filling? My favorite buckwheat crepe filling would be caramelized apples....... yummmm...... The flavor of the caramelized apples seasoned with sweet spices of choice can subdue the strong flavor of buckwheat for the uninitiated - even with a heavier buckwheat pancake. But crepes are thin enough that the buckwheat flavor is not terribly overpowering anyway. So the less flavorful fillings, such as the traditional ones (e.g. - eggs, ham, and cheese - or - creme fraiche and smoked salmon, or etc., fruit and whipped cream) are all so good. - I love making these up ahead of time using a cooler stove setting (using cast iron crepe pan) while deep cleaning my kitchen.
Perfect crepes finally with 100% buckwheat flour and no gluten free flour mixes. I used coconut milk instead of dairy milk and added a couple of tsps of sugar to the batter. Made lemon ricotta crepes with fresh marinated strawberries
So good I made them twice in one week. A little cheese, a little ham and and egg-oh yum! Also good spread with a little cream cheese and some smoked salmon. The filling possibilities are endless.
A little gruyere cheese takes this over the top.
Great taste and texture. The batter was easy to prepare. I substituted coconut milk and coconut oil to make them diary free.
They were very easy to make, and I enjoyed the Galette Complete recipe as well as rolling fresh seasonal berries and whipped cream inside some of the crepes.