A customized print-friendly version of this recipe is available by clicking the "Print Recipe" button on this page.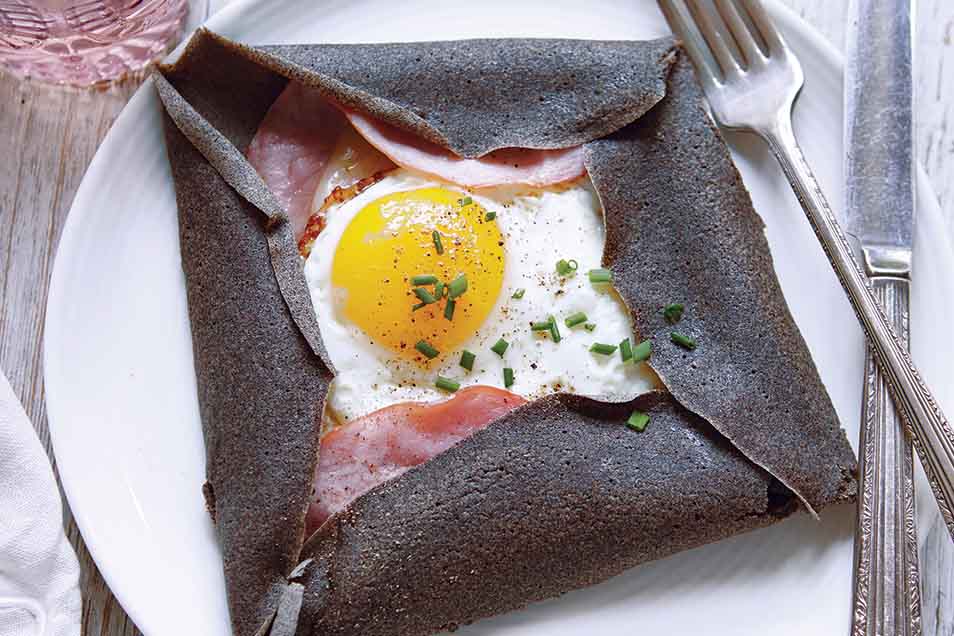 Also referred to as galettes in Brittany, France, buckwheat crêpes have gained in popularity in this country in large part because they're a tasty, gluten-free alternative to a traditional crêpe. A common galette filling in France is cheese and ham with a sunny-side-up egg on top. But with all the savory fillings out there, we encourage you to experiment and share your own favorite combinations of meat, fish, cheese, eggs, vegetables, fruit, nuts, etc.
Ingredients
1 cup buckwheat flour
3/4 teaspoon salt
2 large eggs
1 cup milk: 1%, 2%, or whole
1 tablespoon melted unsalted butter
1/4 to 1/2 cup water
Instructions
To make the crêpe batter: Combine all the ingredients (except water) in a blender, and blend until smooth.

Cover the batter and let it rest in the refrigerator for at least 2 hours, or overnight.

When you're ready to make crêpes, thin the batter with water, using less water for thicker crêpes and more water for thinner ones.

Preheat a crêpe pan or non-stick skillet over medium-high heat. Lightly grease the pan with butter, oil, or pan spray, then pour in enough batter to thinly coat the bottom of the pan; swirling the pan as you pour the batter will help ensure an even coating.

Cook the crêpe for 1 to 2 minutes on the first side, until it's golden and lifts from the pan easily. Flip it over and cook for another 1 to 2 minutes on the other side.

Transfer cooked crêpes to a plate, stacking them on top of one another, and keeping a towel over them.

Fill as desired; serve warm.
Tips from our bakers
To prepare a traditional Galette Complète (pictured above), place your crêpe pan on medium heat, and when the pan is hot, place a crêpe on the pan to reheat on one side. Flip the crêpe and top with 2 tablespoons grated Swiss cheese and a thin slice of cut ham. Cook until the cheese is melted and the underside is browned. In a separate pan, fry an egg to desired doneness. Place the egg in the center of the crêpe, then fold the edges towards the center to make a square. Serve immediately.