A customized print-friendly version of this recipe is available by clicking the "Print Recipe" button on this page.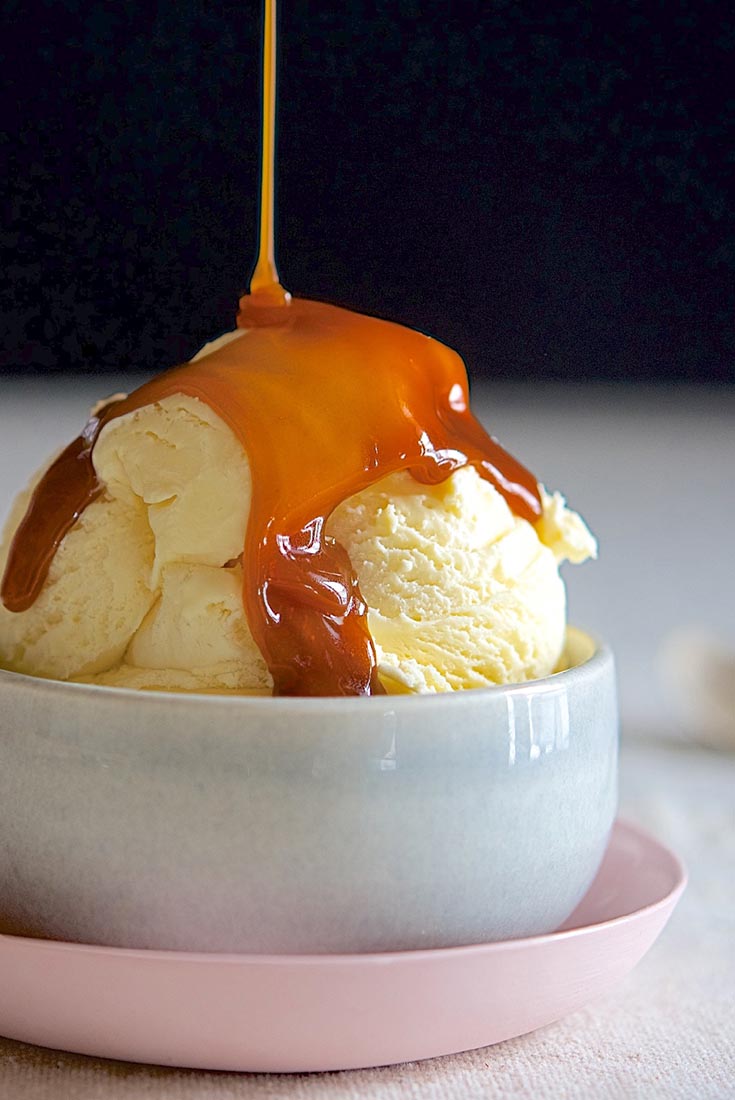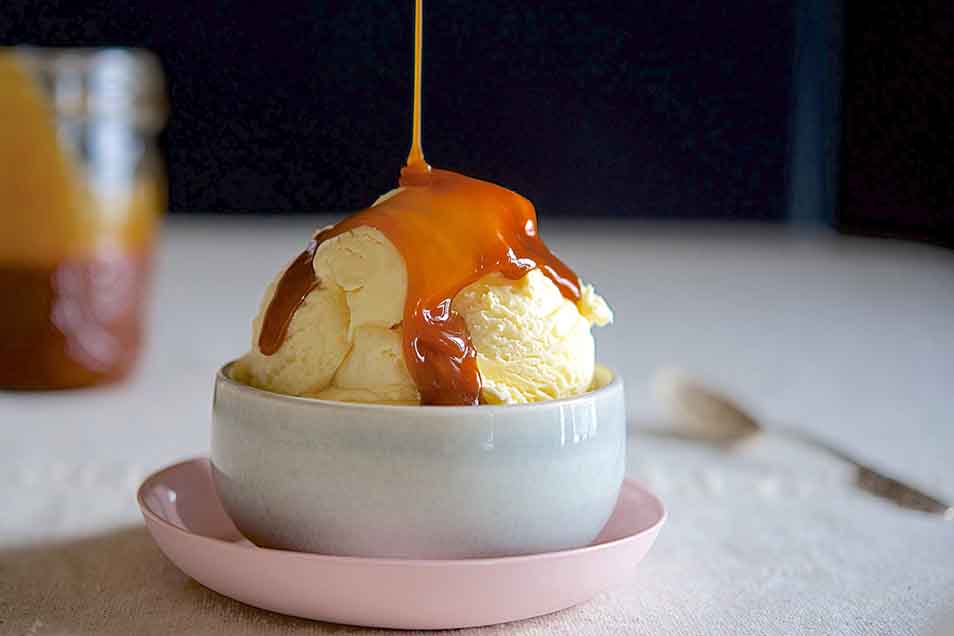 Richly flavored and absolutely delectable, this thick (yet pourable) sauce is ideal on ice cream, and the perfect topping for a square of cake: chocolate, yellow, apple, pumpkin...
Ingredients
1 cup sugar
1/4 teaspoon salt
2 tablespoons cold water
6 tablespoons butter, melted
1/2 cup heavy cream or whipping cream
2 teaspoons vanilla; or 1/4 teaspoon butter-rum flavor or butterscotch flavor; or 1 tablespoon rum
Instructions
Place the sugar, salt, and water in a deep, heavy-bottom saucepan; it should be at least 2-quart capacity, as the syrup will bubble up during preparation. Stir to combine, and heat over medium-high heat, stirring to help it along, until the mixture starts to bubble.

When the mixture comes to a boil, reduce the heat to medium and watch carefully. The syrup will begin to turn golden around the edges. Shake the pan in a swirling motion to keep the syrup moving, and to prevent the edges from burning before the center colors. Stir the edges in towards the center occasionally.

After a couple of minutes, the syrup will begin to darken. If it looks like it's getting dry/crystallized on top, stir until it's syrupy again. As soon as it's a rich amber color, remove it from the heat and stir in the butter; the whole cooking process, start to finish, will probably take no more than 5 to 10 minutes, so don't walk away.

Once the butter has been absorbed, stir in the cream. Stir until smooth; don't worry, it'll seem lumpy at first, but will smooth out. Add the vanilla or flavor of your choice; butter-rum is tasty. Or stir in a tablespoon of rum.

When the sauce is smooth, let it sit in the pan for a couple of minutes before pouring it into a glass or ceramic container to cool. Cool to room temperature, and store in the refrigerator. Reheat briefly before serving.

Sauce will stay good in the refrigerator for at least several weeks.
Tips from our bakers
For a twist, try Salted Rosemary Caramel Sauce. Place 3/4 cup sugar, 2 tablespoons boiled cider, 1/2 cup heavy cream, 2 tablespoons unsalted butter, 1/4 teaspoon salt, and one 4" sprig fresh rosemary in a medium saucepan. Bring to a boil, stirring once or twice at the beginning until the sugar dissolves. Once dissolved, cook over medium heat without stirring until the mixture reaches 230°F. Remove from the heat and strain into a heatproof container.
Reviews
This did not work for me. At first I thought it had gone wrong b/c the sugar didn't seem to melt, but I stuck with it and it did. It turned amber then sort of golden brown, so I took it off the heat and added the melted butter. It looked ok and I thought it had completely incorporated the butter so I added the cream. Something strange happened. What I had was what looked and tasted like a weird slurry of burnt caramel and melted butter. I tried straining it, but it just looked weirder. Maybe I didn't incorporate the butter well enough? Or maybe let the sugar go too long and the pan heat cooked it to dark?

We're sorry to hear that this recipe gave you some trouble, Marcia. We'd love the chance to talk through the recipe with you, so we encourage you to reach out to our free and friendly Baker's Hotline staff to help troubleshoot at 855-371-BAKE (2253). Kindly, Annabelle@KAF
I had a hard time with my first try but I've never had success with candy-making. It started out fine but I don't know if I had the flame too high because before it turned amber it sort of solidified. It did finally turn amber and I took it off the heat but it still wasn't liquid. It took forever to get the melted butter incorporated and I put it back on the heat, and then got the cream and vanilla in but it still had hard lumps no matter how hard I tried to smash them. I ended up putting it through a strainer and it is absolutely delicious. I will try again but are there any tips based on my description that anyone can give me? Maybe my pot got too hot? (I used a 2-quart LeCreset pot.) Or maybe I just let it go too long but it just wasn't turning color for me. Thanks.

We think your baking instincts are right on, Patti: It sounds like the sugar mixture was cooked too much and the sugar began to crystallize and harden. Sometimes the color of the sugar can be difficult to judge if you're using a dark-bottomed pot, which many LeCreuset pans are. Try using a lower heat setting on your stove next time so that the mixture heats up more gradually, and take it off a bit sooner too. The sugar should still be viscous, like a thick syrup when it comes off the heat. You're so close to caramel perfection; we hope you try it again! Kye@KAF
I followed this recipe exactly as written. My sugar mixture was nice and amber and thick. I added my melted butter and vigorously stirred until it all went in and the sauce was glossy and thick. Then I added the cream. I ended up with sauce that was way too thin. I poured on ice cream and it was the consistency of caramel milk, not syrup. I triple checked my measurements and steps and I followed them exactly. Kinda disappointed.

Hi Anne, thanks for sharing your caramel-making experience with us. We recently wrote a full article on our blog about how to make caramel that has the perfect consistency for your taste buds, which sounds like something you might find helpful to check out. Next time try cooking your sugar mixture longer, until it's a deep copper color, almost like a penny. The mixture should bubble up once the cream is added but then thicken as the residual heat cooks it slightly. If your caramel is too thin, try simmering it for 5 to 10 minutes over low heat before using it again next time. This should help it reach that perfectly pourable consistency. We hope this helps! Kye@KAF
I like the flavor and consistency overall, but the method of preparation seems a bit off to me. I think that more water is needed to achieve the desired results. Also, it was really challenging to get the butter to incorporate. I had to put the mixture back on the burner to get everything to blend, and then I had to strain it to get the lumps out. I will definitely try it again, since I believe it has the right proportion of other ingredients.

Thanks for sharing your feedback about this recipe with us, William. You're not the only baker who has experienced some lumps and faced other challenges while mixing this up, so we've asked our Recipe Team to take another look at the ratio of ingredients, as well as the method of preparation to see if there's anything we can add to better ensure success. We'll be sure to add any tips or relevants findings to the recipe if we uncover any. Kindly, Kye@KAF
I think I may have cooked it too long. It tasted burnt. I would like to try it again because I like that it was thinker and creamier than another recipe I tried. I gave it 3 stars because of the burnt taste.
Question: what temp should it reach when you make it. I've used a candy thermometer for stuff like that. Would that work?

Hi Stephanie, once the sugar is dissolved, cook the mixture over medium heat without stirring until it reaches 230°F. This should give you just the right consistency in your sauce. Happy baking! Kye@KAF
I had the same problem as the first reviewer, where my sugar never darkened, just turned into a thick white bubbly mess. I had been trying to make a double batch, which might have been the problem. I panicked and added more water, but I added too much, so I panicked and a couple handfuls of brown sugar. I cooked it extra until it looked slightly thickened. When I added the butter not all of it absorbed, so I skimmed the extra off the top before I added the cream, vanilla, and I also used a splash of bourbon. It had a bit of a raw vanilla taste to it so I boiled the whole thing for another 5 minutes or so. It's absolutely delicious, great consistency, and made a ton! So all I'm saying is, you can have about 10 things go wrong, and this is still a pretty awesome recipe.

Making caramel that turns out with the perfect consistency can be challenging, Laura. To set yourself up for success, try making a single batch next time. The large volume of a double batch makes it even more difficult to cook it just right. Try measuring your ingredients by weight with a scale if possible, and watch the mixture closely as it cooks. Wait until it turns that copper, penny-like color and don't walk away. Continue cooking until it reaches this color; it'll get there! We hope you try again and consider giving our Baker's Hotline a call at 855-371-BAKE(2253) if challenges arise. You can do this! Kye@KAF
This is so creamy and delicious! I had trouble with getting it to darken the first time. It dried up and seemed like the sugar was still in crystals. I think maybe I turned the heat down too soon. I added a bit more water and tried again. Then I made sure the sugar was completely melted, and avoided stirring unil it started to darken. I will note that using salted butter and added salt results in more of a salted caramel flavor. Next time I will do one or the other, not both.