A customized print-friendly version of this recipe is available by clicking the "Print Recipe" button on this page.
Cheddar Cheese and Scallion Scones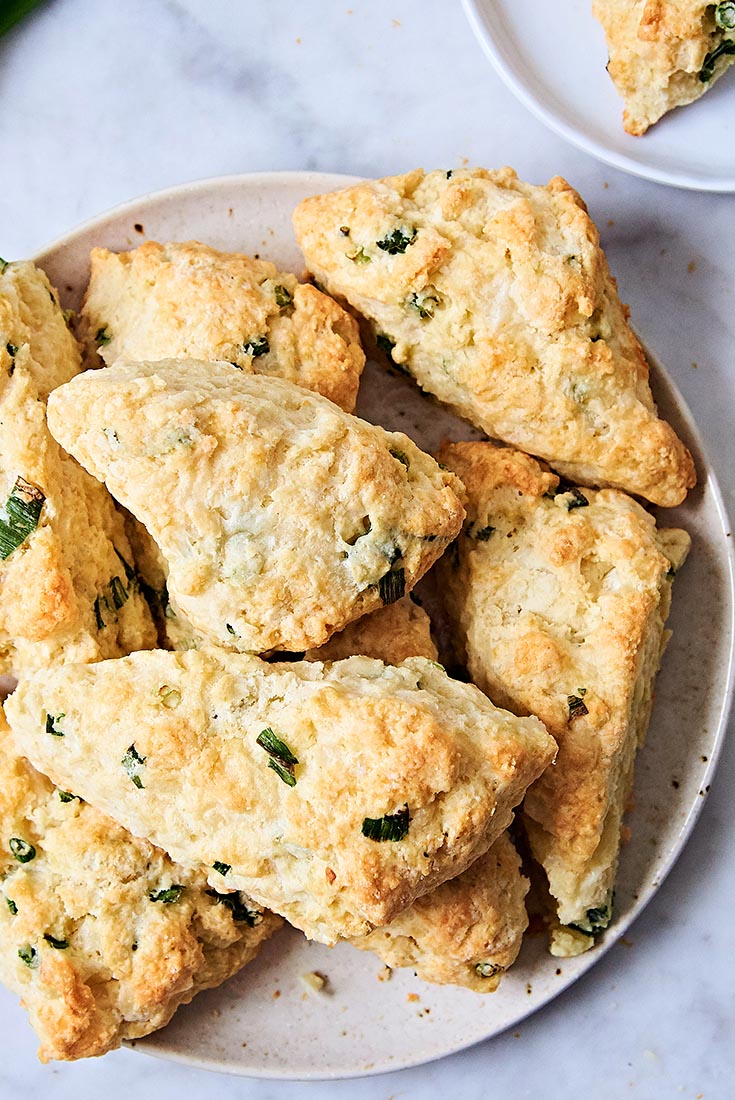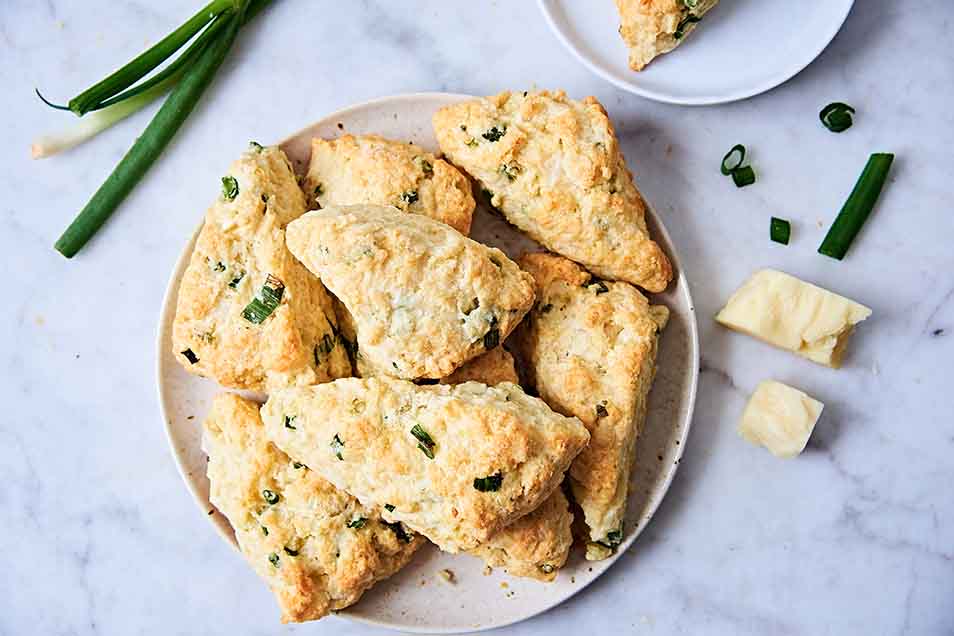 When most people think of scones, they think sweet: classic currant, cranberry-orange, offbeat chocolate chunk. But scones are just as delicious in savory versions, like this moist cheddar cheese and scallion version, perfect with your breakfast scrambled eggs.
Ingredients
1/2 teaspoon salt
1 tablespoon baking powder
6 tablespoons cold butter, cut into pieces
1 cup grated or chopped sharp cheddar cheese; we prefer Cabot extra-sharp
3 scallions, cleaned, trimmed, and chopped (both white and green parts)
2 large eggs
1/3 cup milk, cream, sour cream, or ricotta cheese
1 tablespoon Dijon mustard, optional, for flavor
1 teaspoon hot sauce, optional, for zing
Instructions
Preheat the oven to 375°F. Lightly grease a baking sheet, or line it with parchment.

Whisk together the flour, salt, and baking powder. Work in the butter with your fingers to make an unevenly crumbly mixture.

Toss in the cheese and scallions.

Mix together the eggs and cream (or dairy of your choice); and the mustard and hot sauce (if you're using them). Add to the dry ingredients, stirring just until everything is evenly moistened; the dough will be very sticky.

Liberally flour the counter and your hands. Pat the dough into a 10" x 2" rectangle. For larger, flatter scones, pat into a 15" x 3" rectangle.

Cut the rectangle into 5 squares; then cut each square in half diagonally, to make a total of 10 triangular scones.

Place the scones on the prepared baking sheet, leaving at least 1" between them.

Bake the scones for 20 to 23 minutes, until they're nicely browned. Remove them from the oven, and serve warm or at room temperature. Store, well-wrapped, at room temperature, for several days; freeze for longer storage.

Yield: 10 scones.
Reviews
Just pulled them out of the oven and they are fabulous! I made mini scones so they'd go a little farther but my husband and I already wolfed down 3 of these so not sure that strategy will work. I used cream as my dairy but next time I will try buttermilk and a little more hot sauce. I will definitely make these again. Thanks!
I too had a problem with dough been very very dry and crumbly despite using measured flour. I used cream for the milk part. Ohh i did use crisco so thats probably why.

We're glad to hear you measured your flour by weight, Amber, as this is a great way to set yourself up for success. Scone dough can be particularly temperamental when it comes to achieving the right consistency as it varies with the weather, humidity, the ingredients used, and age of the flour. We encourage you to add more liquid as necessary to make a cohesive dough, especially if using cream and shortening. Kye@KAF
I've made this recipe repeatedly. It's always a hit.
Hey, there. I made this recipe a half hour ago and it's great! Obviously, I changed a few things. I used 1/2 cup pf cheddar cheese with 1/2 cup goat cheese. I did not use any herbs or scallions, but I did add in the Dijon mustard. I live at a very high altitude, so I usually add an extra TBSP of liquid to my scones, and I continued to do that with this recipe. Things worked out awesome! They are delicious savory cheesy scones. I might add the scallions next time or some chopped ham or bacon. Definitely a recipe you can play with.
I made this last night and it is quite good. I found that I needed a little more liquid, not sure if it's because it's so humid here in Houston that the flour just absorbs liquid super fast? I did use part sour cream and part regular milk and also the good dose of Dijon mustard and Louisiana Hot Sauce. The other thing I changed is I used gluten free flour with no changes to the leavening ingredients, and I added chopped up ham. What can I say? They were well received! We ate them with a salad for dinner and everyone was pleased. I reheated one with butter this morning for breakfast. Yummy!

Maggie, if your scones felt a little dry, there may have been a bit too much flour added to the dough. To ensure you're using the right amount, we recommend either measuring your flour by weight using a scale, or fluffing and sprinkling the flour gently into your measuring cup one spoonful at a time before leveling off with a knife. This will help you measure light cups of flour that produce tender, delicious scones. Happy GF baking! Kye@KAF
These are fantastic! They filled my house with the most delightful smell. While not bad cold, they are much better warm.
I served this scone recipe to eight ladies for lunch and received many compliments. I used sour cream as directed in the recipe and added just a bit of sharp cheddar on the top before baking. This recipe is a keeper!
Excellent recipe. Perfect texture and lovely cheddar scallion flavor. I used Cabot Extra Sharp White Cheddar from Costco measured in grams. Scones were not dry at all, maybe it's because I used half heavy cream and half 2% milk. Has anyone ever frozen these unbaked? I don't know if this would change the bright green fresh look of the scallions. I do this with sweet scones all the time. This way I can just bake half a recipe at a time and still have fresh baked scones for another day. Freeze scones on cookie sheet until set and then put in freezer bag. No need to defrost before baking. Bake at same temp, just for a little longer since you're starting with a frozen scone.

Kim, we don't see any problem with making the scone dough ahead of time and freezing it. The scallions should stay vibrant and green if wrapped well and kept in a consistently cold part of your freezer. Happy baking! Kye@KAF
I thought these scones were fantastic, didn't change a thing, but made only half of recipe. My husband and I can only eat one and a half scones each as a rule, but these were so tasty we had three each. This one is a keeper.
I've made this recipe twice, so far. The second time, I decided to make it spicier, so I added 1/4 tsp cayenne and some freshly ground black pepper to the flour mixture. When I measured out the Dijon, I first added some horseradish to the measuring spoon, and then filled the rest up with mustard. I used Cholula hot sauce and heavy cream. I also used Cabot pepper jack cheese instead of cheddar. Since I had some extra grated cheese leftover, I sprinkled some on top of each scone before baking. So good! I will definitely make these again!