A customized print-friendly version of this recipe is available by clicking the "Print Recipe" button on this page.
Cheddar Cheese and Scallion Scones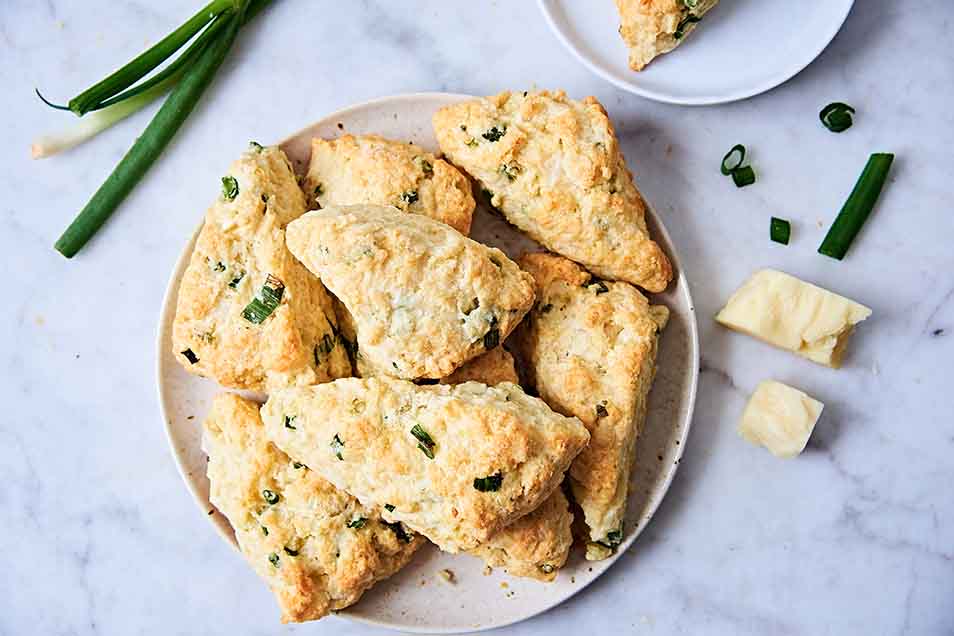 When most people think of scones, they think sweet: classic currant, cranberry-orange, offbeat chocolate chunk. But scones are just as delicious in savory versions, like this moist cheddar cheese and scallion version, perfect with your breakfast scrambled eggs.
Ingredients
1/2 teaspoon salt
1 tablespoon baking powder
6 tablespoons cold butter, cut into pieces
1 cup grated or chopped sharp cheddar cheese; we prefer Cabot extra-sharp
3 scallions, cleaned, trimmed, and chopped (both white and green parts)
2 large eggs
1/3 cup milk, cream, sour cream, or ricotta cheese
1 tablespoon Dijon mustard, optional, for flavor
1 teaspoon hot sauce, optional, for zing
Instructions
Preheat the oven to 375°F. Lightly grease a baking sheet, or line it with parchment.

Whisk together the flour, salt, and baking powder. Work in the butter with your fingers to make an unevenly crumbly mixture.

Toss in the cheese and scallions.

Mix together the eggs and cream (or dairy of your choice); and the mustard and hot sauce (if you're using them). Add to the dry ingredients, stirring just until everything is evenly moistened; the dough will be very sticky.

Liberally flour the counter and your hands. Pat the dough into a 10" x 2" rectangle. For larger, flatter scones, pat into a 15" x 3" rectangle.

Cut the rectangle into 5 squares; then cut each square in half diagonally, to make a total of 10 triangular scones.

Place the scones on the prepared baking sheet, leaving at least 1" between them.

Bake the scones for 20 to 23 minutes, until they're nicely browned. Remove them from the oven, and serve warm or at room temperature. Store, well-wrapped, at room temperature, for several days; freeze for longer storage.
Reviews
I love these scones! But I think I could improve the texture. The scones I made were a little bit more like bread rather than scones. I wonder if I took too much time mixing the cheese and scallions. The kitchen was quite warm, so I refrigerated the mixture for a while before adding the wet ingredients, and put the scones in the freezer for about 30 minutes before baking. I'd appreciate it if you would give me some suggestions to make the texture better. Thanks.
I have made this recipe several times and it has always come out perfectly! The scones are delicious and mine look exactly like the pictures that KA have posted. This is the only recipe I will use for savory scones!
These turned out wonderfully tender and flaky. I used sour cream, and minced chives(1.5oz) instead of scallions, and about 1 teaspoon of yellow mustard instead of Dijon. Generic sharp cheddar from Costco worked just fine. Even my very picky toddler loved these. I will definitely be making these again.
Great recipe! The only changes I made were: I used a good processor to cut the butter into the four and baking powder. I also used it to mix in the eggs, sour cream, cheese and chives just until combined. I also baked at 350 instead of 375. I like to underbake slightly so they stay soft and moist. Came out beautifully.
KA delivers solid scone recipes and this is no exception. Here's what I did and here's how I'd change it: I used what I had on hand: buttermilk and cream and added approx. 1 more tbsp. of cream for the right consistency. I used Dubliner cheddar, 1/2 the dijon, 1 teaspoon of rosemary (instead of scallions) and a couple of drop of sriracha. It was a great scone, flaky, with a crispy bottom. Here's what I'd do differently: Next time I might do sour cream for the tang, a sharp cheddar (like Cabot as recommended) and HALF the salt. These were pretty salty and call for twice as much salt as my buttermilk biscuit recipe. I'd bring the mustard up to the full amount and use two tsp. of rosemary. The children each had two so they couldn't have been that bad!!
I made this with vegan cheese(Daiya) , rice milk, vegan butter(earth balance baking sticks) and I used flax eggs (1 part flax to 3 parts water makes 1 flax egg) they turned out amazing!
Thanks for fast emailed response-the 1/4. To 1/2 cup onions worked really good. This recipe is amazing. I used mostly a sharp white cheddar and then for colour I added a sprinkle of med. orange cheese.
Made as directed and they are delicious. Served warm
I had all the ingredients but only 1% milk on hand, so I used that instead of something richer. The result was a little lighter and less crumbly than a normal scone, but still delicious. I froze some of them for later and they were still great after defrosting. With the lower fat milk, they would also be a great consistency as a side dish for a meal.