A customized print-friendly version of this recipe is available by clicking the "Print Recipe" button on this page.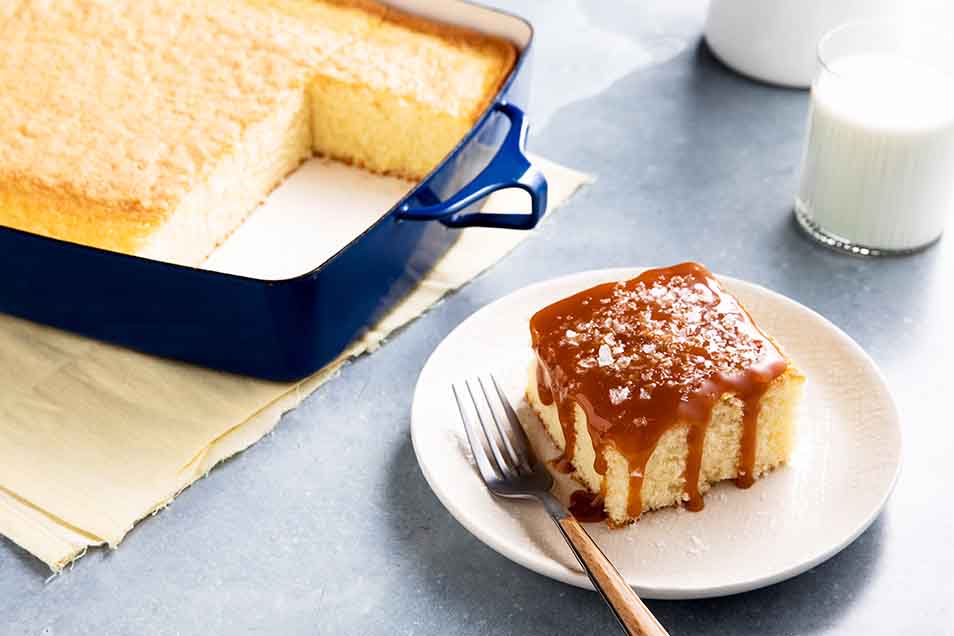 Hot milk cake, an old-fashioned treat, is fine-grained, moist, high-rising, and wonderfully tasty. It can be enjoyed as is, in all its buttery glory; or paired with the icing of your choice — or fudge topping or thick caramel sauce, as shown here. This recipe comes to us courtesy of Chef Zeb Stevenson of Atlanta, who we're proud to say uses our signature unbleached all-purpose flour in this delicious cake.

Baking gluten-free? For great results, substitute King Arthur Gluten-Free Measure for Measure Flour for the all-purpose flour in this recipe; no other changes needed.

Want to make 2 dozen fudge-frosted cupcakes? See "tips," below.
Ingredients
2 cups sugar
4 large eggs
1/3 cup vegetable or canola oil
1 1/4 teaspoons salt
2 teaspoons baking powder
4 tablespoons unsalted butter
1 cup milk (whole milk preferred)
2 teaspoons vanilla extract
Instructions
Preheat the oven to 325°F. Lightly grease a 9" x 13" pan that's at least 2" deep.

Beat the eggs and sugar together until they're light and fluffy, about 2 minutes at medium-high speed using an electric or stand mixer.

Slowly beat in the canola oil.

Weigh your flour; you'll find its weight by toggling to "ounces" or "grams" at the top of the ingredient section above. Or measure it by gently spooning it into a cup, then sweeping off any excess. Add the flour, salt, and baking powder to the egg mixture in the bowl, beating just enough to combine. Scrape the bottom and sides of the bowl, then beat again, to fully incorporate any sticky bits.

In a saucepan set over medium heat, bring the butter and milk just to a boil. Add the vanilla. Remove the pan from the heat, and stir the mixture until the butter is completely melted.

Slowly add the hot milk mixture to the cake batter, mixing until everything is well combined. Scrape the bowl, and mix briefly, just until smooth.

Pour the batter into the prepared pan.

Bake the cake for 40 to 45 minutes, until a toothpick inserted into the center comes out clean, and the top feels set. Remove the cake from the oven, and place it on a rack to cool.

Serve in squares, as is. Or top with icing or sauce. If you use caramel sauce, a sprinkle of flaked sea salt is a wonderful addition.
Nutrition Information
Serving Size

1 piece (51g)

Servings Per Batch

24
Amount Per Serving:
Calories

160

Calories from Fat

50

Total Fat

6g

Saturated Fat

2g

Trans Fat

0g

Cholesterol

35mg
Sodium

150mg

Total Carbohydrate

25g

Dietary Fiber

0g

Sugars

17g

Protein

3g
* The nutrition information provided for this recipe is determined by the ESHA Genesis R&D software program. Substituting any ingredients may change the posted nutrition information.
Tips from our bakers
Looking for delicious caramel or hot fudge toppings for this cake? See our sundae sauce recipes.
To make cupcakes: Preheat the oven to 350°F. Prepare the batter as directed above. Line two standard muffin pans with muffin papers; grease the papers. Pour the batter into the prepared pans (to make a total of 24 cupcakes). Bake until the tops are light gold, about 20 minutes; a toothpick inserted into the center of one cupcake should come out clean. Remove from the oven and cool on a rack. When cool, ice and serve. To make ganache icing: Heat 1/2 cup heavy or whipping cream to a simmer. Remove from the heat, and immediately combine with 1 cup (6 ounces) chopped bittersweet or semisweet chocolate (or chocolate chips). Wait 10 minutes, then stir until smooth. Dip the top of each cupcake into the icing. Spread any remaining icing over the tops of the cakes. Yield: 24 cupcakes.
Reviews
So sweet and tasty and such a unique texture. I didn't have the correct sized pan, so I ended up making a smaller cake plus eight cupcakes. All great. I made a creamy peanut butter frosting but really just about any frosting or glaze or even just powdered sugar will go well on this cake. It is very sweet, though! Which is a good thing to me but not necessarily for everybody.
We LOVE this cake recipe. I've made it multiple times with a caramel sauce topping, and it's always raved about by guests. It's a staple for us now when entertaining. Thanks for sharing it! I do have a few questions: I'm considering making this for a birthday party and doubling it for use as a 12x18 sheet cake to frost and decorate with buttercream for a kid's birthday party. Do you think it will rise evenly enough to use for that, or should I worry about doming? Do you have any tips for adjusting the baking time? And lastly, I want to add sprinkles for a funfetti style cake. Do you think that will work ok in this thin batter, or should I worry they'll all sink?

Hmm, that's a good question, Amy! Sprinkles are pretty light and should be lots of fun. As far as timing goes, we suggest checking on your cake at 20 minutes to see if it seems to be cooking unevenly and needs to be rotated. After that, it will depend quite a bit on your pan. It will be done when the internal temperature of the cake reaches 210°F. Happy baking! Kat@KAF
This may be the best yellow cake recipe! I reduced 1/2 cup of the sugar but made no other changes. Spread natural peanut butter on top and the fudge topping from the creamy peanut butter cake. Got many compliments. Wonderful!
Cake is very moist n soft. Can we use this cake under fondant?

Sri, if you're doing just one layer covered with fondant, feel free to use this recipe! If you're hoping to stack layers, however, we suggest trying our Tender White Cake recipe instead, which should hold up better under the weight. Happy baking! Kat@KAF
Baked the cake today. Used weight in grams. Replaced 2TBS flour with 2TBS corn starch. Beat eggs and sugar with a mixer, but mixed flour and hot milk/butter by hand. I made sure not to over mix. Cake rose beautifully. Crumb is delicate and airy. One of the best KAF recipes I ever made.
I will start by saying that my problem with this cake is the result of a mistake on my part, so I am giving it three stars because I'm sure it really is a lovely cake and I love KAF recipes, they almost always work out for me. So, I made this cake to use in parfaits. I didn't have the right sized pan, and I realized much too late I should've done it in baking sheets or low pans because that would've worked for cubing it and using it in the parfaits. Anyways, it took more than three hours to cook, got a crispy cover on top, was very dense, still raw in the middle, and had a bland flavor. I managed to salvage a few cubes to use in the parfaits, but I really wasn't worth all the effort and I think we should've just eaten the pastry cream and thrown the cake away. It was all my fault, not the recipe's, but I think if I ever want a hot milk cake I'll use your Lazy-Daisy cake recipe because we love that one.
I made 24 cupcakes last week but they came out a little bit small. This week, I made 18 and they were a little bit too big. But, they tasted amazing! Next time I will try a batch of 20. I also put a few in the freezer to see how well they would freeze and they were just as good. They thawed in just a few minutes. I will probably try frosting with ganache, caramel or buttercream. I'm sure they will be even better. Thank You!
This cake is amazing! I am only 13 years old (so not a very experienced baker) but I made this cake easily with my friends and it is delicious. One question - how can I incorporate chocolate into this recipe?

We love to hear from young bakers, and we're glad you enjoyed this recipe. One thing that's important to learn early on in baking, is that whenever you adjust a recipe, you're experimenting. If this is exciting to you, great! You're welcome to try using 1/3 cup (28 grams) of cocoa powder to replace an equal amount of the flour. However, if you want sure-fire results, we recommend using a recipe that's already designed to produce the results you're looking for. In this case, we recommend checking out the recipe called "King Arthur Flour's Cake Pan Cake." It's a similar cake in crumb and texture, but it's chocolate-based instead of vanilla. We think you'll like it just as much as this recipe here. Happy baking! Kye@KAF
This recipe is simply wonderful.I mean so moist still firm.I wish I could upload pics.I would strongly recommend this beautiful cake recipe to everyone however I have a question.How can I make the same cake without eggs.Do let me know Thanks in advance

Hi Amrita! Feel free to share photos through any of the links on our Contact page (top left corner of the website) and you're also welcome to use your favorite egg substitute. We haven't tested this recipe without using eggs, so it will be a bit of an experiment. A tasty experiment for certain! Annabelle@KAF
I would like to use whole wheat, or white whole wheat, instead of all-purpose. What changes should I make to get the same result?

Michelle, while you're welcome to use some whole wheat flour in this recipe, you should expect slightly different results in the flavor and texture. You might want to start by replacing 25% of the all-purpose flour with white whole wheat flour, as it's more mild in flavor than traditional whole wheat. With this small amount, the texture might be quite close to the original. You're welcome to experiment by using more than 50% whole wheat flour, but the more you use, the more likely you'll be able to taste a whole wheat-y flavor and the cake crumb may become slightly more coarse/dense.

If you use only 50% whole wheat flour, there's no need to make any changes to the recipe. If you use more than that, consider adding a few teaspoons of additional liquid to the recipe to account for whole wheat flour's absorbency. Happy baking! Kye@KAF