A customized print-friendly version of this recipe is available by clicking the "Print Recipe" button on this page.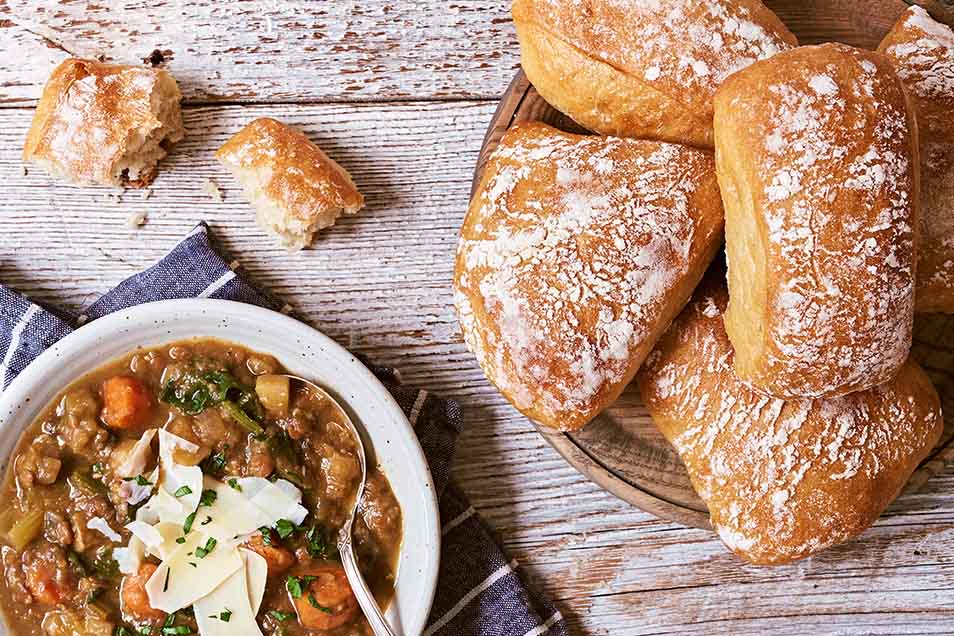 Based on our recipe for Asiago Ciabatta, these rolls offer the taste and texture of that traditional Italian bread. Thanks to their spongy nature, they'll soak up every last drop of your favorite soup or saucy dish.
Instructions
To make the starter: Mix all of the ingredients until well blended. Cover the bowl, and let rest at room temperature for 12 to 20 hours, until the mixture is very bubbly.

To make the dough: Mix the starter with the remaining ingredients for 2 to 4 minutes, using an electric mixer set on slow speed. Increase the mixer speed to medium, and mix for about 4 minutes; the dough will be soft and slightly sticky. Add additional water or flour if necessary.

Let the dough rise in a greased bowl, covered, for 1 to 2 hours, until very puffy.

Turn the dough out onto a well-floured surface, and shape it into a 6" x 12" rectangle. Using a bench knife or pizza wheel, cut out eight 3" square rolls. Place the rolls, floured side up, onto parchment paper. Let them rise for about 45 minutes, lightly covered, until they're puffy.

Place a baking stone in the top third of your oven, and preheat the oven to 450°F.

Bake the rolls for 13 to 15 minutes, until they're golden brown. Remove them from the oven, and cool on a rack.

Yield: 8 rolls.
Nutrition Information
Serving Size

1 roll (109g)

Servings Per Batch

8
Amount Per Serving:
Calories

230

Calories from Fat

5

Total Fat

0.5g

Saturated Fat

0g

Trans Fat

0g

Cholesterol

0mg
Sodium

580mg

Total Carbohydrate

48g

Dietary Fiber

2g

Sugars

0g

Protein

8g
* The nutrition information provided for this recipe is determined by the ESHA Genesis R&D software program. Substituting any ingredients may change the posted nutrition information.
Tips from our bakers
We don't recommend kneading this dough by hand, but you can mix it in a bread machine set on the dough cycle, and transfer it to a greased bowl when the machine has finished the kneading process.
To bake these rolls without a stone, put the rolls on a greased or parchment-lined baking sheet and bake in the center of the oven for 13 to 15 minutes.
For extra-crusty crust, add steam to your oven as follows: While the oven is preheating, place an empty cast iron frying pan on the oven rack below the stone. If possible, adjust stone and pan so that the pan isn't directly under the stone, making it easier for steam to reach the baking rolls. Once you've placed the rolls in the oven, pour about 1 cup of boiling water into the cast iron frying pan. Steam will billow from the pan upwards to envelop the baking rolls; be sure to wear good oven mitts to shield your hands and arms. Quickly close the oven door to trap the steam.
Reviews
This is my favorite sandwich bread. I keep thinking I should try another, but then I make this one again. Super, simple and super tasty. Very hard to beat combination. Besides sandwiches, it is also the perfect roll for soup and stew dunking. 5 enthusiastic noms.
Hi KAF, I first reviewed this recipe back in Nov 2016. I have been making these rolls ever since. I now would like to find out if I can substitute the starter for there rolls with my sourdough starter or with the discarded starter? I recently (3 days ago) decided that I'm going to be brave and try your sourdough starter recipe. I am on Day 3 and the sourdough starter is looking good so far. If I can substitute with sourdough starter, how much should I use for this rolls? Thank you.

Hello! You can incorporate your starter into this and many other recipes with a couple of small substitutions. Simply replace 113 grams (1 scant cup) flour and 113 grams (1/2 cup) water (or another liquid; milk, juice, etc.) in your recipe with 226 grams (1 cup) of your ripe, bubbly sourdough starter.

Using sourdough starter, either fed or unfed, is possible in a wide range of recipes — so long as the recipe includes sufficient water/liquid and flour to be replaced by starter. For your starter, you'll want to hold off baking with it for a while until it consistently doubles in size within 6 hours of feeding. If you'd like to use only sourdough as your leavener and skip yeast, expect longer rise times. Happy experimenting! Annabelle@KAF
Had the day off work for Presidents Day, and decided to make these rolls. I made the starter the night before. I'm not an experienced bread maker, but this recipe was super easy. I dont have a baking stone, so I baked the rolls on a silicone mat placed on an aluminum baking sheet. No sticking or burning! The rolls browned nicely. They didn't come out with a holey interior like Italian bread, but are delicious none the less. Thanks for a great recipe!
This was my first time trying this recipe today using my sourdough starter. The flavor and texture was wonderful, however they were a bit over cooked on the bottom. I used parchment on a baking sheet as I did not have a stone that was large enough to fit all the rolls. I plan on making these again, are there any suggestions on minimizing the crunchy bottom layer?

That's a great question, and there are a few tricks for dealing with a baking sheet that seems to be getting too hot. You can move your baking sheet up to a higher rack, further away from the bottom heating unit, which is probably the easiest option. You can also double up on your baking sheets, stacking one on top of the other to provide a little bit more of a barrier between the heat source and the rolls. Hope that helps you get the perfect rolls you're looking for! Kat@KAF
Just made this today. Absolutely fabulous. I would say the portions are large and I will probably divide the dough into smaller portions next time. Because there will be many more iterations of this recipe in the coming years. Garlic, rosemary, chives, so many possibilities! No need to buy artisan rolls from a bakery, just follow the recipe verbatim!
Wonder if better use bread flour instead all purpose flour?

You're welcome to, Lulu! It will be chewier in the end and you'll find you need to add extra water to get the dough to a soft, tacky state. Happy baking! Annabelle@KAF
First try at ciabatta. Success. No problems. Followed recipe, using weight of flour. Not t sure how large the holes are supposed to be. Mine were pretty uniform in size and maybe 1/4 inch diameter throughout. Very easy to make. I'll try other KAF versions just to compare but these were perfect for sandwiches and soup. Rise was excellent each time.
Made this recipe today, but instead of making a biga, I used some of the starter I was going to discard as part of my New Year's project to get a sourdough starter going. Instead of tossing out half of my starter today, I used it as the biga in this recipe, and they came out great!
I had about one and a half cups of Italian style flour I wanted to use up and used it in this dough. I mixed by hand and added enough regular flour to have a sticky but kneadable dough. I then did three "stretch and folds" 10 minutes apart. This technique by Peter Reinhardt is great for developing gluten in more hydrated doughs. I put a bit of oil on the bench top and oiled my hands. The dough is stretched lengthwise, folded over on itself, turned 90 degrees, stretched and folded again. It rests for 10 minutes under a bowl and then the stretching and folding is repeated. The rolls are fantastic; really light, very crispy crust, wonderful flavor. I will have to try the recipe again with regular flour and see if it makes a difference. How does the Italian flour affect bread dough compared to regular flour?

We're happy to hear that you had such success with these rolls, Debby. Our Italian Style Flour is a lower protein flour than our All-Purpose Flour (8.5% vs 11.7%). This means it's both less absorptive than all-purpose and leads to less gluten development, so we're not surprised that your dough was very wet and in need of more stretching and folding. We're glad you knew just how to tackle this challenge! We do hope you will give it a try with AP too to see the differences for yourself. Happy baking! Mollie@KAF
These rolls were very good, chewy outside, soft inside. I was wondering if I can just make this recipe into one loaf?

We haven't tried making this into one loaf, Dixi, but we imagine it would fit nicely in a 9" by 5" loaf pan (which is slightly larger than the standard 8 1/2" by 4 1/2" loaf pan). Prepare the recipe through the first rise and then shape into a loaf. Let the dough rise until it has crested the edge of the pan by 1" in the center, and bake at 425°F for about 25-45 minutes until well-browned and the temperature reaches 190°F in the center. Happy baking! Kye@KAF