A customized print-friendly version of this recipe is available by clicking the "Print Recipe" button on this page.
Chocolate Chip Oatmeal Cookies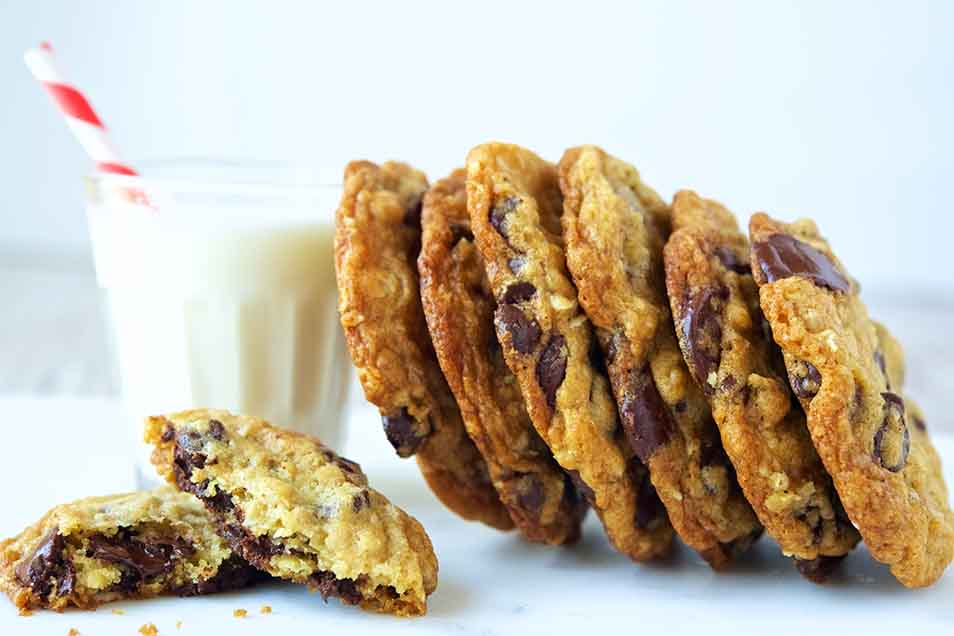 Ingredients
1 cup (16 tablespoons) unsalted butter, at room temperature
1 cup light brown sugar, packed
1/2 cup granulated sugar
1 large egg, at room temperature
1 large egg yolk, at room temperature
1 tablespoon vanilla extract
2 cups King Arthur Unbleached All-Purpose Flour or Gluten-Free Measure for Measure Flour
1 cup quick-cooking or old-fashioned oats
1 teaspoon baking powder
1 teaspoon baking soda
1 teaspoon kosher salt or 3/4 teaspoon regular table salt
3 cups semisweet chocolate chips
Instructions
Preheat the oven to 325°F. Line several cookie sheets with parchment paper, or lightly grease with non-stick vegetable oil spray.

Beat together the butter and sugars until smooth.

Beat in the egg, egg yolk, and vanilla.

Whisk together the flour, oats, baking powder, baking soda, and salt, and add to the butter mixture in the bowl.

Mix until everything is thoroughly incorporated. Scrape the bottom and sides of the bowl, and mix briefly.

Stir in the chocolate chips.

Decide what size cookies you want to make. A muffin scoop (1/4 cup) will make 20 large, palm-sized cookies. A tablespoon cookie scoop (4 teaspoons) will make 50 medium (2 3/4" to 3") cookies; and a teaspoon cookie scoop (2 teaspoons) will make 100 small (2 1/2") cookies.

Scoop the dough onto the prepared baking sheets, leaving about 1 1/2" to 2" between cookies.

Bake the cookies for 12 to 17 minutes, until they're a light golden brown, with slightly darker edges. Their middles may still look a tiny bit shiny; that's OK, they'll continue to bake as they cool on the pan.

Remove the cookies from the oven, and as soon as they're set enough to handle, transfer them to racks to cool.

Yield: 20 to 100 cookies, depending on size.
Nutrition Information
Serving Size

1 cookie (30g)

Servings Per Batch

about 50
Amount Per Serving:
Calories

130

Calories from Fat

60

Total Fat

7g

Saturated Fat

4g

Trans Fat

0g

Cholesterol

15mg
Sodium

75mg

Total Carbohydrate

18g

Dietary Fiber

1g

Sugars

11g

Protein

2g
* The nutrition information provided for this recipe is determined by the ESHA Genesis R&D software program. Substituting any ingredients may change the posted nutrition information.
Tips from our bakers
Feel free to substitute a 1-pound bag of chocolate chips for the 18 ounces (3 cups) called for.
Our Gluten-Free Measure for Measure Flour makes it easy to make many of your favorite traditional recipes (like this one) gluten-free. Simply substitute Measure for Measure flour 1:1 for the flour called for in your recipe; no additional ingredients or other changes needed.
These cookies make wonderful ice cream sandwiches. Sandwich two cookies around a scoop of softened ice cream — we especially like Ben & Jerry's (Phish Food!).
Reviews
Oh, WOW! I baked these for a family gathering and at first everyone said no thank you. After MAKING my dad just try one, he then ate 6 more! Everybody else followed suit and before I knew it they were all gone. Thankfully, I saved a few for myself at home. I used two whole eggs as I wasn't in the mood for saving an egg white, added a little cinnamon because I like that flavor in my cookie and 1 Tbs milk, which somehow adds a little extra oomph. And walnuts are a good addition. So, so good.
This was absolutely the best flavor, texture and taste. I wanted a bar cookie because I was in a hurry. I baked in a glass Pyrex 9x13 and they were TOP NOTCH! I baked for 25 minutes, checked them then 2 min more at 350F. Just the right balance of crispy and chewy. THANK you KAF! I'd also reduce the chocolate chips a bit, just so they aren't so messy when eating them warm. :)
I cannot stop eating them as soon as they come out of the oven. I'm finding they do take the full 17 min on parchment lined dark coated pans. I've been rotating the pans at 10 min to make sure they bake evenly. *Note they don't seem brown like regular chocolate chip cookies so pay close attention to the edges. Next time I'll need to make a double batch!
We love these cookies. I have made for my grandchildren half a dozen times now.
For years I tried to perfect my chocolate chip cookies, much to my husband's and friends' chagrin. They got to eat my failures. Then again, how bad can a bad chocolate chip cookie be? Anyway, I've been using this recipe since it won 2015 recipe of the year, and it is my go-to base chocolate chip cookie recipe. After I make the batter, I put it in the fridge for at least a half hour before so the butter sets up. If I don't, the cookies flatten out like pancakes. And what is up with all the reviewers saying there are too many chocolate chips?! How is it possible to have too many chocolate chips? I think it's the perfect amount. I just baked a batch for an upcoming sailing trip using some leftover white chocolate and dark chocolate chips from Christmas, and topped those off with semi-sweets to make 3 cups. I then took part of the batter and added some Grape Nuts as an experiment. They definitely added some crunch and flavor. I might add some pecans next time. Yum, yum, yum!
Another 5 star recipe from the amazing team at KAF. Nice looking, good texture, with great cookie flavor (as noted below, I adjusted the add-ins, but the brown sugar/butter/vanilla flavor that gives you that butternut caramel note in a chocolate chip cookie really is great; I think maybe the oats add some depth...used good oats from Bob's). Made them Sunday, March 24 around 2pm, weighing all ingredients and using KAF AP flour. Agreed with other reviews that 3 cups chocolate chips might be too much, personally, so subbed in 1/2 cup each unsweetened shredded coconut and KAF mini diced ginger for that last cup. Also, used "Enjoy Life" semisweet chocolate chunks instead of chips (for no other reason than they were on sale at the grocery). I used my tablespoon cookie scoop purchased here from KAF and baked the first dozen at 325 as directed, on a KAF natural parchment lined USA Pan. Bake time about 14 mins. Cooled for about 5 mins on pan. These cookies really shine while still warm. The first batch was a little crisper than we'd prefer after cooling, but still good. Refrigerated dough for about 30 hours before next bake, and baked cold dough at 325 for 17 mins. Then, doled out remaining 25 dough domes with trusty scoop onto parchment lined little jelly roll pan, froze for about 30 mins and then transferred to freezer ziplock bag with label "325 18 mins," as I thought that would make sense in baking from frozen. Followed those instructions of mine today, Tuesday, at about 7pm. I think the freezer ones were the best yet. I am happy that I can add this review this evening, as I am quite behind on doing so for many of the KAF recipes that I am enjoying and sharing lately from bagels to babka.
Chewy with crispy edges. So, so good! Def a family fave! Very easy to assemble.
I finally found the perfect oatmeal chocolate chip cookie recipe! These taste perfect and look impressive too. I love that they didn't spread out to a flat ugly cookie like my other recipe seemed to do. I refrigerated the dough overnight due to time constraints, used good quality dark chocolate chips and kerrygold unsalted butter, YUM!
I am a lover of thin, caramelized cookies with chewy centers. I for the life of me can't seem to make them this way! I followed the directions to a T, and these cookies (along with every single batch of cookies I've made leading up to them) turned out cakey. I'm wondering if it could have something to do with being at sea level? Am I crazy?! I am desperate to figure this out. Any advice, insights?

Brynn, it's really hard to describe things like cookie texture on the internet, so we're not quite sure what specific advice to give you here, but if you type "Cookie science" into the search bar of our website, it will take you to a blog post that explains how to customize the texture of your cookies to suit your preferences by tweaking the ingredients and baking methods. Luckily, we don't think being at sea level will stop you from getting the cookie you want at all. Happy baking! Kat@KAF
My husband loves oatmeal cookies. I've made these twice and he really likes them. While they're good as is, I have just one question: Mine do not spread the way it seems they should. The first time I made them, I used a large table spoon to shape them and didn't flatten them, so I thought this was why. The second time I made them, I shaped them with a smaller teaspoon and flattened them. In both cases, they tasted really good, but just didn't spread into the round, flatter cookie shown in the picture. What am I doing wrong?

Hi there, Shannon! We're glad to hear that you enjoy these cookies but are sorry that they aren't spreading as much as expected. One reason a cookie doesn't spread much is that too much flour has snuck its way into the dough, to ensure you're using the right amount, we recommend checking out the "Recipe Success Guide," link next to the ingredients header above. Also, if you're reducing the sugar in these that will prevent them from spreading as well. We hope this help and happy baking! Morgan@KAF