A customized print-friendly version of this recipe is available by clicking the "Print Recipe" button on this page.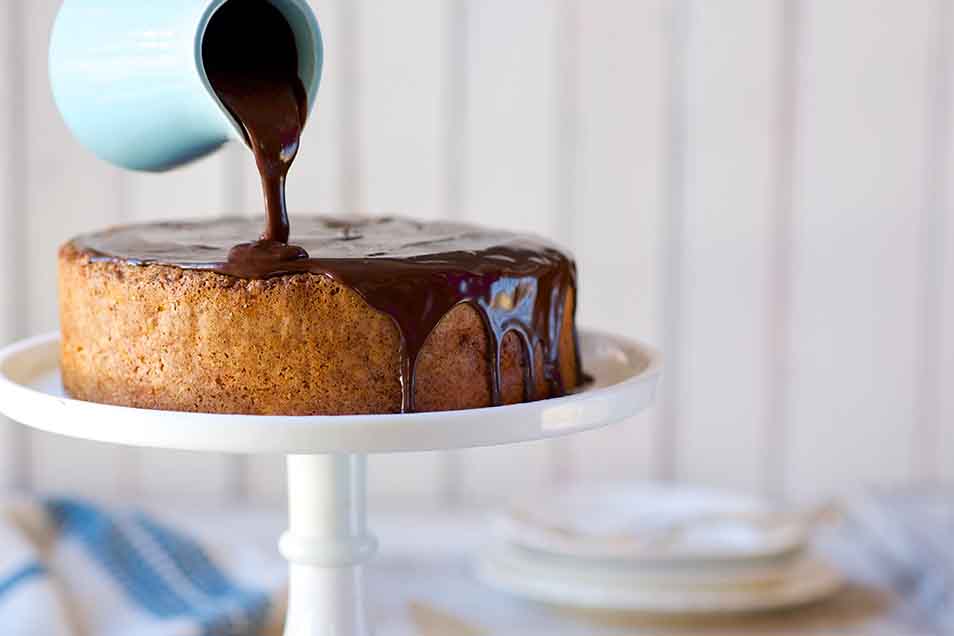 Ganache is a mixture of chocolate and cream, melted together and used to glaze or fill a cake, whip into a fluffy frosting, or fill truffles. The simplest recipe is 8 ounces chopped chocolate whisked with 8 ounces hot heavy cream until totally combined and shiny; this ganache will be easily pourable, and will be very soft when set. Ganache may be made thicker by adding a higher percentage of chocolate.
Ingredients
1 cup heavy cream
1 2/3 to 2 2/3 cups semisweet or bittersweet chocolate, chopped*
*The more chocolate you use, the thicker the ganache will be.
Instructions
Heat the cream (and corn syrup, if you're using it) in a saucepan or in the microwave, until the mixture begins to steam.

Pour over the chopped chocolate in a bowl. Let sit for 5 minutes. Stir — at first slowly, then more vigorously — until the chocolate is completely melted. If necessary, reheat very briefly to soften any remaining hard bits of chocolate. Flavor to taste (see "tips," below), if desired.

Use ganache while the chocolate is still warm, but has begun to thicken. Reheat if it thickens too much as you work.
Nutrition Information
Serving Size

43g

Servings Per Batch

12
Amount Per Serving:
Calories

170

Calories from Fat

13g

Total Fat

13g

Saturated Fat

8g

Trans Fat

0g

Cholesterol

20mg
Sodium

5mg

Total Carbohydrate

16g

Dietary Fiber

0g

Sugars

12g

Protein

2g
* The nutrition information provided for this recipe is determined by the ESHA Genesis R&D software program. Substituting any ingredients may change the posted nutrition information.
Tips from our bakers
Chocolate chips may be used in place of chopped chocolate, if desired; flavor and texture may differ.
For a bit more shine and flexibility, add 2 tablespoons (1 1/2 ounces, 39g) corn syrup when heating the cream.
Flavor ganache, if desired; try 1 tablespoon liquor or liqueur of your choice, or vanilla extract, espresso powder, or another flavor, to taste.
This ganache will glaze the top and sides of a 9" or 10" cake, with some left over to pour over ice cream.
Leftover ganache may be stored in the refrigerator, covered, for at least a week. Reheat at a low temperature to make it spreadable or pourable.
Reviews
I used 1/2 100% cacao unsweetened baking chocolate and 1/2 semi-sweet chips along with the corn syrup. Turned out absolutely perfect. Amazing flavor and texture. Heated on the stove top between medium and medium high heat and removed from burner after roughly 1 minute. No need to transfer to another bowl. You can add the chocolate right then and there as long as you continue stirring. Perfect show piece on top of my chocolate cheesecake and plenty of ganache to drip down the sides for an elegant look. The shine from the corn syrup also adds a nice touch
I heated 8oz cream to just past a boil in the microwave (by accident) and then dumped in 10oz bitter sweet chocolate chips. Stirred with a whisk and it was perfect.
This recipe is fine, but it is poorly written. First, there is no reference of corn syrup until the baker's tips section at the end. Further, there is no direction of how to correctly combine the chocolate and cream. It's written as if letting the cream and chocolate sit for 5 minutes will magically result in ganache. This is not the case. There is a technique involved. Ganache is pretty simple to make, but this could be confusing for someone who has never made it.

Thank you for giving this recipe a go, Elle, and for taking the time to reach out to us. We're sorry to hear that the instructions weren't as helpful as you would have liked, and we've shared your feedback with the recipe team. While there are many ways to make a ganache, we enjoy this method of adding the hot cream to the chocolate, letting it sit for 5 minutes, and then giving it a quick stir to allow the mixture to become cohesive. If you have a method you prefer, we encourage you to stick with what works best for you and your baking. Kindly, Annabelle@KAF
If using sweetener, how much? What about butter?

Chocolate ganache isn't usually sweetened; instead choose a chocolate that you enjoying eating as a base and that way you don't need to adjust it at all. If you are using a bittersweet chocolate and want to cut some of that bitterness just a bit, use our tip for adding corn syrup. Add 2 tablespoons when heating the cream. Happy baking! Kye@KAF
I followed recipe as written, using chocolate chips and heavy cream, no corn syrup. It seemed a bit grainy, not smooth and shiny like ganaches I've made in the past. I tried whisking which didn't help, and when I tasted it the chocolate was melted, not chunky and hard, it just didn't have a smooth appearance. Then I made the mistake of heating it in a bain marie thinking maybe it needed more heat anyway, and of course ended up overcooking it, so now I have a mass of chocolate, cooked cream, and separated fat. I have two questions I was hoping you guys could help me with: What should I have done differently in the beginning, to achieve a shiny smooth ganache, and is there any way to use this chocolate mess, I would really like not to just throw it away. Thanks!

We've definitely had similar situations before. For next time, I'm wondering if something was off in the temperature of the cream. If it was too cool, it's possible that not all of the chocolate melted and wound up clumping. If it was too warm, it could have seized the chocolate. Thankfully, you should be able to use the big chunk of chocolate, simply by chopping it up and trying again with fresh cream. Our friendly Baker's Hotline staff is at the ready to help troubleshoot at 855-371-BAKE (2253). Annabelle@KAF
Please clarify "bittersweet". Only seeing "bittersweet" in baking chocolate.

Chocolate is classified according to the proportion of cocoa, with a higher percentage of cocoa indicating a less sweet chocolate. Exact percentages vary, but chocolates labelled as "bittersweet" typically have cocoa contents around 60-75%. In something like this ganache, either semi-sweet or bittersweet chocolates can be used, according to your preference. Mollie@KAF
The Chocolate Ganache is the perfect accompaniment to KAF Chocolate Stout Cake. Rather than use heavy whipping cream, I buy heavy cream for the higher fat content. I recently made the cake and ganache for my son's wedding Groom's Cake. The chocolate I used this was Barry Callebaut. I wanted to use this for frosting the cake, and let it 'set'. My tip for assuring the chocolate melts properly is letting the heavy cream heat until you see steam rise. Your chocolate will melt right away and can be stirred smoothly. HAPPY BAKING!!
I used coconut oil instead of the corn syrup.
Excellent on Mini Oreo cheesecakes or any cheesecake, I added more chocolate to make it a little thicker.
Can you use another syrup in stead of corn syrup

Myra, another liquid sweetener like Lyle's Golden Syrup should work in place of corn syrup, or you can simply leave out this optional ingredient. Mollie@KAF