A customized print-friendly version of this recipe is available by clicking the "Print Recipe" button on this page.
Homemade Marshmallow Spread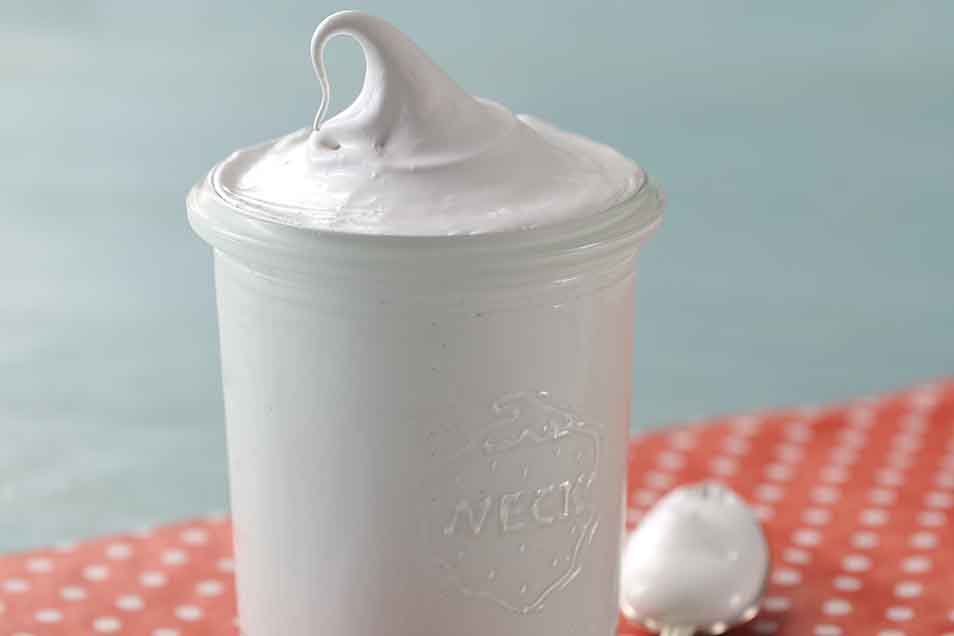 Best known as a companion to peanut butter in sandwiches, marshmallow spread is also excellent atop ice cream, floating in hot cocoa, or as a dip for fruits and crackers. Creating this fluffy whip at home is easy, and you'll be amazed at the fresh vanilla taste.
Ingredients
1/3 cup water
3/4 cup granulated sugar
3/4 cup corn syrup or honey
3 large egg whites, at room temperature
1/2 teaspoon cream of tartar
1 teaspoon vanilla extract
Instructions
In a medium-sized saucepan combine the water, sugar and corn syrup (or honey). Stir gently to combine. Insert a candy thermometer set for 240°F and heat over medium-high flame. Do not stir the sugar water as it cooks or it will form crystals.

When the sugar syrup begins to form large bubbles, and the thermometer reads about 225°F to 230°F, place the egg whites and cream of tartar in the bowl of your stand mixer and beat the whites to soft peaks. This should take about 3 to 4 minutes.

By the time the whites are whipped, the sugar syrup should be at 240°F. Remove from the heat and with the mixer running, carefully pour the syrup in a thin, steady stream into the whites.

The whites will deflate slightly at first, but as the sugar syrup becomes incorporated, they will thicken, turn white and begin to fluff up.

Continue to whip the fluffy spread for 7 to 8 minutes, or until very thick and glossy. Add the vanilla and whip for another minute.

Scoop the spread into an airtight container. Store for up to 2 weeks at room temperature. The spread can be re-whipped by hand if it becomes "flat."
Nutrition Information
Serving Size

1 tablespoon, 25g

Servings Per Batch

36
Amount Per Serving:
Calories

38

Calories from Fat

0

Total Fat

0g

Saturated Fat

0g

Trans Fat

0g

Cholesterol

0mg
Sodium

26mg

Total Carbohydrate

9g

Dietary Fiber

0g

Sugars

9g

Protein

1g
* The nutrition information provided for this recipe is determined by the ESHA Genesis R&D software program. Substituting any ingredients may change the posted nutrition information.
Tips from our bakers
If you want to substitute meringue powder for the fresh egg whites, use 3 tablespoons meringue powder + 5 tablespoons water.
Want to try flavored marshmallow spread? Here's some suggestions:
Chocolate: add 1/4 to 1/3 cup cocoa powder during the last minutes of mixing
Mint: substitute 1 teaspoon peppermint extract for the vanilla
Lemon: add the zest of one large lemon to the finished spread

Reviews
I have made this recipe before, and it was wonderful; smooth and silky and oh-so delicious! But this time, it wasn't quite the same. I stored it in an airtight container at room temperature, but there was a golden syrup that gathered at the bottom of the tub. It was like the syrup mixture separated from the marshmallow! I was wondering why this would've happened, since last time it was perfect. Maybe I didn't whip the syrup and the egg whites enough? Thanks for the help, I really appreciate it.

We're happy to help troubleshoot! It sounds like the sugar may not have gotten quite hot enough in the pan. This can cause the sugar to later on "weep" so it's important to ensure it gets to the 225°F to 230°F range. Your thought on under mixing is another possibility, so it might have just needed another minute or two. It isn't too late to scoop your mixture back into your mixer and give it a couple of minutes to become thick and glossy again. If you find the liquid forms again, you'll know it's from the sugar's temperature. Annabelle@KAF
Made this for the first time today and it whipped up beautifully. If I wanted to make it slightly sweeter, would I add more granulated sugar or more corn syrup and in what amount?

Hi Carrie! We're glad to hear this recipe whipped up into a beautiful spread for you. Making it sweeter will be a bit of an experiment as by adding additional sugar, you'll be changing the ratio of the ingredients. We'd recommend using the corn syrup over granulated sugar in your experimentation and start by adding an additional tablespoon. Keep in mind that the more corn syrup you add, the looser the finished spread will be. It may not whip up quite as much but it will still taste wonderful. Happy experimenting! Annabelle@KAF
LHi is it possible to reduce the sugar to make it sweet less ? Can i store it in the fridge ?

While we often recommend experimenting with reducing the sugar in baking, Carolyne, it's important to use the full amount of sugar called for in this recipe in order to achieve the right consistency in the marshmallow spread. You can store the spread in the fridge if you like; you may want to let it warm up at room temperature a bit before using. Otherwise, it'll be slightly more firm and could be difficult to spread. Kye@KAF
I used this to top the KAF chocolate cream pie with a graham cracker crust. Will use a kitchen torch to toast the marshmallow cream. Voila! S'mores pie.
Oh wow! I would give this recipe a hundred stars if I could! It is DELICIOUS! Lovely texture, perfect volume, fluffed up beautifully. We ate several spoonfuls as is before putting it on whoopie pies and s'more pie! Tasted faintly of golden syrup, which was actually very pleasant. Definitely gonna make again. Any suggestions as where to use it? Thanks.

We're thrilled to hear you love this recipe so much! There are lots of fantastic ways to use this Homemade Marshmallow Spread, including in our recipe called "Mallow Bars." You can use it in a peanut butter sandwich or between two cookies to make cookie-like sandwiches. Make it chocolate and fill a pie shell, or top off a cup of hot chocolate with a generous dollop. You can use it as a filling for chocolate cupcakes, whoopie pies, or even make a stack of pancakes or waffles extra special by adding some homemade marshmallow spread. The possibilities are endless. Enjoy! Kye@KAF
I made this to use as a filling for a chocolate cake. The texture was fluffy but slightly thicker than I expected, though it is possible I slightly overcooked the sugar. It's sticky, as one would expect, but not gluey or heavy in the mouth. The flavor is very mild and not too sweet at all. I took a portion of the spread and added a little softened butter for a variation on a meringue buttercream frosting. It turned out not bad at all, though I wouldn't routinely use it for that purpose.
What other alternatives can you use to substitute the honey and corn syrup?

Those are the ingredients we found worked, but you're welcome to experiment using maple syrup or another liquid sweetener. Maple syrup is thinner in consistency compared to honey or corn syrup, so you may find your spread is a little less voluminous. Happy experimenting! Annabelle@KAF
I just made this marshmallow spread today, to mix into homemade chocolate ice cream. I had egg whites left over from the ice cream, so this was an excellent way to use them up! I was a bit nervous, as I've had difficulty in the past with getting egg whites to whip. Well, not this time! About 5-6 minutes in my mixer on the highest speed worked perfectly! The spread really did come out fluffy, and tastes so much lighter and fresher than store bought. Who knew marshmallow spread could be so easy to make at home? I may never buy a jar again! The only tiny change I would make to the recipe is to add a pinch of salt with the cream of tartar. Thank you for another great recipe!
It was delicious! I used powdered egg whites and honey and it yielded 4 cups. I mixed 2 cups with half a package of cream cheese and made an amazing fruit dip for a bbq I had. Everyone devoured it! I plan on trying the recipe again with corn syrup as I'm making S'mores parfaits and don't want them tasting like honey. Has anyone tried making a double batch? Anything I should know? Will my standard size Kichen Aid still work? I believe so but confirmation would be welcome. Thanks!!!

What a fun dessert! A double batch...we haven't tried it in our mixers. You could probably fit a 1 1/2 times batch, but it might be safest to just make 2 single batches and save your mixer some struggle. Annabelle@KAF
Ok this is my second review. When I first made this it was gorgeous! But after about 48 hours it's slumped off the side of my cake and turned into lava. How can I make it keep its shape and frost a cake with it?

This can be tricky, Dianne, as anything with sugar will absorb as much moisture from the air as it possibly can if able. One trick that sugar-workers use is to store your marshmallow or sugar pieces in a covered container with a small silicone packet taped to the lid or inside, (the kind you get in vitamins or packages) to absorb any excess moisture. It does improve the longevity of storage by another day or so, but typically, marshmallow-iced cakes are best served the same day. Hope this helps! Annabelle@KAF