A customized print-friendly version of this recipe is available by clicking the "Print Recipe" button on this page.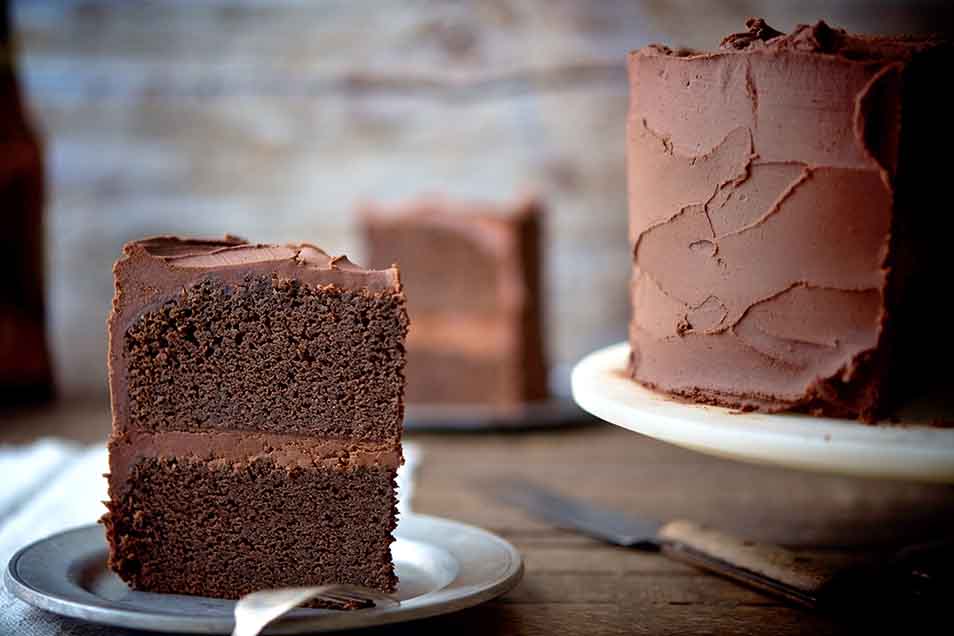 Stout and other dark beers are often described as having chocolatey overtones, so this combination might not be as far-fetched as one might initially think. The flavor of this cake is multi-dimensional: the presence of the stout gives it a much more interesting finish; the hops from the beer act as a counterpoint to the sugar in the cake. It's an incredibly moist cake, too, and its rich, dark color comes mostly from the beer. This recipe makes two tall, imposing layers; be sure your 9" cake pans are at least 2" tall, or use 10" pans if you have them. For a smaller dessert, see the bottom tip, at right.

You can see this recipe in greater detail at our blog, Flourish.
Ingredients
Cake
2 cups stout or dark beer, such as Guinness
2 cups (4 sticks) unsalted butter
1 1/2 cups Double-Dutch Dark Cocoa or Dutch-process cocoa
4 cups sugar
1 tablespoon baking powder
1 1/2 teaspoons salt
4 large eggs
3/4 cup sour cream
Frosting
1 pound bittersweet or semisweet chocolate, chopped
2 cups heavy cream
1 teaspoon vanilla extract
Instructions
Preheat the oven to 350°F. Grease and flour three 8" or two 9" cake pans, and line them with parchment paper circles. Be sure your 9" pans are at least 2" deep.

For the cake: Place the stout and butter in a large, heavy saucepan, and heat until the butter melts. Remove the pan from the heat, and add the cocoa powder.

Whisk until the mixture is smooth. Set aside to cool to room temperature.

Whisk together the flour, sugar, baking powder, and salt in a large bowl; set aside.

In a large mixing bowl, beat together the eggs and sour cream.

Add the stout-cocoa mixture, mixing to combine.

Add the flour mixture and mix together at slow speed. Scrape the sides and bottom of the bowl, and mix again for 1 minute.

Divide the batter equally among the prepared pans. (See tips section for hints on weighing out the batter if you have a kitchen scale.)

Bake the layers for 35 minutes for 8" pans, or 45 to 50 minutes for 9" pans, until a cake tester inserted into the center comes out clean. Remove the cakes from the oven and cool on a rack for 10 minutes before turning the cakes out of their pans and returning to the rack to finish cooling completely before frosting.

For the frosting: Place the chopped chocolate in a large heatproof bowl. Bring the cream to a simmer in a heavy, medium-sized saucepan.

Pour the hot cream over the chocolate and stir until the mixture is completely smooth.

Stir in the vanilla. Refrigerate until the icing is spreadable, stirring occasionally, about 2 hours.

To assemble: Trim one cake layer to have a flat top, if necessary (otherwise the layer will crack when you place it upside down on your cake plate).

Line the edges of a serving plate with parchment or waxed paper to keep it clean, and then place the layer upside down on top. Spread 2/3 cup of the icing over just the top of the layer.

Top with another cake layer, top side down, and repeat the process. If you baked three layers, add that one also.

Use the remaining frosting to cover the top and sides of the cake. Remove the parchment or waxed paper. Sprinkle with shamrock sugar decorations, if you have them.
Nutrition Information
Serving Size

one 2-layer slice, 2

Servings Per Batch

16
Amount Per Serving:
Calories

824

Calories from Fat

450

Total Fat

53g

Saturated Fat

30g

Trans Fat

1g

Cholesterol

160mg
Sodium

498mg

Total Carbohydrate

89g

Dietary Fiber

3g

Sugars

62g

Protein

9g
* The nutrition information provided for this recipe is determined by the ESHA Genesis R&D software program. Substituting any ingredients may change the posted nutrition information.
Tips from our bakers
If you're using salted butter, decrease the salt in the recipe to 1 teaspoon.
If you're buying Guinness in cans (they list 14.9 ounces on the label), use 1 can and make up the difference in volume with water.
If you're making 2 layers, be sure your 9" cake pans are at least 2" deep. If they aren't that tall, use three 8" layers instead.
The batter for this cake weighs 5 pounds, 15 ounces or 95 ounces. If you have a scale, a two layer cake should have 2 pounds, 15 1/2 ounces of batter in each pan. For a 3 layer cake, each layer should weigh 1 pound, 15 1/2 ounces.
If you have access to chocolate disks or chips that are pure chocolate, they'll melt more quickly when making the frosting. We used a bit of leftover tempered chocolate in the photos for this recipe.
For a somewhat less imposing (smaller) cake, downsize the ingredients as follows: 1 1/2 cups each beer and butter; 1 cup cocoa; 3 cups each flour and sugar; 2 1/4 teaspoons baking powder; 1 teaspoon salt; 3 large eggs; 2/3 cup sour cream. Bake in two 9" round pans, at 350°F, for 35 minutes. Frost with Super-Simple Chocolate Frosting, with the optional espresso powder added. This downsized version also makes 30 standard-size cupcakes; bake them for 18 to 22 minutes, then remove from the oven, cool, and frost.
Reviews
This cake turned out very well. I used 1/2 cake flour and 1/2 All Purpose Flour. The batter made enough for my 3, 8 inch pans and the frosting easily covered the cake (and was DELICIOUS)!
My only complaint is that it came out a bit more dry and dense than I'd have liked. I measured my flour by weight, and thought I'd been pretty careful with it. Is there anything I could do to improve in the future? More sour cream? What would using cake flour do to the end result? Thanks!

Hi Ray! To give this cake a lighter texture, you could try using Cake Flour for up to half of the flour. This style of cake is definitely on the moister, pound-cake side, so incorporating Cake Flour is the best way fluff it up a bit. Annabelle@KAF
This is a fan favorite. I use 9" round King Arthur pans, and still have to make 2 cupcake-size cakes to prevent overflowing. That's great for me, because I get to eat those 2 cupcakes. I start making the ganache before the cake. The timing seems to work out better that way. The ganache is spreadable right as the cake is cool.
I made cupcakes out of this recipe, using KA Measure for Measure Gluten Free Flour. They are just delicious, light and airy but very chocolately. I used Ground Breaker Brewing Dark Ale (Green's Dubbel Dark Endeavor Ale is another option). Both beers are certified gluten free, meaning they are brewed with gluten free grains. I tend to bake both gluten and dairy free and these will work using Earth Balance instead of butter and a non dairy substitute for the sour cream. I had some dairy sour cream that needed to be used so I put it in these along with the Earth Balance. I halved the recipe and it made 27 cupcakes. I filled the tins a little more than halfway and baked at 350 degrees for 18 minutes, letting them rest in the tins for 5 minutes before transferring to a rack.
Wonderful. I made the smaller portioned cake and was still a lot. My Irish/Scottish boyfriend really loved it as both chocolate and Guiness are his favorites.
Worst cake I have I have ever made. It turned out beautiful. After a couple bites, I throwed the whole cake in the garbage.

We're sorry to hear this cake was a bit of a roller coaster, C. We'd love the chance to talk through the recipe with you, so we encourage you to reach out to our free and friendly Baker's Hotline staff to help troubleshoot at 855-371-BAKE (2253). Kindly, Annabelle@KAF
This recipe has become one of my favorites. The key is using a good stout. I have found using Old Rasputin gave the best chocolate highlight to the cake while keeping it moist. Guinness is an option, but didn't enhance the flavor.
This is a very flavorful and rich cake. I did not have dutched cocoa, but KAF quickly responded with a substitution of 1 1/2 teaspoons of both baking soda and powder. I used a chocolate stout rather than Guinness, very good. The frosting was easy and so deep in flavor. I wish I had pulled the cakes from the oven about 3 minutes earlier, as they were just a touch on the dry side for my taste. That said, I put a thin slice in the microwave for 10 seconds and then a dollop of vanilla ice cream and it was heavenly. Thanks to KAF for the rapid response... we will be eating this over the entire Easter holiday weekend.
I have made this version of the recipe and the reprinted version of Barrington Brewery's recipe on the epicurious website a few times. I have had excellent results with both cakes despite the variances in the sour cream. I have to make altitute adjustments when I bake as I live at 5,000+ ft. So in addition to the standard reductions in leavening, sugars, and increasing liquids, temperatures with this recipe I have the added chemistry of beer (more sugars). This time I used Left Hand Milk Stout instead of Guinness and believed this version was moister than with Guiness. It was dense and moist but not dry at all. Maybe the milk sugars in this stout makes a difference. Also, I used KAF's Super Simple Chocolate Frosting instead because it's the best frosting ever. Anyway, I think this is a good example of trying a recipe twice and getting help from KAF.
Chocolate Stout Cake has been on my to-do list and tried this recipe and had to rush it for a birthday gal, unused 73% dark choc converture (because I had a pack at home), the cake was a hit and everybody loved it. Ive posted the image of the cake on my instagram traditionalbakes_nicoletan. This recipe is for a tall cake, I would cut the recipe by 1/3 because I use 8inch pans.