A customized print-friendly version of this recipe is available by clicking the "Print Recipe" button on this page.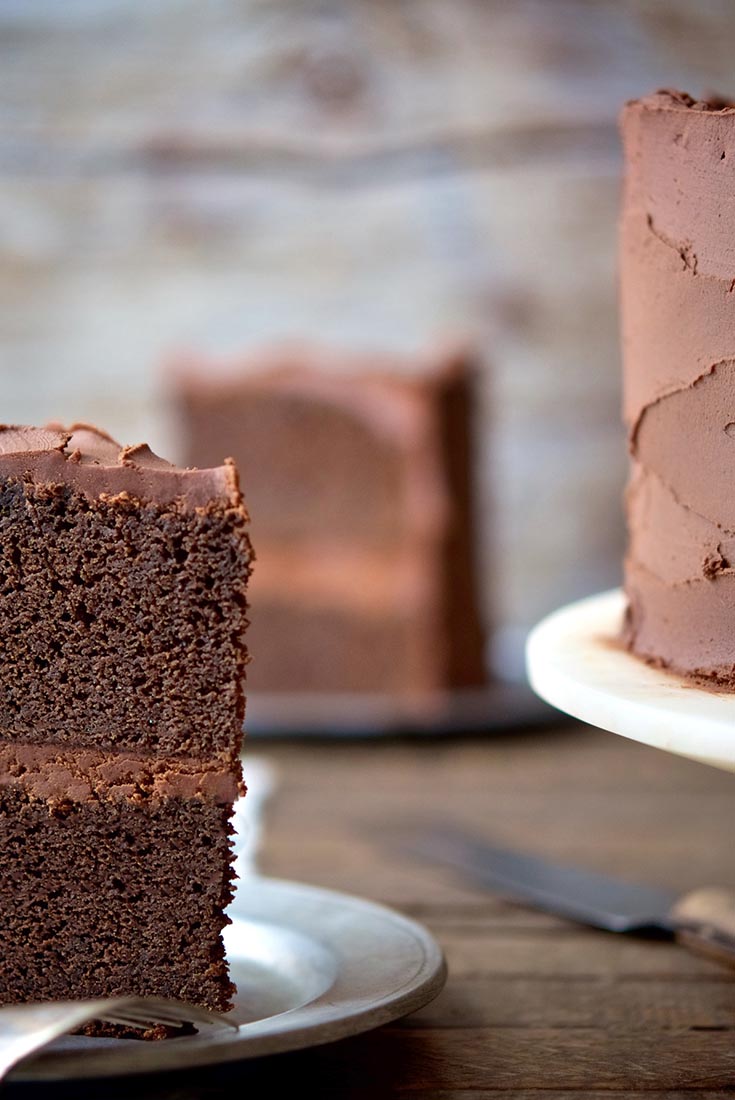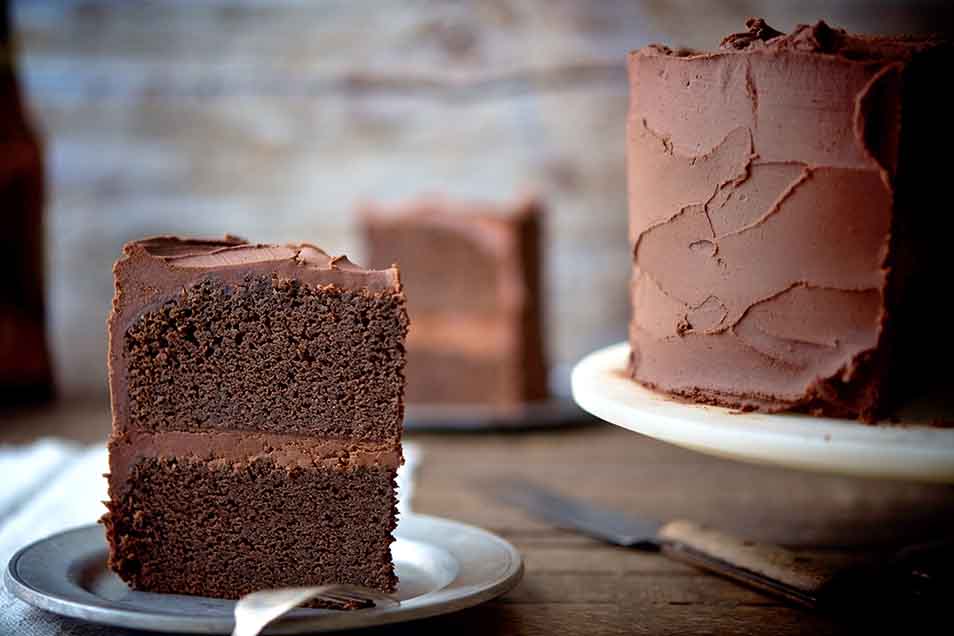 Stout and other dark beers are often described as having chocolatey overtones, so this combination might not be as far-fetched as one might initially think. The flavor of this cake is multi-dimensional: the presence of the stout gives it a much more interesting finish; the hops from the beer act as a counterpoint to the sugar in the cake. It's an incredibly moist cake, too, and its rich, dark color comes mostly from the beer. This recipe makes two tall, imposing layers; be sure your 9" cake pans are at least 2" tall, or use 10" pans if you have them. For a smaller dessert, see the bottom tip, at right.

You can see this recipe in greater detail at our blog, Flourish.
Ingredients
Cake
2 cups stout or dark beer, such as Guinness
2 cups (4 sticks) unsalted butter
1 1/2 cups Double-Dutch Dark Cocoa or Dutch-process cocoa
4 cups sugar
1 tablespoon baking powder
1 1/2 teaspoons salt
4 large eggs
3/4 cup sour cream
Frosting
1 pound bittersweet or semisweet chocolate, chopped
2 cups heavy cream
1 teaspoon vanilla extract
Instructions
Preheat the oven to 350°F. Grease and flour three 8" or two 9" cake pans, and line them with parchment paper circles. Be sure your 9" pans are at least 2" deep.

For the cake: Place the stout and butter in a large, heavy saucepan, and heat until the butter melts. Remove the pan from the heat, and add the cocoa powder.

Whisk until the mixture is smooth. Set aside to cool to room temperature.

Whisk together the flour, sugar, baking powder, and salt in a large bowl; set aside.

In a large mixing bowl, beat together the eggs and sour cream.

Add the stout-cocoa mixture, mixing to combine.

Add the flour mixture and mix together at slow speed. Scrape the sides and bottom of the bowl, and mix again for 1 minute.

Divide the batter equally among the prepared pans. (See tips section for hints on weighing out the batter if you have a kitchen scale.)

Bake the layers for 35 minutes for 8" pans, or 45 to 50 minutes for 9" pans, until a cake tester inserted into the center comes out clean. Remove the cakes from the oven and cool on a rack for 10 minutes before turning the cakes out of their pans and returning to the rack to finish cooling completely before frosting.

For the frosting: Place the chopped chocolate in a large heatproof bowl. Bring the cream to a simmer in a heavy, medium-sized saucepan.

Pour the hot cream over the chocolate and stir until the mixture is completely smooth.

Stir in the vanilla. Refrigerate until the icing is spreadable, stirring occasionally, about 2 hours.

To assemble: Trim one cake layer to have a flat top, if necessary (otherwise the layer will crack when you place it upside down on your cake plate).

Line the edges of a serving plate with parchment or waxed paper to keep it clean, and then place the layer upside down on top. Spread 2/3 cup of the icing over just the top of the layer.

Top with another cake layer, top side down, and repeat the process. If you baked three layers, add that one also.

Use the remaining frosting to cover the top and sides of the cake. Remove the parchment or waxed paper. Sprinkle with shamrock sugar decorations, if you have them.
Nutrition Information
Serving Size

one 2-layer slice, 2

Servings Per Batch

16
Amount Per Serving:
Calories

824

Calories from Fat

450

Total Fat

53g

Saturated Fat

30g

Trans Fat

1g

Cholesterol

160mg
Sodium

498mg

Total Carbohydrate

89g

Dietary Fiber

3g

Sugars

62g

Protein

9g
* The nutrition information provided for this recipe is determined by the ESHA Genesis R&D software program. Substituting any ingredients may change the posted nutrition information.
Tips from our bakers
If you're using salted butter, decrease the salt in the recipe to 1 teaspoon.
If you're buying Guinness in cans (they list 14.9 ounces on the label), use 1 can and make up the difference in volume with water.
If you're making 2 layers, be sure your 9" cake pans are at least 2" deep. If they aren't that tall, use three 8" layers instead.
The batter for this cake weighs 5 pounds, 15 ounces or 95 ounces. If you have a scale, a two layer cake should have 2 pounds, 15 1/2 ounces of batter in each pan. For a 3 layer cake, each layer should weigh 1 pound, 15 1/2 ounces.
If you have access to chocolate disks or chips that are pure chocolate, they'll melt more quickly when making the frosting. We used a bit of leftover tempered chocolate in the photos for this recipe.
For a somewhat less imposing (smaller) cake, downsize the ingredients as follows: 1 1/2 cups each beer and butter; 1 cup cocoa; 3 cups each flour and sugar; 2 1/4 teaspoons baking powder; 1 teaspoon salt; 3 large eggs; 2/3 cup sour cream. Bake in two 9" round pans, at 350°F, for 35 minutes. Frost with Super-Simple Chocolate Frosting, with the optional espresso powder added. This downsized version also makes 30 standard-size cupcakes; bake them for 18 to 22 minutes, then remove from the oven, cool, and frost.
Reviews
This is a very flavorful and rich cake. I did not have dutched cocoa, but KAF quickly responded with a substitution of 1 1/2 teaspoons of both baking soda and powder. I used a chocolate stout rather than Guinness, very good. The frosting was easy and so deep in flavor. I wish I had pulled the cakes from the oven about 3 minutes earlier, as they were just a touch on the dry side for my taste. That said, I put a thin slice in the microwave for 10 seconds and then a dollop of vanilla ice cream and it was heavenly. Thanks to KAF for the rapid response... we will be eating this over the entire Easter holiday weekend.
I have made this version of the recipe and the reprinted version of Barrington Brewery's recipe on the epicurious website a few times. I have had excellent results with both cakes despite the variances in the sour cream. I have to make altitute adjustments when I bake as I live at 5,000+ ft. So in addition to the standard reductions in leavening, sugars, and increasing liquids, temperatures with this recipe I have the added chemistry of beer (more sugars). This time I used Left Hand Milk Stout instead of Guinness and believed this version was moister than with Guiness. It was dense and moist but not dry at all. Maybe the milk sugars in this stout makes a difference. Also, I used KAF's Super Simple Chocolate Frosting instead because it's the best frosting ever. Anyway, I think this is a good example of trying a recipe twice and getting help from KAF.
Chocolate Stout Cake has been on my to-do list and tried this recipe and had to rush it for a birthday gal, unused 73% dark choc converture (because I had a pack at home), the cake was a hit and everybody loved it. Ive posted the image of the cake on my instagram traditionalbakes_nicoletan. This recipe is for a tall cake, I would cut the recipe by 1/3 because I use 8inch pans.
Followed the recipe for the cake quite precisely. My cake came out dry. Very disappointing. Luckily it was not a time consuming cake to bake. The frosting was delicious. The only change I made was to add some King Arthur Flour espresso powder.

We're sorry to hear this cake didn't turn out quite as wonderful as you were hoping, Tia. One of the most common reasons why baked goods turn out dry and heavy is because too much flour is used. To ensure you're using the right amount, we recommend checking out the "Measuring Standards," link next to the ingredients header above. You'll see that either measuring your flour by weight using a scale, or fluffing and sprinkling the flour into your measuring cup are the best ways to ensure your recipe turns out perfectly. Kye@KAF
Yes . . . sort of, on the recommendation part. The small cake works fine, but the large recipe is identical to an Epicurious recipe that calls for far more sour cream - 1 1/3 cup. They can't both be right. Stout cake recipes fro other bloggers typically follow the Epi ratios, and for good reason. 3/4 is not nearly enough sour cream to produce a moist cake. No wonder some people have had issues with dryness.

Thanks for sharing your feedback with us, and for prompting us to take a closer look at the ratio of ingredients in this cake. The recipe for two 9" pans that's provided in the Baker's Tips is a scaled-down version of the full-size: everything is roughly reduced by 25%, so we're surprised to hear you experienced such different results between the two versions. It's true that if the sour cream was increased by exactly 25% from the smaller recipe, it would be a generous 3/4 cup (about 7/8 of a cup to be precise) in the full-size cake.

Also, it may help to measure your flour by weight or by fluffing and sprinkling it into the measuring cup if you're not already doing so. Light cups of flour yield moist, tender baked goods. We hope this helps make your next stout cake turn out perfectly. Kye@KAF
This is a great cake who loves moist , nice rich. I normally like fluffy cake but this cake was something different because of beer in the cake. I enjoyed it. Next day is better flavor too.
Absolutely delicious! However, I'm going to have to adjust this recipe for high altitude in the future. I used 3, 9' pans. Three 8' pans or 2, 9' pans with a depth of 2' would not have been sufficient. Two of the three cakes had a center depression (see: future of high altitude adjustments). The cakes were perfectly moist and delicious even during my taste test without the ganache frosting. I'd also refrigerate my frosting longer as it was still a bit soupy, but I was in a time crunch.
Everything came out amazing but the frosting. Not sure what went wrong. Used guittard (spelling) semi sweet chocolate chips. Came out grainy and refused to set up into frosting consistency. It's kind of rainy out maybe it was the humidity? Maybe bad choice of chocolate? Maybe the milk wasn't hot enough? What temperature should the milk be? So I artistically applied the semi soupy frosting to look like melted wax and called it quits. Tasted awesome. My mom said it was wonderful and that is all that matters.

Cheryl, it's true that it can be more difficult to melt chocolate chips successfully rather than chocolate discs or chopped bar chocolate. (Chocolate chips have a coating that prevents them from melting.) You might want to try using another kind of chocolate to see if that helps next time. It also sounds like your chocolate might have seized, which can happen if a few drops of water get into the chocolate mixture. (It's possible that the humidity also contributed to this.) The cream should be hot but not boiling, just simmering around the edges (about 195&def;F). We hope these tips help you make a perfect frosting to top off your decadent cake next time. Good luck and happy baking! Kye@KAF
OH MY GOODNESS! I keep stout beer in the fridge only for this recipe. Watch the baking part though, it is quite easy to overcook the cake and then it isn't quite as moist as you might like it. Chocolate flavor is rich and deep. The frosting cake ratio is spot on. When making layer cakes I normally put the batter in two eight inch pans and end up with a 4 layer cake. This batter is A LOT of volume, I put this one in two nine in pans and I need every bit of that extra space. Yet even with such tall layers, the cake to frosting ratio is solid. You will not be sad if you try this cake, however you may have three extra bottles/cans of stout beer :-)
I just won a cake competition with this! I used the scaled down version and made two 8' layers. They did take quite a lot longer than 35 minutes to cook but they were delicious. I sliced them to make 4 thin layers and made 3 different kinds of liqueur ganache for filling, and a rum buttercream to top it all off. This is definitely the tastiest from-scratch chocolate cake I've ever made!

Congratulations on your cake success, Heather! We're so glad to hear this recipe helped you achieve baking victory. Keep up the great work, and happy baking! Kye@KAF