A customized print-friendly version of this recipe is available by clicking the "Print Recipe" button on this page.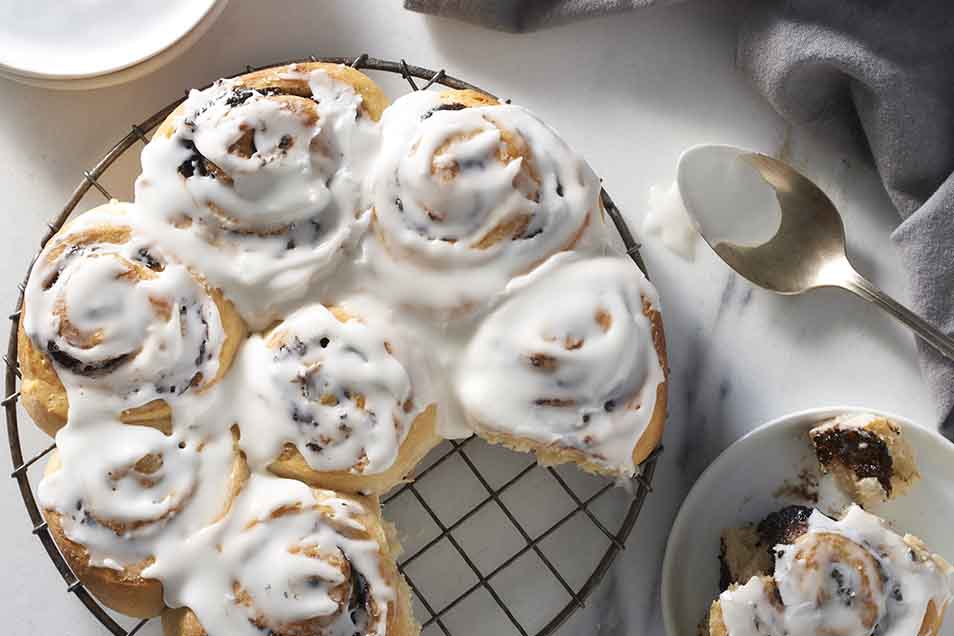 Whether you're a fan of cinnamon buns or babka, these buns are sure to please you. The sweet chocolate filling perfectly complements the soft, tender dough. White icing completes the ensemble for a wonderfully decadent morning treat.
Ingredients
Icing
1/2 cup confectioners' sugar
1 tablespoon milk
Instructions
To make the dough: Combine all the ingredients, and mix and knead — by hand, mixer, or bread machine — to make a soft, smooth dough.

Place the dough in a lightly greased bowl and allow it to rise, covered, for 60 to 90 minutes, until doubled.

To make the filling: Mix together all the ingredients, stirring until smooth. Set aside.

Turn the dough out onto a lightly floured or greased work surface and stretch or roll it into an 8" x 14" rectangle.

Spread the filling (microwaving it briefly if necessary to achieve a spreadable consistency) onto the surface of the dough, leaving 1" uncovered on one short side.

Starting with the filling-covered short side, roll the dough into a log. Slice the log into eight buns.

Place the buns into a lightly greased 9" round pan, spacing them evenly.

Cover the buns and allow them to rise for 45 to 60 minutes, until puffy. Toward the end of the rising time, preheat the oven to 350°F.

Bake the buns for 20 to 25 minutes, until they're golden brown.

Remove the buns from oven and allow them to cool in the pan for 5 to 10 minutes before icing.

To make the icing: Combine all the ingredients, stirring until smooth.

Pour or spread the icing evenly onto the warm buns.

Serve buns warm or at room temperature. Wrap leftover buns and store at room temperature for one to two days. Un-iced buns can be stored in the freezer for up to 1 month.
Tips from our bakers
If you don't have Baker's Chocolate Filling, combine 5 tablespoons granulated sugar with 3 tablespoons Dutch-process cocoa powder, 1 tablespoon all-purpose flour, and a pinch of salt. Combine with the melted butter and water and stir until smooth, as directed in the recipe.
Reviews
These are wonderful! I would recommend using the higher rise times. Next time I will probably use 1 1/2 times the filling, but the filling is wonderful! I have a sensitivity to cinnamon, so these are a great alternative. Also, they make only 8 rolls, which is great for just my husband and I.
I made these with an overnight rise. I let them sit out while the oven preheated and then baked. Delicious. Easy recipe overall. I thought the chocolate mixture was sufficient. I added a dash of cinnamon and thought it really added a nice touch. These are definitely worth making again. I appreciate that the recipe is only for 8 rolls. More would be too many; they're quite rich.
Very much enjoyed making and eating these rolls! Replaced the AP flour with white whole wheat. Also used the substitution for the chocolate schmear, except accidentally used 5T cocoa instead of 3T so upped the sugar to 4T and added some extra water as well as 1/4 tsp espresso powderit was a delicious mistake. I also live in a very humid climate so had to add a few extra tablespoons of flour to the dough.
This makes for a great roll, very tasty and nice alternative to a cinnamon roll (although those are still my favorite)! I made exactly as directed, only addition was 1/8 tsp. of espresso powder in the filling (I made the filling substitution as directed by KAF since I did not have Baker's Chocolate Filling), and everything came out perfect! At first I thought the amount of icing was a bit scant however reserved judgement after drizzling on until we ate them and amount was perfect (although nowhere near as much as pictured by KAF, that appears to be doubled). Bake time for me in my convection oven was 20 minutes and temperature testing in center verified this. Another great recipe by KAF!