A customized print-friendly version of this recipe is available by clicking the "Print Recipe" button on this page.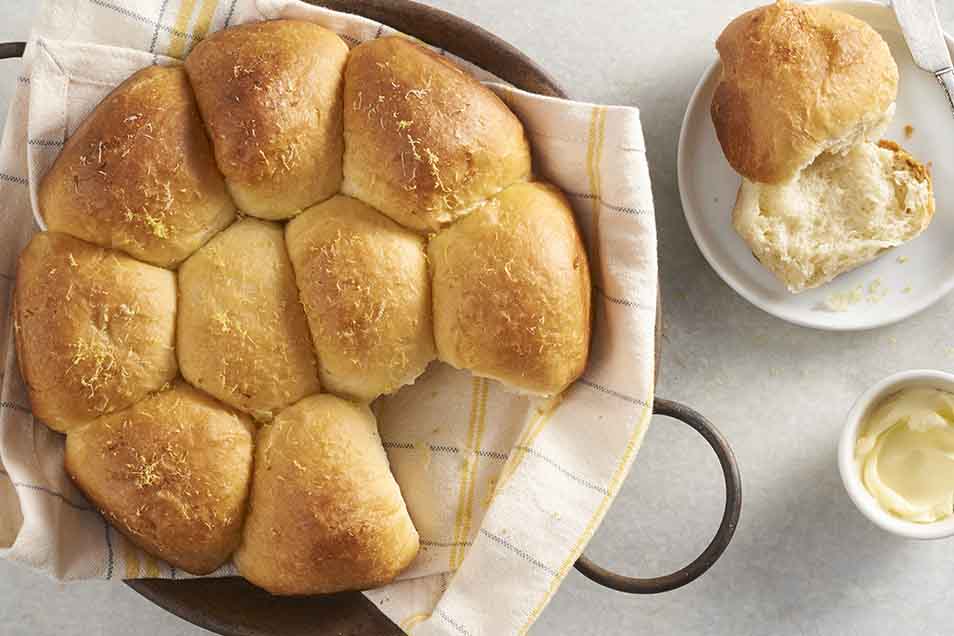 These buns are the quintessential hot yeast bun — but with an unexpected and refreshing jolt of lemon. The lemon elevates them beyond ordinary dinner rolls to something special: tea or breakfast rolls, perfect for spreading with homemade preserves. Tender and buttery, with a crisp, golden crust, they're distinctly and assertively lemon, but not sweet: a new and interesting concept in baked goods. These are simply awesome with raspberry jam!
Ingredients
Glaze
3 tablespoons unsalted butter, melted
1/8 teaspoon lemon oil or 1 1/2 teaspoons grated lemon zest
Instructions
To make the dough: Combine all the ingredients — by hand, mixer or bread machine — to make a smooth, soft dough.

Place the dough in a lightly greased bowl, cover the bowl with plastic wrap, and allow the dough to rise for about 1 1/2 hours, or until it's puffy, though it may not have doubled in bulk.

Transfer the dough to a lightly oiled work surface, and divide it into 20 pieces. Allow the pieces to rest, covered, for 10 minutes.

Round the dough into balls, and place them in two lightly greased 9" round cake pans. Cover the pans, and allow the buns to rise for about 1 hour, or until they're nice and puffy and have filled the pan.

While the buns are rising, combine the glaze ingredients, and set aside.

Preheat the oven to 375°F.

Brush the buns lightly with half the glaze. Bake them for 30 to 35 minutes, or until they're golden brown.

Remove the buns from the oven, and brush them with the remaining glaze.

Store for 3 days on the counter, or freeze for up to a month.
Reviews
This recipe is outstanding! What a lovely lemony flavor coupled with a great texture. It's not sweet, and yet...it satisfies the same way a good sweet can, due to the lemon. I used both fresh zest and lemon oil, in both the dough and the glaze. Could not be better. (Well, I could shape my buns a little better, but that's on me.) I imagine these, made larger, would hold delicious tuna salad sandwiches or even cucumber-smoked salmon and be the hit of tea time or a picnic. In fact, after I bake a set for Easter supper, next after that will be those smoked salmon delights. These buns are glorious. And easy. I love KAF.
Used vegan butter and oat milk to make this dairy free. I upped the lemon because I love lemon flavor. They were really good fresh with raspberry jam but didn't keep well. Next time I will half it so there won't be leftovers.
Can I halve this recipe ? Also I used kosher salt . Next time I'll take them out 3-5 minutes sooner. I used my dough hook. These roll were really good.

Ellen, you're welcome to halve the recipe if you'd like to make only 10 buns. Divide all of the ingredients in half, and you can either scramble the egg and add about half to the dough or you can use the whole egg and reduce the water by about 2 tablespoons. Either approach will work. If you're using coarse Kosher salt, you'll want to use about 2 1/2 teaspoons of salt in this recipe. Happy baking! Kye@KAF
The taste of these buns is fabulous! I wonder if people pass by clicking on this one, but they should! I was looking for something without much of a rise time in order to deliver as a little gift for a visit on time. It took longer than expected for the shaped dough to rise. I needed to place them in a warmed oven in order to finally get them to spring up and fill the pans. I wonder if the order of ingredients to make the dough impacted it. I dissolved the yeast in the warmed sugar water at the proper temperature for such, and added it to the four mixture containing all of the other ingredients. The recipe doesn't specify that the order of addition is necessary.

Chloe, the ingredients can be mixed in any order without compromising the rise of the dough. If you're using yeast that's still good, it will become active once it's mixed with the moisture in the recipe. If you want to test your yeast to ensure it's still fresh, feel free to mix it with some of the warm milk or water in the recipe. Happy baking! Kye@KAF
I knead by hand and this dough was really easy to work with. One half I used for buns and the other half I shaped into a loaf. I omitted the glaze. The result is soft, lemony bread with almost flaky crust. I don't have sweet tooth and this recipe uses only 1To sugar. Love it!
I love these buns and have baking them for years. They taste like a lemony brioche. I usually bake them with the lemon oil since it's more convenient, but i prefer them with the lemon zest because it gives a stronger and more complex lemon flavor. I usually bake them without the glaze because I think they're rich (and delicious) enough without it.
These are lovely & light. Here, in Tucson, Lemon Trees are abundant and finding new uses for the fruit is always welcomed. Next time, I will add even more zest...the flavors are fresh, not tart and not sweet.