A customized print-friendly version of this recipe is available by clicking the "Print Recipe" button on this page.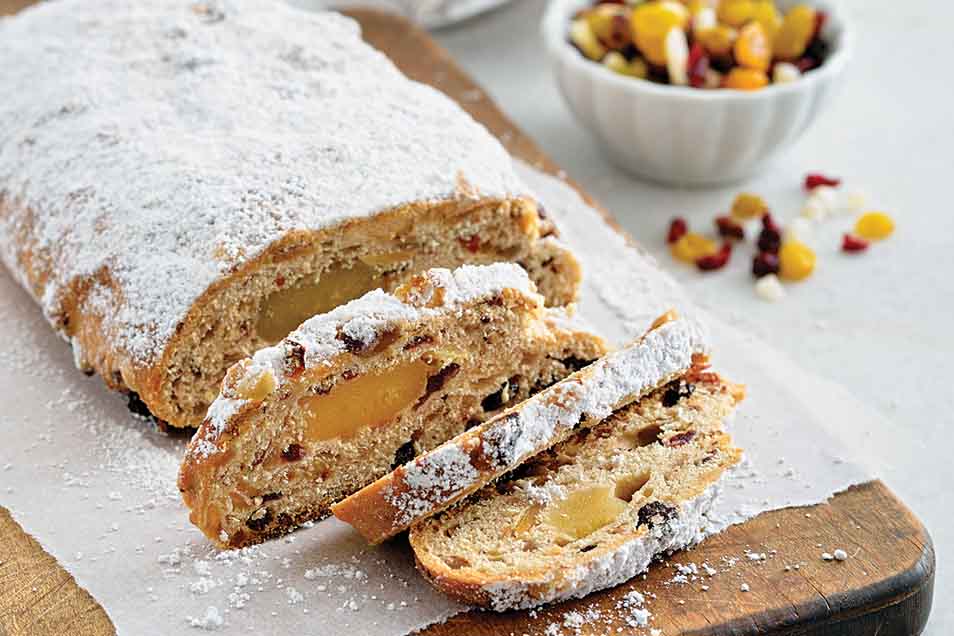 As a traditional German fruitcake with a profound history, it's no wonder that there are as many variations of stollen as there are people who make it. This version includes a rich filling of almond paste (or marzipan), which adds to the decadence of the bread-like cake.

Stollen's dense butter and sugar coating makes it an excellent candidate for preparing ahead of the busy holiday season, wrapping, and giving to friends and family up to 2 weeks later.
Instructions
To prepare the fruit: Combine the fruits and orange juice or rum, cover, and set aside at room temperature for up to 12 hours.

To prepare the dough: Using a stand mixer, mix and knead together all of the dough ingredients (except the almonds) to make a smooth, soft dough.

Cover the dough and let it rise until puffy, about 60 to 90 minutes.

To make the filling: Divide the marzipan into three pieces and shape each into a flattened 7" log.

To assemble the stollen: Knead the fruit and almonds into the dough. Turn the dough out onto a lightly greased surface, divide it into three pieces, and shape each piece into an 8" x 6" oval.

Place one piece of almond paste or marzipan down the longer center of each oval, and fold dough over it lengthwise, leaving the top edge of the dough just shy of the bottom edge.

Press the top edge firmly to seal it to the dough below.

Place the loaves on a lightly greased or parchment-lined baking sheet. Cover them, and let them rise for 45 to 60 minutes, until puffy.

While the stollen are rising, preheat the oven to 350°F, with a rack in the upper third.

Bake the stollen for 30 to 35 minutes, until golden brown and its internal temperature reads 190°F on a digital thermometer.

Remove the stollen from the oven, and brush them with melted butter. After 5 minutes, dust with Baker's Special (superfine) sugar and/or confectioners' or non-melting sugar.

Transfer to a rack to cool completely. Wrap airtight and store at room temperature for up to 2 weeks. Freeze for longer storage.

Yield: 3 stollen.
Nutrition Information
Serving Size

1 inch slice (41g)

Servings Per Batch

42
Amount Per Serving:
Calories

140

Calories from Fat

40

Total Fat

4.5g

Saturated Fat

2g

Trans Fat

0g

Cholesterol

10mg
Sodium

65mg

Total Carbohydrate

22g

Dietary Fiber

1g

Sugars

12g

Protein

3g
* The nutrition information provided for this recipe is determined by the ESHA Genesis R&D software program. Substituting any ingredients may change the posted nutrition information.
Tips from our bakers
Substitute almond paste for the marzipan, if desired.
If you've frozen the stollen, you may need to dust them with sugar again, once they're thawed.
Reviews
I've tried any number of times to make Stollen, but until now the results didn't come close to the wonderful Stollen you can find in any bakery in Germany at Christmastime. I even bought a cookbook on German baking, written by a German, who apologized for not including a Stollen recipe, saying she hadn't found anything that really measures up. This recipe cracks the code. I'm so pleased! Thank you King Arthur!
This recipe is amazing! I planned on making it for Christmas, but went overboard making Christmas cookies and thought that was enough sweets for the holiday. Since I had all the ingredients, I decided to try it now. Wow! It makes a beautiful, moist, flavorful loaf. I have a sulfite allergy, so couldn't use the KA fruit mix. What I did was mix dried blueberries, cherries, sulfite-free apricots, prunes, craisins and currants. I didn't chop them as finely as I should, so that's a change for next time. Definitely was difficult to knead the fruit into the dough. Other than that, I followed the recipe as written. I did use almond paste instead of marzipan. It was delicious! It took longer to bake than listed, but that could have been because of the size of the fruit. I baked to 190 degrees. I'm so glad I followed that direction. I would have taken them out of the oven much too soon because of the darkness of the loaves. This is a definite keeper!
Excellent recipe. Much better than store bought! I used a lot cinnamon and cardamon as well as hazelnuts with the almonds and hazelnut liquor. I used orange zest instead of the lemon. I used Mexican vanilla. In my family we eat it heated and spread butter on it and eat it with breakfast on Christmas Eve morning and Christmas morning. Then we put on the marzipan. It makes a great dessert and you know you were good if you got this for dessert and you were really good if you got this as a snack along with chocolate covered marzipan. I'm trying to introduce my fiancee to German Christmas traditions and he loved this! Thanks or Danke. Diese recip schemked gut! This recipe tasted good.
Totally delicious and easy. A new holiday favorite, and plenty to share. I used cinnamon powder in place of mace. I don't have a stand mix and so kneaded everything by hand, which wasn't very difficult. I would like to know if there are any professional recommendations for how much to knead this by hand? Also we have an egg allergy in our extended family, so are there any recommendations for making this without egg (for example, would a "flax seed egg" (flax seed powder plus warm water) work?

We think a flax and water egg-substitute would work perfectly in this recipe, Richa. For hand-kneading techniques, we recommend checking out the King Arthur Flour Youtube channel for several videos showing various techniques. Happy baking! Annabelle@KAF
I made this stollen for the first time this Christmas and found it surprisingly easy. I used my heavy duty mixer for kneading and incorporating the fruit and nuts, which worked quite well. The only issue was baking time. Recipe says the internal temp should be 190* which was going to make the bread too dark in my opinion so I went with my gut, and took it out of the oven when it became a rich golden color and a toothpick inserted came out clean. Lots of confectionary sugar makes it look professional. I did use the almond paste for an even better flavor. It's a hit with my family and a keeper.
This stollen turned out fantastic! But I must say, it's not written for novice bread-makers. I know how to combine bread ingredients in the mixer and in what order, and I also know how long to let it knead and at what speed, but if you don't, you could have some problems. I will say I used heaping amounts of cardamom and mace (personal preference), and based on other reviews I kneaded the nuts and fruit into the dough on top of parchment paper, because yes, it's very sticky! The marzipan is great, but the bread has enough flavor on its own so if you want to save time/money go ahead and leave it out. The product is three delicious loaves. One is for us, one for my inlaws, and one for my parents. Thank you!
This turned out soooo good. It was perfect, and is a new holiday tradition for my family.
I solved the kneading in of the fruit by putting the dough back in the mixer and kneading it with the dough hook. It worked perfectly on the low speed. I used the Gold SAF yeast which also made it rise really well. I keep the yeast in the freezer and it has to be two years old. From making julakage I found that adding the fruit was a pain. Unfortunately, that recipe is too big to put back in the mixer. I just have to keep poking the fruit back in. I like the other recipe using a sponge but this is great having three loaves at once. I also used the stollen spice.
I made this last year and it was a huge hit. One for me, one for my neighbor, one for my sister. This year, things were a little hectic, and I used the mix...divine and easier. Both get high marks.
Although a wee bit of effort, I like that there are three loaves: one for keeps, one for family and one to gift. I find that it is a very gooey dough, and tough to work with, but doesnt seem to diminish the final outcome. As far as the fruit- I have used currants, organic raisins and currants as a nice, tasty and easy to procure choice. As a tip for success, when the recipe says add all the dough ingredients- that does not include the fruit. I make a batch or two around Winter Solstice. Important to leave a small slice out for the Tomten on Solstice Night. When I give as a gift, I wrap up in parchment paper like a tootsie roll, with pretty ribbons on each end. lovely.