A customized print-friendly version of this recipe is available by clicking the "Print Recipe" button on this page.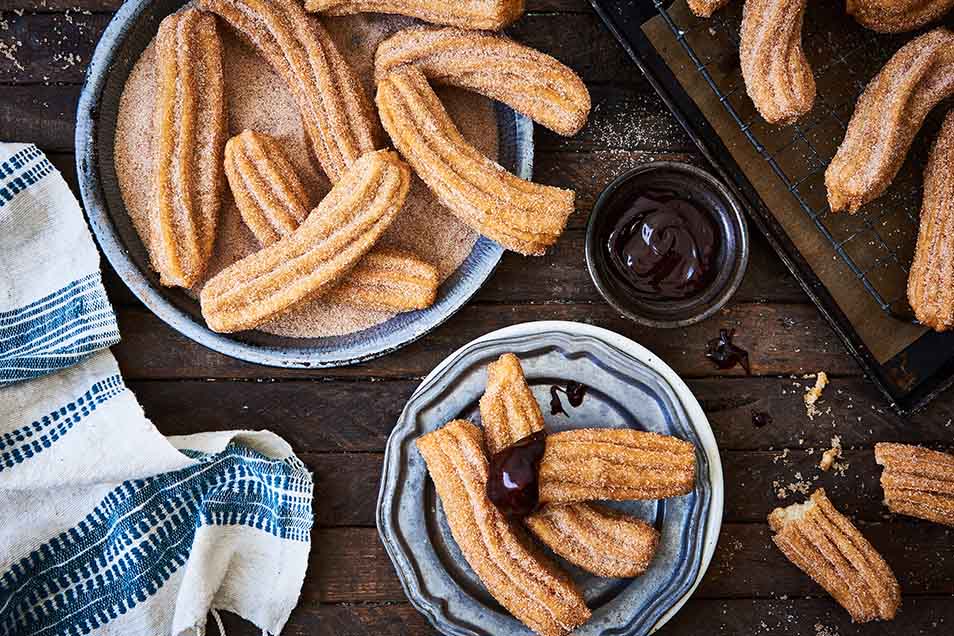 Churros, mildly crunchy, tender sticks of fried dough, are a typical breakfast treat in many Hispanic countries. Interestingly, these light, crisp "Mexican crullers" get their rise not from yeast, not from baking powder... but from eggs.
Instructions
Combine the water, butter, and salt in a medium-sized saucepan, heat until the butter has melted, and bring to a rolling boil.

Remove the pan from the heat, and add the flour all at once, stirring vigorously.

Return the pan to the burner and cook over medium heat, stirring all the while, until the mixture smooths out and follows the spoon around the pan; this should take less than a minute.

Remove the pan from the heat, and let the mixture cool for 5 to 10 minutes. It'll still feel hot, but you should be able to hold a finger in it for a few seconds. If you have an instant-read thermometer, the temperature should be below 125°F.

Transfer the mixture to a mixer, and beat in the cinnamon, if you're using it; then the eggs one at a time. The batter will look curdled at first, but when you add the last egg it should become smooth. Beat for at least 2 minutes after adding the last egg.

Next, you have a choice of piping the batter into hot oil immediately, which will yield curved or S-shape churros; or piping it onto a piece of parchment and freezing for 30 minutes, which will make straight, stick-like churros.

To pipe immediately: Pour a generous 4 cups vegetable oil (peanut oil preferred) into a 10" electric frying pan or heavy skillet set over a burner; the oil should be about 5/8" deep. If you use a smaller or larger pan, add oil to a depth of between 1/2" and 3/4".

While you're heating the oil to 375°F, spoon the batter into a pastry bag fitted with a star tip. The star tip will give your churros their signature grooved surface. A 1/4" star is typically included in a basic pastry set; this will yield churros about 3/4" in diameter. If you're looking for fatter, 1" churros, use a wider star tip.

Pipe a line of batter about 6" long into the hot oil. It's virtually impossible to pipe a straight line; you'll see. Pipe 5 or so churros at a time into the oil; don't crowd them, as they'll lower the temperature of the oil too much.

Fry the churros for about 2 minutes on each side, until they're a light golden brown, and are cooked all the way through.

Transfer fried churros to a paper towel-lined baking sheet to drain. Repeat until you've used all the batter.

To freeze churros before frying: Pipe the batter in 6" straight lines onto a piece of parchment. Place the parchment on a pan, and put the pan in the freezer. Freeze churros for 20 to 30 minutes, until they're stiff enough that you can pick them up off the parchment.

Fry frozen churros as directed above, about 2 1/2 minutes per side. Remove from the oil, and drain on paper towels.

Sprinkle churros heavily with cinnamon-sugar, stirring gently to coat. Or spoon cinnamon-sugar into a plastic or paper bag large enough to hold churros without crowding, and gently shake, about 6 at a time, to coat with the sugar.

Serve immediately. Or cool to room temperature, and store airtight for several days. Reheat in a 350°F oven for about 10 minutes before serving.

Yield: about 5 1/2 dozen 6" to 7" churros; fewer if you use a larger star tip for piping.
Tips from our bakers
Can you make these with whole wheat flour? We don't advise it; best to get your daily fiber elsewhere.
Can you freeze these? Yes. Freeze the batter as directed above; when churros are solid and have lost their stickiness, wrap them gently in plastic, and freeze for several weeks. Cooked, cooled churros can be wrapped airtight and frozen for up to about a month; thaw, uncovered, at room temperature; then reheat for about 10 minutes in a 350°F oven.
Can you make these without a pastry bag? Difficult. Try putting the sticky batter into a plastic bag, and snipping off the corner. You won't get the vertical grooves a star tip would yield; and the plastic bag will be hard to handle, but it's possible to do — barely. (I know, I tried it!)
Reviews
This recipe was easy to follow, and the end product looked near-perfect. By nature, churros are greasy because they are deep-fried, but I found these to be especially absorbent. Also, more salt makes them taste a bit better. Because I brought them to a work party, I fried them the night before and followed the reheat protocol. I worried at first because they were soggy when I took them out of the airtight container, but reheating in a toaster oven restored the crunchiness.
Followed the recipe exactly and they turned out delicious. This was only my second time making churros but, this recipe is far better than the first attempt (it had less butter and eggs). I used a Ziploc bag and cut triangles into the tip, to create the ridges. I also froze mine before frying, for about 30 minutes. They kept well, in the oven @250° for an hour before they were DEVOURED!
These came out wonderfully textured and flavorful. We used 3 jumbo eggs (that's what we always have) and beat the mixture by hand, and after cooking they were drained over a rack, to make sure they were crispy.
Tasty, but I think the recipe would be better with less eggs.
Loved the recipe!!the churros turned out fantastic though i used only two eggs.
Excellent directions. Not sure why the one reviewer gave it one star, it never claimed to be Spanish churros In the US Mexican Churros is exactly what is expected when led about churros.
This is not the authentic Spanish churro which consists of flour, water, and salt. This recipe is for Mexican churros.
This was my first attempt at making churros, and overall, I was impressed with the results. I do not own a pastry bag, and I found that using a zip-lock bag with the tip cut off worked well enough for me, but I would invest in a pastry bag if I find myself making recipes like this more frequently. I used the method of piping onto parchment paper on cookie sheets, and froze them before cooking, and this worked very well for me and made it easier to manage when dropping them into the hot oil. I did pipe the dough too thick; I piped to the thickness I though they should be by the time they were finished cooking, and they definitely puff up as they cook. So beware, and err on the side of piping too thin, because mine did turn out a little under-done in the middle, through no fault of the recipe, but my own execution. The flavor was fantastic, and pretty authentic to churros I've eaten before. I took them to work and they were well received by everyone there, even with the slightly gooey centers. This is a moderately time consuming recipe, so I think it will stay in my "special occasion" recipe collection, but very fun to try and delicious to eat! It's always fun to try new things in the kitchen!
Thanks for posting your tips that will help other first time Churros makers - Happy Baking! Irene @ KAF