A customized print-friendly version of this recipe is available by clicking the "Print Recipe" button on this page.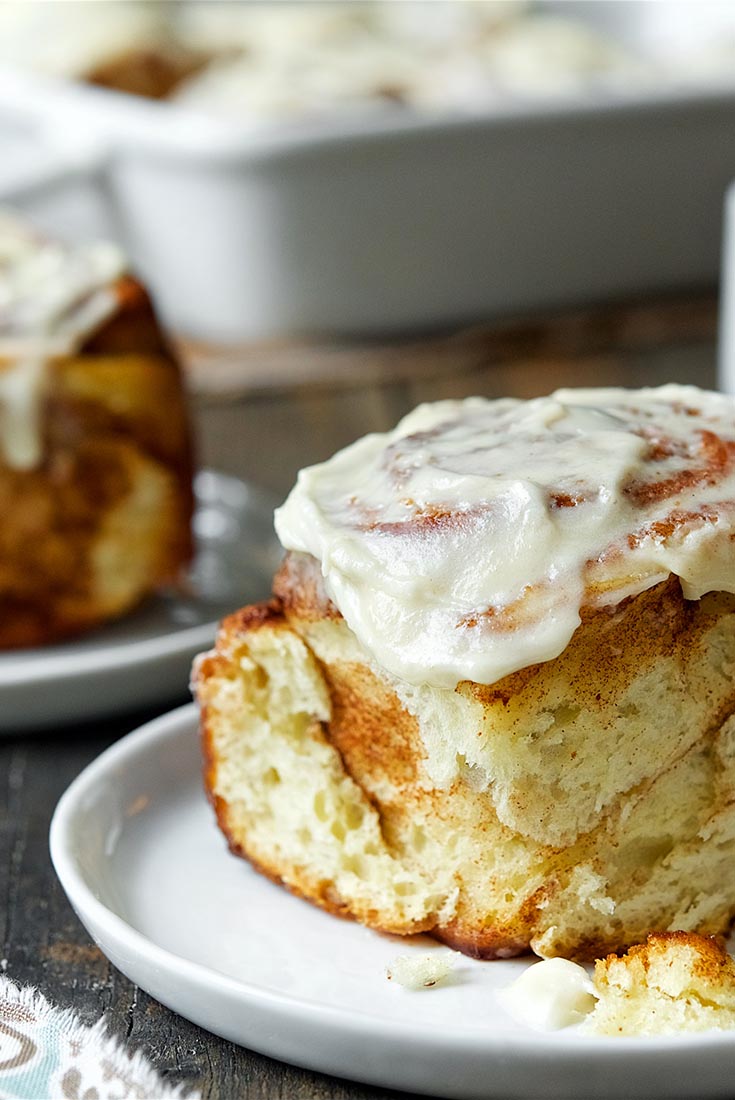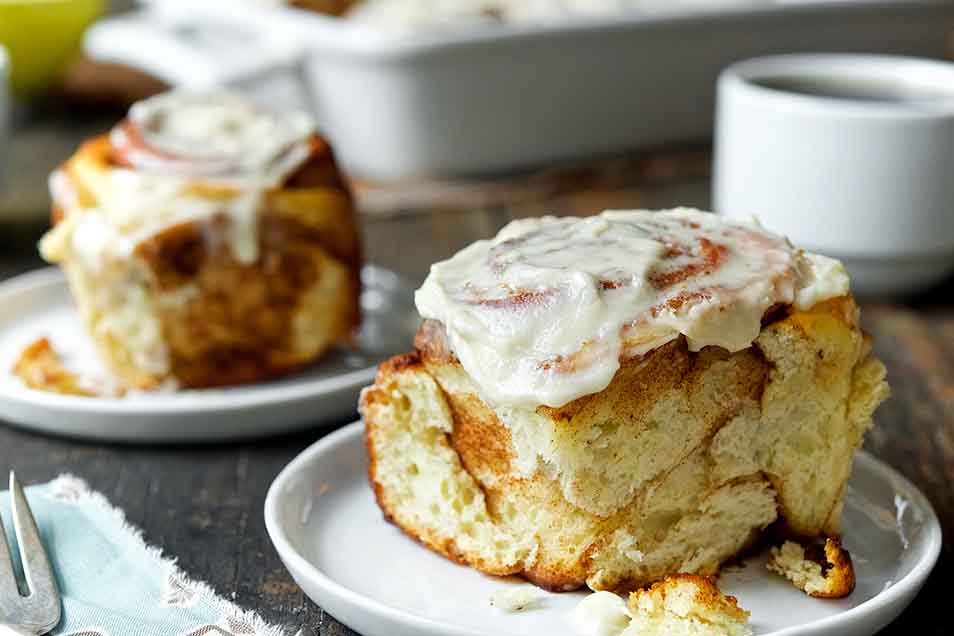 Love those ooey-gooey cinnamon buns you find at the shopping mall? These sweet, tender (some would say squishy) cinnamon buns, crowned with a thick dollop of rich cream cheese icing, make a trip to the mall (or airport) unnecessary.
Ingredients
Filling
1/3 cup unsalted butter, softened
1 cup brown sugar, packed
3 tablespoons ground cinnamon
Icing
6 tablespoons (generous 1/3 cup) cream cheese, softened
1/4 cup unsalted butter, softened
1 1/2 cups confectioners' sugar
1/2 teaspoon vanilla extract
Instructions
To make the dough: Mix together and knead all of the dough ingredients — by hand, mixer, or bread machine — to make s smooth, soft dough.

Place the dough in a lightly oiled bowl, turn to grease all sides, cover the bowl, and let the dough rise until it's nearly doubled in bulk, 1 to 2 hours depending on the warmth of your kitchen.

To fill and shape the buns: Gently deflate the dough, and transfer it to a lightly greased work surface. Roll the dough into a 16" x 21" rectangle.

Spread the dough with the 1/3 cup butter. Mix the brown sugar and cinnamon, and sprinkle it evenly over the dough.

Starting with a short end, roll the dough into a log and cut it into 12 slices.

Place the buns in a lightly greased 9" x 13" pan. Cover the pan and let the buns rise until they're nearly doubled, about 30 minutes.

While the buns are rising, preheat the oven to 400°F.

Uncover the buns, and bake them until they're golden brown, about 15 minutes. While the buns are baking, make the icing.

To make the icing: In a small bowl, beat together the cream cheese, butter, sugar, and vanilla.

Remove the buns from the oven. Spread the icing on the buns while they're warm.

Serve buns warm, or at room temperature. Wrap in plastic and store at room temperature for a day or so; freeze for longer storage.

Yield: 12 large buns.
Nutrition Information
Serving Size

1 bun

Servings Per Batch

12 buns
Amount Per Serving:
Calories

502

Calories from Fat

Total Fat

18g

Saturated Fat

Trans Fat

Cholesterol

84mg
Sodium

364mg

Total Carbohydrate

37g

Dietary Fiber

2g

Sugars

40g

Protein

8g
* The nutrition information provided for this recipe is determined by the ESHA Genesis R&D software program. Substituting any ingredients may change the posted nutrition information.
Tips from our bakers
Counting calories? Feel free to make 2 dozen smaller buns. Roll the dough the long way instead of the short way, and cut it into 24 slices. Place them in the pan in six rows of four buns each; they may seem crowded, but that's OK. Bake as directed.
Want to make these rolls ahead of time, freeze or refrigerate, and bake in the morning? To freeze, see our blog posts, Freeze! Time-savers for the holidays. To prepare the night before, place the shaped buns in the pan, cover the pan, and refrigerate overnight. Next morning, let the buns warm at room temperature for about an hour, covered. Uncover, and bake as directed.
Reviews
Fabulous recipe! I've never made cinnamon rolls before and they turned out spectacularly. I did, after reading about sugar hygroscopic qualities, decide to half the sugar in the dough. We didn't miss it and they didn't harden. Thanks, KAF!
I've had some great results with this recipe but noticed that the buns become hard after a few hours. Any idea why this happens?

We're glad these are a hit! In our blog article "Maybe not your mom's cinnamon buns. But maybe even better." we talk about why cinnamon rolls, despite being soft and tender when they come out of the oven, can quickly become little cinnamon rocks. The main reason is that sugar is hygroscopic — it will absorb any and all moisture it can, including from the dough itself. By using only cinnamon in the filling rather than a cinnamon sugar mixture and getting your sweetness from the tasty glaze (added right before enjoying) instead, the dough remains much more tender as the moisture isn't drawn out. We encourage you to check out that blog article by searching for it on our website for helpful visuals and additional tips. Happy baking! Annabelle@KAF
These cinna-buns are perfection Tender and delicious
As an experienced baker I am a 67 year old grandma who has baked many a cinnamon roll. When I was assembling the ingredients I double checked the flour twice since most recipes call for no more than 3 1/2 Cups. I was right to be a skeptic. They were like rocks! A waste of time and money. I would have expected perfection from the King Arthur site. Please double check the recipe again.

Hi Carlyle, we're sorry to hear you had such a frustrating experience with this recipe, but we think we have a good guess at the culprit of your hard-as-rocks buns: using too much flour. It's one of the most common reasons why baked goods turn out dry and heavy. To ensure you're using the right amount, we recommend checking out the "Measuring Standards," link next to the ingredients header above. You'll see that either measuring your flour by weight using a scale, or fluffing and sprinkling the flour into your measuring cup are the best ways to ensure your recipe turns out perfectly. We hope this helps you get better results from whatever recipe of our you choose to bake, this recipe or others. Good luck and happy baking! Kye@KAF
Meh...it's been a while since I've made cinnamon rolls but was not overly impressed with this recipe's first try. It doesn't come close to the mall cinnamon roll. I will probably try this recipe again at some point but i'd like to find a recipe that wow's me the 1st time.

We'd love to help connect you with your perfect cinnamon bun recipe, fellow baker. We'd be interested to hear where this recipe fell short for you (too dry of a texture? lacking flavor?) so that we can point you in the right direction with your next attempt. If you're looking for a super moist and tender cinnamon roll, try our recipe called Soft Cinnamon rolls. (It uses a special technique called tangzhong that makes the dough more moist than others.) Consider giving our Baker's Hotline a call at 855-371-BAKE (2253) so we can hear more about what you're looking for and share the inside scoop about making the very best cinnamon rolls! Kye@KAF
I used the exact amounts listed in the recipe but my dough was so wet, it just tore and stuck everywhere while I tried rolling it. I don't know what a "soft dough" is supposed to look like ... maybe I should've added extra flour? A little more guidance in that department would've been helpful for us less experienced bakers.

We'd love to help, Danielle. The dough should feel soft to the touch, kind of like the squishy part of your cheek when your face is relaxed. It should also feel slightly tacky to the touch, like a sticky note being pulled off the tips of your fingers. It sounds like there might have been a measuring error with the flour, or perhaps you were using another brand of flour other than King Arthur Flour. (Others are known for being lower in protein content, or "softer," which means they absorb less water. More needs to be added in order to get the same results.) Feel free to give our Baker's Hotline a call at 855-371-BAKE (2253 if you'd like to talk through this recipe in more detail before trying again. Kye@KAF
This recipe is so great. I like to make them the night before and then cook them in the morning using the technique from Alton Brown's overnight cinnamon rolls. And after eating them about a dozen times I decided to try a little tweak. Try cutting back 1 tbsp cinnamon and rolling fresh blueberries in the center. So good too! But nothing beats this recipe done just as stated.
Oh my goodness, these rolls are so good. Far better than anything you'll find in a store. They are the ultimate comfort food! I add a bit of cardamom and ginger to the filling, which adds depth to the earthy cinnamon. A pan of these rolls never lasts long in my house. Well worth the mess and wait!
There is nothing better than these buns! I barely have time to put the icing on before they are gone. I've started cutting the dough in half and making two batches from one dough ball, just to make them last a little longer! I only use 2 tsp of instant yeast since I live at about 9000 elevation, and they do wonderfully. The only question I have is why do some of the centers of the buns pop out, while the rest of them remain perfect.

If the centers of your cinnamon buns are popping out during baking, it means that they're rolled just a bit too tightly. Next time try rolling up the log of dough with just a little less tension to see if you can make a perfect Cinna-Bun. We know you can do it! Happy baking! Kye@KAF
I have tried so many recipes for cinnamon buns and none of them is as good as this. Soft, airy, tasty and just perfect in every way. And the best thing is that they are incredibly easy to make. For the filling, I mixed the softened butter with the sugar and cinnamon, and spread it on. Thank you!