A customized print-friendly version of this recipe is available by clicking the "Print Recipe" button on this page.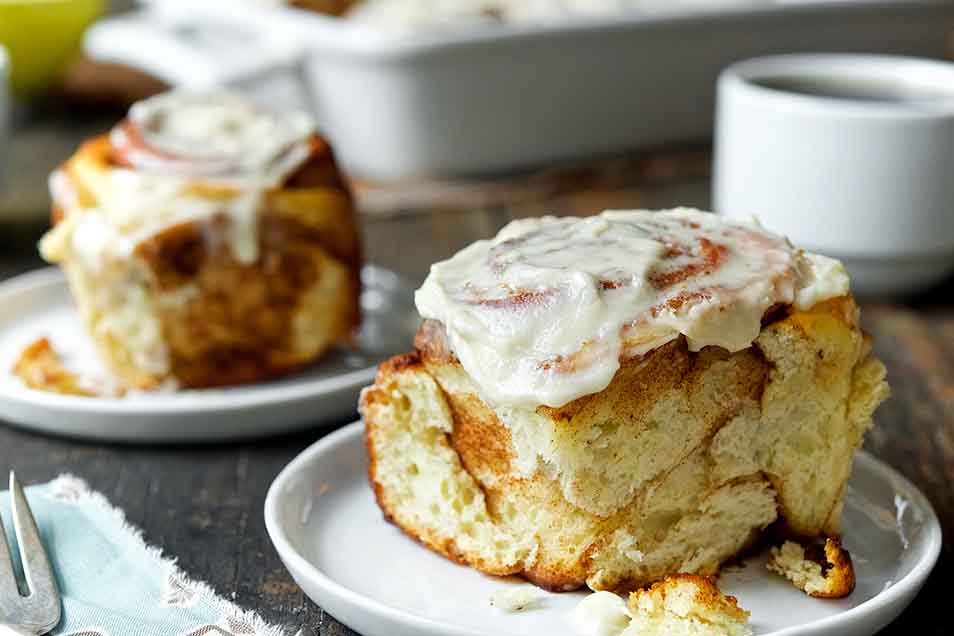 Love those ooey-gooey cinnamon buns you find at the shopping mall? These sweet, tender (some would say squishy) cinnamon buns, crowned with a thick dollop of rich cream cheese icing, make a trip to the mall (or airport) unnecessary.
Ingredients
Filling
1/3 cup unsalted butter, softened
1 cup brown sugar, packed
3 tablespoons ground cinnamon
Icing
6 tablespoons (generous 1/3 cup) cream cheese, softened
1/4 cup unsalted butter, softened
1 1/2 cups confectioners' sugar
1/2 teaspoon vanilla extract
Instructions
To make the dough: Mix together and knead all of the dough ingredients — by hand, mixer, or bread machine — to make s smooth, soft dough.

Place the dough in a lightly oiled bowl, turn to grease all sides, cover the bowl, and let the dough rise until it's nearly doubled in bulk, 1 to 2 hours depending on the warmth of your kitchen.

To fill and shape the buns: Gently deflate the dough, and transfer it to a lightly greased work surface. Roll the dough into a 16" x 21" rectangle.

Spread the dough with the 1/3 cup butter. Mix the brown sugar and cinnamon, and sprinkle it evenly over the dough.

Starting with a short end, roll the dough into a log and cut it into 12 slices.

Place the buns in a lightly greased 9" x 13" pan. Cover the pan and let the buns rise until they're nearly doubled, about 30 minutes.

While the buns are rising, preheat the oven to 400°F.

Uncover the buns, and bake them until they're golden brown, about 15 minutes. While the buns are baking, make the icing.

To make the icing: In a small bowl, beat together the cream cheese, butter, sugar, and vanilla.

Remove the buns from the oven. Spread the icing on the buns while they're warm.

Serve buns warm, or at room temperature. Wrap in plastic and store at room temperature for a day or so; freeze for longer storage.

Yield: 12 large buns.
Nutrition Information
Serving Size

1 bun

Servings Per Batch

12 buns
Amount Per Serving:
Calories

502

Calories from Fat

Total Fat

18g

Saturated Fat

Trans Fat

Cholesterol

84mg
Sodium

364mg

Total Carbohydrate

37g

Dietary Fiber

2g

Sugars

40g

Protein

8g
* The nutrition information provided for this recipe is determined by the ESHA Genesis R&D software program. Substituting any ingredients may change the posted nutrition information.
Tips from our bakers
Counting calories? Feel free to make 2 dozen smaller buns. Roll the dough the long way instead of the short way, and cut it into 24 slices. Place them in the pan in six rows of four buns each; they may seem crowded, but that's OK. Bake as directed.
Want to make these rolls ahead of time, freeze or refrigerate, and bake in the morning? To freeze, see our blog posts, Freeze! Time-savers for the holidays. To prepare the night before, place the shaped buns in the pan, cover the pan, and refrigerate overnight. Next morning, let the buns warm at room temperature for about an hour, covered. Uncover, and bake as directed.
Reviews
Note to self: Always read the comments, and ALWAYS weigh the ingredients. I was in a hurry so measured the flour and used too much. The dough was really dense and didn't rise in time to have them for brunch, sadly. But, came back after brunch and they had risen, so I made them. SO delicious! Even though my dough was dense the flavor was sweet, with tang from the frosting, and the cinnamon was perfect. I'll make these again--weigh out the ingredients, and make sure I have at least 2h to rise. I also let the dough rest for a few minutes after I rolled it out which softened it some. Next time, I will also roll the opposite way and make 24 smaller buns, because that size would be perfect!
Just baked these today... hubby is on his second roll and Said they are great!My dough was very sticky, but I stuck with the amount of flour (weigh it out!) and I didn't rush the rising process...I made 18 rolls and they are delicious and so soft! These will be made again and again!
I halved the sugar, after reading some of the reviews, and still found these far too sweet which is a shame because they are otherwise good. Dough was slow to rise and buns needed almost 30 minutes at 400, far longer than the recipe said.

Hi there, Cea. We're sorry to hear that this well-loved recipe didn't do the trick for you. We're very surprised to hear how long your cinnamon buns needed in the oven to bake through and wonder if maybe your oven was running a bit low, which would result in things needing an extended baking time. Maybe our Soft Cinnamon Rolls recipe would be a better fit for you. If we can help troubleshoot or pick out a recipe that better fits your tastes, please give our Baker's Hotline a call at 855-371-BAKE (2253). Kindly, Morgan@KAF
I've made these twice and both times I have had issues with the dough not rising. I don't usually have issues with dough not rising, but for whatever reason I've had trouble with this one. After an 1.5 hours, I finally put the dough in a warm oven and it did rise a little. It's been a cold winter so maybe my kitchen isn't as warm as it needed to be. I'll keep trying because even though they don't rise well, they still taste great. They are a little more dense in texture, but the flavor is still good.

Deanna, the cold has been a problem for us too this year. Put your dough in the off oven or in a warm place like on top of the dryer from the start if you'd like it to rise faster. It will rise in a cold kitchen in due time, but if you're looking to speed things along, warmth is key! Added rise should help with the denseness as well. Annabelle@KAF
Magnificent! better than than the ones from those fancy places -- and you get 12-24 rolls for the same price as 1! Out of the oven is the best. took to work the next day, and played to rave reviews! These were so easy to make it was criminal --
I am going to have to try this one again. It tastes great, but I am concerned with my dough this first time around. I measured my ingredients in grams as I do for my bread and mixed by hand. The "dough" did not rise even after 3 hours or more. (Fresh yeast and 100-degree water) The "dough" was very sticky. I could not roll it out. I had to mix in a bunch of flour to get this to not to stick to everything. I proceeded to make these and they turned out great but will try mixing a different way next time to see if it was just me.
I baked this recipe all the time. My brother and his friends say they're the best cinnamon rolls they've ever had. They say just as good or better than Cinnabon. That in my opinion is saying something because Cinnabons are crazy good. I'm waiting on my dough to rise at the moment and sending a batch over to my brother's house for him and his friends. Definitely my go-to recipe as this is probably the 12th time I've made them LOL. Enjoy everyone!
This recipe was so good! I felt like it was easy to follow, the dough was easy to make and everything rose well! The cinnamon buns were very delicious, soft on the inside and less soft on the outside, and they really tasted like Cinnabons. They also lasted a long time- I had the last one over a week after I made it (and it was sitting on the counter the whole time) and after warming it up, it was delicious!
Perfect cinnamon roll ! That being said- directions could be more specific for non expert dough makers. Such as, order to put ingredients in mixer, when to add yeast, lukewarm means ? On a thermometer , what to do if they don't raise . I read the specifics to measuring flour which were helpful, I suggest adding specifics to working with dough. Mine did not raise much at all in either attempts , we ate them And found them to be tasty but of course, heavy and doughy due to the lack of proofing and raising(my error ) Great recipe that I appreciate - but please put some helpful suggestions in. Thanks!!!

Patty, thanks for reaching out with your questions! The order of adding the ingredients, including the yeast, doesn't matter in this recipe, which is why we didn't specify. Just dump them all in and mix! Lukewarm should feel, well, warm to the touch, like bathwater, which is probably somewhere around 100°F. If your dough hasn't risen yet, it may be that your kitchen is just on the cool side, which is quite common this time of year. The solution is really just ... wait longer. Or you can place your dough in a warm spot, such as on top of the refrigerator or near a radiator. If you ever have questions like this while baking, please feel free to contact our Baker's Hotline at 855-371-BAKE (2253)! We're always happy to walk through a recipe with you. Happy baking! Kat@KAF