A customized print-friendly version of this recipe is available by clicking the "Print Recipe" button on this page.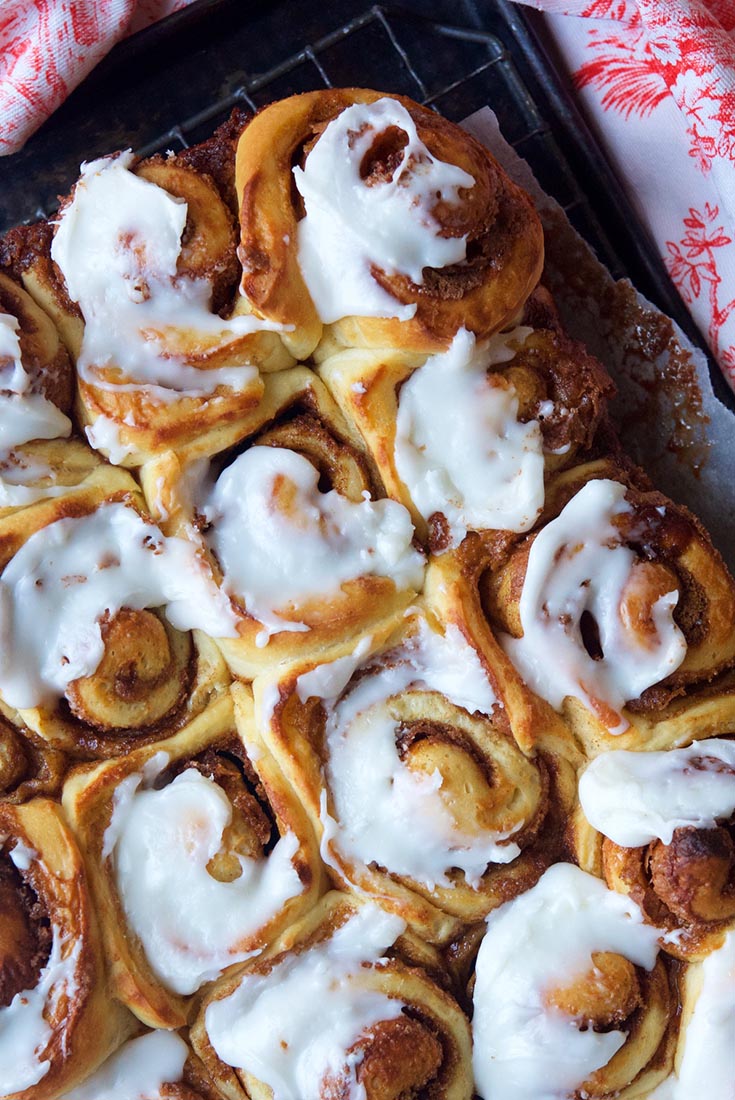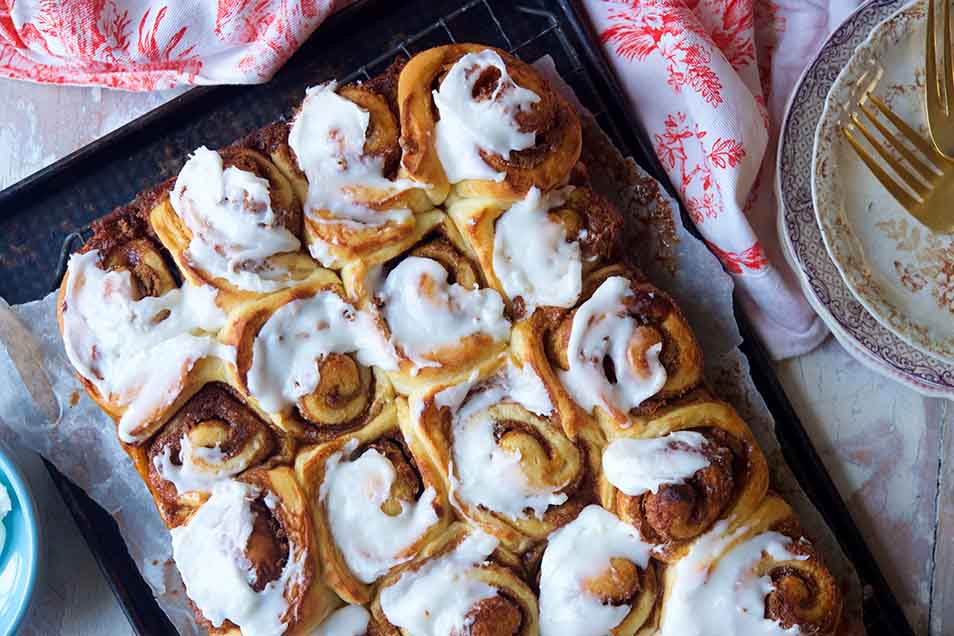 The chief attribute setting these rolls apart from their peers is their texture. While all cinnamon rolls are delicious straight from the oven, they often harden up and become dry as they cool. Thanks to tangzhong, an Asian method used to produce light, fluffy, moist yeast bread, these rolls will stay soft for several days after baking.
Instructions
To make the tangzhong: Combine all of the starter ingredients in a small saucepan, and whisk until no lumps remain.

Place the saucepan over medium heat, and cook the mixture, whisking constantly, until thick and the whisk leaves lines on the bottom of the pan. This will probably take only a minute or so. Remove from the heat, and set it aside for several minutes.

To make the dough: Mix the tangzhong with the remaining dough ingredients until everything comes together. Let the dough rest, covered, for 20 minutes; this will give the flour a chance to absorb the liquid, making it easier to knead.

After 20 minutes, knead the dough — by hand, mixer, or bread machine — to make a smooth, elastic, somewhat sticky dough.

Shape the dough into a ball, and let it rest in a lightly greased covered bowl for 60 to 90 minutes, until puffy but not necessarily doubled in bulk.

To make the filling: Combine the brown sugar and cinnamon, mixing until the cinnamon is thoroughly distributed.

Gently deflate the risen dough, divide it in half, and shape each piece into a rough rectangle.

Working with one piece at a time, roll the dough into an 18" x 8" rectangle.

Sprinkle half the filling over the rolled-out dough.

Starting with a long edge, roll the dough into a log. With the seam underneath, cut the log into 12 slices, 1 1/2" each.

Repeat with the second piece of dough and the remaining filling.

Lightly grease a 9" x 13" pan. Space the rolls in the pan.

Cover the pan and let the rolls rise for 45 to 60 minutes, until they're crowding one another and are quite puffy.

While the rolls are rising, preheat the oven to 350°F with a rack in the bottom third.

Uncover the rolls, and bake them for 22 to 25 minutes, until they feel set. They might be just barely browned; that's OK. It's better to under-bake these rolls than bake them too long. Their interior temperature at the center should be about 188°F.

While the rolls are baking, stir together the icing ingredients, adding enough of the milk to make a thick spreadable icing. The icing should be quite stiff, about the consistency of softened cream cheese.

Remove the rolls from the oven, and turn them out of the pan onto a rack. Spread them with the icing; it'll partially melt into the rolls.

Serve the rolls warm. Store completely cool rolls for a couple of days at room temperature, or freeze for up to 1 month.
Nutrition Information
Serving Size

63g

Servings Per Batch

24
Amount Per Serving:
Calories

190

Calories from Fat

45

Total Fat

5g

Saturated Fat

3g

Trans Fat

0g

Cholesterol

25mg
Sodium

220mg

Total Carbohydrate

34g

Dietary Fiber

1g

Sugars

16g

Protein

4g
* The nutrition information provided for this recipe is determined by the ESHA Genesis R&D software program. Substituting any ingredients may change the posted nutrition information.
Tips from our bakers
This recipe is based on our recipe for Japanese Milk Bread Rolls; try them if you're looking for a wonderfully soft, tender dinner roll.
For just-baked freshness, reheat rolls by tenting with aluminum foil, and heating in a 350°F oven until toasty warm.
Some readers have asked why there's no sugar in the dough for these rolls. First, we feel sugar in dough, being hygroscopic, tends to attract all the water molecules to itself, leaving the surrounding bread with a somewhat dry mouth feel. And second, between their filling and glaze, the rolls have the perfect amount of sugar to taste wonderfully sweet — without seeming too sweet.
Reviews
Excellent results with this recipe, I love that the dough is not sweet, the dough's flavor is really the star in this recipe. More than the recipes, I want to say kudos and thank you to the King Arthur Flour staff that replies to these comments. I've learned more from your answer's to other's questions than you can imagine. Especially about why certain ingredients are not in the recipe or what happens if you add them in. Very educational, thank you so much!
Absolutely DELICIOUS! Made these dairy free by substituting vegan butter and rice milk; did not use any dry milk powder. Added some orange zest to the frosting, which was a great addition. People raved about how soft and fluffy these were!!
I've never made anything like these before, but the instructions were clear and they turned out beautifully. I do wonder about making them the night before--would it work to cover and refrigerate them after the rolls are sliced and placed in the pan? Would they do their final rise in the fridge, or would they need to be brought to temp before baking? It certainly would be easier to make as much as possible the night before but still have fresh baked rolls in the morning.

Hi Eli, you can let the shaped cinnamon buns rest in the fridge overnight, covered with greased plastic wrap. The next morning, they should look puffy and risen. Take them out and let them rest at room temperature while the oven pre-heats, and then bake as instructed in the recipe. Enjoy! Kye@KAF
Delicious. I used a digital scale and measured the ingredients according to the recipe. I didn't have dry nonfat milk, but it didn't seem to make a significant difference. I used half&half and 2% milk for the starter as well the dough's liquid. These are best cinnamon rolls I have ever made. Thank you for a great recipe!
What a hit!!! My family LOVED these cinnamon rolls. They are not difficult to make at all...I followed the recipe exactly as written and they are the best cinnamon rolls that I've ever made. I was all out of KA bread flour so I used KA all purpose instead. They rose perfectly each time. I used the dough hook on my mixer to knead the dough which was minimal. It became very elastic and only slightly sticky. The dough was very easy to work with. You must make the recipe if you want an indulgent treat.
I made these without the dry milk by accident and they turned out great. I was in a bit of a time crunch so, without making any other changes, did the final rise in the fridge covered with plastic wrap and everything turned out fine. Just popped them straight from the fridge into the oven with a few extra minutes since they were going in cold. Rolls were delicious and moist with a soft chewy texture. I found the frosting recipe yielded about a cup extra, but I've never liked things with heavy frosting.
This is my first batch of cinnamon rolls, although I am familiar with many other breads and bake regularly. First, I did NOT combine the ingredients and let it sit for 20 minutes. I used my Kitchenaid and dough hook, beginning with the starter (Tangzhong) then alternated the dry ingredients and the wet ingredients (roughly 1/3cup-1/2cup at a time). Once everything was mixed, it was still extremely wet and sticky so I added 3 heaping tablespoons of King Arthur Bread Flour. I placed the dough in a lightly greased bowl, covered and let it rise for 45 minutes. It hadn't really risen a lot after 45 minutes so I placed the covered bowl in an oven at 170 degrees for the last 15 minutes. Once rolled out and sliced, I covered the pan and allowed the rolls to rise in warm oven for 45 minutes. I rotated the pan during baking, and had to add an extra 5-10 minutes to get the rolls to temp. I added 4oz of cream cheese and a bit more powdered sugar to the icing as well, which turned out GREAT! Notes that I may try next time would be to keep the dough as one whole piece, I like a bigger cinnamon roll even if it does cut down on the quantity. Also using a cinnamon/butter/pecan mixture to drizzle on top after baking along with the icing to give it a bigger punch of cinnamon or use the Baker's Cinnamon Filling. As is, the recipe is great but it taste a bit like dinner rolls with a slight cinnamon taste. It's definitely not the thick almost overbearing cinnamon like most commercial cinnamon rolls, but not quite enough. I'm eager to try it again!
Fun and simple to make! Not to mention, DELICIOUS! These cinnamon rolls are so good and not at all too sweet. I highly recommend this recipe no matter what your baking level. You won't be disappointed. Thanks KAF!!!
Delicious. My only problem I had was I had to add an extra 1/4 cup flour to dough after letting sit x 20 minutes so I could knead or it stuck badly to counter and could not even be kneaded. But after the added flour it was a beautiful dough. Rose in allotted time...60 min. And baked to soft perfection and great taste.
I always have problems with cinnamon roll dough recipes. I'm working my way through different ones to find THE one. This worked wonderfully, for the most part. I divided the dough in half & decided to do sweet for one, savory for the other. The savory rolls turned out fantastic. They were soft, fluffy, and expanded nicely during the second rise/bake. The sweet were not as great. I did the same filling as listed, just added a bit of extra spice to it. They didn't have a great second rise and didn't expand much while baking. On top of that, the brown sugar oozed out the bottoms while baking and made a sticky, ugly mess. There was still plenty inside the rolls, so the flavor is there, but it made it difficult to handle them as the sugar hardened. As I mentioned, they still taste just fine, but I assumed that each pan would bake the same since it came from the same batch of dough. I will definitely be using this again & maybe switching up the filling.

Jessica, we're equally surprised to hear you experienced such different results between the two pans of rolls you made if the dough was exactly the same. It may be that the rolls were shaped a bit differently, left to rise for a shorter amount of time, or the pans were different sizes/made from different materials. All of these factors could have changed the way the dough rose, so you may want to consider them the next time you bake a batch of sweet rolls. Repeat what's worked with the savory rolls in the past.

As for the filling, we know it's tough! Sugar liquefies when it's mixed with other liquid ingredients or is heated, which can often result in a sticky mess. You might be interested in trying our Baker's Cinnamon Filling if you're looking for something that will impart delicious flavor without getting melty and messy. (It contains a stabilizer that holds it in place.) Otherwise, embrace the delicious mess and line your pans with parchment paper for each clean-up. Happy baking! Kye@KAF