A customized print-friendly version of this recipe is available by clicking the "Print Recipe" button on this page.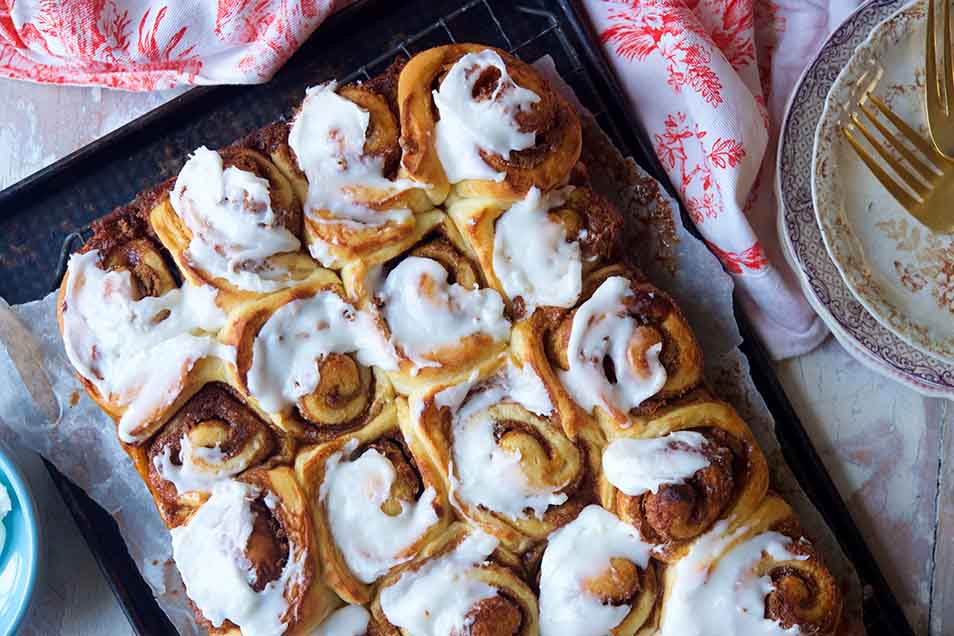 The chief attribute setting these rolls apart from their peers is their texture. While all cinnamon rolls are delicious straight from the oven, they often harden up and become dry as they cool. Thanks to tangzhong, an Asian method used to produce light, fluffy, moist yeast bread, these rolls will stay soft for several days after baking.
Instructions
To make the tangzhong: Combine all of the starter ingredients in a small saucepan, and whisk until no lumps remain.

Place the saucepan over medium heat, and cook the mixture, whisking constantly, until thick and the whisk leaves lines on the bottom of the pan. This will probably take only a minute or so. Remove from the heat, and set it aside for several minutes.

To make the dough: Mix the tangzhong with the remaining dough ingredients until everything comes together. Let the dough rest, covered, for 20 minutes; this will give the flour a chance to absorb the liquid, making it easier to knead.

After 20 minutes, knead the dough — by hand, mixer, or bread machine — to make a smooth, elastic, somewhat sticky dough.

Shape the dough into a ball, and let it rest in a lightly greased covered bowl for 60 to 90 minutes, until puffy but not necessarily doubled in bulk.

To make the filling: Combine the brown sugar and cinnamon, mixing until the cinnamon is thoroughly distributed.

Gently deflate the risen dough, divide it in half, and shape each piece into a rough rectangle.

Working with one piece at a time, roll the dough into an 18" x 8" rectangle.

Sprinkle half the filling over the rolled-out dough.

Starting with a long edge, roll the dough into a log. With the seam underneath, cut the log into 12 slices, 1 1/2" each.

Repeat with the second piece of dough and the remaining filling.

Lightly grease a 9" x 13" pan. Space the rolls in the pan.

Cover the pan and let the rolls rise for 45 to 60 minutes, until they're crowding one another and are quite puffy.

While the rolls are rising, preheat the oven to 350°F with a rack in the bottom third.

Uncover the rolls, and bake them for 22 to 25 minutes, until they feel set. They might be just barely browned; that's OK. It's better to under-bake these rolls than bake them too long. Their interior temperature at the center should be about 188°F.

While the rolls are baking, stir together the icing ingredients, adding enough of the milk to make a thick spreadable icing. The icing should be quite stiff, about the consistency of softened cream cheese.

Remove the rolls from the oven, and turn them out of the pan onto a rack. Spread them with the icing; it'll partially melt into the rolls.

Serve the rolls warm. Store completely cool rolls for a couple of days at room temperature, or freeze for up to 1 month.
Nutrition Information
Serving Size

63g

Servings Per Batch

24
Amount Per Serving:
Calories

190

Calories from Fat

45

Total Fat

5g

Saturated Fat

3g

Trans Fat

0g

Cholesterol

25mg
Sodium

220mg

Total Carbohydrate

34g

Dietary Fiber

1g

Sugars

16g

Protein

4g
* The nutrition information provided for this recipe is determined by the ESHA Genesis R&D software program. Substituting any ingredients may change the posted nutrition information.
Tips from our bakers
This recipe is based on our recipe for Japanese Milk Bread Rolls; try them if you're looking for a wonderfully soft, tender dinner roll.
For just-baked freshness, reheat rolls by tenting with aluminum foil, and heating in a 350°F oven until toasty warm.
Some readers have asked why there's no sugar in the dough for these rolls. First, we feel sugar in dough, being hygroscopic, tends to attract all the water molecules to itself, leaving the surrounding bread with a somewhat dry mouth feel. And second, between their filling and glaze, the rolls have the perfect amount of sugar to taste wonderfully sweet — without seeming too sweet.
Reviews
I love this Recipe!!!! Best cinnamon rolls I have ever eaten. I would ask for any advice on freezing and reheating them before they have been baked. I tried to freeze them and then bake them a week later and the texture was harder than previously.
These cinnamon rolls are amazing. They were really fluffy warm after baking, and the one roll I saved for breakfast on the third day was still a bit soft, just a bit denser in texture. I do have a question though, I followed the advice of one of your replies here to make 1.5x amount the filling, add 2 tbsps corn syrup and a few teaspoons water (I added about 2 1/2, it wasn't exactly spreadable but they were moist enough) The filling leaked all over while proofing and after baking, there were pools of it. There was still enough left inside so it wasn't much of a problem except the bottoms became a bit soaked, so I'm hoping to avoid this next time. Should I just reduce the amount of water, or would it work better to brush the dough with water/syrup/milk before distributing the cinnamon sugar filling? Thank you in advance!

Hi Jade! It's definitely worth trying with less water. One thing you could do is to heat up the corn syrup in the microwave to make it a little more liquified and then you'll be able to brush that (thinning it with water as necessary) and then sprinkle the cinnamon sugar on top of that. Annabelle@KAF
These are fabulous. I didn't change anything, except I did make a cream cheese topping instead, because I was going for a "cinnabon" style frosting. I was expecting to need butter for the filling, but went with it. I'm glad I did. The filling was still gooey and delicious, and just perfect. I do have a few questions. I'd like to make these for christmas morning, but obviously cinnamon rolls do take quite a while to prepare, from start to finish. Can I make the dough, but put it in the fridge overnight to do it's first rise, and then roll and cut in the morning? or will that maybe cause the dough to overrise leading to a change in the end product? Also if I was to make them bigger and do twelve instead of twenty four do I need to change the baking time? or can I keep the baking time the same, since the amount of dough in the pan is still the same?

We have the perfect blog article for you, Hannah, called Overnight Breakfast. Pop that into the search bar above and you'll find our step-by-step guide to making cinnamon rolls the night before you bake them. As for bake time, it's hard to say if it'll be the exact same bake time, but it will probably be pretty close. Check around the same time to be sure! Annabelel@KAF
Made these for my cinnamon roll crazy sister. She loved them. As stated, they stay soft even cold. I made them on Saturday after Thanksgiving for her. She ate them that day. On Sunday morning, they were part of a quick breakfast...still soft. My son had some Sunday afternoons...still soft. She took some home and had them Monday for a snack at work...still soft. We added more cinnamon to the sugar mixture but that was the only change I made to the recipe. She's already requesting them for Christmas. Easy to make and very, very good and best of all soft!!!!!
The only problem was the dry milk. Can you use any dry milk? Why kind do you recommend? Non fat?

Hi Sora. Ideally, you'll want to use non-fat dry milk which is what our Baker's Special Dry Milk is. It makes for a lovely tender texture in your rolls. Annabelle@KAF
I'm getting ready to make these in the morning for our Thanksgiving dessert. I'd like to take some and vacuum seal them and ship them to my son who is deployed in the Middle East do you think they will keep? It should take about a week to get there.

Kathryn, it's so sweet of you to want to share your holiday goodies with your son while he serves overseas! Cinnamon rolls probably wouldn't do well during the trip, however. The dough itself would get squished while the icing would certainly melt and make a mess. We do have some suggestions for other goodies to mail, however!

Non-fragile cookies (think biscotti and ginger snaps) are definitely your best bet. Vacuum sealing, as you mentioned, will help them stay fresh, while storing them in a metal tin will help avoid some of the squish factor. And if you're sending over non-food treats in your care package as well, be sure to keep any scented ones separate. You don't want your cookies smelling like soap when they arrive! Hopefully, all this will get your son's treat to him safe and sound. Kat@KAF
This dough is so good, and true that reheating these they are still soft and not stuff and dry. They family loved them. I weighed my ingredients and it turned out wonderful.
How should I make a dough if active yeast is used? Same amount as instant yeast? What is the procedure? Cheers.

Instant yeast can be used interchangeably with active dry yeast. (This didn't use to be the case, but thanks to modern drying techniques, you can make a 1:1 swap in your recipes and have good results.) You can use 1 tablespoon of active dry yeast in this recipe without making any other changes. Happy baking! Kye@KAF
Hi KAF Are the tanzong ingredients, taken from the dough ingredients? Please help My dough is very stiff after 10mins of kneading in a KA mixer

We apologize for any confusion, Joy. The tangzhong should be prepared first using the ingredients listed below the starter header and then once the slurry is cool, it should be added to all of the other ingredients listed below DOUGH.

If your dough is too stiff, it might be because you're measuring your flour by scooping the flour directly from the flour bag and compacting it into the measuring cup. For best results, we recommend checking out the "Measuring Standards," link next to the ingredients header above. You'll see that either measuring your flour by weight using a scale, or fluffing and sprinkling the flour into your measuring cup are the best ways to ensure your recipe turns out perfectly and your dough has just the right consistency. We hope this helps! Kindly, Kye@KAF
These are SO good! I planned to bake another bath but only have buttermilk. Would that work in place of the whole milk?!

Go ahead and use 3/4 cup (170g) buttermilk in place of the whole milk in the recipe. A full-fat buttermilk will be best. (That way you'll still get a rich flavor and tender texture in the final cinnamon rolls.) No other adjustments need to be made. Happy baking! Kye@KAF