A customized print-friendly version of this recipe is available by clicking the "Print Recipe" button on this page.
Cinnamon-Apple Twist Bread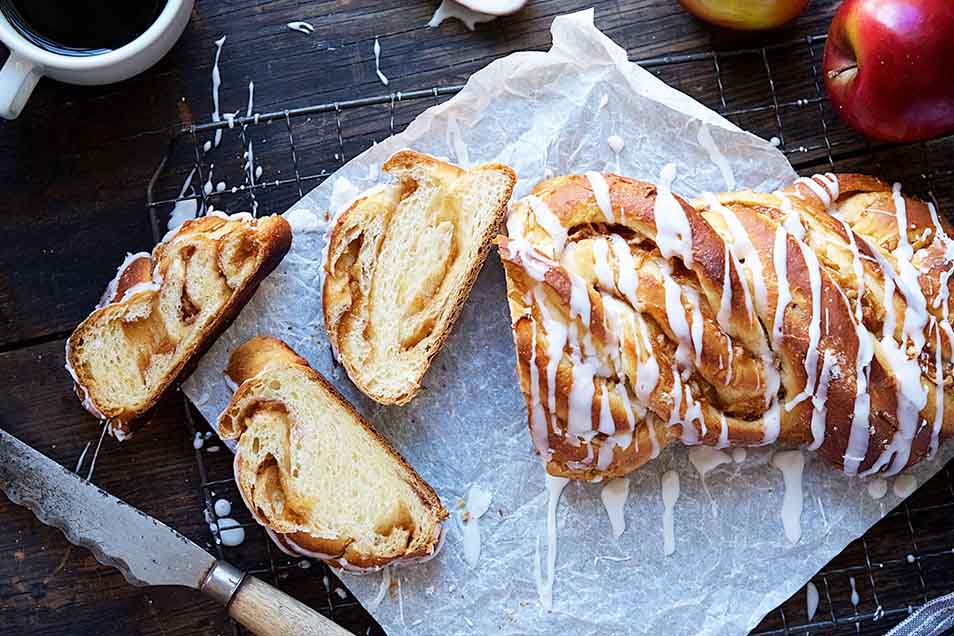 This delicious, soft apple bread is perfect for breakfast or dessert. Rolling the apple-cinnamon filling inside a log of dough (like the start of cinnamon buns), then cutting that log in half and twisting it leaves the filling half in and half out, resulting in a lovely swirled appearance.
Ingredients
Dough
3 1/4 cups King Arthur Unbleached All-Purpose Flour
1/4 cup potato flour OR 1/2 cup + 1 tablespoon dry instant mashed potatoes, unflavored*
3 tablespoons granulated sugar
1 1/2 teaspoons instant yeast
1 1/4 teaspoons salt
3 tablespoons soft butter
1 teaspoon vanilla extract
1 large egg
1 cup + 2 tablespoons room-temperature or lukewarm milk
*For an alternative, see tips, below.
Filling
1 cup peeled, grated apple (about 1 large apple, or 1 to 2 smaller apples)
1 tablespoon lemon juice
1/2 cup granulated sugar
3 tablespoons cornstarch or 2 tablespoons Instant ClearJel
1/8 teaspoon salt
1 teaspoon cinnamon
1 cup chopped walnuts or pecans, optional
Glaze
1 cup confectioners' sugar
1 teaspoon vanilla extract
1/8 teaspoon salt
1 to 2 tablespoons water OR 2 to 4 tablespoons heavy cream
Instructions
To make the dough: Whisk together all of the dry ingredients, then add the butter, vanilla, egg, and milk, mixing until a shaggy dough forms. If your schedule permits, let the dough rest for 30 minutes; this resting period allows the flour to absorb the liquid fully, making it easier to knead.

Knead the dough — by hand, using a mixer, or in a bread machine set on the dough cycle — until it's smooth and soft, though still slightly sticky. Place the dough in a greased bowl, turning to coat. Cover the bowl, and let the dough rise until it's almost doubled in bulk, about 1 1/2 to 2 hours. The amount of time this takes will depend on the temperature of your kitchen; yeast works the fastest at about 85°F, but we prefer the flavor the bread gets from a longer, cooler (about 70°F) rise. If you're using a bread machine set on the dough cycle, simply allow it to complete its cycle.

While the dough is rising, make the filling.

To make the filling using cornstarch: Toss the grated apple with the lemon juice in a saucepan. Whisk together the sugar, cornstarch, salt, and cinnamon, and add to the pan, stirring to combine. Cook over low heat, stirring frequently, until the apple starts to release its juice. Increase the heat to medium, and bring to a simmer. Simmer, stirring, until the mixture thickens, 1 to 2 minutes; drawing a spatula across the bottom of the pan should leave a track that doesn't readily fill in. Remove from the heat, and set aside to cool to room temperature; if you want to hasten the process, place in the refrigerator.
To make the filling using Instant ClearJel: Whisk together the sugar, ClearJel, salt, and cinnamon. Toss the grated apple with the lemon juice, then add that to the sugar mixture. Mix well, and set aside.

To assemble the loaf: Gently deflate the risen dough and turn it out onto a lightly floured or greased work surface. Divide the dough in half. Roll the first half into a 10" x 12" rectangle. Spread half the filling over the rolled-out dough, leaving a 1/2" margin clear of filling along all sides. If adding chopped nuts, sprinkle them evenly over the filling.

Starting with a long side, roll the dough into a log, sealing the edge. Use a bench knife, pizza cutter, or sharp knife to cut the log in half lengthwise. Place the half-logs, filled side up, side by side on a well-greased or parchment-lined baking sheet. Keeping the filling side up, twist or "braid" the two logs together, working from the center to each end. Pinch the ends together. Repeat with the second piece of dough. Cover the twists lightly, and set them aside to rise for 1 to 2 hours; they should be puffy but not doubled in bulk. Want to make the bread ahead, then refrigerate overnight and bake the next morning? See "tips," below.

To bake the bread: Bake the loaves in a preheated 350°F oven for 30 to 40 minutes, until they're lightly browned. Check the loaves after 20 minutes and tent with aluminum foil if they're browning too quickly. When the loaves are fully baked, a digital thermometer inserted into a loaf (be sure to position the thermometer in the bread, not the filling) should register about 190°F. Remove the bread from the oven and allow it to cool for about 1 hour before glazing and serving.

To make the glaze: Mix together all of the glaze ingredients. Drizzle over the loaves once they're cool.

Store leftover bread, loosely covered, at room temperature for several days; freeze for longer storage. If you know ahead of time you're going to freeze one or both of the loaves, don't glaze; wrap completely cooled, unglazed bread tightly in plastic, and freeze for up to a month. When ready to serve, remove from the freezer, unwrap, cover loosely with plastic, and let thaw at room temperature. Glaze and serve.
Nutrition Information
Serving Size

1 slice, 55g

Servings Per Batch

24 servings
Amount Per Serving:
Calories

140

Calories from Fat

18

Total Fat

2g

Saturated Fat

1g

Trans Fat

0g

Cholesterol

10mg
Sodium

150mg

Total Carbohydrate

27g

Dietary Fiber

1g

Sugars

12g

Protein

3g
* The nutrition information provided for this recipe is determined by the ESHA Genesis R&D software program. Substituting any ingredients may change the posted nutrition information.
Tips from our bakers
If you don't have potato flour or flakes, substitute 3/4 cup (about 6 ounces) unseasoned mashed potatoes, adding them to the dry ingredients along with the milk. Reduce the milk to 2/3 cup, adding additional flour or milk as needed to create a smooth, soft dough.
For a slightly softer loaf, replace the all-purpose flour in the dough with our Pastry Flour Blend. Reduce the milk in the dough to 1 cup. Want to increase the loaf's shelf life? Add 1 tablespoon granular lecithin to the dough.
Want to prepare this loaf ahead, then bake it the next day? Make the bread up to the point where it's shaped and on a pan. Cover the loaves with lightly greased plastic wrap, and refrigerate overnight (about 12 hours). Next morning, remove the loaves from the fridge, and let them come to room temperature and rise a bit (still covered); this will take 1 to 2 hours, depending on the warmth of your kitchen. Bake and finish as directed.
To make apple swirl rolls: Follow the directions above to the point where you've rolled the dough into a log. Repeat with the remaining piece of dough, then cut each log into 1" slices. Place the slices cut side up in well-greased or parchment-lined pans, placing them close together (though not touching) for soft-sided rolls, or about 2" apart for crustier rolls. Allow the rolls to rise until they're puffy. Bake as directed, reducing the baking time to 18 to 20 minutes. Drizzle with glaze.
Reviews
This is my first time making this bread recipe. After letting the dough rise to double the size I placed the dough onto the floured counter to roll out to the rectangle size ,10" x12" . My dough was very soft and sticky. I spread the apple filling over the dough and then attempted to roll the dough. It was too soft to roll. I then decided to quickly lift it onto a greased cookie pan and bake. My bread tasted delicious but I was disappointed with its form. Not sure what I did incorrectly. I used mashed potatoes instead of potato flakes.

Hi Michele! We have a feeling that the mashed potatoes were the culprit, as they can bring between 1/4 and a 1/2 cup of extra water to the dough and that makes for some sticking rolling. If you're able to find potato flakes or potato flour we'd recommend using those. If you use the potato flour it'll be the same amount as the potato flakes by weight rather than by volume. This will help keep the liquid to dry ratio perfectly in your dough so it will cooperate much better. Annabelle@KAF
I followed the recipe as written using the mashed potato version and it turned out Great! Looks just like the picture. I was going to freeze one but no need as one is already nearly gone!
The Cinnamon-Apple Twist Bread was easy to make and it was delicious. I would prefer more apple filling, however, and will make a larger batch next time. The dough was tender, moist, and a little sweet. I like it more than the dough in the cinnamon roll recipe that I have been using for years. I will use this dough for cinnamon rolls in the future.
One more comment on bread. The dough was very pliable so intend to roll out a larger rectangle to increase the layers of fruit and perhaps cut into thirds (if possible) and then braid. Everyone commented that they would love more of the fruit filling throughout the whole slice.
Bread and filling are delicious. However, knowing my family, I increased the amount of apple in the filling and since I did not have granny smith, added a little bit of citric acid powder for that sour tang. Since I increased the apples I added more cornstarch (too much lol) so added even more apple and apple sauce but no extra sugar. (so now I have leftover apple filing for next baking). We devoured one loaf immediately and froze the second unfrosted (that lasted 3 days before defrosted and consumed). The bread froze and defrosted well with very little degradation in moisture, texture and taste.
Made this bread the other day and it was excellent. Bread was moist,sweet, and delicious. I didn't have potato flakes so I used the mashed potato suggestion. Will definitely be making it again.
This recipe makes two nice sized loaves so you can enjoy one and save one for later. I didn't have any confectioner's sugar so I simply brushed it with some cinnamon, sugar and melted butter when it came out of the oven for a nice topping. Yum!
I just baked this amazing fall bread. It is so good! My son suggested that he could eat an entire loaf all by himself. I love the tart apples with the slightly sweet bread.
This recipe blew my diet to hell this week! It's moist, tender and as good or better as any comparable loaf you could get at a fine bakery, and is particularly susceptible to taking "just another little tiny slice." I baked it as written, with the exception increasing the filling and using tapioca as my thickener. I found that three medium shredded apples and double the rest of the filling ingredients was just the right amount for the two loaves. My co-workers devoured it and asked me to make it with raisins next time (meaning tomorrow). Honestly, I plan on making this often and serving it at Christmas brunch.
I allowed the whole day to make this, not rushing it at all. I made no substitutions and weighed everything out exactly. However I did not make two loaves, I braided it all together to make one spectacular loaf. This was visually beautiful, aromatic, and delicious. Thank you for a wonderful recipe that i expect to make many times in the future.