A customized print-friendly version of this recipe is available by clicking the "Print Recipe" button on this page.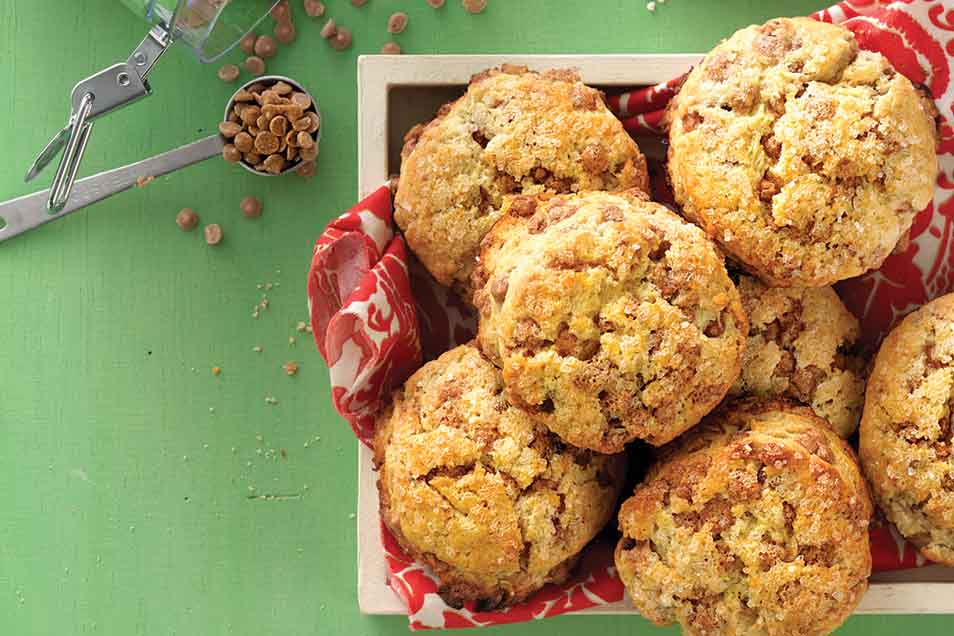 Wondering what to do with that quart of eggnog... besides drink it, of course? Use it to make these delicious eggnog-scented, cinnamon chip-studded scones.
Instructions
In a large mixing bowl, whisk together all the dry ingredients.

Work in the butter just until the mixture is unevenly crumbly; it's OK for some larger chunks of butter to remain unincorporated.

Stir in the cinnamon chips.

In a separate mixing bowl, whisk together the egg, vanilla or other eggnog flavor, and eggnog.

Add the liquid ingredients to the dry ingredients and stir until all is moistened and holds together.

Transfer the dough to a lightly floured work surface; a silicone rolling mat works well here.

Divide the dough in half; each half will weigh about 18 ounces. Roll and pat each half into a 6 1/2" circle about 3/4" thick.

Using a knife or bench knife that you've run under cold water, slice each circle into 6 wedges. Alternately, use a 2 1/4" round cutter to cut each circle into 6 to 8 rounds, gathering, re-rolling, and cutting the scraps. Or cut one circle into wedges, the other into rounds.

If you've made wedges, transfer the circle of wedges to a lightly greased or parchment-lined baking sheet. Carefully pull the wedges away from the center to separate them just a bit; there should be about 1/2" space between them, at their outer edges.

If you've made rounds, transfer the rounds to the prepared baking sheet, placing them close together; leave about 1/2" between them.

Brush each scone with some eggnog, and sprinkle with sparkling white sugar, or cinnamon-sugar.

For best texture and highest rise, place the pan of scones in the freezer for 30 minutes, uncovered. While the scones are chilling, preheat the oven to 425°F.

Bake the scones for about 20 minutes, or until they're golden brown. When you pull one away from the others, it should look baked all the say through; the edge shouldn't look wet or unbaked.

Remove the scones from the oven, and cool briefly on the pan. Serve warm. When they're completely cool, wrap in plastic and store at room temperature for up to several days.
Tips from our bakers
Scones are best served warm. They're delicious as is, but add butter and/or jam, if you like. To reheat room-temperature scones, place on a baking sheet, tent lightly with foil, and warm in a preheated 350°F oven for about 10 minutes.
Why freeze the scones before baking? Because 30 minutes in the freezer relaxes the gluten in the flour, which makes the scones more tender and allows them to rise higher. It also chills the fat, which will make the scones a bit flakier.
Why such a range in the amount of chip; 1 to 2 cups? Using the full 2 cups will produce a very sweet, American-style scone; using fewer chips will produce a less-sweet, more classic scone.