A customized print-friendly version of this recipe is available by clicking the "Print Recipe" button on this page.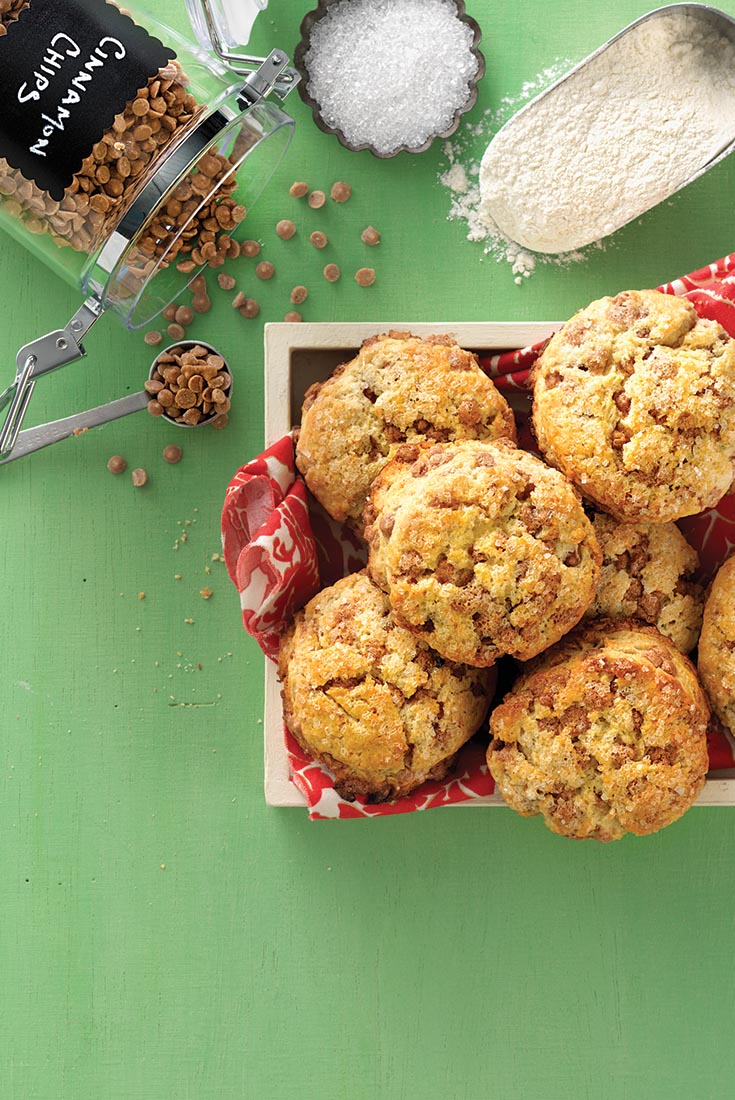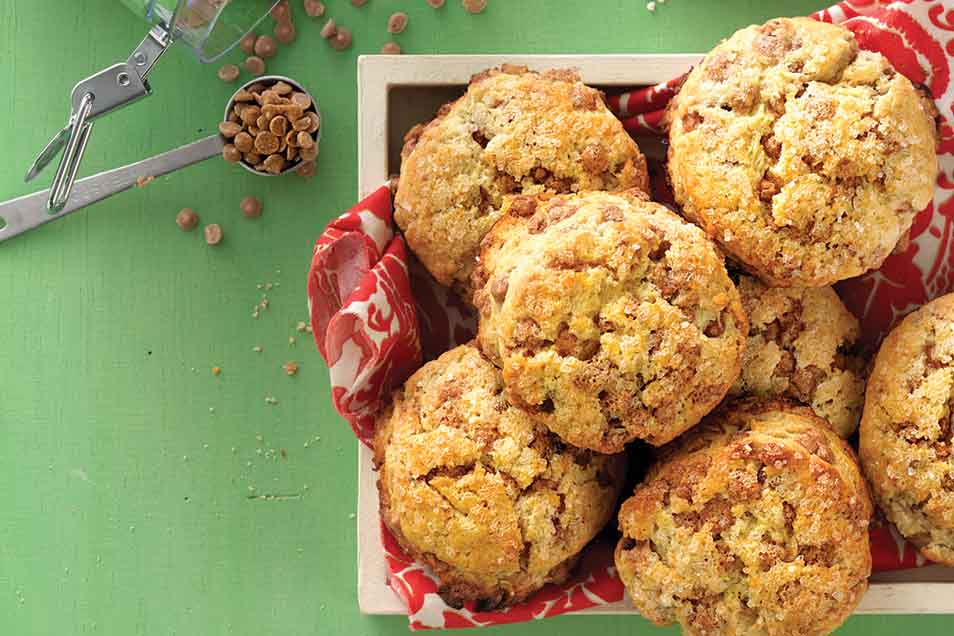 Wondering what to do with that quart of eggnog... besides drink it, of course? Use it to make these delicious eggnog-scented, cinnamon chip-studded scones.
Instructions
In a large mixing bowl, whisk together all the dry ingredients.

Work in the butter just until the mixture is unevenly crumbly; it's OK for some larger chunks of butter to remain unincorporated.

Stir in the cinnamon chips.

In a separate mixing bowl, whisk together the egg, vanilla or other eggnog flavor, and eggnog.

Add the liquid ingredients to the dry ingredients and stir until all is moistened and holds together.

Transfer the dough to a lightly floured work surface; a silicone rolling mat works well here.

Divide the dough in half; each half will weigh about 18 ounces. Roll and pat each half into a 6 1/2" circle about 3/4" thick.

Using a knife or bench knife that you've run under cold water, slice each circle into 6 wedges. Alternately, use a 2 1/4" round cutter to cut each circle into 6 to 8 rounds, gathering, re-rolling, and cutting the scraps. Or cut one circle into wedges, the other into rounds.

If you've made wedges, transfer the circle of wedges to a lightly greased or parchment-lined baking sheet. Carefully pull the wedges away from the center to separate them just a bit; there should be about 1/2" space between them, at their outer edges.

If you've made rounds, transfer the rounds to the prepared baking sheet, placing them close together; leave about 1/2" between them.

Brush each scone with some eggnog, and sprinkle with sparkling white sugar, or cinnamon-sugar.

For best texture and highest rise, place the pan of scones in the freezer for 30 minutes, uncovered. While the scones are chilling, preheat the oven to 425°F.

Bake the scones for about 20 minutes, or until they're golden brown. When you pull one away from the others, it should look baked all the say through; the edge shouldn't look wet or unbaked.

Remove the scones from the oven, and cool briefly on the pan. Serve warm. When they're completely cool, wrap in plastic and store at room temperature for up to several days.
Tips from our bakers
Scones are best served warm. They're delicious as is, but add butter and/or jam, if you like. To reheat room-temperature scones, place on a baking sheet, tent lightly with foil, and warm in a preheated 350°F oven for about 10 minutes.
Why freeze the scones before baking? Because 30 minutes in the freezer relaxes the gluten in the flour, which makes the scones more tender and allows them to rise higher. It also chills the fat, which will make the scones a bit flakier.
Why such a range in the amount of chip; 1 to 2 cups? Using the full 2 cups will produce a very sweet, American-style scone; using fewer chips will produce a less-sweet, more classic scone.
Reviews
I make several batches at Christmas time and have done so since I found this recipe years ago.
It finally dawned on me that I didn't have to wait for Christmas to make these. It's easy enough to make your own eggnog. I didn't use the cinnamon chips because I don't like chips in scones, too much like candy. They were delicious
The eggnog part is fine. Cinnamon chips are simply disgusting. You're mashing a spice into a chip with god knows what other ingredients. If I wanted unnatural, fake-flavored chips, I'd use the awful Nestle butterscotch chips. 'Cinnamon-eggnog scone is a misnomer,' because the cinnamon flavor comes from something as tacky as peanut butter chips, when the real ingredient is not hard to find.

It sounds like cinnamon chips aren't an ingredient you like to use in your baking, which we understand and respect. We've recently started carrying a new product called Cinnamon Sweet Bits, which we find deliver a lovely cinnamon flavor without too many other added ingredients (sugar, vegetable oil, cinnamon, and sunflower lecithin). These might be more to your liking, or feel free to simply omit the cinnamon chips/bits from your scones altogether and add 1/2 to 1 teaspoon of cinnamon to taste to the dough instead. We've shared your feedback with the right team to consider in future discussions about the cinnamon chips. Kye@KAF
I baked these scones for New Years breakfast and they were astounding. I've made scones before, mostly successfully, but these were really wonderful, a little crisp on the outside and soft but not chewy on the inside. I cut the butter in with my hands, stirred in the liquid a little then finished up by hand. I've been watching Paul Hollywood too much I guess. I used only half a bag of cinnamon chips I had left over and that was plenty sweet for us. I saw some reviewers warning about them burning. I made the dough the afternoon before and put it in the freezer over night. I baked them in the middle of my main oven at 400 for about 30 minutes with a second cookie sheet under the first one and they were perfect, no sign of over baking on the bottoms. The house stilll smells lovely. Great recipe folks!
These were amazing. Light and fluffy - not too sweet and not too dry. One of my favorites from this site. I am wondering how long the unbaked scones will last in the freezer. Thinking of making another batch while I can still get eggnog.
How to describe those scones? Truly fantastic! With homade eggnog, it is really worth the effort to make the eggnog, plus you can drink eggnog while preparing them! They are so tasty and soft, I think they are the best I tasted. I reheeated one this morning in the toaster ( perfect) and I ate it with butter and afew drops of maple syrup, it is heaven! I made them the night before and cook them frozen, as suggested by KAF, on an airbake cookie sheets in the top of my oven... it is just perfect. I had to add a few minutes since they were frozen, but I checked them... and when a toothpick came out clean, I took them out of the oven. So now I am thinking about making some more eggnog to make more scones! Thank you King Arthur Flour for this great recipe, the flavor is of eggnog is not overpowering, just right.
Fantastic scones! As I didn't have cinnamon chips, I replaced them with choc chip and chopped cranberries. My oven runs hot, so I baked at 375
I made these this evening and they were a hit with the kids for their all-nighter with friends. Had to shave 3 minutes off the cooking time, and lower the temp on the oven, as the first batch was starting to burn, but the rest were perfect! Think I'll add dried cherries or cranberries to the next batch to "healthy" it up. And remember, the broken ones only have half the calories....eat without guilt....OH How I wish :)
I made this recipe without the cinnamon chips, since we had purchased some at the local bakery that didn't have chips, and wanted to see if the scones were similar to the ones purchased. They were easy to bake, and the results were delicious. The only problem was that I had set the timer for the 20 minutes, and expected it to take a little longer since my oven was set at 400 degrees (a combination of old apartment stove and very sensitive smoke alarm - cooking at 425 is problematic). At 20 minutes the scones were overdone with a very brown bottom and dry insides. I will definitely make these again, since they were very good, but I will shorten the cooking time.

We're sorry to hear the baking time and temperature for these scones gave you some trouble, Meg. The baking time is a bit longer than some other scone recipes since they're frozen for 30 minutes before going into the oven. If your oven tends to run hot, if it uses a convection setting, or if you prepare a more "blonde" scone, then you may want to turn the temperature down by 25°F and check for doneness 5 minutes earlier than the recipe calls for. Kye@KAF
These really are delicious and a great idea for tasty scones, especially during the holidays. I definitely give this a solid recommendation!