A customized print-friendly version of this recipe is available by clicking the "Print Recipe" button on this page.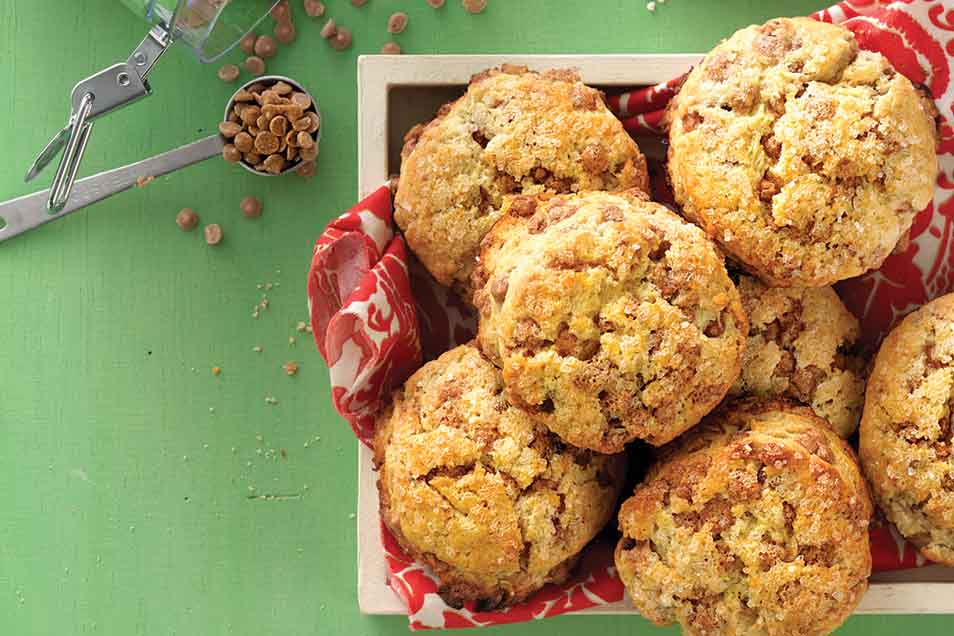 Wondering what to do with that quart of eggnog... besides drink it, of course? Use it to make these delicious eggnog-scented, cinnamon chip-studded scones.
Instructions
In a large mixing bowl, whisk together all the dry ingredients.

Work in the butter just until the mixture is unevenly crumbly; it's OK for some larger chunks of butter to remain unincorporated.

Stir in the cinnamon chips.

In a separate mixing bowl, whisk together the egg, vanilla or other eggnog flavor, and eggnog.

Add the liquid ingredients to the dry ingredients and stir until all is moistened and holds together.

Transfer the dough to a lightly floured work surface; a silicone rolling mat works well here.

Divide the dough in half; each half will weigh about 18 ounces. Roll and pat each half into a 6 1/2" circle about 3/4" thick.

Using a knife or bench knife that you've run under cold water, slice each circle into 6 wedges. Alternately, use a 2 1/4" round cutter to cut each circle into 6 to 8 rounds, gathering, re-rolling, and cutting the scraps. Or cut one circle into wedges, the other into rounds.

If you've made wedges, transfer the circle of wedges to a lightly greased or parchment-lined baking sheet. Carefully pull the wedges away from the center to separate them just a bit; there should be about 1/2" space between them, at their outer edges.

If you've made rounds, transfer the rounds to the prepared baking sheet, placing them close together; leave about 1/2" between them.

Brush each scone with some eggnog, and sprinkle with sparkling white sugar, or cinnamon-sugar.

For best texture and highest rise, place the pan of scones in the freezer for 30 minutes, uncovered. While the scones are chilling, preheat the oven to 425°F.

Bake the scones for about 20 minutes, or until they're golden brown. When you pull one away from the others, it should look baked all the say through; the edge shouldn't look wet or unbaked.

Remove the scones from the oven, and cool briefly on the pan. Serve warm. When they're completely cool, wrap in plastic and store at room temperature for up to several days.
Tips from our bakers
Scones are best served warm. They're delicious as is, but add butter and/or jam, if you like. To reheat room-temperature scones, place on a baking sheet, tent lightly with foil, and warm in a preheated 350°F oven for about 10 minutes.
Why freeze the scones before baking? Because 30 minutes in the freezer relaxes the gluten in the flour, which makes the scones more tender and allows them to rise higher. It also chills the fat, which will make the scones a bit flakier.
Why such a range in the amount of chip; 1 to 2 cups? Using the full 2 cups will produce a very sweet, American-style scone; using fewer chips will produce a less-sweet, more classic scone.
Reviews
Re my message of 12/28: Thanks for your reply. Now I don't have to worry that there's something I'm not considering. I had little doubt that my problem is the silicone. But I'm experimenting with putting it in water for about half the (longer) baking time. Not fun, but I adore these scones and I adore the silicone. (Keeping it in water for the entire [much longer] baking time results in something that seems steamed, altho that improves a bit after a couple of hours on the counter.)
I love this recipe but you need extra spicy eggnog. The recipe I have for eggnog isn't thick nor spicy like "promise land" eggnog. Also regular eggnog at the grocery store isn't as good either. My grocery store quit carrying Promise Land products. But I found really good eggnog at Costco.... thick and spicy If anyone has a recipe for this kind of eggnog I would love to have it because once you make this recipe with great eggnog, you won't like it with the regular stuff
Cinnamon chips are one of my favorite seasonal ingredients, and I'm always looking for new recipes to use them in when the holiday baking season arrives. These scones were delicious and didn't last long. I just ordered some of the eggnog flavor to use in place of the vanilla extract when I make them again.
These are absolutely delicious. I just took the precaution of measuring the chips a tiny bit scant. Probably made very little difference. I have a problem in that my scones tend to burn in my silicone scone pan. And this was way way worse than ever--even tho I monitored the temp and the pan was well above the center of the oven. I cut away fully a third off the bottoms. Even with all that burning, they were still quite moist and delicious. I've thought of trying to put the scone pan in a quarter-inch of water or on a rack in somewhat deeper water. Any advice? I really do love this silicone and love these scones. ;-( Can I find complete happiness? ;-) Thanks.

Hi Jeanne! We hate to be the bearer of bad news, but it's most likely the silicone that's causing the burning. Since it doesn't give any insulation, whatever part of the scone that's touching it will bake very quickly and dry out/burn faster than the center can bake. You can try lowering the oven temperature by 25°F and extending the bake time a bit, but we think you'll have the best results baking on a plain sheet pan lined with parchment paper. Annabelle@KAF
The recipe is a very good base for scones. I tweaked the recipe to cut sweetness a bit (and also because I had leftover eggnog on hand but no cinnamon chips). I substituted 2 tsp of Vietnamese cinnamon and dried fruit juice/sweetened cranberries for the chips. No sugar on top. I froze the scones and baked them a few weeks later, without thawing first, in a 400 degree oven for 30 minutes. Delicious!
Just made these this a.m. for my family who thought the scones were delicious! They baked just fine in my Toaster oven on the bake and convection setting.
I make several batches at Christmas time and have done so since I found this recipe years ago.
It finally dawned on me that I didn't have to wait for Christmas to make these. It's easy enough to make your own eggnog. I didn't use the cinnamon chips because I don't like chips in scones, too much like candy. They were delicious
The eggnog part is fine. Cinnamon chips are simply disgusting. You're mashing a spice into a chip with god knows what other ingredients. If I wanted unnatural, fake-flavored chips, I'd use the awful Nestle butterscotch chips. 'Cinnamon-eggnog scone is a misnomer,' because the cinnamon flavor comes from something as tacky as peanut butter chips, when the real ingredient is not hard to find.

It sounds like cinnamon chips aren't an ingredient you like to use in your baking, which we understand and respect. We've recently started carrying a new product called Cinnamon Sweet Bits, which we find deliver a lovely cinnamon flavor without too many other added ingredients (sugar, vegetable oil, cinnamon, and sunflower lecithin). These might be more to your liking, or feel free to simply omit the cinnamon chips/bits from your scones altogether and add 1/2 to 1 teaspoon of cinnamon to taste to the dough instead. We've shared your feedback with the right team to consider in future discussions about the cinnamon chips. Kye@KAF
I baked these scones for New Years breakfast and they were astounding. I've made scones before, mostly successfully, but these were really wonderful, a little crisp on the outside and soft but not chewy on the inside. I cut the butter in with my hands, stirred in the liquid a little then finished up by hand. I've been watching Paul Hollywood too much I guess. I used only half a bag of cinnamon chips I had left over and that was plenty sweet for us. I saw some reviewers warning about them burning. I made the dough the afternoon before and put it in the freezer over night. I baked them in the middle of my main oven at 400 for about 30 minutes with a second cookie sheet under the first one and they were perfect, no sign of over baking on the bottoms. The house stilll smells lovely. Great recipe folks!