A customized print-friendly version of this recipe is available by clicking the "Print Recipe" button on this page.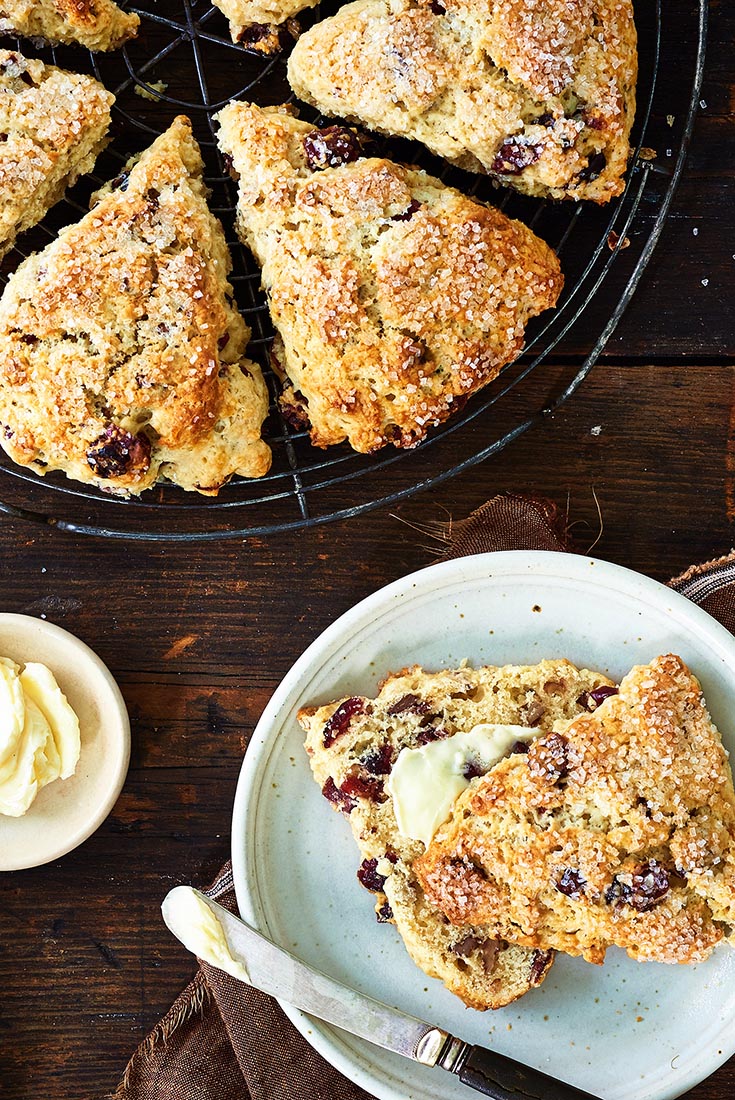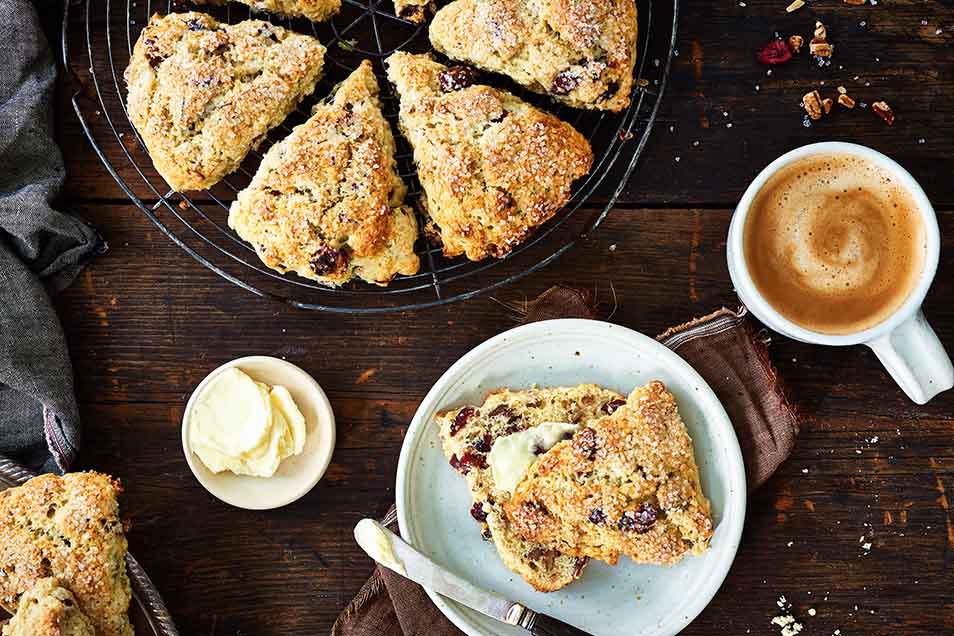 Here's your basic "start here" scone recipe. While this simple vanilla scone is delicious as is, it's also the perfect vehicle for your favorite add-ins; we happen to love dried cranberries and walnuts. Though chocolate chips are tempting, too!

Our guarantee: These tender scones will have a dark-gold outer crust, and a light-gold, moist inner crumb. They'll taste mildly of butter and vanilla.

Baking gluten-free? For great results, substitute King Arthur Gluten-Free Measure for Measure Flour for the all-purpose flour in this recipe; no other changes needed.

From amaranth to teff, ancient grains offer a world of baking possibilities. Find out how to make this recipe using ancient grains in our complete guide to baking with ancient grains.
Ingredients
Dough
2 3/4 cups King Arthur Unbleached All-Purpose Flour or Gluten-Free Measure for Measure Flour
1/3 cup sugar
3/4 teaspoon salt
1 tablespoon baking powder
1/2 cup cold butter
1 cup to 2 cups chopped dried fruit, chocolate or other flavored chips, nuts, Jammy Bits*, or a combination, optional
2 large eggs
2 teaspoons vanilla extract or the flavoring of your choice
1/2 cup to 2/3 cup half and half or milk
*See "tips," below.
Instructions
In a large mixing bowl, whisk together the flour, sugar, salt, and baking powder.

Work in the butter just until the mixture is unevenly crumbly; it's OK for some larger chunks of butter to remain unincorporated.

Stir in the fruit, chips, and/or nuts, if you're using them.

In a separate mixing bowl, whisk together the eggs, vanilla or other flavor, and half and half or milk.

Add the liquid ingredients to the dry ingredients and stir until all is moistened and holds together.

Line a baking sheet with parchment; if you don't have parchment, just use it without greasing it. Sprinkle a bit of flour atop the parchment or pan.

Scrape the dough onto the floured parchment or pan, and divide it in half. Round each half into a 5" circle (if you haven't incorporated any add-ins); or a 6" circle (if you've added fruit, nuts, etc.). The circles should be about 3/4" thick.

Brush each circle with milk, and sprinkle with coarse white sparkling sugar or cinnamon sugar, if desired.

Using a knife or bench knife that you've run under cold water, slice each circle into 6 wedges.

Carefully pull the wedges away from the center to separate them just a bit; there should be about 1/2" space between them, at their outer edges.

For best texture and highest rise, place the pan of scones in the freezer for 30 minutes, uncovered. Chilling the scones relaxes the gluten in the flour, which makes the scones more tender and allows them to rise higher. It also chills the fat, which will make the scones a bit flakier. While the scones are chilling, preheat the oven to 425°F.

Bake the scones for 20 to 25 minutes, or until they're golden brown. When you pull one away from the others, it should look baked all the way through; the edge shouldn't look wet or unbaked.

Remove the scones from the oven, and cool briefly on the pan. Serve warm. They're delicious as is, but add butter and/or jam, if you like.

When the scones are completely cool, wrap them in plastic and store at room temperature for up to several days. To reheat room-temperature scones, place on a baking sheet, tent lightly with foil, and warm in a preheated 350°F oven for about 10 minutes.
Nutrition Information
Serving Size

1 scone (63g)

Servings Per Batch

12
Amount Per Serving:
Calories

210

Calories from Fat

80

Total Fat

9g

Saturated Fat

5g

Trans Fat

0g

Cholesterol

55mg
Sodium

320mg

Total Carbohydrate

27g

Dietary Fiber

1g

Sugars

7g

Protein

5g
* The nutrition information provided for this recipe is determined by the ESHA Genesis R&D software program. Substituting any ingredients may change the posted nutrition information.
Tips from our bakers
Want to make savory scones? Reduce the sugar to 2 tablespoons and omit the vanilla. Add 1 to 2 cups of savory add-ins, like cheese, fresh or dried herbs, crumbled bacon, etc., right after you've worked in the butter, and before adding the liquid.
Scones are best served warm. They're delicious as is, but add butter and/or jam, if you like. To reheat room-temperature scones, place on a baking sheet, tent lightly with foil, and warm in a preheated 350°F oven for about 10 minutes.
To make free-form (a.k.a. drop scones) rather than wedge-shaped scones, increase the half and half or milk to 3/4 cup. Using a large ice cream scoop or spoon, dollop the scone dough in 1/3-cupfuls onto a lightly greased or parchment-lined baking sheet. Bake the scones in a preheated 375°F oven for about 30 minutes.
Why the range in milk? Flour is like a sponge; it absorbs liquid during humid weather, and dries out in dry weather. In summer or when it's hot and humid, use the lesser amount of milk or half and half in this recipe; during winter, or when it's very dry, use the greater amount. Either way, start with the smaller amount, and drizzle it in till the dough is the correct consistency.
Want to make scones well ahead of time? Simple. After the unbaked scones' 30 minutes in the freezer (or whenever they're frozen solid), place them in a zip-top plastic bag. Return to the freezer, and store for up to a month. Bake as directed (without thawing), adding a couple of extra minutes if needed.
Looking for a different kind of add-in? Try Jammy Bits, sweet, soft little morsels of fruit purée.
Our Gluten-Free Measure for Measure Flour makes it easy to make many of your favorite traditional recipes (like this one) gluten-free. Simply substitute Measure for Measure flour 1:1 for the flour called for in your recipe; no additional ingredients or other changes needed.
Interested in learning more about ancient grains — and how to use them? See our complete guide to baking with ancient grains.
Sweet scone variations
White Chocolate, Cherry, and Pecan Scones: Add 1/2 cup dried cherries, 1/2 cup white chocolate chips, and 1/2 cup pecans (toasted if desired) to the dry ingredients.
Chocolate Chunk Scones: Add 1 cup chocolate chunks (milk, dark, or a mixture) to the dry ingredients. For a little extra crunch, add 1/2 cup cacao nibs.
Double Chocolate Chunk Scones: Substitute 1/4 cup cocoa powder for 1/4 cup of the all-purpose flour; add 1 cup chocolate chunks and 1/2 teaspoon espresso powder to the dry ingredients.
Toasted Coconut Lime Scones: Add 3/4 cup toasted unsweetened shredded coconut and 1 tablespoon lime zest (grated lime rind) to the dry ingredients. For extra coconut flavor, use coconut milk in place of the dairy called for in the recipe.
Roasted Strawberry and Pistachio Scones: Toss 2 cups sliced or quartered strawberries with 1 tablespoon sugar. Spread them on a parchment-lined baking sheet and bake at 425°F for about 20 minutes, or until jammy-looking. Let the berries cool before stirring them into the dry ingredients with 1/2 cup chopped pistachios.
Lemon Blueberry Scones: Add 2 cups blueberries (fresh or frozen) and 1 tablespoon lemon zest to the dry ingredients.
Triple Cinnamon Scones: Add 2 teaspoons ground cinnamon and 1 cup cinnamon chips to the dry ingredients.
Savory scone variations: Starting with the recipe above, omit the vanilla and reduce the sugar to 2 tablespoons. Then try the following variations:
Cacio e Pepe Scones: Add 1 1/2 cups grated pecorino cheese (Parmesan works well, too) and 2 tablespoons cracked black pepper. Before baking, brush the scones with milk and grate a little more cheese on top. Sprinkle with more pepper.
Cheddar, Basil, and Sun-Dried Tomato Scones: Add 1 cup grated cheddar, 1/4 cup chopped fresh basil (or 2 tablespoons dried basil), and 1/2 cup chopped sun-dried tomatoes (not packed in oil) to the dough.
[ Add New Tip ]
Reviews
OMG! These scones were awesome. This is the first time I ever made scones and they were perfect! I made them with dried cranberries. Yum!
I halved the quantities and made 6 scones. Spot on recipe and it was delicious!!
Made the Cinnamon Chip Pumpkin Scones today, I added Pecans & made them in my Food Processor, turned out beautifully! Great Way to End 2017, with a Latte and Scones!
Huge hit amongst my family! I followed the recipe exactly, but added 1 1/2 cup of dried cranberries, the zest of a lemon, and a squeeze of lemon juice. Super fresh and light, perfect for breakfast or with tea. Would totally recommend. These scones aren't traditional scones which tend to be more dense...but I much prefer these!
I made this recipe using Measure for Measure and it was fine. I especially like that it is not full of sugar. But, it escapes me why, when KAF has such lovely scone pans, a scone recipe is not engineered to fit in them. I split the recipe in half and it made six adequately-sized scones.

Thanks for giving this recipe a bake, Patricia, and for sharing your thoughts with us about the yield of our scone recipes. We like to offer a range of options for scone baking, and you may be happy to know that our scone mixes are sized to perfectly fit our pans, as is our Scones and Biscuits recipe. We hope you'll consider checking out that recipe as well, but whichever version you use, we hope you'll continue to enjoy many a tasty scone! Mollie@KAF
I don't have access to King Arthur Flour where I am in the States. I read these reviews and I added 2 Tbsp of Flour. First Batch was just basic recipe and I thought they were great. The second batch I made to be Orange/Cranberry Scones so I added 2 Tbsp of Orange Juice to the Liquid, 1 Tbsp of Orange Zest, 1 Cup of Chopped Dried "Craisins" and 1 tsp of Ground Cinnamon into the batter plus the additional 2 Tbsp of Flour. Everything else was as the Recipe called for including the baking time. I used Almond Extract instead of Vanilla and I topped the batter with sliced Almonds before cutting it into 6 wedges. When they were done and still hot I transferred them to a cooling rack on a cookie sheet and I drizzled on a sugar coating made with a quarter cup of Powdered Sugar, 2 Tbsp of Milk and a Tsp of Almond Extract and allowed them to cool to room temperature before eating. I really liked them. I will also ad that only one of the two circles of batter was frosted the other was left plain and both are very good. Chocolate Chips are next. I may tweek this slightly according to where I live and weather but I will stay with this recipe.
I made these scones using the "drop scones" tip for more milk. I added all wet ingredient and noticed that the dough was very wet so I added more flour to stiffen it up. I even put it in there freezer hoping to stiffen it up further. After they baked they resemble a slightly taller pancake. They taste good perhaps a little too cake like than I think is optimal for a scone. So, they taste good but look and texture is not ideal.

Megan, it sounds like perhaps another kind of flour was used to make the dough. King Arthur All-Purpose Flour has a higher protein content than most other brands, which gives baked goods more structure and texture than softer flours. If you're not already doing so, try using King Arthur All-Purpose Flour in your next batch of scones to see how you like the results. We hope that helps! KyeKAF
I used egg yolk with the milk it came out wonderful. Crispy on the out side and soft on the inside.
Tastes great! Does not come off like a scone though... too cakey and lacking that dense, moist center and crisp crust that makes scones so good. But, if you like more of a soft biscuit, these are great for that.

Sounds like you might prefer our recipe called "Classic Scones," based on the texture you describe. It doesn't call for any eggs, which is the ingredient that can make this recipe seem cakey. The classic version also uses buttermilk, which you might find pleasing both in flavor and texture. We hope that helps! Kye@KAF
"The best scones I've ever had", co-workers commented! I made them with lemon zest, pure lemon extract, lemon glaze and a half cup of sourdough starter. I added as much heavy cream as needed to make a shaggy dough. brushed with cream after the freezer just before putting them in the oven on a preheated baking stone. They were amazing!! Excited to make another batch soon. Love you KA!