A customized print-friendly version of this recipe is available by clicking the "Print Recipe" button on this page.
Cinnamon Raisin Sourdough Bread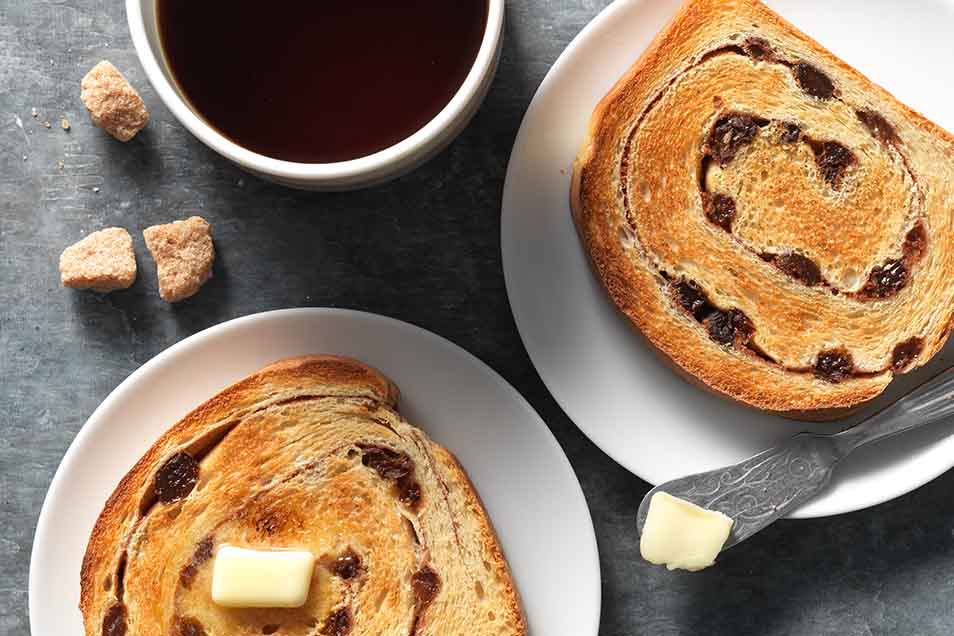 We think the slight sourdough tang in this rich, slightly sweet bread offers a nice contrast. It's tender enough to make yummy buttered toast for breakfast, yet will stand up to being grilled into a panini with, say, crunchy peanut butter and soft, cinnamon-y apples.


Ingredients
Dough
1/2 cup sourdough starter, ripe (fed) or discard
2 1/2 teaspoons instant yeast
1 tablespoon sugar
1 1/4 teaspoons salt
1 large egg
5 tablespoons soft butter
2/3 cup lukewarm water
Instructions
To make the dough: Combine all of the dough ingredients, and mix and knead — using your hands, a stand mixer, or a bread machine set on the dough cycle — to make a soft, smooth dough.

Place the dough in a lightly greased container, and allow it to rise for 1 1/2 to 2 hours, until it's just about doubled in bulk.

While the dough is rising, make the filling by stirring together the sugar, cinnamon, and flour.

Gently deflate the dough, and transfer it to a lightly greased work surface.

Roll and pat the dough into a rough rectangle approximately 6" x 20".

Brush the dough with the egg/water mixture, and sprinkle it evenly with the filling and raisins.

Starting with a short end, roll the dough into a log. Pinch the ends to seal, and pinch the long seam closed.

Transfer the log, seam-side down, to a lightly greased 9" x 5" loaf pan. Cover and allow the bread to rise until it's crested about 1" over the rim of the pan, about 1 hour.

While the dough is rising, preheat the oven to 350°F.

Bake the bread for 40 to 45 minutes, tenting it lightly with aluminum foil after the first 15 to 20 minutes. The bread's crust will be golden brown, and the interior of the finished loaf should measure 190°F on a digital thermometer.

Remove the bread from the oven, and gently loosen the edges. Turn it out of the pan, and brush the top surface with butter, if desired; this will give it a soft, satiny crust. Allow the bread to cool completely before slicing.

Yield: 1 loaf.
Nutrition Information
Serving Size

1 slice, 67g

Servings Per Batch

16 servings
Amount Per Serving:
Calories

194

Calories from Fat

32

Total Fat

4g

Saturated Fat

2g

Trans Fat

0g

Cholesterol

25mg
Sodium

156mg

Total Carbohydrate

37g

Dietary Fiber

1g

Sugars

17g

Protein

4g
* The nutrition information provided for this recipe is determined by the ESHA Genesis R&D software program. Substituting any ingredients may change the posted nutrition information.
Reviews
I tried this recipe for the first time and it came out perfectly. I have one question/comment regarding the 5 tablespoons of butter. The instructions didnt specify how to incorporate the butter so I cubed it rather than putting the entire block into the mixing bowl. Would melting the butter have any effect on the dough? Would leaving it as one piece have a different effect?

Hi Paul! Your instinct to add the butter in small pieces was perfect. Melting it would have the butter behaving as a liquid rather than a solid and it would make the mixing difficult, so using just soft butter, either in one big chunk or cut up, is just the ticket. Annabelle@KAF
I've made this recipe twice - both times using discard sourdough starter (I'm currently in the process of growing mine, so it's young!) and both loaves turned out delicious! I made it the first time exactly as the recipe stated (but using more cinnamon and raisins - as recommended by other reviewers, and also I replaced the sugar with maple syrup) and it was very tasty. The second time I wanted a savory loaf, so I replaced the sweet fillings with a liberal amount of pesto and pepitas. It was the true winner! Both were very pretty with the swirl - and easier than expected. Also, thanks for the online tip from KAF (I asked about how long to knead by hand for the dough to become "soft and smooth" and heard back about 8-10 minutes should do the trick - thanks for the help!)
Made this and it turned out pretty well, good flavor. I used half whole wheat flour. Was wondering if I was supposed to brush on the whole egg/water mixture? The cinnamon swirl is very thin..

You don't need to use the entire egg wash, Kristen, unless you feel like the dough can handle it. If you'd like the cinnamon swirl to be a bit thicker next time, consider adding some ground up nuts and butter along with a bit more cinnamon and brown sugar to the filling. Try not to overfill the dough as it'll compromise the rise and structure of the loaf, otherwise, feel free to increase that filling! Kye@KAF
This is a great tasting bread! Even people who don't like sourdough like it. It's a little tricky to make, however. First, because it uses sourdough discard, the recipe hydration may be off. If your sourdough is a little sloppy like mine was, you'll need to add some flour to the dough to make it manageable. This batch took about an extra quarter cup to give me a non-sticky dough. And then there is the egg wash. It isn't specified in the recipe that you shouldn't use all of it. I tried to on the first loaf and found it was way too much ... some sloppy results (but still turned out good). On the second loaf, I just brushed on a generous amount, but not running off the dough. That was much better. Finally, a little finesse is needed for the foil tenting. Don't do it too soon. Wait for a nice light brown crust before putting on the foil. Otherwise you'll have a delicious, but "so pale it doesn't LOOK done" loaf. But DO try this recipe. It's an excellent use of sourdough discard.
Excellent recipe. I think I underproved it because I had big gaps and the side split and leaked filling onto my oven floor...so I'd not recommend rushing the second rise like I did. But the bread still tasted excellent and looked amazing and was so easy to make. I made French toast with it this morning and that was so good.
Have followed this recipe occasionally for a year or two, with tasty results - but in last week have made it twice with some key adjustments that result in GREAT bread. For flour I use half KAF all purpose, and half KAF bread flour, and add 3 tbsp KAF whole grain bread improver. Second rise in Emile Henri's ceramic bread baker, then brush on egg/water mixture, put on lid and bake at 350 degrees for 45 minutes, then remove lid and bake for 5 more minutes. BEAUTIFUL golden loaf, toasted slices are sublime.
My wife and I have made this bread three times now. First time we followed the recipe as written. Second time we substituted 1Tbp of molasses for the sugar in the dough. The third time we substituted 2 Tbp of honey for the sugar in the dough. For my tastes, the honey was best. Even though the original recipe is not overly sweet, the honey was much more mellow in its sweetness and had a nice golden color. My wife preferred the molasses sweetened best. It had that flavor that molasses adds, in my opinion was the least sweet and had a darker golden color.
This bread was a huge hit with my family. Have made this several times. I am wondering if I could use some white whole wheat flour in place of the all purpose flour?

We're glad you asked, Cindy! You can easily add whole wheat flour to many of your favorite recipes, including this one here for Cinnamon Raisin Sourdough Bread. Start by replacing half of the all-purpose flour with whole wheat flour (either white or traditional whole wheat). There's no need to make any changes to the recipe with this approach. If you'd replace 100% of the white flour with whole wheat, add about 2 teaspoons of additional liquid per cup of whole wheat flour. Before baking, allow the mixture to rest for about 15 minutes so that the whole grains can absorb the additional liquid and soften slightly. Add extra liquid if the mixture seems dry or stiff, and then bake as you normally would. Happy baking! Kye@KAF
Lovely bread which tasted delicious. I also tried making as buns turned out just like Chelsea buns and were rated as even better than the bread by my family and having to make them every weekend now.
I omitted the raisins, doubled the filling sugar, but used brown sugar, added 1/2 cup of sliced almonds and spread soft butter (instead of egg white) on the dough before rolling into a loaf . The resulting bread was delicious! I served as breakfast toast, then cut the last of the loaf into thick slices and made French toast topped with sliced strawberries and a dollop of whipping cream. 5 + stars!