A customized print-friendly version of this recipe is available by clicking the "Print Recipe" button on this page.
Cinnamon Raisin Sourdough Bread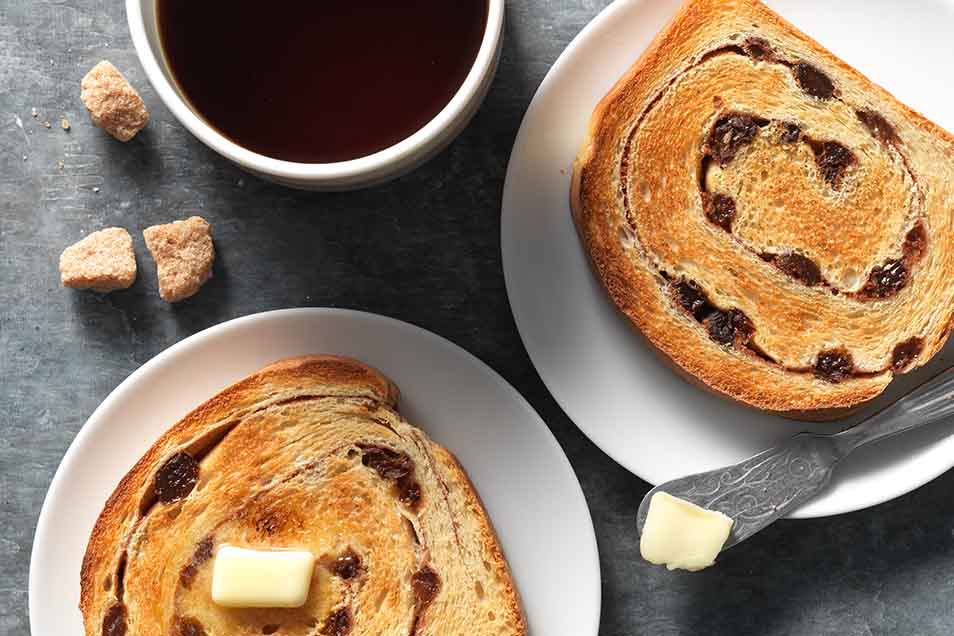 We think the slight sourdough tang in this rich, slightly sweet bread offers a nice contrast. It's tender enough to make yummy buttered toast for breakfast, yet will stand up to being grilled into a panini with, say, crunchy peanut butter and soft, cinnamon-y apples.


Ingredients
Dough
1/2 cup sourdough starter, ripe (fed) or discard
2 1/2 teaspoons instant yeast
1 tablespoon sugar
1 1/4 teaspoons salt
1 large egg
5 tablespoons soft butter
2/3 cup lukewarm water
Instructions
To make the dough: Combine all of the dough ingredients, and mix and knead — using your hands, a stand mixer, or a bread machine set on the dough cycle — to make a soft, smooth dough.

Place the dough in a lightly greased container, and allow it to rise for 1 1/2 to 2 hours, until it's just about doubled in bulk.

While the dough is rising, make the filling by stirring together the sugar, cinnamon, and flour.

Gently deflate the dough, and transfer it to a lightly greased work surface.

Roll and pat the dough into a rough rectangle approximately 6" x 20".

Brush the dough with the egg/water mixture, and sprinkle it evenly with the filling and raisins.

Starting with a short end, roll the dough into a log. Pinch the ends to seal, and pinch the long seam closed.

Transfer the log, seam-side down, to a lightly greased 9" x 5" loaf pan. Cover and allow the bread to rise until it's crested about 1" over the rim of the pan, about 1 hour.

While the dough is rising, preheat the oven to 350°F.

Bake the bread for 40 to 45 minutes, tenting it lightly with aluminum foil after the first 15 to 20 minutes. The bread's crust will be golden brown, and the interior of the finished loaf should measure 190°F on a digital thermometer.

Remove the bread from the oven, and gently loosen the edges. Turn it out of the pan, and brush the top surface with butter, if desired; this will give it a soft, satiny crust. Allow the bread to cool completely before slicing.

Yield: 1 loaf.
Nutrition Information
Serving Size

1 slice, 67g

Servings Per Batch

16 servings
Amount Per Serving:
Calories

194

Calories from Fat

32

Total Fat

4g

Saturated Fat

2g

Trans Fat

0g

Cholesterol

25mg
Sodium

156mg

Total Carbohydrate

37g

Dietary Fiber

1g

Sugars

17g

Protein

4g
* The nutrition information provided for this recipe is determined by the ESHA Genesis R&D software program. Substituting any ingredients may change the posted nutrition information.
Reviews
This bread is delicious! I made it this morning for the first time and it definitely won't be the last! It was relatively easy to make too. I followed the recipe with the following exceptions: doubled the amount of cinnamon filling, added extra cinnamon to the filling, and instead of raisins I used chopped dates.
The bread is delicious but I'm having an issue. When I go to bake the bread, it busts open on top. Not sure why it keeps happening. I've made this bread 4 times. One out of the four times it hasn't split open. Is it because I'm not mixing the dough long enough so the elasticity isn't strong enough? Or because it's over proofed? Please help. This recipe is really delicious and I would love for it come out looking like a bread and not an explosion.

Hi there, Natacha. We're happy to hear that you enjoy this recipe! It sounds like there is an air pocket in your loaf that is escaping wherever it can find a weak spot. It could be the technique used to shape the loaf — we'd recommend checking out our Shaping and Baking the Loaf video which can be found under "Watch & Learn" section on the Learn page here on our site. It can also be helpful to score the top of the loaf just before baking. This will give any air a place to escape, rather than busting out wherever it can find a spot to. We hope this helps and happy baking! Morgan@KAF
This was very, very good. I doubled the amount of cinnamon/sugar filling per some other reviews and used golden raisins. I also used my 100% dark rye starter discard which I am loving in this loaf. Do be careful to watch the rising dough. My starter is very active and even using the discard (stored in jars in the fridge) made the rising on this very quick! First rise was only an hour and after 45 minutes of the second rise it was a little over proofed, so keep an eye on it if you have active starter. The only two real problems with this loaf - waiting for it to cool so I could eat it, and it only makes one loaf which will be gone in no time!
I followed the recipe except replacing 15% of AP flour with KAF barley flour. I also made a 4x13 skinny loaf as well. The starter I used had only one day of feeding of the fresh sour dough starter received from KA. The loaf was very airy and soft. Excellent recipe! And excellent KAF fresh SD starter. I think I will skip the yeast and also use additional substitute -15% white whole wheat. PS. I used a special raisins I bought from a farm in western China. It has a rose taste and bring additional depth to the loaf.
I tried this recipe with and without the additional yeast. With the yeast, I felt the recipe was a bit wet. I added extra flour as I kneaded by hand, I would say a couple of tablespoons. That did the trick. The dough rose beautifully during both risings. The same happened when I followed KAF's recommendations for using only starter (I used KAF's sourdough starter recipe). I would say I added an additional 1/8 cup of flour. The dough definitely took longer to rise, I would say 3 to 3.5 hours for first rise, 2 hours for second rising. The flavor of the bread was great both methods. The structure was more open with only starter. This was a hit with all my friends! Will keep perfecting it!
I am making this bread but am using a Bosch mixer. How long are you supposed to knead the dough? Recipe says "set to dough cycle" that's very vague. My Bosch nor my Kitchen Aid mixer have a "dough cycle". I think you need to be more specific for novices. I kneaded my dough until it pulled cleanly away from the bowl. Hope my bread comes out.

Hi Rose, thanks for reaching out! We're sorry if the instructions were confusing at all. Only bread machines have a dough cycle. If you're kneading in a mixer or by hand, you'll just keep going until the dough is smooth and soft. We don't state a specific time because everyone's mixing technique is so different! What you did was exactly right. Happy baking! Kat@KAF
Love this recipe! Would I be able to make it into two smaller loaves from one recipe? And use mini loaf pans?

Cassie, that sounds like a great idea! You'll want to check your loaves for doneness 10 minutes earlier, as they'll bake more quickly than a larger loaf, but you shouldn't need to change the recipe at all. Happy baking! Kat@KAF
This is a no fail recipe! Best Raisin Cinnamon Toasting bread EVER! I am new to bread making and to sourdough so I have been growing too much sourdough starter! I will now make sure it goes in the fridge so I have less discard! No matter, this was out of this world! I also baked another kind the second time around. I did one cinnamon raisin and a cranberry with a mixture of pumpkin pie spice and chai seasoning. I also added my new toy from you, "fior di sicilia" to the cranberry one! The house smells great! Can't wait until they cool!!
Delicious! I doubled the recipe the first time, so glad I did or it would have been gone the first day. I used half the yeast, as my starter is very active. I'm trying it a second time with just my starter and no dry yeast. I did my initial rise overnight in the fridge to fit my schedule. But I was worried about the increased room temperature rising time with the egg in the dough. Is this a legitimate concern?

That's a personal preference for each baker, Karen, but if it were me, I wouldn't be concerned with it so long as the eggs were good. Use your best judgment and do what feels best for you. Annabelle@KAF
I made the recipe exactly and it is very good. Next time I will put more raisins. Question : I always have a lot of my own discard sourdough named Jackouille...:-) if I want to use only my starter (hydrated at 100% : 50% flour 50% water) and no dry yeast at all, what is the changes in sourdough, water and flour recommended?

If you'd like to make this recipe naturally leavened, then you might want to use a full cup of starter instead of the 1/2 cup that's listed. Reduce the flour by 1/2 cup (a scant 2 ounces) and the water by 1/4 cup (2 ounces). Make sure your starter is recently fed and very active before adding to the rest of the dough ingredients. You'll need to extend both the first and second rising time to allow the sourdough starter to do its job. (It may take as long as 2 to 3 hours initially and another 2 to 3 hours after the loaf is shaped.) The dough may also rise in the fridge overnight if that fits into your schedule better. Bake only once the loaf looks fully expanded and properly proofed. Happy baking! Kye@KAF