A customized print-friendly version of this recipe is available by clicking the "Print Recipe" button on this page.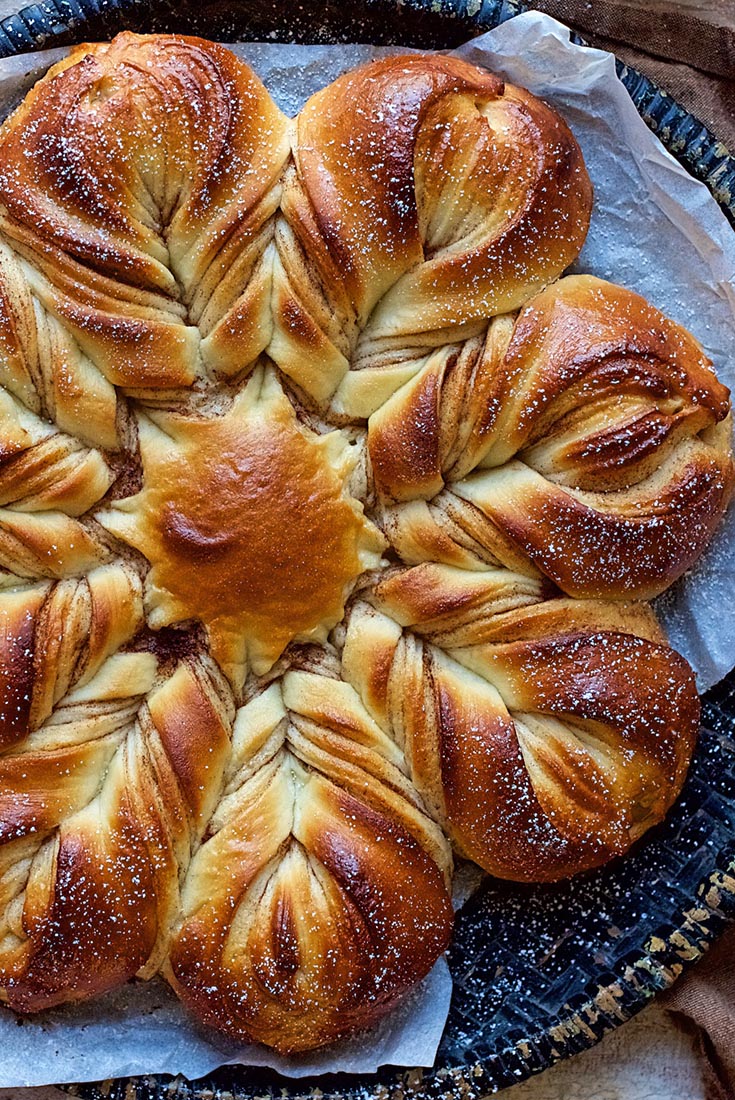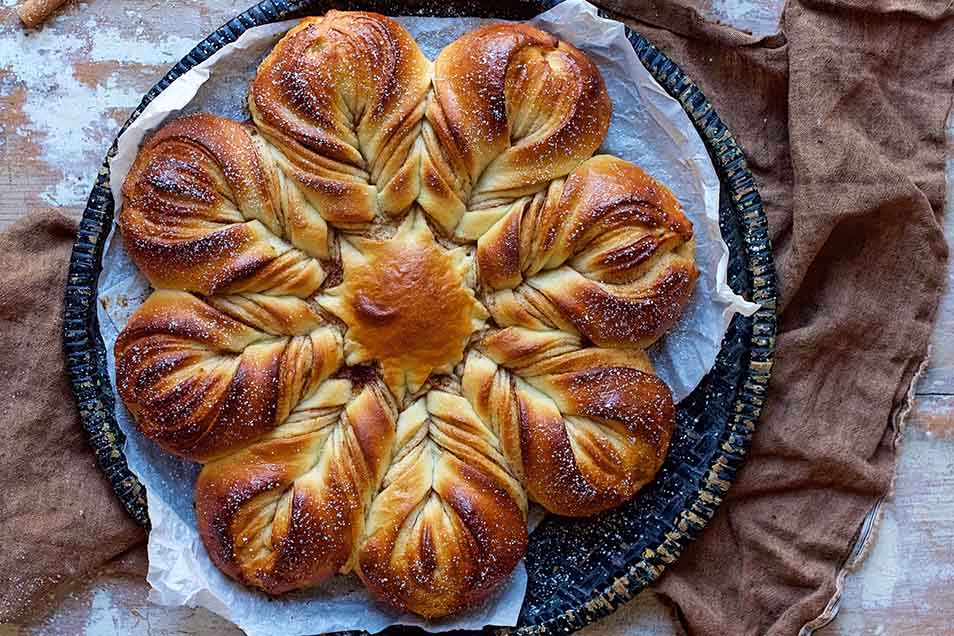 This pull-apart style sweet bread is a show-stopping riff on a classic cinnamon bun. As it bakes, the cinnamon-sugar filling caramelizes and gives the bread a wonderfully sweet and crunchy coating, while the interior remains soft and tender. It's a holiday breakfast treat that will disappear in a flash.
Ingredients
Dough
1/4 cup potato flour or 1/2 cup instant mashed potato flakes
1/4 cup Baker's Special Dry Milk or nonfat dry milk
3/4 cup + 2 to 4 tablespoons lukewarm water, enough to make a soft, smooth dough
1/4 cup (4 tablespoons) unsalted butter, at room temperature
1 teaspoon vanilla extract
2 teaspoons instant yeast
2 tablespoons sugar
1 teaspoon salt
Instructions
First, measure the flour by gently spooning it into a cup, then sweeping off any excess. Next, sift the flour, potato flour, and dry milk through a strainer; this is an important step to prevent lumps in the dough. (If you're using instant mashed potatoes rather than potato flour you can skip this sifting step.)

To make the dough: Combine all of the dough ingredients and mix and knead — by hand, mixer, or bread machine — to make a soft, smooth dough.

Place the dough in a lightly greased bowl, cover, and let it rise for 60 minutes, until it's nearly doubled in bulk.

Divide the dough into four equal pieces. Shape each piece into a ball, cover the balls, and allow them to rest for 15 minutes.

On a lightly greased or floured work surface, roll one piece of dough into a 10" circle. Place the circle on a piece of parchment, brush a thin coat of beaten egg on the surface, then evenly sprinkle with 1/3 of the cinnamon-sugar, leaving 1/4" of bare dough around the perimeter.

Roll out a second circle the same size as the first, and place it on top of the filling-covered circle. Repeat the layering process — egg, cinnamon sugar, dough circle — leaving the top circle bare.

Place a 2 1/2" to 3" round cutter in the center of the dough circle as a guide. With a bench knife or sharp knife, cut the circle into 16 equal strips, from the cutter to the edge, through all the layers.

Using two hands, pick up two adjacent strips and twist them away from each other twice so that the top side is facing up again. Repeat with the remaining strips of dough so that you end up with eight pairs of strips.

Pinch the pairs of strips together to create a star-like shape with eight points. Remove the cutter.

Transfer the star on the parchment to a baking sheet. Cover the star and let it rise until it becomes noticeably puffy, about 45 minutes.

While the star is rising, preheat the oven to 400°F.

Brush the star with a thin coat of the beaten egg. Bake it for 12 to 15 minutes, until it's nicely golden with dark brown cinnamon streaks; the center should register 200°F on a digital thermometer.

Remove the loaf from the oven and allow it to cool for about 10 minutes before serving. Dust with confectioners' sugar and serve warm or at room temperature.

Store any leftover bread, well wrapped in plastic, at room temperature for several days. Freeze for longer storage.
Nutrition Information
Serving Size

92g

Servings Per Batch

8
Amount Per Serving:
Calories

250

Calories from Fat

60

Total Fat

7g

Saturated Fat

4g

Trans Fat

0g

Cholesterol

40mg
Sodium

330mg

Total Carbohydrate

42g

Dietary Fiber

2g

Sugars

14g

Protein

7g
* The nutrition information provided for this recipe is determined by the ESHA Genesis R&D software program. Substituting any ingredients may change the posted nutrition information.
Tips from our bakers
To reheat bread for serving, place it on a baking sheet and tent it loosely with aluminum foil. Place in a preheated 350°F oven, and warm for about 15 minutes, or until it's as hot as you like.
Our buttery sweet dough flavor is a flavorful enhancement for this bread. Simply substitute the vanilla with 1 teaspoon of dough flavor for rich butter, vanilla flavor with a hint of citrus.
Reviews
I'm made the recipe but a salty version with parmesan cheese. Didn't put any cinnamon,just shredded cheese. It was delicious! My family loved it!
Just made two of these. I've made them both sweet and savory and they're always delicious and beautiful to look at bringing loads of compliments. I'd like to know if I can use the Bakers Cinnamon Filling mix sprinkled onto dough or must I combine it with water first?

Ali, if you brush beaten egg onto the dough first, you're welcome to the sprinkle on Baker's Cinnamon Filling without turning it into a paste. If you want to skip the egg, then you should add a few teaspoons of water to a few tablespoons of the filling until it forms a spreadable paste. Apply evenly to the dough with an offset spatula or a knife, and then repeat as directed in the recipe. Happy baking! Kye@KAF
Total failure I have no idea what went wrong. I even made a special trip to the store to get the potato flour. Being in Texas I used the lesser amount of water and started kneading in my KA. Kneaded forever and just had a blob still sticking to the bowl, no ball formation at all. I called KAF and they said add more water. I did that and it just became a wetter mess sticking to the bowl. Dumped it out and tried again using the greater amount of water. Exact same results. Called KAF again and was again told to add more water. I did and still no ball formation, just sticking to bowl.

Hi Marie, we're truly sorry to hear that this recipe left you feeling frustrated. We apologize for any confusion regarding the advice you were given on the Baker's Hotline, but perhaps our bakers didn't quite understand how your dough was behaving. If the dough was very sticky, wet, and slack (it wouldn't form a smooth ball), that means there's too much water in the dough and more flour is needed.

A few other factors that may have come into play here is if another brand of flour was used; other kinds of flour have lower protein contents than King Arthur Flour, which means that more of them need to be used in order to get comparable results. Another factor could have been your kneading method. We recommend checking out the video in the "Learn" section of our page to see a visual demonstration of the best way to knead dough by hand and develop the gluten. Kneading too roughly can result in a sticky dough that's hard to handle. We hope these tips help you get back on track with this recipe. Kindly, Kye@KAF
As usual another super star recipe that I found easy to follow along with. All of the imperfections in my circles (ovals/squares/blobs) evened out in the rise. I'll be making this one again for sure.
I've made this several times. Relatively easy, tastes great and looks fantastic. I made it for Christmas breakfast a couple years ago, and my family still talks about it.
I love this recipe. I've made it several times and each time it has come out looking just like the picture and tasting delicious. My friends were impressed that I'd made it. It's surprisingly easy to put together, as well. In fact, I plan on on making it again next weekend for overnight company.
I have made this bread several times and I love it. I do not have a lot of bread experience and was able to work through. The bake-along tips really help. Making circles that are the same size really helps and having the same amount of dough when you separate helps a lot. I followed the recipe exactly. No problems.
I followed directions exactly. Used the lesser amount of water and still had a very sticky dough. Kneaded 10 minutes on # 2 of stand mixer. I used the ounces measurements guide and sifted other ingredients as stated. I needed to add another half cup of flour to the dough and more for rolling. I used instant yeast. After first rise which took about 2 1/2 hours it did roll out and cut nicely but like I said I had to add a lot more flour than recipe called for. I would use double the cinnamon/sugar mixture next bake but this was a delicious, soft , pillowy bread and flavor was tremendous! I also covered mine in a vanilla glaze after the 10 minute rest. Delicious recipe and it is very easy to make... just follow the blog step by step and voila!!! Perfect morning or afternoon bread with tea or coffee. I brought to my bible study brunch and everyone wanted the recipe. I sent them to the King Arthur site.