A customized print-friendly version of this recipe is available by clicking the "Print Recipe" button on this page.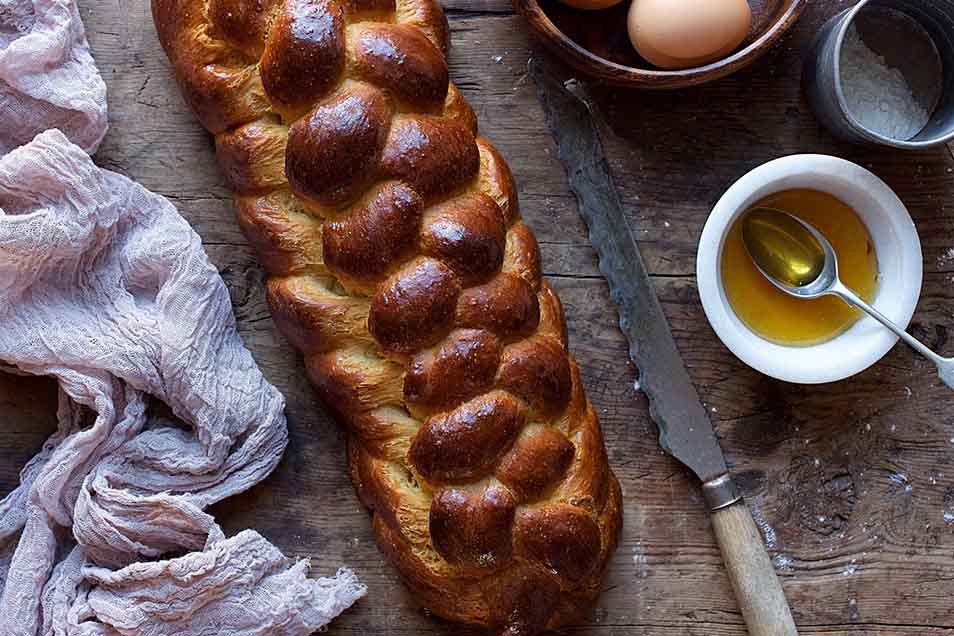 This deep-gold, light-textured bread is traditionally served on the Jewish Sabbath and other holidays. The dough for this loaf is wonderfully smooth and supple, making it an ideal candidate for braiding. The simplest way to go is a three-strand braid; but feel free to try the slightly more complex four-strand braid, or even a six-strand braid, which makes a striking presentation.
Ingredients
Dough
1/2 cup lukewarm water
6 tablespoons vegetable oil
1/4 cup honey
2 large eggs
1 1/2 teaspoons salt
1 tablespoon instant yeast
Glaze
1 large egg beaten with 1 tablespoon cold water
Instructions
To make the dough: First, weigh your flour; you'll find its weight by toggling to "ounces" at the top of the ingredient section above. Or measure it by gently spooning it into a cup, then sweeping off any excess.

Combine all of the dough ingredients and mix and knead them, by hand, mixer, or bread machine, until you have a soft, smooth dough.

Allow the dough to rise in a plastic wrap-covered bowl for about 2 hours, or until it's puffy; it won't necessarily double in bulk.

Gently deflate the dough, and transfer it to a lightly greased work surface.

Next step: divide the dough into pieces, the number depending on what kind of braid you want to make. You may braid the challah the traditional way, into a three-strand braid; for helpful tips watch our video, How to braid a three-strand loaf. For a fancier presentation, make a six-strand braid; watch our video, How to braid a six-strand loaf, to see how it's done. To make a four-strand braid see "tips," below.

Once you've decided which braid you're doing, divide the dough into the appropriate number of pieces. Roll each piece into a rope about 20" long. If the dough starts to shrink back as you roll, cover it and let it rest for about 10 minutes, then resume rolling. The short rest gives the gluten a chance to relax.

Braid the loaf. Remember, for three- or six-strand braids, watch the videos linked above. For a four-strand braid, see "tips," below.

Gently pick up the braided loaf, and place it on a lightly greased or parchment-lined baking sheet.

Cover the loaf with lightly greased plastic wrap, and let it rise until it's very puffy, 90 minutes to 2 hours at cool room temperature. Towards the end of the rising time, preheat the oven to 375°F.

To make the glaze: Whisk together the egg and water. Brush the glaze over the risen loaf.

Place the baking sheet atop another baking sheet; this will insulate the bread's bottom crust, and keep it from browning too much. Put the challah in the lower third of the oven, and bake it for 20 minutes. If it's a deep golden brown, tent it loosely with aluminum foil. If it's not as brown as you like, check it again at 30 minutes.

Once you've tented the challah, bake it for an additional 10 to 15 minutes, until the loaf looks and feels set and its interior registers at least 190°F.

Remove the bread from the oven, and place it on a rack to cool.

Store any leftover bread, well wrapped in plastic, at room temperature for several days; freeze for longer storage. While challah does tend to dry out after a day or so, it's always good toasted, or made into grilled sandwiches or French toast.
Nutrition Information
Serving Size

58g

Servings Per Batch

16
Amount Per Serving:
Calories

180

Calories from Fat

50

Total Fat

6g

Saturated Fat

.5g

Trans Fat

0g

Cholesterol

35mg
Sodium

230mg

Total Carbohydrate

28g

Dietary Fiber

1g

Sugars

4g

Protein

5g
* The nutrition information provided for this recipe is determined by the ESHA Genesis R&D software program. Substituting any ingredients may change the posted nutrition information.
Tips from our bakers
Make it whole wheat: While challah made with 100% whole wheat flour will be heavier than that made with all-purpose flour, it will still be soft and delicious. For best flavor, we recommend substituting white whole wheat flour for the all-purpose flour. Increase the amount of water to 3/4 cup, adding up to an additional 2 tablespoons water if necessary to make a soft, smooth dough. Allow the just-mixed dough to rest for 20 minutes before kneading; this gives the flour a chance to absorb the liquid, making it easier to knead.
Make it sugar-free: Substitute 6 tablespoons water for the honey called for in the recipe; be aware the dough will rise more quickly. The finished bread will taste quite bland, not at all like classic challah; its crust will be hard and blistered, and it won't brown as nicely. Using at least 2 tablespoons honey (instead of eliminating it entirely) will help the bread taste and look more like classic challah.
Make it ahead: Prepare the loaf up to the point where it's braided and on the pan. Tent it with greased plastic wrap, and place it in the refrigerator overnight. Next morning, remove the dough from the refrigerator (keep it covered). Let it warm and rise at room temperature for 60 minutes before baking as directed.
Hesitant about making a six-strand braid? Try this four-strand braid:
•Divide the dough into four pieces, and shape each piece into a rough 6" log. Cover the logs with lightly greased plastic wrap, and let rest for 10 minutes.
•Roll each log into a 15" rope. Cover, and let rest for 10 minutes.
•Continue rolling the ropes until they're about 20" long; they'll shrink back to about 18" as they sit.
•Lay the strands parallel to one another, and pinch the ends on your left together.
•Take the rope nearest you, and move it up over the next two adjoining ropes.
•Next, move the rope back under the rope next to it. Fan the ends of the ropes out again.
•Repeat the process, but start with the rope farthest away from you. Bring it down and across the next two adjoining ropes, and then back under the rope nearest it.
•Continue in this fashion, alternating which side you begin with until you've braided the whole loaf.
•Pinch the loose ends together, and tuck them underneath the loaf.
During Rosh Hashanah, the Jewish New Year, this bread's traditional braided shape is supplanted by a spiral, which symbolizes the cyclical nature of the year. For a spiralled challah, roll the dough into a 36" rope, and coil it into a lightly greased 9" cake pan. Allow it to rise until puffy, then bake as directed in the original recipe.
For poppy seed or sesame seed challah, sprinkle the loaf heavily with seeds after applying the glaze.
The inspiration for this recipe comes from Lora Brody, cookbook author, photographer, and long-time King Arthur friend. Thanks, Lora!
Reviews
I've tried a few challah recipes and this one is best, hands down. Love it so much. It's the perfect combo of sweet and savory bread. Thank you for this terrific recipe.
Wonderful challah. I weighed my flour and made the dough on the dough cycle of the Zo. Unlike other commenters, I found the dough a little too wet, and added some flour as it mixed. Perhaps the difference is due to the consistency of the honey? (I used raw, local honey). The bread baked into a wonderful, light texture with a perfect golden brown crust. I'll be making this again and again

Your dough may have been slightly wet because of the humidity in the air, the consistency of the honey, or because of the low protein content in the flour. For best results, use King Arthur All-Purpose Flour if you aren't already doing so. Add additional flour to the dough until it becomes just slightly tacky to the touch. Your challah should turn out perfectly. Happy baking! Kye@KAF
I love this recipe! I've made it twice, and each time the challah has come out lovely - though it's an exercise in patience, waiting for the dough to rise, and trying to keep the strands from shrinking. I feel like I learned a lot between each bake! If I wanted to make this again and add a flavor element - like orange, for example - do you KAF experts have any tips on how I might do this without weighing down or overwhelming the dough?

What a tasty idea, fellow baker! You can try adding the zest of two oranges, lemons, limes, grapefruits, or whatever citrus you like to your dough. The natural oils lend a zippy flavor. You could also try using Orange Oil (available on our website) which is extra concentrated. You'd only need about 1/4 teaspoon per loaf. We encourage you to experiment! Annabelle@KAF
I have never had a bread fail on me until I tried this recipe. I intend to try it again but am hoping that maybe KAF can offer some pointers. First, I am at 5000+ ft. altitude and in a dry climate. My dough turned out very dry and stiff, which I've never had happen before with any bread. I rolled it out, sprinkled water on it, and continued to knead, attempting to gain more elasticity and the smooth, soft ball of dough I expected. That didn't work as I had hoped it would. I hate to waste anything, so I continued the recipe to completion. Since the dough was so stiff, it was difficult to braid and the strands didn't bake into each other. I used the same KAF flours and SAF yeast I've always used and made no alterations/substitutions to the recipe.

We're happy to help out, Cenna! There are quite a few adjustments to make at high-altitude for best results. We encourage you to search "high altitude" on our website to view our complete High Altitude Baking Guide for any future baking.

For this recipe, these are the following recommendations from the folks over at Colorado State University: Decrease the yeast by 25%, (down to 2 1/4 teaspoons) watch the dough carefully as it will likely rise faster than the recipe suggests, increase the oven temperature by 25°F, decrease the baking time by 5 to 8 minutes, increase the water by 3 tablespoons, and increase the flour by 2 tablespoons.

Even with these changes to cope with the altitude, we want to ensure no other extra flour makes its way into the dough by being packed in a measuring cup, as this will make the dough dry and tough, and the finished loaf dry and dense. To ensure you're using the right amount, we recommend checking out the "Measuring Standards," link next to the ingredients header above. You'll see that either measuring your flour by weight using a scale, or fluffing and sprinkling the flour into your measuring cup are the most accurate ways to measure flour.

We hope that with these tips and the help of the High Altitude Baking Guide, there will be no more bread fails in the future! Annabelle@KAF
I am def a beginner at bread baking and this came out absolutely perfect. I used the dough setting on my bread maker for the dough. A few minutes in it looked too crumbly and dry so I added about 1/4 cup more water. The dough came out perfect and was so easy to work with. I baked it on 350 for 20 mins and then rented for 10 mins on 350 and it came out perrrfecttt.. will def use this again and again
While I missed the detail about covering the braided challah for the second rising, the sad fact is that it didn't rise much of anything after *several hours*. It baked up edible, but it was dense and dry. Note: I used white whole wheat flour for all of the flour, as the recipe said it would work well. I'm not sure how it would work with white flour. My go-to challah recipe, from The World Famous Ratner's Meatless Cookbook, uses more egg (notably egg yolk) and always bakes up light and fluffy, sweet, with a nice yellow color, and doesn't mind *too* much if I use white whole wheat flour (it's denser and drier, as one would expect).

We're sorry to hear your loaf had troubles rising. It's possible that because it was uncovered, the outside of the dough formed a crust, preventing it from rising at all. It's also possible that the dough needed more water, as that would prevent dough from rising. For ideal measurement accuracy when not using a scale, we recommend fluffing the flour with a whisk or spoon, sprinkling it into the measuring cup, and scraping off the excess. Using this method (or measuring by weight, ideally) will reduce the problems that extra flour bring. Whole grains do absorb more than regular flour, so it may help to add in an extra tablespoon or two of water for every cup of flour. We think a little experimentation and some small tweaks will help greatly, but if you have any other questions, our free and friendly Baker's Hotline is available at 855-371-BAKE (2253). Kindly, Annabelle@KAF
This is a great recipe with one change. More water. I've made it a couple times and each time with the recommended amount of water the dough was stiff and crumbly. (Yes, I did weigh the flour.) After adding 50% more water the dough was soft and supple. Then the dough rose well, braided easily and baked perfectly. Great flavor and texture. Only 4 stars because *more water* otherwise 5.
Um, wow! This recipe has been on my to-do for months the and I finally got around it given the 'challah-days' I haven't had much challah before so I can't speak to whether the texture/flavor is 'right', but wow is this impressive! The mixing was straightforward, and I surprised myself with how nice the 6 stranded braid turned out (I replayed the accompanying video several times), and of course it tasted great. Question: is it possible to do the first 2 hr rise in the refrigerator overnight? I know Flourish said it was possible once the loaf was braided. Thank you! Can't wait to try again with different braiding designs!

Hi Genevieve, we've found that if you're going to include an overnight rise, it works best to do it once the loaf is shaped. However, if this isn't an option for your schedule, you can try doing it during the first rise. It helps to let the dough begin to rise at room temperature for at least a brief period of time (15 to 20 minutes, depending on how fast of a riser your dough is). This way the yeast can begin to activate and then it'll slow down in the cool temperature of the fridge. (If you put it straight into the fridge you might compromise the fermentation and sacrifice both flavor and texture.) Give the dough a short little rest at room temperature then put it in the fridge overnight. The next day, shape as desired and allow to rise again before baking. You'll need to extend the final rise to account for the cold dough. Happy baking! Kye@KAF
I have made many challah recipes but this is by far my favorite. The only change I made was that I used melted butter instead of vegetable oil. Be sure to follow the directions exactly. And be sure the internal temperature does not get above 190F. It is wonderful and so easy!
in the process of making my dough, it was dry, crumbly, and hard. it wasn't smooth at all.

We're sorry to hear this dough gave you some frustration, Irene, but the good news is, we can help. It sounds like you might be measuring your flour by scooping directly from the bag or canister, which compacts it into the cup. This results in a dry, heavy, dough and dry, dense bread. In order to ensure the right amount of flour is added, we recommend clicking on the "Measuring standards," link to the right of the ingredients header. You'll see that each cup weighs about 120g when measured by weight using a scale. For ideal measurement accuracy when not using a scale, we recommend fluffing the flour with a whisk or spoon, sprinkling it into the measuring cup, and scraping off the excess. For best results, use these standards when making all King Arthur Flour recipes. Kindly, Annabelle@KAF