A customized print-friendly version of this recipe is available by clicking the "Print Recipe" button on this page.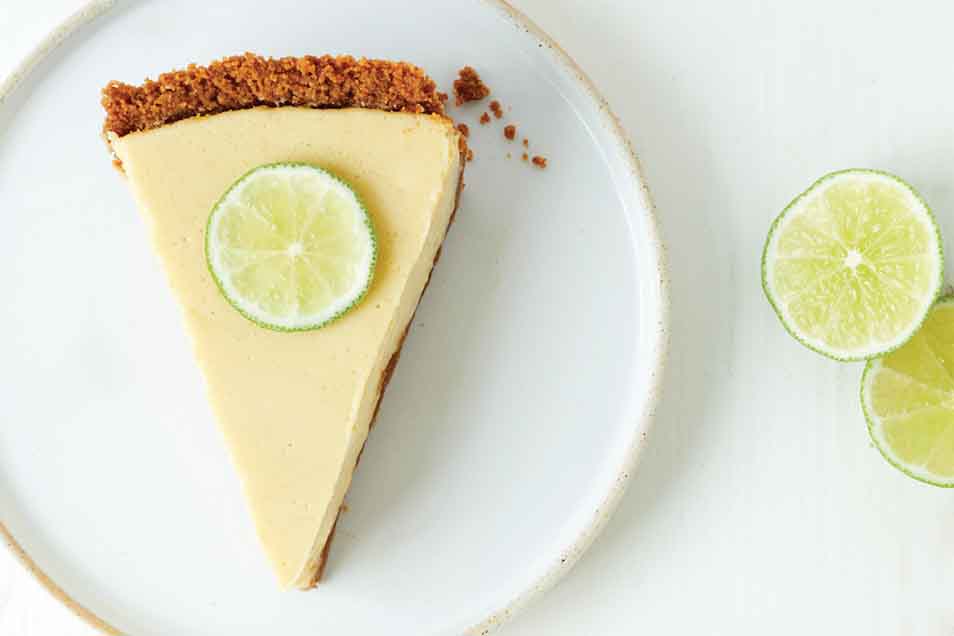 Creamy, tart-sweet Key lime pie has long been a favorite dessert of restaurant-goers. But if your dining-out days are few and far between, and you don't want to go long stretches without this delightful dessert, it's easy to make at home.

Read our blog about this pie, with additional photos, at Flourish.
Ingredients
Crust
1 1/2 cups graham cracker crumbs
1/4 cup confectioners' sugar
1/8 teaspoon salt
1/3 cup melted butter
*While it isn't traditional, add 1/3 to 1/2 cup (1 1/4 to 1 7/8 ounces) toasted coconut to the crushed cracker crumbs, if desired.
Filling
grated zest of 1 medium lime, about 1 tablespoon, not packed
3 large egg yolks
14-ounce can sweetened condensed milk (1 1/4 cups)
2/3 cup bottled Key lime juice OR freshly squeezed lime juice
1/8 to 1/4 teaspoon lime oil, optional
Instructions
Select a pie pan whose inside top dimension is at least 9", and whose height is at least 1 1/4". Preheat the oven to 325°F.

Make the crust by stirring together all of the crust ingredients, mixing until thoroughly combined.

Press the crumbs into the bottom and up the sides of the pie pan.

Bake the pie crust for 15 minutes; it'll start to darken in color a bit. Remove it from the oven, and place it on a rack to cool while you make the filling.

Whisk the grated lime zest and egg yolks at high speed of an electric mixer for about 4 minutes. The mixture will lighten in color and thicken somewhat, looking kind of like Hollandaise sauce.

Stir in the sweetened condensed milk, mixing till smooth. Beat at high speed for 3 minutes; the filling will become slightly thicker, and gain a bit of volume.

Add the lime juice, stirring just to combine. The mixture will thicken. Add lime oil to taste.

Pour the mixture into the crust, and return the pie to the oven. Bake for about 25 minutes, until it appears set around the edges, though still a bit wobbly in the center. The center should read about 145°F.

Remove the pie from the oven, and cool to room temperature. Refrigerate for several hours before serving. Slice and serve each piece with a lightly sweetened dollop of whipped cream, if desired.

Yield: one 9" pie, about 8 servings.
Tips from our bakers
Lime oil (1/8 to 1/4 teaspoon) enhances the lime flavor of this filling. Keep in mind that bottled Key Lime juice is quite strong and "lime-y," requiring only the smaller amount of lime oil; while freshly squeezed juice from Persian limes is less strong, and could use the boost offered by the larger amount of lime oil.
If you're making your own whipped cream from heavy or whipping cream, it can be confusing to know how much to start with. FYI, 1 cup of whipping cream yields about 2 1/2 cups of whipped cream. So, for an 8-slice pie, with 1/4 cup whipped cream on each slice, you'd want to start with about 3/4 cup of whipping cream. And how much sugar? Completely up to you. Just add granulated or confectioners' sugar a spoonful at a time, to taste.
Reviews
This recipe is terrible. Waaay too much lime juice and no need for sugar in the crust. Just buy the key lime juice and follow the recipe on the bottle.

Hi, Janessa. We're sorry to hear that this well-loved recipe didn't do the trick for you. If we can help troubleshoot or pick out a recipe that better fits your tastes, please give our Baker's Hotline a call at 855-371-BAKE (2253). Kindly, Morgan@KAF
I made this using the juice of 20 key limes and a tbsp of zest. It was incredibly sour, but not bitter when I tried it after letting it sit in the fridge for a few hours. I thought it was okay but not great. But after sitting in the fridge a whole day it has mellowed to one of the best key lime pies I've had. I'm making another now, and candying key lime slices to go on top. I think it's going to be great for St. Patrick's tomorrow.
This was absolutely FANTASTIC!! I made it for a good friend in lieu of a birthday cake and it was a crowd pleaser all the way around. My friend is something of a gourmet and he was blown away by the flavor. Not wanting to spend my time squeezing average looking key limes (I live in Minnesota and tropical fruit can be of questionable quality mid-winter), I order both the Floribbean Key Lime Juice and Lime Oil from you -- it made all the difference in the world -- time saving AND flavor/tartness. PLUS, it made a great story to tell over dessert about how the ingredients for this pie came to the land of snow and ice from all the way from the sunshine of Miami via Vermont to Minnesota. Definitely worth it! Also, the instructions were super easy to follow and I loved how there was some descriptions included in terms of what to expect with color, consistency, etc. I knew when I hit the 'looks like Hollandaise sauce' I was ready to move on. :) And loving whipped cream (not meringue) my handy iSi whipped cream dispenser came in handy with a bit of vanilla, powdered sugar, a shake and presto! whipped cream. THANK YOU KING ARTHUR FLOUR!!!!
Love that this recipe calls for significantly more lime juice than many leading to a nice tart pie. However, I still find it too sweet. Am wondering if I could substitute some evaporated milk for some of the sweetened condensed milk - maybe 25% of it to cut back on the sugar. I tried calling the Baker's Hotline (my first time ever), and asked if this would work. Person just said "no". Asked if she had any other suggestions for making a little less sweet. She said "no". Love the pie, but was a little disappointed with the help I received!

We're sorry to hear that you didn't receive the friendly and helpful service we aim for, Rachel, and have shared your experience with the head of The Baker's Hotline for review. Sadly, we're concerned that using evaporated milk in place of the sweetened condensed milk would result in a fairly soupy pie. It might be worth a try to just do it with a little bit, maybe 1/4 of the sweetened condensed milk (3.5 oz), though we aren't sure if that would make a noticeable difference in sweetness for your taste. It's worth trying though! Annabelle@KAF
This would be a 5 star rating except I put too much lime zest in the filling & it gave the pie a sour, too tangy bite to it. I used zest from a med lime as instructed, but because the zest stuck together from the juice/oil that was exuded, it came to about 1/2 TB (half the called for amount). So I grated/ added a little more. Wrong! That extra turned a smooth, creamy pie into a pie w/ a bite to it. Even a lot of whipped cream didn't compensate. . Just do as instructed & only grate the zest of 1 med lime. I'd even consider underdoing that! Otherwise, I can the consistency & overall good flavor of this pie would make it a winner!
Followed this recipe exactly, except made it in an 8" aluminum throwaway pie pan, instead of 9". Baked the crust 15 minutes, and the pie 27 instead of 25 minutes. Used the key lime juice bought from KAF. Delicious. My wife stated she liked this best of all of the desserts I've made; that is high praise indeed. Definitely a keeper, and will absolutely make again.
I have made this pie and added about a half a cup of flaked coconut to the crust. It is outstanding! Like others, I omitted the lime oil, but the filling did not suffer with the omission.
I often us ginger snaps for the crust in this recipe, a nice compliment to the tang of the lime.... only use Florribean juice if you must use bottled. Also, delicious with a bit of mango puree added in to the filling mixture.
Sure would be nice if I could 'pin' this recipe.

We're glad you asked, K! All of our recipes can be pinned to Pinterest. If you're on a computer, the red "P" button will pop up on the right side of the recipe along with buttons to share on Facebook, Twitter, or by email. If you're on a mobile device, a bar will pop up on the bottom of your phone once you're on the recipe, showing a link to Facebook, Twitter, Flipboard, and a plus sign. Click the plus sign and you'll be able to share to Pinterest. Happy pinning and happy baking! Annabelle@KAF
My go to pie recipe, always well received! I use digestives (a sort of British tea biscuit) and salted butter for the crust. I sometimes sub in a portion of pomegranite juice for the lime juice.