A customized print-friendly version of this recipe is available by clicking the "Print Recipe" button on this page.
Classic Peanut Butter Cookies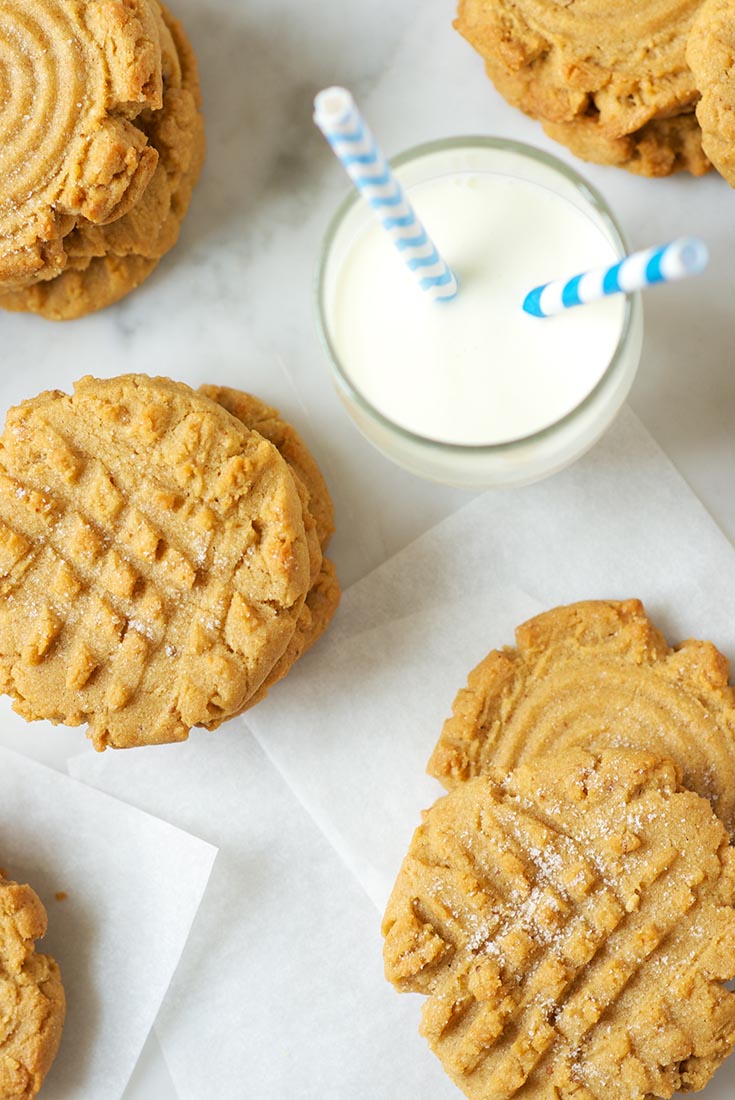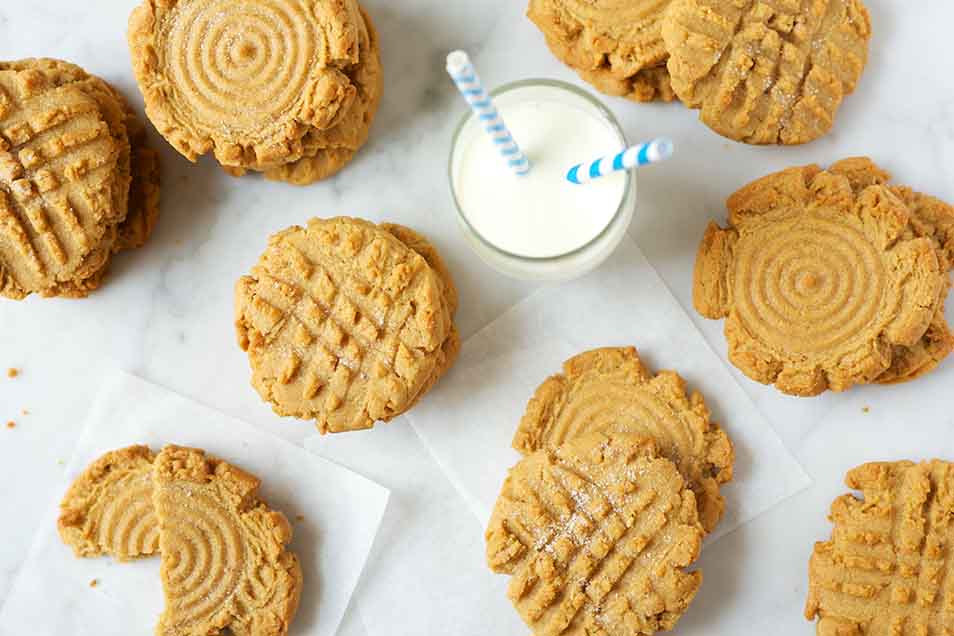 An all-time favorite, these cookies are perfect after school with a glass of cold milk. Our guarantee: These golden-blonde cookies are slightly soft and mildly chewy (rather than crunchy), with satisfying peanut butter taste.
Instructions
Preheat the oven to 350°F. Lightly grease (or line with parchment) two baking sheets.

Beat together the shortening, sugars, egg, vanilla, and peanut butter until smooth.

Add the flour, baking soda, and salt to the peanut-butter mixture, beating gently until everything is well combined. It may take awhile for this rather dry dough to come together; and when it does, it'll be quite stiff. Only if necessary, drizzle in enough water to make the dough cohesive.

Drop the cookie dough by tablespoonfuls onto the prepared baking sheets (a tablespoon cookie scoop works well here), leaving 2" between them.

Use a fork to flatten each cookie to about 1/2" thick, making a cross-hatch design.

Bake the cookies for 12 to 16 minutes, until they're barely beginning to brown around the edges; the tops won't have browned. Remove them from the oven, and cool on a rack.

Yield: about 2 dozen cookies.
Nutrition Information
Serving Size

1 cookie (28g)

Servings Per Batch

about 24
Amount Per Serving:
Calories

120

Calories from Fat

60

Total Fat

6g

Saturated Fat

1.5g

Trans Fat

0g

Cholesterol

10mg
Sodium

140mg

Total Carbohydrate

14g

Dietary Fiber

1g

Sugars

7g

Protein

3g
* The nutrition information provided for this recipe is determined by the ESHA Genesis R&D software program. Substituting any ingredients may change the posted nutrition information.
Tips from our bakers
This recipe was developed to use traditional supermarket-style peanut butter. If you use all-natural peanut butter, grind your own, or use low-fat or low-salt peanut butter, the cookies won't turn out as described.
For a pretty circular design on top of your cookies, flatten with the end of a food processor's plastic "pusher" (if it has a circular design on the end).
Add 1 cup raspberry jammy bits to this recipe to create peanut butter and jelly cookies.
Substitute 1/2 cup butter for the 1/3 cup vegetable shortening, if desired. The cookies will be softer.
Reviews
Okay, first of all, I don't like cookies and I don't like peanut butter cookies. So this didn't wow me, but who's surprised? However, my father-in-law does not like peanut butter cookies and he liked them. My mother-in-law Does like peanut butter cookies and she really liked them. Also, I overcooked them a little. They were very hard. Are they supposed to be hard? They're not kidding when they say to take it out when you see a light browning around the edges. The dough is a huge pain to work with. I discovered that my hand mixer has a burned-out motor from the shortbread recipe on here. And so I mixed it all by hand since I don't own a stand mixer. (But I can own one if anybody is kicking around a spare $200.... Until then, it's up to what God gave me. Hands and a wooden spoon.) I probably added about 1/8 cup of water VERY gradually. It was very difficult to make it come together. (Maybe my experience would have been different in a stand mixer? You'll have to tell me.) I tried to thoroughly stir the peanut butter beforehand, too. Like I said, I really don't like cookies and I really don't like peanut butter cookies (this is for my sister-in-law's Secret Santa gift) but my toddler likes them, so if you're into peanut butter cookies you'll probably like them. Just make sure you're not having a stressed-out day before you work with that dough. Or, just make sure that you're not going to care if it's a huge pain and not perfect and your toddler insists on 5 different sprinkle colors. (I think it's cool.) Goes with: a large glass of wine and a tuna sandwich.
The batter was so dry, I had to add another egg and another 1/4 cup of fat. (yes, i fluffed up the flour) I used half butter and half lard that I had rendered myself - plus I used crunchy peanut butter. Maybe the nuts in the recipe was replaced by all that creamy peanut butter that was necessary. Otherwise, the cookie was good, but not quite as sweet, so I sprinkled the second batch with sugar.
I used butter instead of shortening. I creamed the butter and chunky peanut butter together, then added the eggs - until creamy. Then the sugars; then vanilla last. (I had read the reviews and didn't want an issue with dry dough). The dough was a little dry but I had no issues baking them!!! They are tasty!!!
I both love this recipe and hate it. It is the easiest and best tasting peanut butter cookie recipe I've ever made but it is also the hardest to work with. When I use my cookie scoops they break, when I use a fork to make the pattern, they break. Not even adding the water helps, it just makes the dough wet and crumbly instead of dry and crumbly. But I still give it a 5 star, I can live with the issues it has. It keeps me from making more than I should which keeps me from eating more than I should.

Carolyn, it sounds like your dough is a bit too stiff. Instead of trying to add water, be sure you're using the right amount of flour. We recommend either measuring your flour by weight using a scale, or fluffing and sprinkling the flour gently into your measuring cup one spoonful at a time before leveling off with a knife. This will help you measure light cups of flour that weigh about 4 1/4 ounces per cup. Also, try dipping your scoop in hot water before using, and flatten the cookies with your fingers slightly before making the cross-hatch design with a fork. We hope that helps! Kye@KAF
I loved this recipe! No surprises, just great peanut butter cookies just like my G'Ma made when I was a kid!
Wow! These are delicious. Oh so delicious. I used 1/4c pumpkin puree instead of egg but that's the only substitution I made. Another fabulous KA recipe.
Delicious! I followed the recipe using butter instead of shortening and they turned out perfectly. I baked them for about 14 minutes and they turned out crispier than I expected - I think 12 minutes would be ideal. As another reviewer mentioned, rotating the trays is important! I skipped this advice for my first batch and the bottom tray was significantly more brown. They spread a bit more than I expected so watch out. I got about 2 dozen cookies 3" diameter cookies with 30 g balls.
I made these- FYI, I almost exclusively use King Arthur for all my recipes. Reason being, they have test kitchens and try the recipes over and over and over again- I know I will get a tried and true result! I am a real, honest to goodness home cook and not affiliated with King Arthur in any way whatsoever. I have no blog or website or anything, nor do I advertise for anything or one. I made these last night to get rid of some peanut butter that no one in the house is eating, but we always buy it when we're out of it, don't we? I will mirror one other comment that yes, they are crumbly, maybe more so than some cookies. But- this CAN be solved I think by refrigerating the dough for a few hours or overnight before baking. I whipped butter and sugar then added the dry ingredients, this creates air pockets that will cause a crumbling cookie. Good for cakes, not so much for cookies! Next time I will spoon mix and not whip the butter-sugar, unless you like a feather-weight light cooky, some people do. I have also made this same recipe but using 1/2 cup unsalted butter as opposed to the 1/3 cup shortening: Same cooky! I did notice a more butter taste, which you might like more (I do!) I DO RECOMMEND THIS COOKY. Dear KAF: I apologize for not posting all of my reviews like I said I was going to, I must make at least one recipe a week out of your website here. I trust it very much. I know you prove all your recipes so it gives me a whole lot of security. I am the one that posted the review for the wonderful wonderful! Black Forest Cake. I call the "Perfection Cake". If you all have not tried it and want to make a perfect cake, but be sure to use real buttermilk in the recipe to really make it good. Happy cooking everybody! Sign me the Best Cook This Side of the Mississippi Kris in Phoenix
In my holiday baking frenzy I left 1/2 cup of flour out of the recipe. I didn't realize it until I was popping the trays into the oven. "Oh well" I thought and continued with my baking. My husband LOVED them with less flour and requested that I always make them that way. Happy accident I guess.
These taste pretty close to what I remember from college days, but weren't quite crisp enough for my taste. I made them with Earth Balance instead of Crisco or other veggie shortening. Do you think they might have a more satisfying crunch if I used a more traditional shortening? I pretty much followed the recipe and weighed my ingredients.

Ruth, Your baking instincts are right on; a traditional shortening adds crunch! You might also want to check out our blog post titled "Cookie Chemistry" if you're intrigued by this subject. Happy baking! Kye@KAF