A customized print-friendly version of this recipe is available by clicking the "Print Recipe" button on this page.
Classic Scottish Shortbread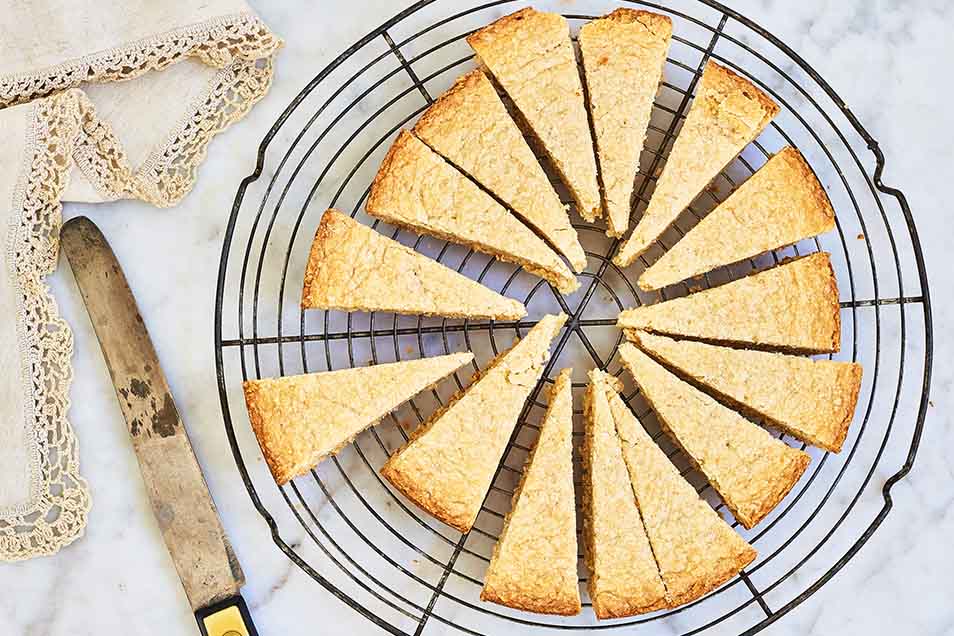 Because of its climate, Scotland's national grain has traditionally been the oat. This shortbread recipe is a toast to this tradition, using ground oats in addition to the standard all-purpose flour to create thick slabs of shortbread with crumbly/crunchy texture and delightfully nutty/buttery flavor.
Ingredients
1 cup unsalted butter, at room temperature
3/4 cup confectioners' sugar
generous 1/2 teaspoon salt*
1 cup oats, traditional or quick
1 1/2 cups King Arthur Unbleached All-Purpose Flour
*If you use salted butter, reduce the salt to 1/4 teaspoon
Instructions
Preheat the oven to 350°F. Lightly grease an 8" round cake pan.

The easiest way to make the dough is in a food processor. Place all of the ingredients into the work bowl, and process to make a smooth, sticky dough.

If you don't have a food processor, grind the oats in a blender before using. If you don't have a blender or food processor, use quick oats, rather than traditional. Combine the oats with the remaining ingredients, and mix until smooth.

Press the dough into the prepared pan, and score it into 16 wedges. A knife or baker's bench knife, dipped in water between cuts, is the tool to use here.

Bake the shortbread for 35 to 40 minutes, until it's firm and golden brown. Remove it from the oven, and after 5 minutes turn it out of the pan onto a piece of parchment, or a clean work surface. Cut all the way through the score marks to make wedges. Place them on a rack to cool completely.

Yield: 16 shortbread wedges.
Tips from our bakers
For more traditional shortbread, reduce the sugar to 1/2 cup. The Scots generally prefer their shortbread less sweet.
Reviews
What a delicious recipe! I did not finely ground my oats and loved the more rustic texture. In addition to using Kerrygold butter and a little less than the 3/4 cup sugar, I added in fresh chopped rosemary. I also docked the dough using a wooden skewer, which looked lovely, and baked in a springform pan for easy removal. Cutting after 5 minutes of cooling was a breeze. I love lemon with rosemary so I plan to serve these along with a little lemon curd.
Wonderful and not too sweet, buttery and rich. The oats give a texture that's reminiscent of a Hobnob biscuit. Follow the recipe! There's no need to change a thing.
Made it per the instructions the first time and enjoyed it. Modified it the second time using 1/2 cup of the oats and 1/2 cup of oat flour. Also added a small amount of semi-sweet chocolate mini-morsels. WOW!
Yesterday I made a combo of this recipe and your chocolate shortbread recipe. They came out so amazingly good we made more today to take to a pot luck dinner. I used ground oats and the proportions from this recipe, incorporated cocoa and vanilla from the other recipe. I found that i had to add an extra tablespoon of butter and two tablespoons of milk to get the dough to stick together. So delicious--not too sweet and the oats are a really nice touch.
These are so delicious! Buttery and sweet but not too sweet. Maybe it's the oats that balances out the recipe. I'll make these again!
LOVE this recipe. After trying quite a few shortbread recipes, this is now my go-to. So quick and easy to mix up when the sweet tooth hits. I do pulse the oats in the food processor a few times before adding the other ingredients. I've also played with the flavor by adding lemon zest, lime zest, vanilla, cinnamon, cardamom, or whatever I was in the mood for that day. Have made them MANY times and always delicious.
I did this recipe in the former of cookie "dough drops", then froze them. I took out a dozen from freezer, baked them at 350 degrees for 14 minutes plus 2-3 more minutes, cooled on rack, and put powered sugar on them. Very good! :) Thank you KAF and especially for the oatmeal in them!
I wasn't sure what was mean by 'firm' so I think I overcooked it be a couple of minutes and it came out brown and tasted a bit overdone
Great recipe. Worked perfectly first time, using food processor. Yummy
Just tried this recipe for the first time. It's cooled for 5 min. and been cut but hasn't cooled enough to try. It smells WONDERFUL!!! Trying to keep my husband from taking one till they cool. It's a challenge. Would appreciate tips for storage, air tight container or loosely covered? Judging by the smell, storage may not be a problem.

We're guessing your shortbread has probably disappeared by now, but any leftovers should be kept in an airtight container for 3-4 days. Happy baking! Kye@KAF