A customized print-friendly version of this recipe is available by clicking the "Print Recipe" button on this page.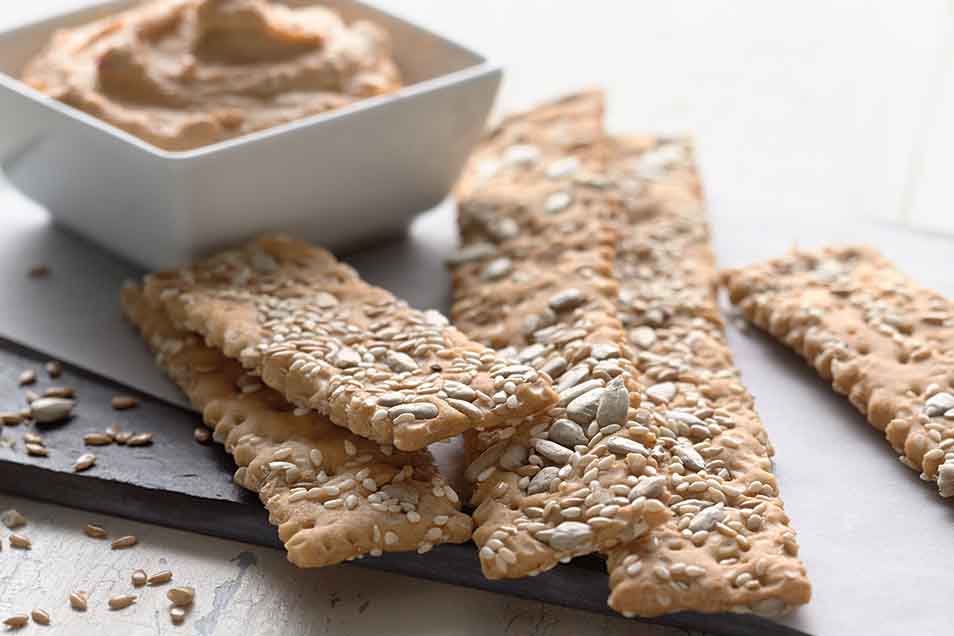 This recipe mimics an extra-crunchy, seed-topped whole-gain cracker you may find at your supermarket. These are great for spreads and dips of all kinds.

Thanks to input from our readers about the baking time, we've reduced it by 10 minutes, as of August, 2011. We've also added salt as an optional topping, to enhance flavor. Sometimes it takes a community to build a recipe!
Ingredients
Crackers
7/8 to 1 cup lukewarm water
1 1/2 cups King Arthur White Whole Wheat Flour
2 tablespoons non-diastatic malt powder or sugar
1 teaspoon instant yeast
1 teaspoon salt
2 tablespoons whole milled flax or whole flax seeds, preferably golden*
2 tablespoons sesame seeds or whole flax seeds, preferably golden*
*Substitute 1/4 cup golden flax seeds for the flax and sesame, if desired.
Topping
1/2 cup sunflower seeds, midget preferred*
1/4 cup sesame seeds*
1/4 cup whole flax seeds,* golden preferred
sea salt or your favorite flavored salt, if desired
*Substitute 3/4 cup artisan bread topping + 1/4 cup whole flax seeds for the sunflower, sesame, and flax seeds, if desired.
Instructions
To make the dough: Mix and knead together all of the cracker ingredients (except the seeds) to a smooth, fairly stiff dough. Add 1-2 more tablespoons of water if the dough is dry.

Knead in the seeds.

Let the dough rise, covered, for 60 to 90 minutes, until it's expanded a bit.

Divide the dough in half. Working with one piece at a time, roll it into a rectangle approximately 14" x 9", a generous 1/8" thick. This will probably require you to roll the dough until it fights back; give it a 10-minute rest, then come back and roll some more. It may need two rest periods to allow you to roll it thin enough.

For easiest handling, turn the dough onto a piece of parchment paper. Spritz the dough with water. Sprinkle with 1/4 of the topping seeds, lay a piece of parchment on top, and press the seeds in with a rolling pin. Turn the dough over, peel off the parchment, and repeat. Set the seeded crackers on a baking sheet, and repeat with the remaining piece of dough.

If you don't have parchment, roll on a rolling mat or on a very lightly floured or lightly greased work surface; and transfer the seeded crackers to a lightly greased baking sheet. Sprinkle each sheet of crackers with some sea salt or flavored salt, if desired. Crush the sea salt between your fingers or grind it in a salt mill if it's very coarse.

Prick the dough over with a fork, and cut it into rectangles, whatever size you like. Pull the crackers apart just a bit; you don't need to separate them completely. Let the crackers rise for 30 to 45 minutes. while you preheat your oven to 350°F; they'll get just a bit puffy.

Bake for 20 minutes, until the crackers are a medium brown. Turn off the heat, wait 15 minutes, then open the oven door a couple of inches and let the crackers cool completely in the turned-off oven. When they're completely cool, break apart, if necessary, and store airtight.

Yield: two 14" x 9" sheets of crackers.
Nutrition Information
Serving Size

5 2"x 1" crackers

Servings Per Batch

26
Amount Per Serving:
Calories

74

Calories from Fat

27

Total Fat

3g

Saturated Fat

0g

Trans Fat

0g

Cholesterol

0mg
Sodium

198mg

Total Carbohydrate

10g

Dietary Fiber

2g

Sugars

1g

Protein

3g
* The nutrition information provided for this recipe is determined by the ESHA Genesis R&D software program. Substituting any ingredients may change the posted nutrition information.
Reviews
Quinoa instead of sesame seeds and hemp hearts instead of sunflower seeds. They're what I had available. A touch of sea salt does wonders. A light and slightly puffy cracker, these make a wonderful and unique party snack. I'd call this recipe a winner.
I made the recipe, and added some sourdough for flavor. in the end, these are just are not worth the effort.
I am baking my first batch today. I decided to use 00 flour that I had on hand to make them easier to roll out. I had the KA white whole wheat on hand, so everything else I followed as written. I have a pastry cloth and mitt for my rolling pin and they rolled out nice and thin and look beautiful. Just about to go into the oven. But my batch ended up on 3, not 2, cookie sheets and the baking instructions call for a long time in the oven. Is there a way to expedite the baking instructions? I had crackers like these when I visited Iceland and I'm really looking forward to eating them and sharing with friends and family. I like that the recipe doesn't contain shortening, that's the kind of cracker I prefer and it's not easy to find a recipe without added fat.
I think you could bake all the crackers, and then combine them all onto two trays and do the final step with the oven off to allow them the long slow crisping they require. Barb@KAF
made the crackers as written -added everything bagel toppings to the seed mixture and they came out perfectly - took one baker's suggestion and used my pasta roller - crisp, yummy and great with dip
I really liked this recipe-the crackers were very tasty. I used 50% white wheat flour, 50% red wheat flour (I mill the wheat berries myself at home). I decided to try to make a sponge first, given no white flour, (so I mixed the sweetener, half the flour and the yeast with all the water - 100 degrees). I let that go for 30 minutes, then combined the other ingredients, and followed the rest of the recipe. It rolled out very easily and didn't stick at all. I will definitely make the crackers again, but will probably use less seeds, and will roll them a bit thinner. Mine had browned nicely, but some were still soft, so I had to use my oven dehydrate setting to crisp them up.
Love this recipe. And so easy too.
This was a great recipe and easy to follow except for American measures which I have now transcribed. Biscuits turned out crunchy tasty and wonderful.
I tried this receipe two times. The first time, the dough was so sticky that it became glued to the parchment and I had to throw it all away (my bad). I tried again and added more flour when kneading and followed all the directions for baking and even measure the height of the crackers with a ruler. The appearance of the baked crackers was great and the flavor was good but they were NOT crispy. My husband is a huge Patrick O'Brien fan and kept asking for another piece of hard tack! Obviously, they needed to dry out more but they were a lot of work to make and I am not sure that I have the energy to try for a third time and keep adjusting the baking/drying times.
I'm sorry this recipe did not meet your expectations. Please give us a call on the Baker's Hotline and we'll be happy to help troubleshoot. ~Mel
Good flavor, mine were on the tough side....I don't know what I did.
I am pleased the flavor was good. If the texture was a bi tough it may be because the dough was too dry or you did not roll it out thin enough. Try again! Elisabeth