A customized print-friendly version of this recipe is available by clicking the "Print Recipe" button on this page.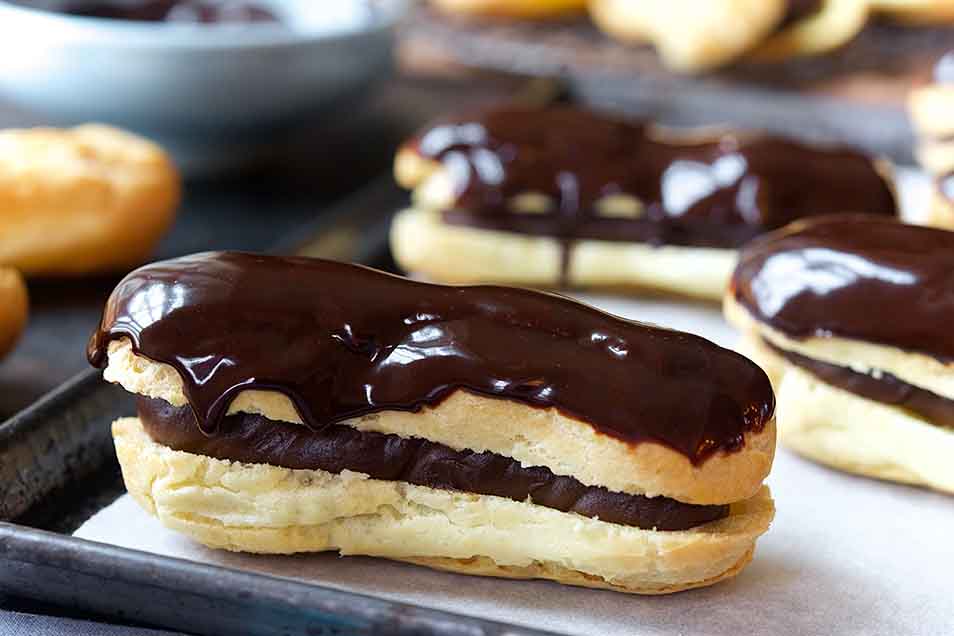 Here's a dark twist on a classic French confection: pastry cream-filled chocolate éclairs. There's no easier light-as-air pastry than éclair shells, and no more decadent filling than rich chocolate pastry cream. Combine the two, top the éclair with chocolate glaze, and you have a recipe for a gloriously simple yet luxurious dessert.
Instructions
Preheat the oven to 425°F. Lightly grease (or line with parchment) two baking sheets.

To make the éclair shells: Combine the water, butter, and salt in a medium-sized saucepan, heat until the butter has melted, and bring to a rolling boil.

Remove the pan from the heat, and add the flour all at once, stirring vigorously.

Return the pan to the burner and cook over medium heat, stirring all the while, until the mixture smooths out and follows the spoon around the pan; this should take less than a minute.

Remove the pan from the heat, and let the mixture cool for 5 to 10 minutes. It'll still feel hot, but you should be able to hold a finger in it for a few seconds. If you have a digital thermometer, the temperature should be below 125°F.

Transfer the mixture to a mixer, and beat in the eggs one at a time; it'll look curdled at first, but when you add the last egg it should become smooth. Beat for at least 2 minutes after adding the last egg.

If you have a pastry bag, pipe the batter into 5" logs about 3/4" in diameter. Or simply use a spoon or cookie scoop to drop small mounds of the batter in a 5" line, gently spreading them into one solid pastry.

Bake the pastries for 15 minutes, then reduce the oven temperature to 350°F and bake for an additional 25 minutes, until pastries are a medium golden brown. Don't open the oven door while the pastries are baking.

Remove the pastries from the oven. Make a small slit in the top of each, and return them to the oven for 5 minutes, to allow the steam to escape. Place them on a rack to cool. When they're cool enough to handle, split each in half to make top and bottom pieces; splitting and exposing the centers to air will help keep them from becoming soggy.

To make the pastry cream: Combine the sugar and cornstarch in a mixing bowl. Whisk in the yolks.

Bring the milk and cocoa just to a simmer in a saucepan set over medium heat.

Pour a quarter of the hot milk/chocolate into the yolk mixture, whisking until incorporated. Return the mixture to the saucepan over medium heat.

Cook, stirring constantly, until the mixture becomes very thick, and just barely starts to boil. Remove the pan from the heat.

Add the chocolate and butter, stirring until melted and smooth.

Transfer the pastry cream to a bowl, and cover with plastic wrap. Cool to room temperature, then refrigerate for about 2 hours.

To make the glaze: Combine the chocolate and corn syrup in a medium bowl.

Heat the cream to simmering, then pour over the chocolate, stirring until melted and smooth. If the glaze seems thin, let it cool and set a bit before using.

To assemble the éclairs: Pipe or spoon the cream into the pastries, then dip the tops of each one into the glaze. For best results, serve immediately; or refrigerate and serve within several hours.

Store any leftover éclairs, well-wrapped, in the refrigerator for a few days. They don't freeze well, so enjoy éclairs while they're fresh!
Tips from our bakers
For a delicious whole-grain take on éclairs, try our recipe for Whole Grain Cream Puff Pastry.
We've chosen to fill our éclairs with chocolate cream because, well — why not? However, feel free to use our recipe for vanilla pastry cream, for a more traditional version. Or simply fill éclairs with your favorite pudding. Vanilla is classic, but how about butterscotch — or coconut cream?
This recipe makes a generous amount of glaze, enough to drip down the sides of the éclairs. For more conservative coating, reduce the amount of chocolate to 1/2 cup, and cream to 6 tablespoons.
Don't worry if you find yourself with a few extra pastry shells. Fill them with ice cream for profiteroles; or stuff with chicken or egg salad, for a savory accompaniment to soup or salad.
Reviews
Is it fine to double the ingredients for double the output such as the for the dough?

Richard, you can definitely double the recipe on this one! Things can sometimes get funky if you triple or quadruple, but you should be able to multiply by 2 to your heart's content. Happy baking! Kat@KAF
I made these and found out I need to extrude (?) the pastry a little slower from the pastry bag (I ended up with 24, which threw off the baking time). No biggie, lesson learned - everything came out well. Question: I'd prefer a sweeter filling. Can I simply substitute semi-sweet chips for the unsweetened baking chocolate? Thanks! - Ben

Hi Ben, since the chocolate is simply stirred in at the end of making the pastry cream, it's fine to experiment with different kinds of chocolate. A semi-sweet or even a milk chocolate might be just what you're looking for. Happy baking! Kye@KAF
I submitted a review of this recipe well before the current ones posted! It was not favorable and I do not see it posted. Are you now censuring bad reviews???? :(

Hi Sandy, and thanks for reaching out to us with your concern. Rest assured, reviews are not withheld if bakers share critical thoughts or have a poor experience with the recipe. We take customer feedback seriously and also appreciate opportunities to provide suggestions and insights that may help improve the results of the recipe going forward.

Your review may not have come through for a number of technical reasons; we've experienced some trouble with reviews containing letters with accents, such as the "e" in "eclairs" not coming through. We encourage you to try submitting your review again without these symbols, and/or consider sending your review in an email to customercare[at]kingarthurflour[dot]com so we can make sure it gets posted manually. We look forward to hearing your thoughts and providing further assistance, if it's needed. Kindly, Kye@KAF
I followed the recipe exactly and was thrilled with the results. My only "hiccup" was the bottom of the eclairs had a large indent which didn't allow for uniform filling to be piped in. My solution was to pipe filling into the top and dip the bottom into the glaze. There was quite a bit of filling left over, would love some ideas on how to use it up instead of throwing it away, it was so delicious. My entire family has deemed this a "make again" recipe.

Leftover chocolate pastry cream is a fun ingredient to use! It's known as "Baker's Pudding," so you can simply serve it in small ramekins with a dollop of freshly whipped cream and shaved chocolate on top. You can also use it between cake layers as a filling or in a trifle with cake and berries. Pastry cream can also be saved by freezing--it might not have the same smooth body and texture upon thawing, but if you're using it as a filling in another dessert, it should be just fine.

As for your choux pastry, next time try making the slits in your éclairs larger and earlier during the bake so the steam can escape; this should prevent the indents in the bottom from forming. Happy baking! Kye@KAF
This is my second bakealong and I am so proud of myself - the pastry creme is so delicious - I think the triple cocoa blend took it over the top. I did use a star tip to insert the creme. Pretty! Because I made the eclairs 4 inches instead of 5 inches I was able to make creme puffs using the leftover pastry, pastry creme and glaze. I discovered the creme puff shape is easier for me to make than the eclair shape but I am glad I made both. I made the pastry creme the day before so I used the mixer to make soften it. Thank you!!
Although I'm an experienced baker, this recipe was disappointing and I implore K.A. to take it back to the test kitchen. My Choux baked up oddly. Although the tops were fine, when I turned them over, they looked like crushed hot dog buns. Instead of having a flat base on the underside, they developed a weird narrow "platform." I know it's hard to describe. No way to cut them in half and salvage the deformed undersides. Now let's talk about the pastry cream. Awful. Yes, I know how to measure ingredients. The consistency is like glue and the flavor is bitter. I contend that bittersweet or semisweet chocolate should be used instead of UNsweetened chocolate. I was able to slightly improve the consistency and bitterness, by scalding a little milk and dissolving a little sugar in ad adding it to this mixture. Very disappointed...

Sandi, we're sorry this recipe didn't meet your expectations for a puffy, sweet pastry. It sounds like your choux may not have been piped wide enough or vented properly. Thin choux pastry becomes quite difficult to work with in the splitting and filling steps, and pastries that aren't vented early enough are often misshapen on the bottom from the steam trapped inside.

It sounds like you were expecting an all-around sweeter dessert; we opted for a chocolate filling that was rich in flavor but not overly sweet. Your taste buds may prefer the pastry cream when it's made with another kind of chocolate. Please feel empowered to make those changes if that's what you're looking for. We hope you're able to find the right recipe for you, Sandi. Kindly, Kye@KAF
I struggled with this one. The eclairs seemed to cook too quickly. Had I baked them the full time as recommended, they would have been briquettes (and yes I did turn down the oven temp as instructed). Fortunately, the pastries and the glaze tasted good, but the chocolate filling was stiff and dry such that the tops wouldn't stick. Overall, there wasn't much flavor despite all that chocolate. This is the first project I have thrown away in a very long time.

Melissa, we're sorry to hear your eclairs weren't as fabulous as you were hoping they'd be. It sounds like your oven may have been set to a convection setting, which causes the oven to be about 25°F hotter than it otherwise would be. Also, you may way to put your eclairs farther from the heat source next time, as placing them close to the broiler name burn them. If we can help adjust this recipe so it better meets your needs, please let us know via the Baker's Hotline (855-371-2253). We'd love to help. Kye@KAF
Not difficult and quite tasty. A didn't want to dig out my pastry bags and tips which were stored away, so mine were not uniform but I like how they puffed in organic ways. The pastry cream was great and ganache is always a big plus! Overall, they're a bit of work for a classic but (dare I say) plain dessert, but I am someone who likes very decadent and impressive chocolaty desserts. I am happy, however, that I tried them and am sure I'll make them again (since I discovered my husband really likes eclairs!).
Can these be frozen?

If you'd like to make your éclairs ahead of time, you can make the choux pastry, pipe and bake the shells, let them cool completely and then freeze. Store in an airtight container for up to one month. When ready to use, thaw and then return to a 350°F oven for 5-10 minutes until golden brown and crispy. (This will prevent them from becoming soggy.) Once they're cool, you can pipe with pastry cream and top with ganache. Filled éclairs do not store well, so enjoy them with a day or two. Kye@KAF
These were awesome! Everyone loved them. The filling was a dark rich chocolate. I used the Dutch cocoa with a few tablespoons of black cocoa. Next time I may try making them bite size since they were so rich. But the richness didn't stop many from having more than one :).