A customized print-friendly version of this recipe is available by clicking the "Print Recipe" button on this page.
Easy Whole Grain Pumpkin-Banana Bread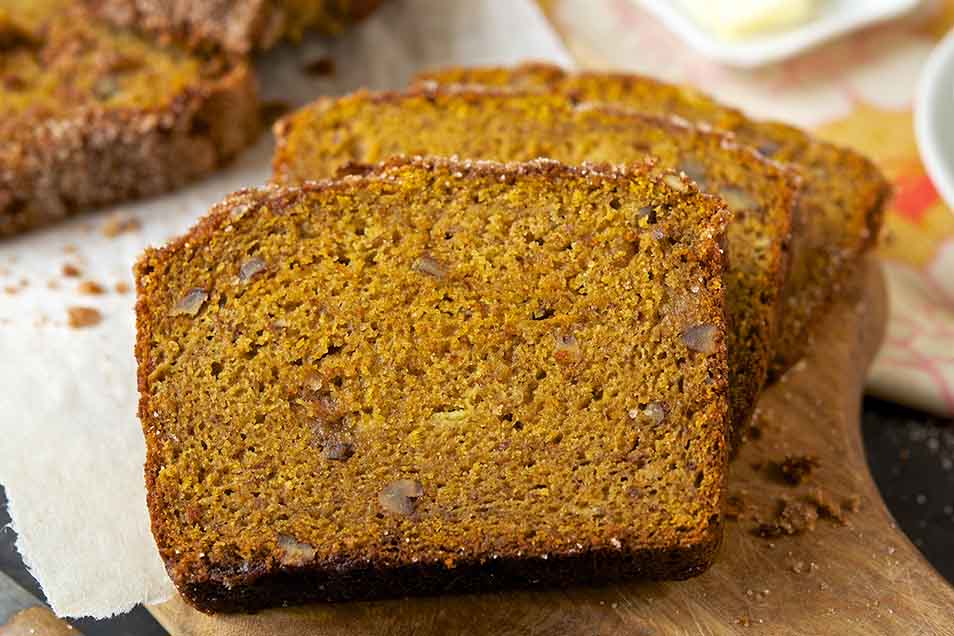 You like banana bread, right? How about pumpkin bread? This dense, moist, 100% whole wheat bread combines those two flavors in one tasty loaf.
Ingredients
1/2 cup (8 tablespoons) soft butter
2/3 cup brown sugar
3 tablespoons honey
2 large eggs
1 cup puréed pumpkin
1 cup mashed banana, the riper the better
2 tablespoons orange juice or water
1 teaspoon vanilla extract
1 1/2 cups King Arthur White Whole Wheat Flour, Premium Whole Wheat Flour, or Organic Whole Wheat Flour
1/4 teaspoon baking powder
1 teaspoon baking soda
3/4 teaspoon salt
1 teaspoon ground cinnamon
1/2 cup diced pecans, toasted
1 tablespoon coarse white sparkling sugar, to sprinkle on top
*Using a scant cup (7 1/2 ounces) pumpkin is fine; that way, you can get two recipes out of a single 15-ounce can of purée.
Instructions
Preheat the oven to 350°F. Lightly grease an 8 1/2" x 4 1/2" loaf pan.

In a large bowl, beat together the butter, sugar, honey, eggs, pumpkin, banana, orange juice or water. and vanilla.

Add the flour, baking powder, baking soda, salt, and cinnamon, stirring to combine.

Mix in the nuts, if you're using them.

Spoon the batter into the prepared pan. Sprinkle the top of the loaf with coarse white sparkling sugar, if desired. Allow the batter to rest for 15 minutes, uncovered.

Bake the bread for 55 to 70 minutes, or until a cake tester or toothpick inserted in the center of the loaf comes out clean; and that same tester inserted about 1/2" into the top of the loaf doesn't encounter any totally unbaked batter.

Remove the bread from the oven, and cool it on a rack. When it's completely cool, wrap it well in plastic wrap, and store it overnight before serving.
Nutrition Information
Serving Size

1 slice (73g)

Servings Per Batch

16
Amount Per Serving:
Calories

190

Calories from Fat

80

Total Fat

9g

Saturated Fat

4g

Trans Fat

0g

Cholesterol

40mg
Sodium

210mg

Total Carbohydrate

24g

Dietary Fiber

2g

Sugars

15g

Protein

3g
* The nutrition information provided for this recipe is determined by the ESHA Genesis R&D software program. Substituting any ingredients may change the posted nutrition information.
Reviews
Because there's nothing better to do on a record breaking sub-zero day I decided to bake using some of the leftover holiday baking ingredients. I made muffins (12) and 1 mini loaf using this recipe and they turned out absolutely perfect, moist and not at all crumbling apart. Because I can't leave well enough alone I did tweak things a little. I used the Organic Wheat Flour and to the dry ingredients added 1/4 tsp pumpkin pie spice. I did cream the butter (unsalted) and brown sugar before adding to the rest of the wet ingredients. I did not add the o.j./water or the nuts and did not sprinkle with sugar before baking. The muffins baked in about 24 minutes, the mini loaf in 27 minutes, all rose perfectly. They haven't even been out of the oven 2 hours and my husband and I have devoured the mini loaf, I can't imagine it tasting any better after sitting longer! As soon as I get more bananas I'll be baking this again (with the left over pumpkin)!
too many wet ingredients as I feared during prep. Never could get it done-spongy horrible middle.

Hmm, we're not sure why that might have happened, Tina! A few things could make this end up too wet, ranging from using a different brand of flour with a lower protein content to having a "lying oven" with a temperature that's lower than the one it indicates. We'd encourage you to call our Baker's Hotline at 855-371-BAKE (2253) so that we can help you figure out what went awry for you when using this well-loved and popular recipe. Happy baking! Kat@KAF
We LOVED this recipe. I'm so happy to add it to my "Favorites" cookbook.
I have made this recipe four times over the last few weeks for the holidays. I made it once as written using an 8 x 4 1/2 loaf pan, once with the KAF tea loaf pan, once with the six cup heritage loaf pan, and once in a six cup Bundt pan. All came out great! The only difference is the cooking times. The heritage loaf pan and Bundt pan were both done in 55 minutes; the tea loaf pan was done in 50 minutes; and the 8 x 4 1/2 loaf pan was done in 65 minutes. The only change I made to the recipe was to cream the butter and brown sugar together first (as recommended by another reviewer) then added the liquid ingredients, beat again, then the dry ingredients. I highly recommend this recipe.
I followed the recipe exactly however I divided it into to small pans. It didn't rise like most quick breads. It's a very heavy and moist bread, not as tasty as I had hoped. I'm bummed as one loaf was going to go to a friend. I will have to bake something else. :-(

We're sorry to hear this recipe didn't turn out quite like you hoped it would. Usually, if loaves are heavy they're also dry, so we're surprised that your bread was still moist. This may indicate a measuring error or that something else went awry. We hope you'll give our Baker's Hotline a call at 855-371-BAKE (2253) so we can troubleshoot with you further. Kindly, Kye@KAF
Baked as the recipe stated. However, and I should have known better- next time I will cream butter and sugar first. I baked for 55 minutes and it's perfectly done. Very moist and delicious. Please explain why it needs to rest overnight in fridge. Needless to say I did not wait I will store leftover in fridge to see the difference.

We're glad you enjoyed this bread, Diane. The reason we recommend allowing it to rest overnight is to give the bran of the flour a chance to soften. It makes the texture less crumbly and the flavor a little less "wheat-forward" allowing the pumpkin and banana flavors to really shine. Annabelle@KAF
Excellent recipe: we all loved it! I did a few changes: I used fresh pumpkin, which is always esp delicious. I used a bit less sugar. I added some vanilla yogurt; I added that because I had a lot and just threw in about 1/2 cup. I also added a bit of super dark chocolate chunks. The only other change I made was the addition of an extra egg white.
Had roasted up 4 pie pumpkins yesterday and so decided to try this recipe for a change from my regular pumpkin loaf. Delicious! I will definitely be making this again!
Ok, this is an amazing recipe . This pumpkin banana bread recipe is delicious ! It requires no improvement and if it didn't come out right you did something wrong. I'm not a master baker and it came out perfect. Well done !
WAY TOO SWEET & BLAND as written! Also recipe totally fills an 8.5x 4.5 pan. I also used a mini bread pan since a couple reviewers warned about spillover. The bread does not rise much and doesn't have a full dome. It's somewhat flat after cooling. I had to bake the full 70 minutes. It was very moist but bread would've burned if I baked longer. It probably could've used another 5 minutes. The flavor was unusual but nor not unpleasant. The sweetness WAS unpleasant and totally overpowered the flavor profile. It seemed baked but very moist having a slightly mushy texture towards the bottom of the loaf after resting overnight. I would've preferred more nuts. I used grams while preparing to be more accurate. my bananas were very ripe. I think the sweeteners should to reduced to no more than 1/2 cup total. After all this is a bread - not cake. Reducing the sweetener would also reduce the moisture helping with the overly moist texture and requiring less bake time. I think the 2 TBSP OJ or water are unnecessary - I would wait until after adding the flour to see if the batter looks like it needs more liquid. Spices are matter of personal preference but if just using Cinnamon - I would double it to 2 teaspoons. For my taste I would use 1.5 tsp Cinnamon, plus .5 tsp freshly ground nutmeg, .5 tsp ground ginger & .25 tsp ground cloves. I did let the batter rest in the pans before baking. I used white whole wheat flour. cooled the bread for 20 minutes before removing from pan. let cool completely a wrapped well. let it sit overnight. (we baked the mini for 45-30 min & ate after it came out of the pan.) We ALL thought the bread was horribly sweet. I tale partial blame because I should've compared it to a few other recipes. I definitely think King Arthur should rework the recipe. I read ALL the reviews and only 1 other said they cut the sweetener. It's such a shame that folks are wanting so much sugar.

We're sorry to hear that this well-loved recipe didn't do the trick for you, Abbie. If we can help pick out a recipe that better fits your tastes, please give our Baker's Hotline a call at 855-371-BAKE. Kindly, Annabelle@KAF