A customized print-friendly version of this recipe is available by clicking the "Print Recipe" button on this page.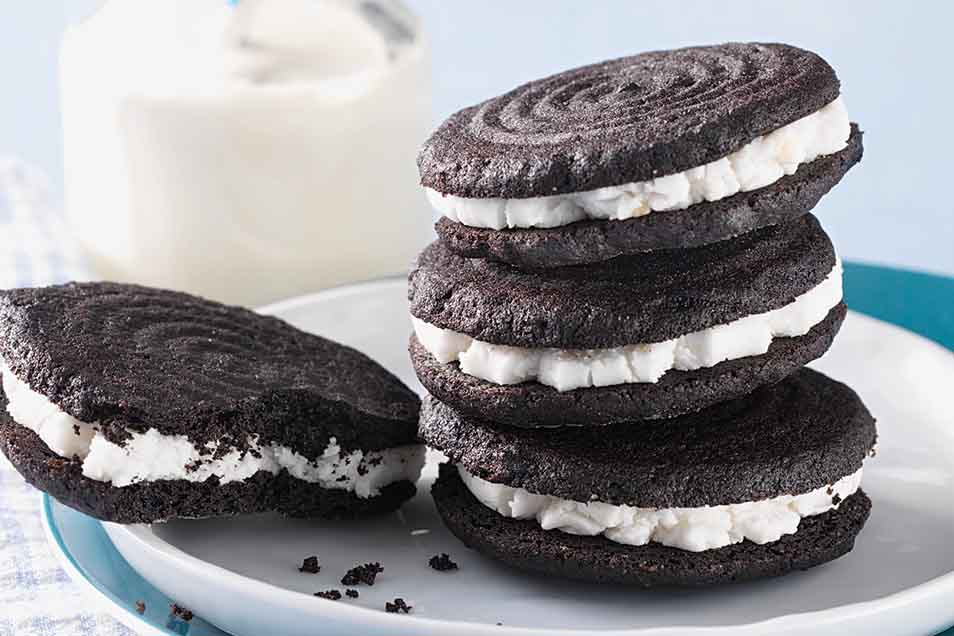 Who doesn't love these dark-as-sin sandwich cookies? Who hasn't ALWAYS loved them? They're a childhood favorite, but let's face it; many of us still rank them #1 in our personal Cookie Hall of Fame.

This updated classic includes trans-fat-free shortening in the filling, and organic white whole wheat flour in the cookie. Use our regular King Arthur Unbleached All-Purpose Flour (or our unbleached organic flour) if you must; but trust me, you'll never know you're eating whole wheat when you bake with our King Arthur 100% Organic White Whole Wheat Flour. I say this with pride: it's the best flour on the planet!

P.S. Spring for the black cocoa, too; it makes these cookies black as a moonless night, just like the supermarket originals.


Ingredients
Filling
2 1/2 cups confectioners' sugar
1/2 cup vegetable shortening
1 teaspoon vanilla extract (omit if you're making the peppermint version)
2 teaspoons cold water*
Instructions
Preheat the oven to 325°F. Lightly grease (or line with parchment) two baking sheets, or more if you have them.

To make the cookies: In a medium-sized mixing bowl, beat together the sugar, butter, salt, and espresso powder. That's right; there's no leavening in this recipe, so don't worry that something's been left out.

Beat in the egg, water, and vanilla, then the flour and cocoa. The dough will be very stiff.

Roll the dough into balls about the size of a chestnut (about 2 level teaspoons). A teaspoon cookie scoop works fabulously here, as well as for the filling. If you don't have one, consider a purchase; you won't regret it. Place the dough balls on the prepared baking sheets, leaving about 1 1/2" to 2" between them.

Use the flat bottom of a glass, dipped in cocoa as necessary to prevent sticking, to flatten the cookies to about 1/8" to 3/16" thick. The end of a food processor's pusher tool works well here, too. Take a ruler and measure the cookies' thickness; you want to get pretty close to this measurement, for the best-textured cookies.

Bake the cookies for 18 to 20 minutes. It's important to bake them just the right amount of time; too little, and they won't be crisp; too much, and they'll scorch. Watch them closely at the end of the baking time, and if you start to smell scorching chocolate before the time is up, take them out. When they're done, remove the cookies from the oven, and allow them to cool completely, on a rack or on the pan.

While the cookies are cooling, make the filling.

Beat together the sugar, shortening, and vanilla. It'll seem very dry at first, but will eventually begin to clump together.

Add the water, beating till smooth and spreadable. The filling should be stiff, but not so stiff that you can't flatten it when you sandwich it between the cookies.

Place one level tablespoon filling in the center of one cookie; again, a teaspoon cookie scoop, slightly heaped, is perfect for this task. Place another cookie atop the filling, and squeeze to distribute the filling evenly. Repeat with the remaining cookies. Store in an airtight container.
Tips from our bakers
For cookies with pink peppermint filling, add the following to the filling: 6 standard candy canes (or 3 ounces hard peppermint candies), finely chopped. Increase the water in the filling to 2 tablespoons.
Reviews
I just saw this recipe this afternoon & couldn't wait to make it. They are SO GOOD!! I have missed Oreos since coming Celiac. I made these with the Measure For Measure gluten free flour. I had seen another faux oreo recipe somewhere else but it required the dough to be rolled out and cut. This was so much easier. I will be making these again and again! Thank you!
These cookies turned out perfect. Thank you. I was worried that using cocoa as the non-stick agent on the glass bottom would make a bitter cookie, so I used regular granulated sugar.
I love the filling but it was a tiny bit too sweet (yes, I have tasted Oreos, but still). Is there any way to cut down the sugar without changing texture? I also needed quite a bit more water to make spreadable.

Amy, feel free to reduce the sugar in the filling if you like by as much as half; it will be more spreadable the less sugar you use. If you only add about 1 1/4 cups of sugar, you might want to add some cream cheese to the mixture to help increase the volume. Only add the additional water if needed to make it the right consistency. Happy baking! Kye@KAF
These were very tasty and worth a little bit of extra effort to make. I don't have any good ideas on how to measure the thickness that was specifically recommended so my cookies did not have a consistent texture. The edges were crunchy and the middles were chewy, but I didn't care because they were yummy either way!

Pastry Pins or Pastry Rings are both helpful tools that ensure your dough will be an even thickness from edge to edge. Consider taking a look at these items in the shop section of our website if you'd like to make perfectly rolled out dough next itme. I hope that helps! Kye@KAF
My kids call these delightful cookies "Mom-eos". Since we have wheat sensitivities, but tolerate spelt, I substitute 7.5 oz of white spelt flour. (My white spelt runs about 4.5 oz to a cup, and I add 10% more in wheat recipes.) In my convection oven, 13 minutes is perfect. I appreciate all tips in the reviews! My food processor plunger dipped in water, and quickly blotted on a paper towel, provided just the right tool to flatten the cookies. Quick, patting motions worked best to keep the cookies from sticking. Recently, I made a double batch, and refrigerated the dough overnight. The stiff dough became super stiff the next day! Luckily, my teenager who requested the cookies for a day with his friends provided the muscle to scoop the cookies while I flattened. :)
ok. just remade recipe. added 1 tsp baking soda during creaming process. cooked 22 min at 325. excellent crunch like an oreo (never had a joereo). used 1tsp of finely ground expresso in order for the soda to have something acidic to interact with. subbing a TB of honey for some sugar might work too but i wanted to ensure i had structure that comes with sugar and i love espresso. another trick (adapted from ATK) - put cookie presses in freezer prior to pressing cookies to help them stick less. enjoy!
5 stars. baked 22 min to get crisp crunch. used KA cookie stamps and the pattens held beautifully after baking. used 2 tb to get good texture on cream. cream spot on. wondering if a bit of leavening (like baking soda in oreos) would seal the deal on that particular cookie crunch. yummy.
I bake for my son's college team's matches each week. Like a lot of kids, chocolate chip cookies and brownies have always been their favorite cookies, but it gets pretty boring for a baker to make those over and over. Looking for something new that would fit the bill, I came upon this recipe for Faux-reos, and added it in to the list of baking for this weekend's three day extravaganza, which is know as Nationals. Since I am currently dieting, I asked my husband to try one when he came home from work, just to make sure that they were ok. He claims to not like sweets, so his reaction surprised me -- he said it was the best cookie he ever had. Unfortunately, this recipe makes too few, and I will have to make again, and probably double it next time!
This was the very first recipe I tried with black cocoa, which was such a cool experience! I cannot find black cocoa locally and up until a few weeks ago, I didn't even know it existed, nor did I know that that was what is in those black cookies! I was excited to make a cookie that looked and tasted like the store-bought version! I didn't get to the icing part, though. I used mine for crumbs. I did reduce the sugar in the recipe, because, I found through my baking experience that you can considerably reduce the amounts of sugars without changing the taste or the texture of your product. But not in this recipe. Although I love the taste of dark chocolate, I found these a bit too bitter. I guess because the black chocolate is so strong, you really need to use the intended amount in the recipe. My advice is DO NOT reduce the amount of the sugar in this recipe. Still, even though I found them a bit bitter, my kids and husband enjoyed tasting them and had no complaints. Also, a weird tip for getting your cookies onto the sheets: I have a deli-quality food slicer and I am always looking for ways to get my money's worth from it. If you chill and roll your dough (like refrigerator cookie dough), then set your slicer to the thickness you want, they will slice beautifully and evenly. You may need to work fast or re-chill your dough if it gets the slightest bit soft. Don't use frozen dough, though. It may crumble or crack if you do.