A customized print-friendly version of this recipe is available by clicking the "Print Recipe" button on this page.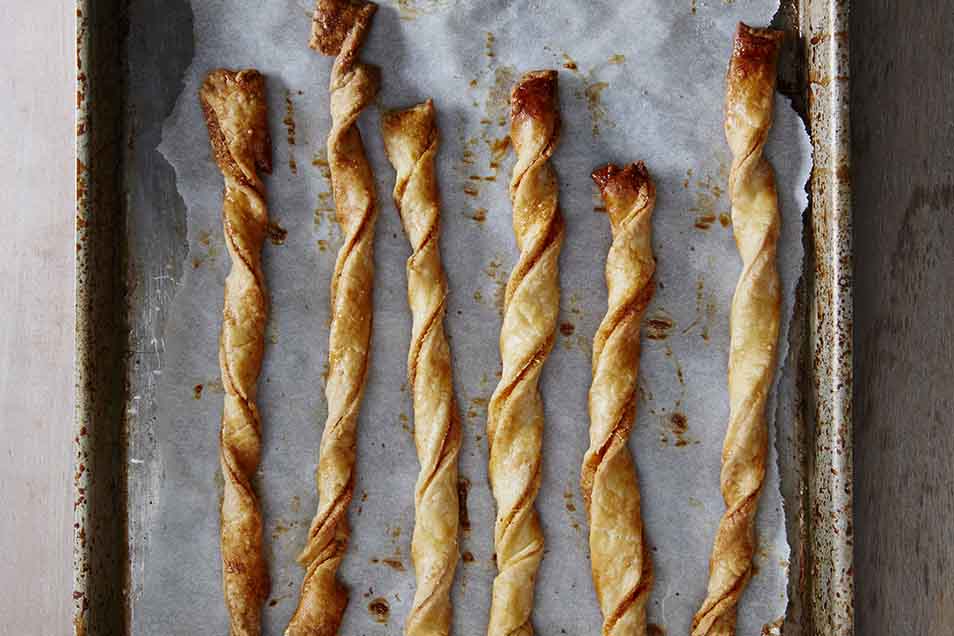 These tender, assertively cheesy pastries are absolutely addictive.
Ingredients
Straws
one generous pound (about 18 ounces) puff pastry*, chilled and ready to roll
3/4 cup freshly grated Parmesan cheese
1 teaspoon paprika, optional, for color
1/8 teaspoon cayenne pepper, optional
1 large egg beaten with 1 tablespoon water, for glaze
*Our Fast and Easy Puff Pastry recipe is exactly as advertised: fast, and easy. Give it a try!
Instructions
Preheat the oven to 400°F. Ready a baking sheet by lining with parchment, if you have it; otherwise, just get out a baking sheet, no need to grease it.

Place the pastry on a well-floured work surface, and roll it into a 12" x 24" rectangle, about 1/8" thick.

Brush some of the beaten egg/water over the dough, saving the remainder for later.

If you're using the paprika and/or cayenne, mix with the grated cheese. Sprinkle the cheese over half the pastry (12" x 12" piece of pastry).

Fold the dough without filling atop the piece with filling, to make a 12" square.

Gently roll till the two halves stick together; you'll now have a rectangle about 12" x 13".

Cut the rectangle in half lengthwise to make two rectangles, each 6" x 13".

Cut each rectangle crosswise into 3/4"-wide strips; you'll cut about 17 strips from each piece of dough, about 34 strips total.

Pick up a dough strip and twist each end in opposite directions until the dough is a spiraled cylinder. Place it on the prepared baking sheet. Repeat with the remaining dough strips, leaving about 3/4" between them.

Brush with the remaining egg wash. Sprinkle very lightly with salt, if desired.

Bake the twists for 12 to 15 minutes, until they're golden brown. Remove them from the oven, and cool slightly on a rack before serving.

Yield: about 34 cheese straws.
Tips from our bakers
Want to make, shape, freeze, then bake these cheese twists on demand? It's easy. Prepare twists right up to the point of baking: shape, place close together on a lightly greased or parchment-lined baking sheet, and brush with egg wash. Cover the baking sheet with plastic wrap, and freeze twists till solid; this will take about 90 minutes. When frozen, remove twists from the baking sheet, and wrap well in plastic. When you're ready to serve, there's no need to thaw first. Simply remove twists from the freezer, place on a baking sheet, and bake in a preheated 400°F oven for 15 to 17 minutes, until golden brown.
Reviews
Flaky and delicious, huge hit as a Thanksgiving appetizer. However, I used the "classic blitz puff pastry" I learned at the pie and pastry class at KAF after reading the negative pastry reviews from other bakers (8 oz flour, 1/2 tsp salt, 8 oz unsalted butter, 4 oz water). Will definitely make again (and again and again).
I'll have to try this again, because this first attempt was pretty blah. The dough was most uncooperative and would not come together well even with water added, then would not roll out thin and the edges were just big crumbles. Then it was so thick and stiff I could not twist the dough without breaking it, so ended up with fingers instead of pretty twists. I used Parmesan as called for, and honestly, these taste just like Cheez-Its to me... not worth the effort for that. I'll try again using more sour cream, and a different cheese.
These are delicious! I made these with a combination of gruyere and fontina since I already had them on hand from another recipe. If anything I think they could stand to have just a bit more of a kick, I'll add a bit more cayenne next time, but that's definitely a personal preference. My husband and I couldn't stop going back for "just one more".
I used store bought puff pastry sheets, so I can't rate the dough part of this recipe. As far as the final product, I wish they tasted more cheesy. Otherwise, they were light and airy with pleasant taste. But, by no means there was a "wow" factor for me.
Tasted like pie crust. Will use traditional puff paste next time : (
Great recipe. The only issue I had was when I was sprinkling them with salt before baking. You can't see the salt on them so you might tend to sprinkle too much so adding the words lightly sprinkle with salt would help. I used sea salt with is lighter in flavor so I think that saved me. I did have to add more sour cream to the dough, it was just too dry and crumbly. They are so easy and make you look like a pro!
Super yummy. And the puff pastry recipe is amazing! My kids, who are probably some of the pickiest on the planet, liked these twists. I baked half of the recipe and froze the other half for later.
Nice and flaky, just like a really good pie crust. This recipe reminds me a bit of the twisty cinnamon snacks my mom used to make with pie crust scraps. I would probably kick up the cheese, cayenne and the salt just a bit next time. I made these after work yesterday to bring to a New Years Eve party--so easy and so good! I have yet to try to a KAF recipe that earns less than five stars. You all are the best!
So delicious and wonderful! I liked the fact that I could make these a day or so ahead of my Christmas gathering and just pull them out of the freezer and bake them off when I was ready! It made entertaining just a bit easier. I will definitely make these again.
These were so good, friends have already asked when I am going to make them again. And I also wanted to say thanks for the Fast and Easy Puff Pastry recipe. Plan to keep a batch in the freezer from now on.