A customized print-friendly version of this recipe is available by clicking the "Print Recipe" button on this page.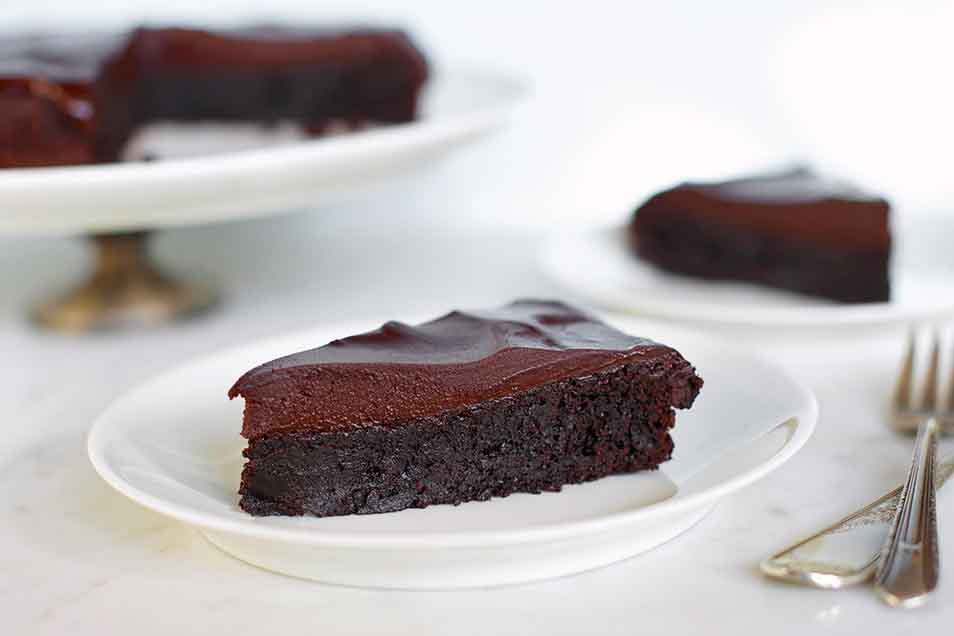 This flourless cake, featuring both chocolate and cocoa, is rich, rich, RICH! A chocolate ganache glaze takes it over the top. And, since it contains neither flour nor leavening, it's perfect for Passover. And, of course, also ideal for those following a gluten-free diet.
Instructions
Preheat the oven to 375°F. Lightly grease a metal 8" round cake pan; cut a piece of parchment to fit, grease it, and lay it in the bottom of the pan. See "tips," below.

To make the cake: Put the chocolate and butter in a microwave-safe bowl, and heat until the butter is melted and the chips are soft. Stir until the chips melt, reheating briefly if necessary. You can also do this over a burner set at very low heat. Transfer the melted chocolate/butter to a mixing bowl.

Stir in the sugar, salt, espresso powder, and vanilla. Espresso enhances chocolate's flavor much as vanilla does; using 1 teaspoon will simply enhance the flavor, while 2 teaspoons will lend a hint of mocha to the cake.

Add the eggs, beating briefly until smooth. Add the cocoa powder, and mix just to combine.

Spoon the batter into the prepared pan.

Bake the cake for 25 minutes; the top will have formed a thin crust, and it should register at least 200°F on an instant-read thermometer inserted into its center.

Remove it from the oven, and cool it in the pan for 5 minutes.

Loosen the edges of the pan with a table knife or nylon spreader, and turn it out onto a serving plate. The top will now be on the bottom; that's fine. Also, the edges will crumble a bit, which is also fine. Allow the cake to cool completely before glazing.

To make the glaze: Combine the chocolate and cream in a microwave-safe bowl, and heat until the cream is very hot, but not simmering. Remove from the microwave, and stir until the chocolate melts and the mixture is completely smooth.

Spoon the glaze over the cake, spreading it to drip over the sides a bit. Allow the glaze to set for several hours before serving the cake.

Yield: 8" cake, 8 to 12 servings.
Nutrition Information
Serving Size

1 piece (76g)

Servings Per Batch

12
Amount Per Serving:
Calories

300

Calories from Fat

180

Total Fat

20g

Saturated Fat

13g

Trans Fat

0g

Cholesterol

80mg
Sodium

75mg

Total Carbohydrate

33g

Dietary Fiber

4g

Sugars

27g

Protein

4g
* The nutrition information provided for this recipe is determined by the ESHA Genesis R&D software program. Substituting any ingredients may change the posted nutrition information.
Tips from our bakers
Can you line your pan with wax paper instead of parchment? Yes. While wax paper shouldn't be exposed to direct oven heat, it's fine when used between cake batter and pan.
If desired, garnish cake with 1/4 cup sliced almonds, toasted in a 350°F oven until golden brown, about 10 minutes.
For cleanest slicing, use a sharp knife dipped in hot water and wiped dry. Repeat dipping knife in hot water and wiping dry for each slice.
Reviews
Not a review, but I've got some questions: 1) Could you bake this recipe in a 9-inch cake pan if you don't have an 8-inch one; 2) If I do as above, do I need to decrease (or increase) the ratio/ingredients by a certain percentage; 3) How long will it take to bake as above; 4) If you wanted to add spices in the batter (such as cinnamon & cayenne for a Mexican Chocolate Cake), could you do that? And if so, how much do you need to add without overpowering the chocolate? And when should you do that? Happy Holidays! -S

Increasing from an 8" pan to a 9" pan requires a bit of fincky math, but you're welcome to give it a go if you're up for it. If you're measuring your ingredients using grams then it's slightly easier than using ounces or volume; multiply all of your ingredients by 1.2x. Or you can simply prepare the recipe as it's written and bake it in a 9" pan knowing that the final cake will be a bit shorter than it otherwise would be. You might want to reduce the baking time by about 3 to 5 minutes if you bake the un-adjusted volume of batter in a 9" pan since it'll be thinner.

If you'd like to add spices, feel free to do so, adjusting the amount to taste. 1/2 teaspoon of cinnamon will be quite subtle; a full teaspoon will be robust. You might want to start with just a sprinkle of cayenne to ensure that the final flavor isn't too spicy. Using 1/8 to 1/4 teaspoon will add a lot of zing! You can add the spices in step 3 along with the espresso powder and vanilla. Happy baking! Kye@KAF
This is honestly the most amazing flourless chocolate cake I've ever baked/tasted. HIGHLY recommend this recipe. Don't mess with it, it's perfect the way it is!! Question: Can you double batch for a higher cake? And if I do that, do I need to mess with the baking time?

Hey Anna! For best results, we'd recommend making the double batch and baking them as two separate layers that you can then stack. If you want to add some of the fudgy frosting in the middle, make a double batch of that as well. Happy baking! Annabelle@KAF
This cake was soooo good. And sooo easy to make. I made it last night and had it for my daughters birthday. Everyone loved it! I always think chocolate cake 'blooms ' if you let it sit for a day before eating it. Sprinkled the top with some pyramid salt. Mmmmmm ( I only made half the ganache.) Perfect!
This turned out exactly as I wanted - rich and delicious. I served it with a raspberry coulis. It's become my 'go-to' cake when I want something special.
Great cake. I want to make two 9 inch versions to serve to a crowd. Can you advise about how to increase the pan size? Would I make a 2.5 batch and bake longer? Or at a lower temperature given it is a bigger pan?

Hi Ann. A 2.5x batch sounds right to us, and the bake time will likely be quite similar — potentially 3 to 5 minutes longer. You won't need to change the temperature at all. Happy baking! Annabelle@KAF
Hello! I baked this flourless cake with a few deviations and still this flourless cake came out AH-MAZE-ING!!! First I used what I had on hand ghee in place of butter, Belgian coco powder in place of expresso and coco powder mentioned. One tbs of vanilla and cooked the cake up until 25 mins. Crust came on nice with warm soft inside still present. I used coconut cream in place of cow cream and the frosting came out fantastic! Thank you for your instructions!
This is a delicious flourless chocolate cake! I give it rave reviews. It is definitely a crowd pleaser. I making this for a friend on Thursday night and she told me she was going to use it Friday for a party but now would like to use it on Sunday. Is this not a good idea? I think it would be best eaten by Saturday...what is your opinion?

If you're going to have a cake sit around for a couple of days, Ali, this is a pretty good one to go with. It should be just fine! It can be stored in the fridge, you'll want it in a container or covered with plastic wrap — though not touching the surface — to keep it from drying out. Give it a couple of hours to come to room temperature before serving. Happy baking! Annabelle@KAF
Outstanding recipe! Though not light like the ones where the eggs whites are beaten separately with a hand mixer, and then folded in, this is any chocolate lover's dream cake. Turns out right every time.
This was super easy to make. Do you have a recommendation to make this dairy free? Coconut oil, maybe?

We're glad it was a hit, Emily! We'd recommend using vegan butter in place of the butter in the cake and canned coconut milk for the heavy cream in the glaze. Happy baking! Annabelle@KAF
So delicious! I topped it with Raspberries for my husband's birthday.