A customized print-friendly version of this recipe is available by clicking the "Print Recipe" button on this page.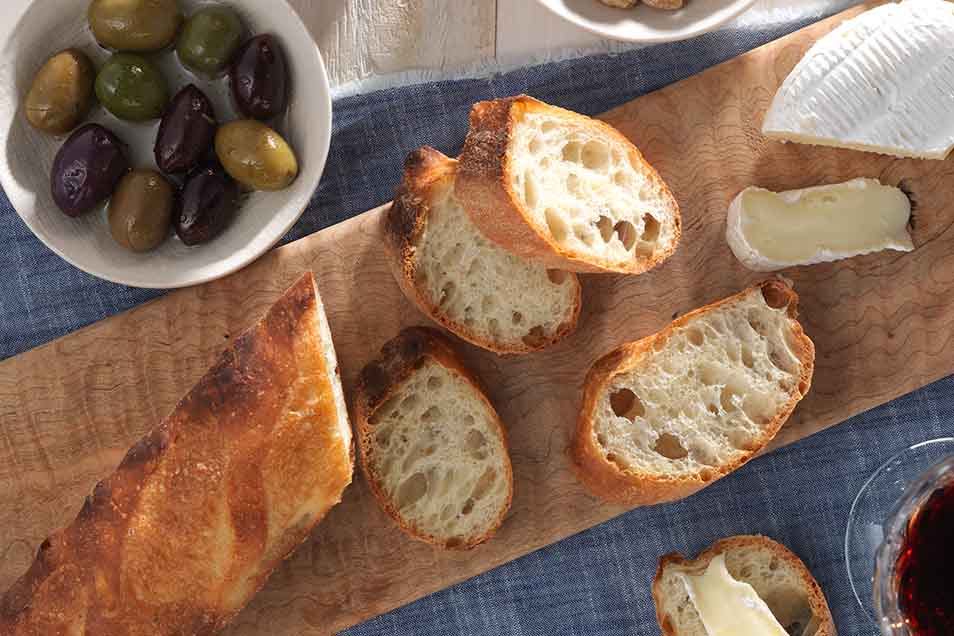 This recipe has appeared on the back of our bags of French-Style Flour for years, and we figured it was about time to feature it here on our Web site. French-Style Flour is our preferred flour for making authentic French-style baguettes, so we encourage you to splurge on this unique product.
Instructions
In a large bowl, stir together the flour, 1 cup of water, yeast, and salt until thoroughly combined, adding additional water if necessary to make a soft dough. Cover the bowl and let the dough rest for 30 minutes.

Knead the dough — by hand, mixer, or bread machine — until smooth. Transfer it to a lightly greased bowl, cover, and let rise until doubled in bulk, about 1 1/2 hours.

Fold the dough over onto itself several times. Return it to the bowl, cover, and let rise until doubled in bulk again, about 1 1/2 hours.

Transfer the dough to a lightly greased work surface and divide it into three pieces.

Stretch the dough pieces into 15" to 18" long loaves, and place them on a lightly greased or parchment-lined baking sheet; or into a lightly greased baguette pan. Cover the loaves and let them rise for about 1 hour.

Preheat the oven to 450°F.

Slash the loaves diagonally, and generously spray them with warm water.

Bake the baguettes for 20 to 25 minutes, or until they're a deep golden brown. Remove them from the oven, slip them off the pan, and return them to the oven rack. Turn the oven off, and crack the door open about 1". Allow the baguettes to cool fully in the oven.

Yield: three 15" to 18" baguettes.
Nutrition Information
Serving Size

1 slice (17g)

Servings Per Batch

36 (12 per loaf)
Amount Per Serving:
Calories

40

Calories from Fat

0

Total Fat

0g

Saturated Fat

0g

Trans Fat

0g

Cholesterol

0mg
Sodium

95mg

Total Carbohydrate

8g

Dietary Fiber

0g

Sugars

0g

Protein

1g
* The nutrition information provided for this recipe is determined by the ESHA Genesis R&D software program. Substituting any ingredients may change the posted nutrition information.
Reviews
WOW WOW WOW!! So beautiful, nice toasty crust, soft inside...My guests loved this
Okay...first try and I just have messed something up! The dough rose nicely and the crumb cake out fantastic and chewy with nice air bubbles. How web, they baked flat and didn't brown well :(. Will try this again, but maybe with a smaller batch to get just one or two loaves. I will persevere!
It was the first time for me to bake a baguette and I loved it.. it was easy and short compared to many other recipes I read... crunchy crust which I love and soft from inside... I would have loved it more if I had holes inside... don't know why I didnot get them as the picture though I followed all the steps...

Sana, we're so glad that you enjoyed this baguette recipe! As far as getting those big, beautiful holes in your bread, that's one of the most common questions we get here at King Arthur Flour! Ultimately, it's a challenge that bakers practice for a long time to master, as it can be quite tricky. To get you started, though, we have an article called "How do you make that bread with the big holes," which is a great resource. It's talking about ciabatta rather than baguettes, but the science behind it is the same. And as you work on conquering the baguette, you're always welcome to call the friendly and experienced bakers on our hotline at 855-371-BAKE (2253), who can help you tweak your process and get closer to the baguette of your dreams. Happy baking! Kat@KAF
Bread tastes good but not a fan of rock hard crust, yes the inside is tender but had to put bread in microwave to soften crust. For the effort it takes, it's way better to grab a baguette already done for 1-2$

Hi Shawn, thanks for reaching out! French baguettes are traditionally quite crusty, which can be surprising to those of us in North America who are accustomed to softer breads. The baguettes you find in the grocery store here are typically made to account for local tastes, which of course makes sense. You might be more interested in our Italian Hearth Bread recipe, which you can also find by searching our website. It has a softer crust, which might be more to your taste. Happy baking! Kat@KAF
This recipe made nice small baguettes. They had nice texture and a nice crunch. When I make this again, I need to remember to reduce the salt a pinch as they were just shy of too salty. I did enjoy the first baguette as dessert...will likely start another with my morning coffee.
I recently bought a "crusty Baguette" from the bakery section of a higher end supermarket here in Florida, and Having grown up in New York, I was lamenting the lack of good French/Italian/Baguette bread available here. Decided to give baking my own a try, I own a bread machine but am tired of the boring square bread cube, I wanted a Baguette!!! Tried this recipe, Set the bowl out under a cloth in the florida sun to rise, cut the dough in 3 parts, one part I made into a baguette, didn't have a fancy pan so just set it on a cookie sheet. Then I had some Emile Henry ramekins, sprayed Pam in them and cut second third into equal chunks and placed in ramekins. Third I rolled skinny and as an experiment, placed in my GoSun solar cooker, its a tray that slides into a glass vacuum tube in the middle of two polished mirror reflectors and cooks to 400 degrees using nothing but sunlight. UNBELIEVABLE!!! The rolls were my favorite, so crusty and chewy with such flavor... The baguette in the oven was incredible, blows away anything you can buy in the store, and surprised while the solar cooker didn't produce a crunchy a crust, the bread was still delicious and very edible, Nice to know how easy it will be to make fresh bread each day while sailboat camping using only solar power! New weekend tradition at my house, My 7 year old loves to knead and help make the bread, and theres never a scrap left over to go stale were keeping the butter people in business! I have a plan to sell my bread machine on Ebay and use the funds to buy a proper EH baguette dish, Thanks for an incredibly easy and fool-proof recipe!!! Damien
I made this recipe for the first time yesterday and am so pleased with the results! The baguettes were crunchy on the outside, soft and airy on the inside, and delicious They were a great accompaniment to my homemade beef stew. Is there a way to store them so they stay crunchy? They are still delicious on day two, but the crust is no longer crunchy. Thank you for another great recipe!

Part of what makes baguettes so special is that they're ethereal: They're only at their prime for a day or two. If you'd like to try to keep your baguettes fresh, store in a paper bag at room temperature. Before serving, try spritzing the baguettes with water and putting into a 350°F oven for about 3 to 5 minutes. They'll crisp back up and be almost as good as when they first came out of the oven. Happy baking! Kye@KAF
I made this recipe today using the King Arthur all purpose flour as suggested. I followed the recipe carefully and like others, found the dough to be extremely soft and and the loaves a challenge to form. Once placed on the prepared pan the loaves flattened and spread into each other. I baked as directed, although for an additional 10 minutes. The result is my loaves are delicious and crispy and with a lovely tooth/texture inside - but very flat! Thoughts?

We're glad to hear your baguettes were tasty and had good texture, Phoebe — that's no small feat! We're happy to help out with the spreading. It sounds like the dough could have either used a bit more kneading or a bit more flour. We're not sure about you but we've been having crazy weather here, including some pretty high humidity. On those humid days, it can help to decrease your water by about 10% because flour will absorb any moisture it can — even from the air.

You mentioned that the loaves flattened after they'd been moved to the pan. That's usually a sign that they'd over-risen and collapsed before going into the oven. We encourage you to check out the blog article associated with this recipe, Classic Baguettes Bakealong: Challenge 11 to see some helpful visuals throughout each step. Those photos should give you a hint as to wear things may have gone awry. If your dough looked like the one in the pictures, the problem was likely over-rising. If your dough was too slack, it likely needed to have a small reduction in liquid. We hope this helps! Annabelle@KAF
OMG. I can't believe I made baguettes this good - as in artisan bakery good, not "passable for home baked bread." This recipe is easy, and forgiving on rise times. I used the steam method described in the KAF recipe for Classic Baguettes, and I found a KAF video on Youtube that shows how to shape your baguettes into the long, pointy loaves you see in bakeries. This recipe did not disappoint. It produces crispy, brown crust and a perfectly textured, chewy and bubbled interior that tastes amazing. I cut one of the baguettes into an epi de ble and it came out beautifully. Only thing I would do differently next time is use more flour/cornmeal on the parchment during the final rise, to keep it from sticking. (I used parchment so that I could just slide it onto a pan without disturbing the baguettes much.) Thank you, KAF!
Tried this for the first time today. I have been using a baguette baker, so the loaves are fairly uniform. Mine today look homemade, but the taste and crust is amazing. I just need to work on my shaping. I used KAF unbleached AP flour. Very pleased with the outcome. I often make your easy baguette recipe. I like that for the simple 2-day process, but I like this for the one day process. They both have their place!