A customized print-friendly version of this recipe is available by clicking the "Print Recipe" button on this page.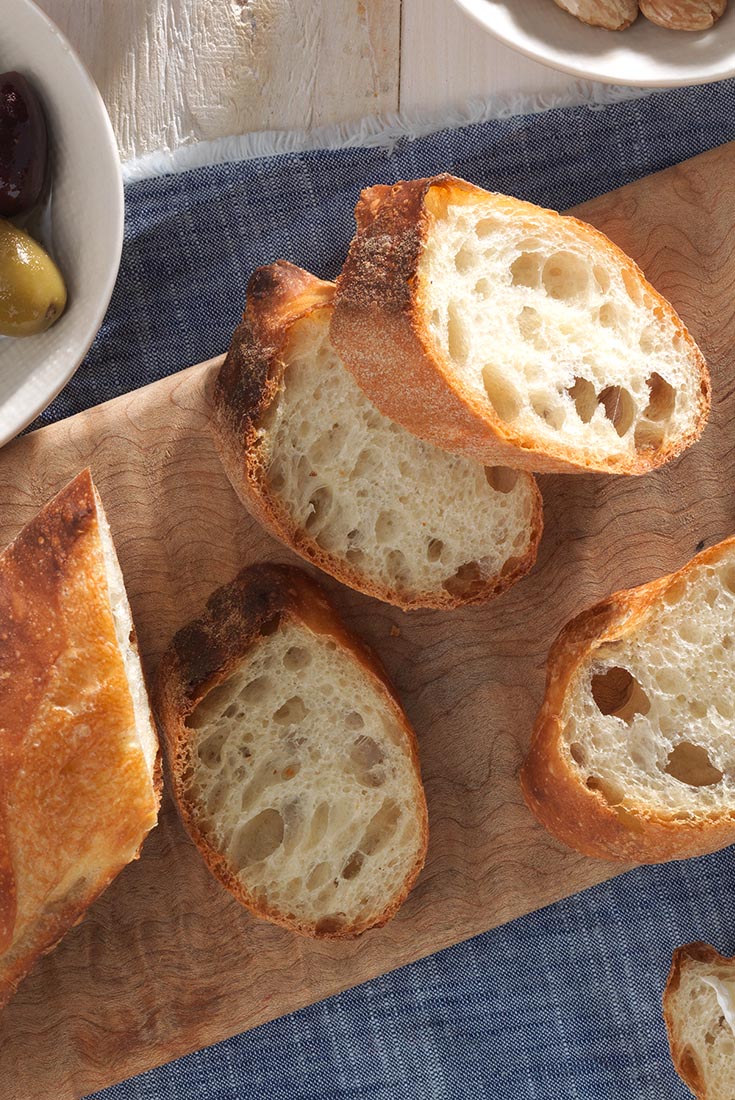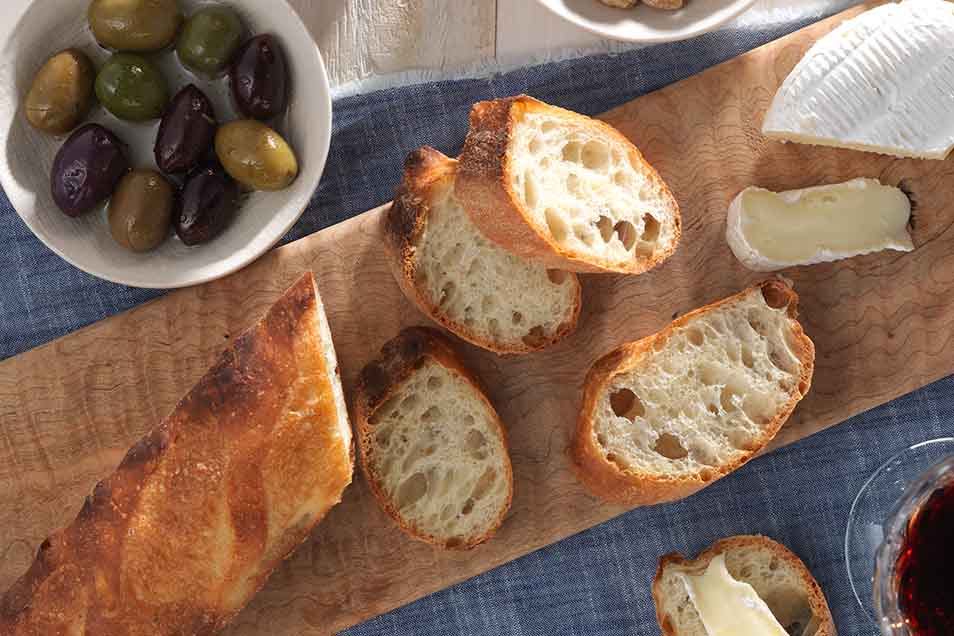 This recipe has appeared on the back of our bags of French-Style Flour for years, and we figured it was about time to feature it here on our Web site. French-Style Flour is our preferred flour for making authentic French-style baguettes, so we encourage you to splurge on this unique product.
Instructions
In a large bowl, stir together the flour, 1 cup of water, yeast, and salt until thoroughly combined, adding additional water if necessary to make a soft dough. Cover the bowl and let the dough rest for 30 minutes.

Knead the dough — by hand, mixer, or bread machine — until smooth. Transfer it to a lightly greased bowl, cover, and let rise until doubled in bulk, about 1 1/2 hours.

Fold the dough over onto itself several times. Return it to the bowl, cover, and let rise until doubled in bulk again, about 1 1/2 hours.

Transfer the dough to a lightly greased work surface and divide it into three pieces.

Stretch the dough pieces into 15" to 18" long loaves, and place them on a lightly greased or parchment-lined baking sheet; or into a lightly greased baguette pan. Cover the loaves and let them rise for about 1 hour.

Preheat the oven to 450°F.

Slash the loaves diagonally, and generously spray them with warm water.

Bake the baguettes for 20 to 25 minutes, or until they're a deep golden brown. Remove them from the oven, slip them off the pan, and return them to the oven rack. Turn the oven off, and crack the door open about 1". Allow the baguettes to cool fully in the oven.

Yield: three 15" to 18" baguettes.
Nutrition Information
Serving Size

1 slice (17g)

Servings Per Batch

36 (12 per loaf)
Amount Per Serving:
Calories

40

Calories from Fat

0

Total Fat

0g

Saturated Fat

0g

Trans Fat

0g

Cholesterol

0mg
Sodium

95mg

Total Carbohydrate

8g

Dietary Fiber

0g

Sugars

0g

Protein

1g
* The nutrition information provided for this recipe is determined by the ESHA Genesis R&D software program. Substituting any ingredients may change the posted nutrition information.
Reviews
OMG. I can't believe I made baguettes this good - as in artisan bakery good, not "passable for home baked bread." This recipe is easy, and forgiving on rise times. I used the steam method described in the KAF recipe for Classic Baguettes, and I found a KAF video on Youtube that shows how to shape your baguettes into the long, pointy loaves you see in bakeries. This recipe did not disappoint. It produces crispy, brown crust and a perfectly textured, chewy and bubbled interior that tastes amazing. I cut one of the baguettes into an epi de ble and it came out beautifully. Only thing I would do differently next time is use more flour/cornmeal on the parchment during the final rise, to keep it from sticking. (I used parchment so that I could just slide it onto a pan without disturbing the baguettes much.) Thank you, KAF!
Tried this for the first time today. I have been using a baguette baker, so the loaves are fairly uniform. Mine today look homemade, but the taste and crust is amazing. I just need to work on my shaping. I used KAF unbleached AP flour. Very pleased with the outcome. I often make your easy baguette recipe. I like that for the simple 2-day process, but I like this for the one day process. They both have their place!
This is my go-to recipe! I make it frequently and it's so easy and very forgiving. Good with add-ins like sundried tomatoes or roasted garlic. I've even thrown it in my bread machine on a French bread cycle and while it comes out with a different texture and crust due to the variation in rise/rest cycles, it's my favorite sandwich bread! Freezes nicely.
"Dough" was like soup. It looks more like a pancake than a baguette. Good thing I only baked one or they would have all run together. It's been in the oven 25 minutes and still pasty white.

Uh-oh, Margaret, it sounds like something went wrong here. We'd love to help you get back on the right path and hope you'll give our Baker's Hotline a call at 855-371-BAKE(2253). We'd be happy to troubleshoot with you. Mollie@KAF
I chose this recipe for my first ever attempt at making baguettes, and they turned out beautifully! I followed the recipe exactly (using grams), including rise times and number of loaves. I used KAF bread flour and a bread machine to make the dough and for the initial rise, then transferred it to a bowl for the second rise. I didn't have any problem with them collapsing, not even when I slashed them with a knife. They are light, crusty and have wonderfully irregular holes. I plan to keep this in my regular rotation from now on. I definitely recommend the instructional videos on shaping and slashing baguettes. They really helped me out a lot.
I have been trying and failing to make baguettes multiple times this year. So I went in search for more recipes and my wife Carol said I'll give it a try this time and she picked this one out of four I printed because it looked easy enough. So of course her first try was perfect, I mean exactly what I was looking for, crispy outside and wonderful taste and texture inside. As good as I have found short of the real thing in France.
I cannot give this recipe any stars at all, sorry. This is by far the worst recipe I have tried for baguettes. I simply do not know how your bakers managed to work with this recipe. It was like dealing with a lump of wall paper glue. I mixed it all in a bread machine on the dough cycle because it was simply too wet to handle. Followed instructions to the letter, and when you say "stretch each piece into 15 to 18" loaf, well Good Luck with that. At least, there was no way I could that. The dough rose well in the initial stages but never rose again in the oven. I have baseball bats. Also too salty. What a waste of expensive flour. I shall try again with a different receipe and see how that works. Thank you.

Hi Doris, we're sorry to hear this recipe left you feeling frustrated. We're wondering if perhaps another flour was used to make the dough other than King Arthur French-Style or All-Purpose Flour. These two flours have a higher protein percentage than most other brands, which gives the dough more support and also absorbs more water. If you use another kind of flour, you'll need to add more of it to get the dough to be workable. The ideal dough consistency is slightly wet but still shape-able. Check out our blog called, "How to knead wet dough by hand," for tips that may help make your future baking experiences more pleasant. Kindly, Kye@KAF
The recipe is good, it's my baguette ineptitude that's the problem. The first rise was just fine, I kept an eye on it to make sure it didn't over-rise, and got the baguettes shaped and put on my metal couche and set in the oven for the final rising. Every time I make baguettes, this is where it fails. The dough expands, but it doesn't rise, per se. In other words, the dough isn't stiff enough to hold up to the expansion and it slops over the edge of the couche. It bakes okay and tastes okay, but it looks very sad. What am I doing wrong?

Dami, it sounds like you might want to try using a flour with a higher protein percentage, which will give your dough more structure. If you're not already doing so, try using our King Arthur All-Purpose Flour or our Bread Flour. Also, be sure the dough isn't placed in an environment that's too warm. (About room temperature, 68 to 70°F will do.) Last tip: try arranging your couche so that each well has taller walls. This can help give the dough more as it rises. Happy baking! Kye@KAF
I pretty much followed the recipe exactly and had a great outcome. Used slightly more than 1 cup of water to get things started. It was messier in step one to pull together than I expected. I just slowly added more water. Used the dough hook on the Kitchen Aid 4 minutes (2nd lowest speed) plus did six of seven folds before setting out to rise. This was per the advice of the hotline. (They said 5 minutes but at 4 minutes it looked quite done.) Everything else I followed exactly. I sprayed the oven before I placed the bread in the oven. I used parchment paper on a cookie sheet and nothing stuck. 20 minutes was the perfect cooking time. Glad I did not go longer.