A customized print-friendly version of this recipe is available by clicking the "Print Recipe" button on this page.
The Almost-No-Knead Baguette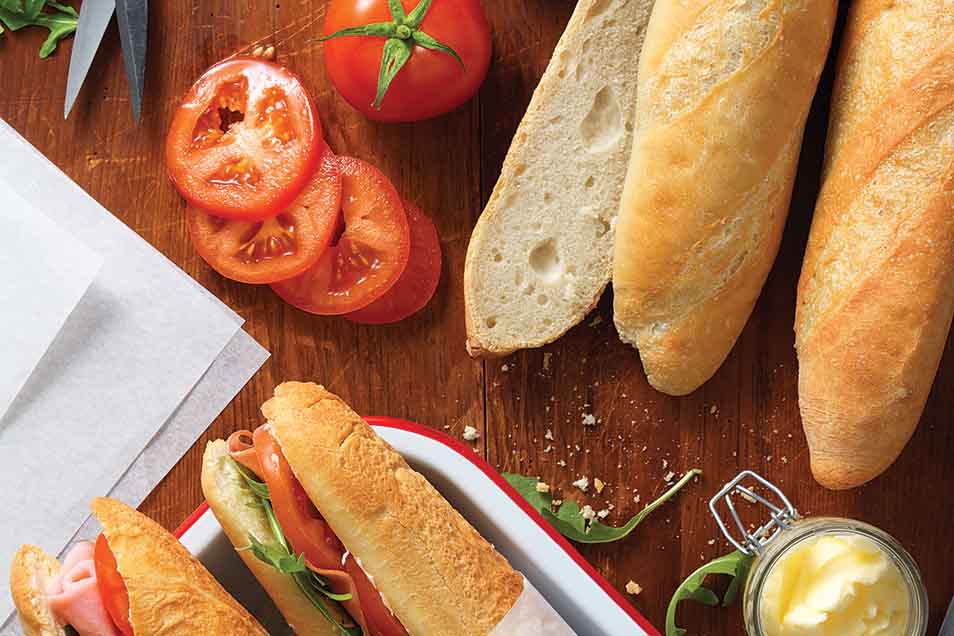 Here's a great, easy way to launch your baguette-baking career. Our thanks to Jeff Hertzberg's "Artisan Bread in Five Minutes a Day" for the inspiration.

Read our blog about this bread, with additional photos, at Flourish.
Ingredients
3 cups lukewarm water
1 tablespoon table salt or 1 1/2 tablespoons kosher salt
1 tablespoon instant yeast
Instructions
Find a large (6-quart) bowl or bucket, for dough storage in the fridge. Lightly grease the bowl or bucket.

Place the water directly into the bowl or or other large container.

Add the dry ingredients to the water, and stir to combine. Mix until there are no dry spots; the texture of the dough should be fairly soft.

Knead the dough gently for a few minutes, by hand; it'll be very sticky. Or knead for 1 or 2 minutes in a stand mixer. Cover the container, and let the dough rest at room temperature for 2 hours.

Refrigerate overnight, or for up to 7 days.

To bake bread: Scoop out a scant 1 pound of dough (about ¼ of the batch, about 14 ½ ounces). Place on a greased work surface.

Shape the dough into a rough, slightly flattened oval.

Fold the dough in half lengthwise, and seal the edges with the heel of your hand. Flatten slightly, and fold lengthwise and seal again.

With the seam side down, cup your fingers and gently roll the of dough into a 15" log.

Place the log seam-side down onto a lightly greased or parchment-lined baking sheet, or into the well of a baguette pan.

Cover and allow the baguette to rise till it's very puffy, about 1 1/2 hours. Towards the end of the rising time, preheat your oven to 450°F.

Slash the baguette three or four times on the diagonal.

Spritz the baguette heavily with warm water, and bake until a very deep golden brown, 25 to 30 minutes. Remove from the oven and cool on a rack.

Yield: 1 large baguette.
Nutrition Information
Serving Size

1 slice

Servings Per Batch

16 per baguette
Amount Per Serving:
Calories

50

Calories from Fat

0

Total Fat

0g

Saturated Fat

0g

Trans Fat

0g

Cholesterol

0mg
Sodium

110mg

Total Carbohydrate

11g

Dietary Fiber

0g

Sugars

0g

Protein

2g
* The nutrition information provided for this recipe is determined by the ESHA Genesis R&D software program. Substituting any ingredients may change the posted nutrition information.
Reviews
ok, i've tried this several times - i've watched the blog videos - i follow the instructions to the T. but (and this is a big but), i run into 2 problems consistently. first of all, the baked baguettes turns out 'nicely' (relative to my problems), tastes just fine, here are the 2 'issues' i run into. 1.) when i put the dough in the fridge following instruction #5 'Refrigerate overnight, or for up to 7 days', it comes out with a very stiff and unappealing 'skin' over the dough. under this skin, the dough seems perfectly fine. just wondered, is this normal? it's not mentioned anywhere in the instructions. if it's not normal, what am i doing wrong? 2.) the dough is very springy, i can never follow the instructions 7 Shape the dough into a rough, slightly flattened oval. 8 Fold the dough in half lengthwise, and seal the edges with the heel of your hand. Flatten slightly, and fold lengthwise and seal again. 9 With the seam side down, cup your fingers and gently roll the of dough into a 15' log. Whatever i do with the dough, it springs back into the original blob that i took out. I usually shape it as best as i can and go for it. i do not know what i'm doing wrong here, so i don't know what to do to fix it. and lastly, your instructions have me working on a lightly greased surface, the blog videos was on a floured surface. could the 'skin' effect be caused by the 'greasing'? or possibly it's not sealed tightly when in the fridge??? i'm going to try it again today...we'll see...

You're so close to baguette perfection! It sounds like your dough needs to be covered more tightly while it rests in the fridge to prevent it from drying out. We love using covered dough rising buckets because they have lids that snap on tightly. As for the shaping, it sounds like you might be using just a bit too much flour. Try holding back the last 1/2 cup to produce a more slack dough. This should make it easier to shape. It also helps to let the dough rest periodically during shaping so the gluten can relax. We recommend using a lightly greased work surface to avoid adding too much additional flour to the dough, but feel free to use flour if that's more comfortable for you and your dough. Kye@KAF
had no problem, but I forgot about it and the first rise was about 3 hours before it got into te refrigerator. The next day when I took out 14.5 oz. of dough it seemed stiff , so when I folded it twice and tried to make a 15 in. log I couldn't make it stretch more then 12 in. had to proof for more than 2 hours. Putting in the oven now, will let you know how it comes out.
I have never had a baguette recipe that was as easy and tasty to make as this recipe! I've been baking baguettes for over 20 years and I have to say this is my go-to recipe. So easy, my 11 year old niece can actually make it! Thanks for the recipe!
Have been baking for quite a few years now and this recipe simply didn't work for me. Fresh flour, yeast, water everything resulted in the most dense ball of dough I've ever made, enough so that I had to add 3/4 cup extra water, just to get it to mix in my 6qt KitchenAid. After baking, they weren't what I call baguettes. I live in FL so I can't explain what happened. I have another recipe from KAF that starts with a poolish. I want the airy baguettes...these fell short. The poolish should make all the difference.

We're sorry to hear you're having some trouble getting the baguette dough to be the right consistency. It sounds like there might be too much flour in the dough. To ensure you're using the right amount, we recommend either measuring your flour by weight using a scale, or fluffing and sprinkling the flour gently into your measuring cup one spoonful at a time before leveling off with a knife. This will help you measure light cups of flour that weigh about 4 1/4 ounces per cup and a relatively sticky dough. This will result in a tender, open-crumbed baguette. Good luck! Kye@KAF
Yummy! I love this One! Great sandwich bread, great chewy crust. I grew up with homemade bread, and I love making it for my family! Nothing like the smell of fresh hot bread!
A smashing success. This is my first attempt at a baguette so I have nothing to compare with (other than buying them). The dough makes enough for about four loaves. The first time I made two. I was very happy with the taste, but the shape and color were off. We went through the two loaves quickly and I made the next two. This time I discovered that we already owned a baguette pan. This helped a lot with the shape. Taste still very good. Still working on getting the color right (I ordered a new spray bottle). This is an easy recipe that yields tasty results. For me, the art is in trying to get the loaves to look right. That is going to take some practice. If you go to a good French bakery and buy fresh, I think you will beat these. However, these are miles better than the French bread I get at the grocery stores around here. Those loaves are either terrible altogether, or pretty much stale by the time I get to them. I have other recipes lined up to try, but I am tempted to just make this one again.
I confess, I'm a traditional bread baker. (Thanks, KAF Baking Education Center!) No-knead (and almost no-knead) breads are challenging, because my tendency is to fiddle with the dough a little too much. In general, I'll stick with the Classic Baguettes recipe when I have the opportunity to plan ahead, but I appreciate how convenient it is to have this dough in the fridge for a quick weeknight meal. Baguettes come out really nicely -- lots of nices holes -- as long as you don't fuss too much with the shaping!
At first rise it rose beautifully, then I put in in the fridge. The next day out of the fridge I separated it into loaves and did the second rise for 90 minutes and it was flat. I used 73/4 flour. I have made this before some time ago and it came out great. What went wrong? Did I overwork it to make the baguette , did I not let it rise enough?

Toni, many factors can affect how well that final rise goes, including length of the first rise, temperature, shaping method, etc. Give our Baker's Hotline a call at 855-371-BAKE, and we'd be happy to troubleshoot with you! Mollie@KAF
This is the easiest recipe I've tried yet. Sooo easy... My baguettes came out too flat... I having trouble figuring out what the consistency my dough needs to be. The flavor and taste is excellent. I will add little bit of flour tomorrow and try again.
Krystyna, feel free to give us a call at the Baker's Hotline (855-371-2253) if you'd like some help figuring out what the dough consistency should be. Barb@KAF
With practice, I think I can get better results from this recipe. I had a very strange problem, when I weighed out the dough for shaping, I only ended up with just under 3.5 lbs, not a pound per loaf as in the blog. But the baked loaves still seemed very dense and heavy. It was quite humid when I made the dough and the day I baked, so I used 34 oz of flour. Would love to know what happened. Regardless, I'll make this again, can't beat the simplicity for a nice loaf.