A customized print-friendly version of this recipe is available by clicking the "Print Recipe" button on this page.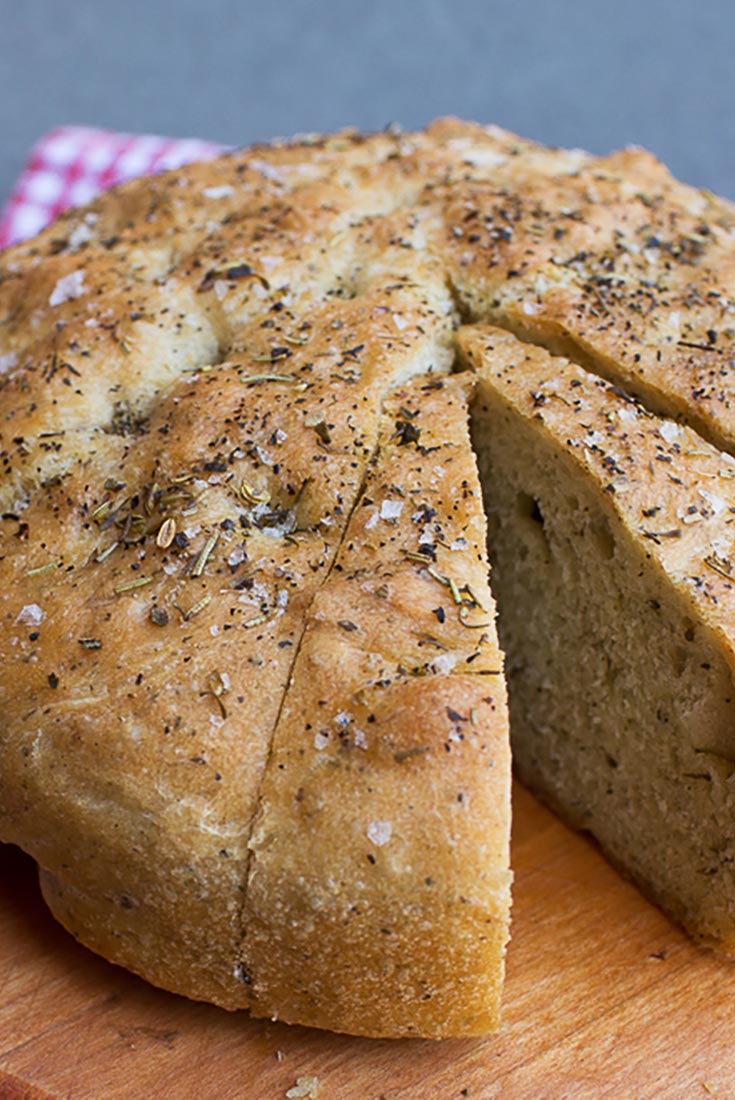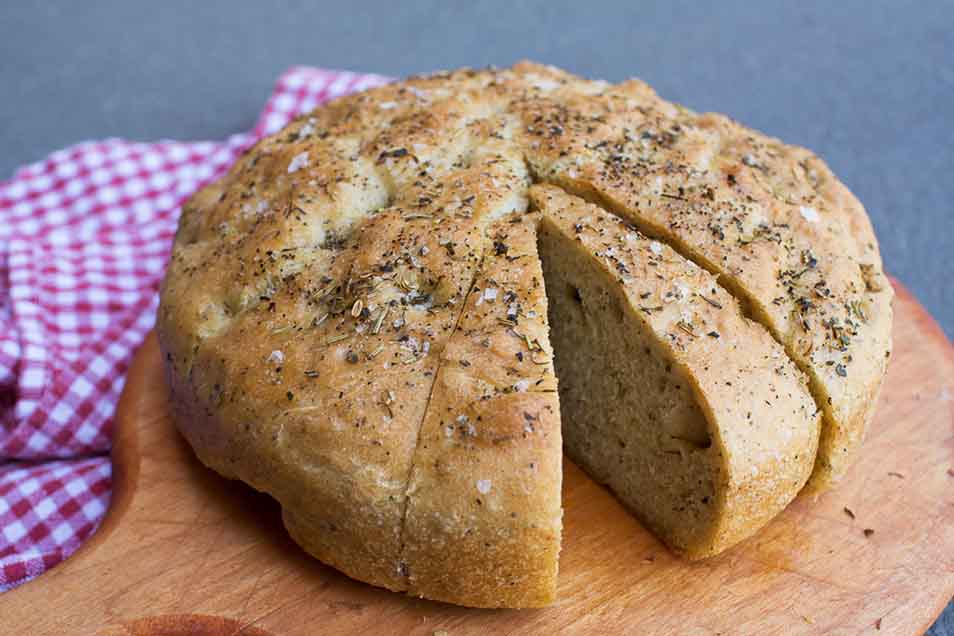 Gael Clauson, a long-time member of our King Arthur Flour retail team, is known for making fresh, hot focaccia on Saturday mornings to share with visitors to our Baker's Store here in Vermont. This soft, herb-scented bread is wildly popular, and for just reason: it's delicious as is, equally good dipped in marinara, and ideal with soup or salad.
Instructions
Combine the water, sugar, yeast, salt, and olive oil, stirring to dissolve the sugar and yeast.

Stir in the semolina, then 4 1/2 cups of the all-purpose flour, the herbs, and the black pepper. Knead the dough — by hand, mixer, or in a bread machine set on the dough cycle — until it's smooth. It'll be quite soft. Gael says, "Your finished dough should be like a marshmallow, very easy to knead. It should clean the sides of the bowl, if you're using a mixer. If the dough seems too slack, add more flour a tablespoon at a time until it comes together. It should feel moist and soft; tacky like a sticky note, but not sticky."

Place the dough in a lightly oiled bowl and turn the dough on all sides to coat with oil. Cover it loosely with plastic wrap, and let it rise for 90 minutes in a warm place, or until doubled in size.

Gently deflate/de-gas the dough by pressing lightly; no need to punch it, says Gael. Turn it out onto a lightly floured counter; it should feel like a big marshmallow, very pliable.

Lightly grease two 8" or 9" round cake pans, and drizzle 1 tablespoon garlic oil or olive oil into each pan, brushing it across the bottom. "The oil will insure that the bottom of the focaccia will be crispy and tasty," says Gael.

Divide the dough in half and gently shape it into rounds to fit whichever pans you've chosen. Place the roughs into the prepared pans, cover the pans, and let the dough rise for 45 minutes in a warm place, until puffy.

While the dough is rising, preheat your oven to 425°F.

Use your fingers to gently but firmly dimple the dough, making focaccia's signature little hills and valleys. Sprinkle the top with herbes de Provence, a bit of coarse sea salt for crunch and flavor, and coarsely ground black pepper (if desired). Drizzle with garlic oil or olive oil.

Bake the focaccia in the middle of the oven for about 30 minutes, or until it's lightly browned and baked through. It should be brown and crispy on the bottom.

Remove the focaccia from the oven, and turn it out of the pans onto a rack to cool just slightly before serving. Serve with warmed marinara sauce as a dip, or just as is with soup or salad.
Tips from our bakers
For a heartier bread, choose any of the following toppings (or whatever strikes your fancy): chopped fresh rosemary, grated Parmesan cheese, chopped Kalamata olives, shredded Asiago cheese, crumbled feta cheese, mozzarella cheese, anchovies, oil-packed sun-dried tomatoes, caramelized onions, sautéed mushrooms, diced red peppers.
Substitute an overnight rest in the refrigerator for the dough's first rise, if desired. Let the dough come to room temperature before proceeding with the rest of the recipe.
Reviews
Made this recipe for the 2nd time yesterday - always delicious! I made the recipe as written the first time a few weeks ago - and the 2nd time I made a couple of changes. 1) instead of water, I used whey (leftover from cheesemaking); 2) changed the herbs to some rosemary, thyme and red pepper flakes. Also I ran out of all-purpose flour, so used some KAF white whole wheat flour to make up the difference. WOW! A wonderful aroma, and so nice when spread with freshly made ricotta cheese. Thanks, Gael & KAF!
This bread is easy and delicious! A question, though: I've made it a few times and the bottom is slightly soggy when I take it from the pans, instead of being crispy. Would putting my pans on a baking stone crisp it up? I also think perhaps I don't use enough flour, my dough is on the sticky side. Thank you for a wonderful recipe, Gael! I was in the store once when you brought out freshly baked loaves - heaven!

Kathy, definitely put your pan on a baking stone if you have one. (This works best if you're baking in a metal pan.) You can also try drizzling a bit more than 1 tablespoon of oil into the bottom of the pan. This will help keep things crispy. Happy baking! Kye@KAF
Nice, easy bread to serve with a dinner of salad, pasta, or both.
I adore focaccia and this recipe is fantastic! I made as directed. Took some time but very easy to make. Terrific crust and texture.
Absolutely loved this foccachia! I added salty brined olives to one and because no one in my family likes olives I get to keep it all to myself! Moist and high. Used shredded Park on the other. Yum, yum, yum!
This is not only an easy recipe it is by far the most delish!! I have made it several times and every time it turns out perfect. This recipe is a keeper for generations to come. Thank you Gael for sharing!
I love the flavors, and I think that this has a lot of potential. I made the recipe exactly as written, but something seemed slightly off in the final product. top and bottom were a bit too over done and the crumb was chewy and denser than I expected. I wonder if I 1) let it over rise; 2) over kneaded; or 3) had my oven too hot (I don't have a thermometer in there, so while it was set to 425, maybe it was hotter because I had made something earlier at a higher temp). I don't know where I went wrong, but I plan to try again, being more careful. Any tips on more accurately gauging rise would be helpful!

Try letting your dough rise in a straight-sided dough rising bucket or large measuring cup in the future. This way you can mark how high the dough reaches initially and see once it has doubled in size. Try turning your oven temperature down next time, and also use a scale to measure your flour by weight. (Or fluff, sprinkle, sweep the flour gently into the measuring cup to ensure you're using light cups of flour rather than heavy cups scooped right from the bag.) Good luck! Kye@KAF
First, this was an extremely easy bread to make! The dough is beautiful to work with and since I've been using the SAF yeast, I have had no problems with rise. Second,it smelled absolutely delicious while baking filling the house with the wonderful aroma garlic (I used a combination of garlic and plain olive oil) and herbs. I had made Italian soup for dinner and thought this would be the perfect bread to accompany it. My daughter had one slice totally smashed in her face and consumed before I ever got her soup ladled in her bowl, and my husband deemed it the best bread I'd ever made!! I can only tell you how fantastic it smelled, I can't eat it, I'm gluten intolerant : (

We're glad to hear you loved this bread recipe. You might want to give our Gluten-Free Focaccia recipe a try so you can enjoy some of the delicious results too next time! Kye@KAF
Delicious! I made this as written except I baked half in a cast iron skillet and the other half in a terracotta pan. Both loaves turned out great. Will make this again and again.
I needed a bread recipe in a pinch, so of course I came to the KA website and found this one. It's delicious. I've made ciabatta but not focaccia and it was a breeze. It was four in the morning when the bread was pulled from the oven and I consumed at least 1/4 of one of the rounds. I used cornmeal in lieu of semolina, also used a custom herbs mix, -added cayenne cause it's amazing and dusted the top was evoo, fresh cut rosemary and pink salt. This recipe is a keeper. Thanks to Gael!