A customized print-friendly version of this recipe is available by clicking the "Print Recipe" button on this page.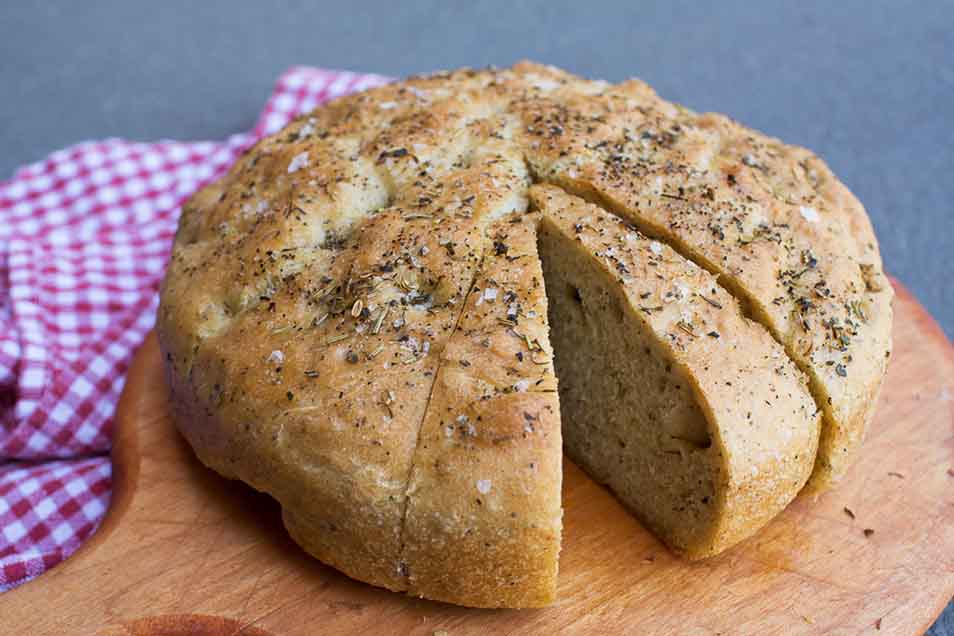 Gael Clauson, a long-time member of our King Arthur Flour retail team, is known for making fresh, hot focaccia on Saturday mornings to share with visitors to our Baker's Store here in Vermont. This soft, herb-scented bread is wildly popular, and for just reason: it's delicious as is, equally good dipped in marinara, and ideal with soup or salad.
Instructions
Combine the water, sugar, yeast, salt, and olive oil, stirring to dissolve the sugar and yeast.

Stir in the semolina, then 4 1/2 cups of the all-purpose flour, the herbs, and the black pepper. Knead the dough — by hand, mixer, or in a bread machine set on the dough cycle — until it's smooth. It'll be quite soft. Gael says, "Your finished dough should be like a marshmallow, very easy to knead. It should clean the sides of the bowl, if you're using a mixer. If the dough seems too slack, add more flour a tablespoon at a time until it comes together. It should feel moist and soft; tacky like a sticky note, but not sticky."

Place the dough in a lightly oiled bowl and turn the dough on all sides to coat with oil. Cover it loosely with plastic wrap, and let it rise for 90 minutes in a warm place, or until doubled in size.

Gently deflate/de-gas the dough by pressing lightly; no need to punch it, says Gael. Turn it out onto a lightly floured counter; it should feel like a big marshmallow, very pliable.

Lightly grease two 8" or 9" round cake pans, and drizzle 1 tablespoon garlic oil or olive oil into each pan, brushing it across the bottom. "The oil will insure that the bottom of the focaccia will be crispy and tasty," says Gael.

Divide the dough in half and gently shape it into rounds to fit whichever pans you've chosen. Place the roughs into the prepared pans, cover the pans, and let the dough rise for 45 minutes in a warm place, until puffy.

While the dough is rising, preheat your oven to 425°F.

Use your fingers to gently but firmly dimple the dough, making focaccia's signature little hills and valleys. Sprinkle the top with herbes de Provence, a bit of coarse sea salt for crunch and flavor, and coarsely ground black pepper (if desired). Drizzle with garlic oil or olive oil.

Bake the focaccia in the middle of the oven for about 30 minutes, or until it's lightly browned and baked through. It should be brown and crispy on the bottom.

Remove the focaccia from the oven, and turn it out of the pans onto a rack to cool just slightly before serving. Serve with warmed marinara sauce as a dip, or just as is with soup or salad.
Tips from our bakers
For a heartier bread, choose any of the following toppings (or whatever strikes your fancy): chopped fresh rosemary, grated Parmesan cheese, chopped Kalamata olives, shredded Asiago cheese, crumbled feta cheese, mozzarella cheese, anchovies, oil-packed sun-dried tomatoes, caramelized onions, sautéed mushrooms, diced red peppers.
Substitute an overnight rest in the refrigerator for the dough's first rise, if desired. Let the dough come to room temperature before proceeding with the rest of the recipe.
Reviews
Very easy recipe, I made it at the last minute for lasagna dinner. Use a garlic herb mixture I had in the pantry. I thought I undercooked the first one, the inside seem to moist. The second I cooked longer and I felt the top was to dry, I will add more oil to the top the next time I make it. I also used all all purpose flour as I was out of a semolina. I liked the reviewers suggestion of using cornmeal, why didn't I think of that. I usually keep semolina because I love the KA pizza crust with the semolina. I will make this focaccia again using different variations.
Made it twice in 2 days, once with the recommended herbs, and once with garlic herb mix (Johnny's Garlic) and a bunch of roasted garlic cloves tucked into it. Great results. Thank y'all for another excellent recipe !
I used my own starter, and and for the 2nd proofing, I used my Round Banneton Basket. It make it pretty until I took it out and it flattened. But this bread was delicious. Reading the reviews and tips, I think that I could of had lighter, fluffier bread if I used a La Cloche and let it rise in there then put it directly into the oven. I test it out.
This is the 2nd time I make this recipe and it turns out great! I replaced the 1/2 cup semolina flour by 1/2 cup corn meal, and added fresh rosemary, fresh oregano and chopped olives. Delicious and easy to make. Perfect with a big dinner salad or for dipping in olive oil as an appetizer.
This focaccia was weirdly addictive. Once cooled, we cut into it and couldn't stop going back for more. The only thing I wished it had (and that I'll make note of for next time) was more of an oil heavy top. I had probably baked it a little too long, as it felt a bit dry on top.
Scrumptious. Used my USA cake Pans. Nothing sticks in a USA pan...ever.
What an easy bread! Mixed last night and put to rise in frig overnight, then continued the first rise this morning. Used Penzy's Sunny Paris spice blend instead of the Herbs de Provence in the dough; topped with fresh rosemary and parmesan. Made one round loaf in a 9" pan and 6 rolls in my 'muffin top' pan, 'cause I really really wanted some rolls. Worked out great! Baked for only 23 minutes, on a pizza stone. Next time I'll be a little more aggressive with the dimpling; had great oven rise and the dimples kinda disappeared. The house smells wonderful and we're devouring the bread. Using the rolls tomorrow with burgers. Thanks, Gael and KA!
Made this recipe for the 2nd time yesterday - always delicious! I made the recipe as written the first time a few weeks ago - and the 2nd time I made a couple of changes. 1) instead of water, I used whey (leftover from cheesemaking); 2) changed the herbs to some rosemary, thyme and red pepper flakes. Also I ran out of all-purpose flour, so used some KAF white whole wheat flour to make up the difference. WOW! A wonderful aroma, and so nice when spread with freshly made ricotta cheese. Thanks, Gael & KAF!
This bread is easy and delicious! A question, though: I've made it a few times and the bottom is slightly soggy when I take it from the pans, instead of being crispy. Would putting my pans on a baking stone crisp it up? I also think perhaps I don't use enough flour, my dough is on the sticky side. Thank you for a wonderful recipe, Gael! I was in the store once when you brought out freshly baked loaves - heaven!

Kathy, definitely put your pan on a baking stone if you have one. (This works best if you're baking in a metal pan.) You can also try drizzling a bit more than 1 tablespoon of oil into the bottom of the pan. This will help keep things crispy. Happy baking! Kye@KAF
Nice, easy bread to serve with a dinner of salad, pasta, or both.