A customized print-friendly version of this recipe is available by clicking the "Print Recipe" button on this page.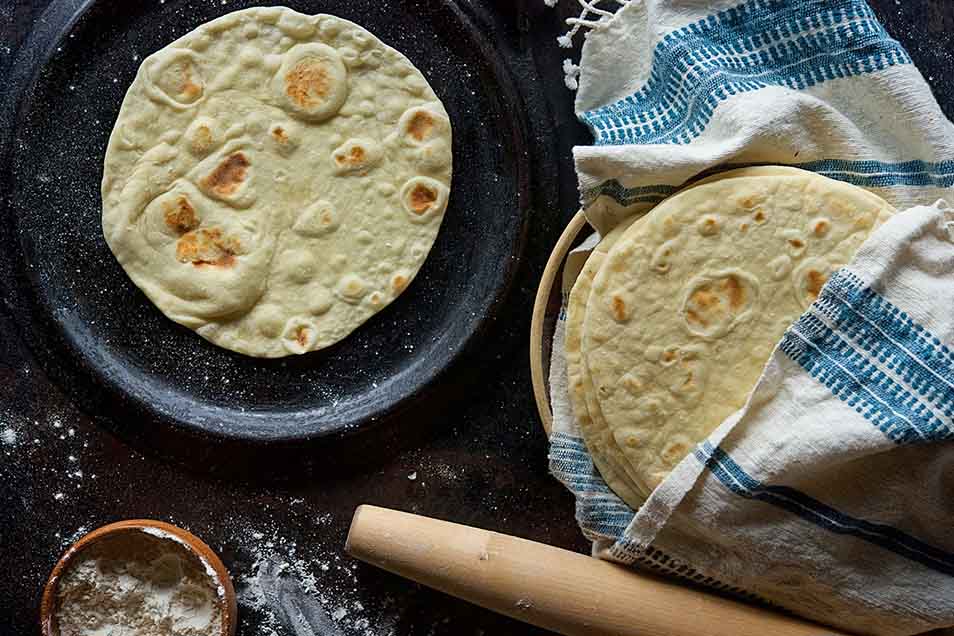 This recipe for soft flour tortillas is quick and easy. Soft and tender, with just a little bit of "chew," you can have these on the table in under an hour. The dough can also be made the day before and allowed to rest in the fridge overnight.
Ingredients
2 1/2 cups King Arthur Unbleached All-Purpose Flour, plus additional as needed
1 teaspoon baking powder
1/2 teaspoon salt
1/4 cup lard (traditional); or butter, shortening, or vegetable oil
7/8 to 1 cup hot tap water (about 110°F to 120°F)
Instructions
To make the dough: In a medium-sized bowl, whisk together the flour, baking powder, and salt.

Add the lard (or butter, or shortening; if you're using vegetable oil, add it in step 3). Use your fingers or a pastry blender to work the fat into the flour until it disappears. Coating most of the flour with fat inhibits gluten formation, making the tortillas easier to roll out.

Pour in the lesser amount of hot water (plus the oil, if you're using it), and stir briskly with a fork or whisk to bring the dough together into a shaggy mass. Stir in additional water as needed to bring the dough together.

Turn the dough out onto a lightly floured counter and knead briefly, just until the dough forms a ball. If the dough is very sticky, gradually add a bit more flour.

Divide the dough into 8 pieces. Round the pieces into balls, flatten slightly, and allow them to rest, covered, for about 30 minutes (see tips, below). If you wish, coat each ball lightly in oil before covering; this ensures the dough doesn't dry out.

While the dough rests, preheat an ungreased cast iron griddle or skillet over medium high heat, about 400°F.

Working with one piece of dough at a time, roll into a round about 8" in diameter. Keep the remaining dough covered while you work. Fry the tortilla in the ungreased pan for about 30 seconds on each side. Wrap the tortilla in a clean cloth when it comes off the griddle, to keep it pliable. Repeat with the remaining dough balls.
Nutrition Information
Serving Size

70

Servings Per Batch

8
Amount Per Serving:
Calories

200

Calories from Fat

70

Total Fat

7g

Saturated Fat

3g

Trans Fat

0mg

Cholesterol

5mg
Sodium

210mg

Total Carbohydrate

29g

Dietary Fiber

1g

Sugars

0g

Protein

5g
* The nutrition information provided for this recipe is determined by the ESHA Genesis R&D software program. Substituting any ingredients may change the posted nutrition information.
Tips from our bakers
Although traditionally made with lard, these tortillas are equally delicious using butter, shortening, or vegetable oil as the fat. If you choose to use oil, add it with the water in step 3.
The resting period improves the texture of the dough by giving the flour time to absorb the water. It also gives the gluten time to relax, making the tortillas easier to roll out. You may extend the resting, or skip it altogether if you don't have the time; the recipe is pretty forgiving. The tortillas will roll out and stay thinner if you include the rest, though.
If there are leftovers, allow them to cool completely, then wrap tightly in plastic and store in the refrigerator. Reheat in an ungreased skillet, or for a few seconds in the microwave.
Reviews
Good taste, easy to do. I used the vegetable shortening version. Can't seem to get my tortillas to bubble, but I feel like that's an issue with my technique more than anything.
I loved how easy this was to prepare and make. Thanks alot for the recipe and i will recommend this to anyone who wants to make a quick versatile tortilla. I added some herbs in step one for alittle twist in the finished product. The possibilities are endless :D
i loved this recipe. wanted to know if anyone has tried to make with almond flour in place of white or wheat flour? would i need to make any adjustments?

Hi there! We're glad to hear that you enjoyed this recipe! We haven't tried making these with almond flour, but you're more than welcome to do some experimenting. We'd suggest checking out our blog article, Baking with almond flour, for some tips on using almond flour in yeasted baked goods. Happy experimenting! Morgan@KAF
I made this recipe on a whim one afternoon for some left over smoked duck; we wanted to make duck tacos. Luckily I had saved the rendered duck fat from the smoker and was able to use that for the lard in the recipe. #amazing.
this recipe is amazing i am planning to make this more often
I make these very often to stock the freezer with breakfast burritos. These tortillas seem to hold up much better to freezing and reheating than commercial varieties. They don't get that gross sogginess that I always seem to get when I heat up frozen burritos made with store bought tortillas. I make 10 per batch instead of 8 because the larger size will not fit comfortably in the cast iron skillet I use to bake these. The recipe is tasty and easy to work with. The more I make them the easier and faster it has become to roll them out. In my opinion they are definitely worth the effort to make instead of buy.
I've tried this recipe and it worked great! Tortillas turned out to be super tasty. For my next batch, I would like to swap all-purpose flour for corn flour. Will it work just as well?

Hi Daria! You'll want to use a recipe that's designed to use corn because they'll behave so differently. Our recipe for Thin Cornmeal Tortillas will be perfect. Annabelle@KAF
I'm vegetarian and have been cooking and baking since I was a kid, I'm 68 now. I've been making tortillas (flour and corn) for forty-five years since I moved to NM, and have never been perfectly happy with my flour ones, no matter how I fiddle with the ingredients. I tried this recipe today, using safflower oil, hot tap water and sea salt. I've finally found light, puffy, delicate tortillas! And they took less time to make, for some reason. Really speedy from beginning to end. They even get a string of delicate freckles around the edge that are the mark of a great homemade tortilla, the way they should. I needed a little extra hot water but if you bake, you know that depends on the aridity where you live and the moisture content of your flour. Make sure your pan is hot enough: toss some water drops on it, they should dance. I keep my electric stove setting a few numbers, or just one number, below high. Let the dough balls rest, slightly flattened and covered with plastic, for half an hour before rolling them out. I'd like to add a touch more salt, next time. And if excess flour from the rolling-out process stays behind in your hot pan or comal, wipe it out with a dry kitchen towel before putting the next tortilla in it, or the excess flour might brown and smell. Finally, a decent tortilla. I'm a good baker, it bothered me that they were never the same. You can make consistently authentic, delicious tortillas with KAF's recipe and their superior AP flour, in no time at all. Thank you!
I have used this recipe multiple times. I have doubled it with success as well. I live in a humid climate and use the lesser of water-even though it is winter here. If you want restaurant sized tortillas, divide into 8 pieces as directed and press (I used a tortilla press lined with parchment). If you want burrito sized tortillas, divide into 6 pieces and roll out. I have used sunflower oil, olive oil, avocado oil and melted coconut oil successfully. I have also used all KAF white whole wheat flour and they had a great flavor. The only difference with the WWW was that they do tend to crack more easily when rolled.
Great tortilla recipe however this time I used olive oil instead of shortening. I have one question if I may, I rolled them super thin but they came out too thick, any advice. Once perfected I'll never buy store bought again.

Martyja, that's a very common issue for new tortilla makers! Resting the dough is key to avoid thickened tortillas, as is rolling them out very thoroughly. One trick to getting them to roll out perfectly thin without sticking is to cut open a gallon-sized plastic freezer bag so that the sides open like a book. Place the ball of dough in the center, and cover with the top "leaf". Then roll the dough out on top of the plastic. When it's thin enough, just pull back the plastic and drop that one onto the griddle to cook. This also works well to keep your dough from sticking to a tortilla press, which is a handy device that speeds up the process a fair bit if you make tortillas on a regular basis. Happy baking! Kat@KAF