A customized print-friendly version of this recipe is available by clicking the "Print Recipe" button on this page.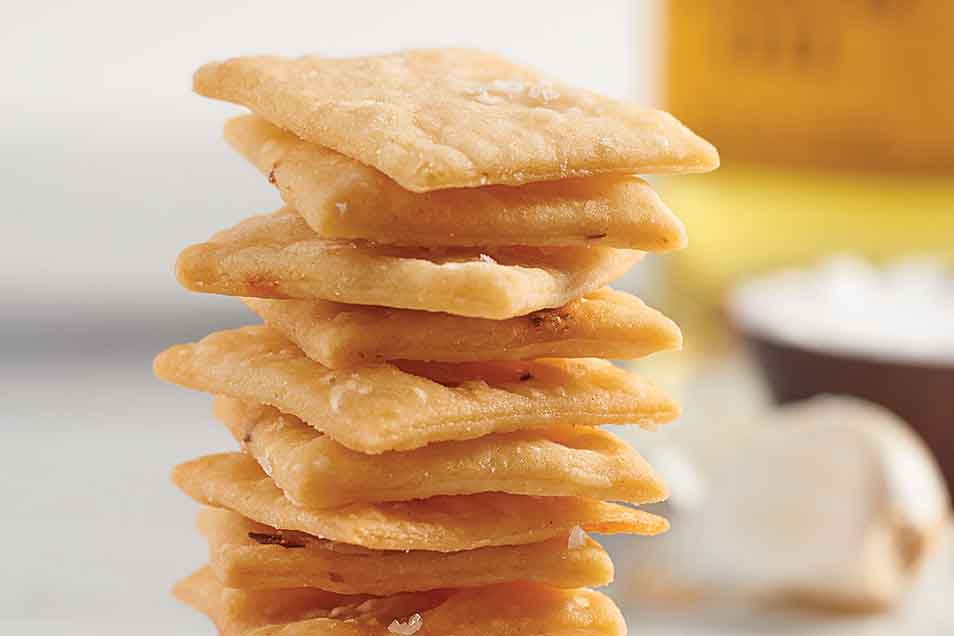 Light and crisp, with a hint of sweetness, these crackers complement bean soups and are a perfect base for your homemade hummus. If you've ever made pie crust, you won't have any trouble with these, even if you're not a pastry expert. Just remember to use a light hand and they'll turn out fine.
Ingredients
1 1/2 cups King Arthur Unbleached All-Purpose Flour
1/2 cup chickpea flour
1 tablespoon sugar
1/2 teaspoon dried red pepper flakes
1/8 teaspoon cayenne pepper, or to taste
1 teaspoon garlic powder
1/4 teaspoon salt
1/3 cup vegetable shortening
6 to 7 tablespoons water
1 teaspoon salt or garlic powder, for topping
Instructions
Preheat the oven to 325°F. Line with parchment (or leave ungreased) two baking sheets.

Combine the flours, sugar, spices and salt in a food processor or medium mixing bowl.

Cut in the shortening with a pastry blender, two knives or the food processor until the mixture resembles coarse crumbs.

Mix in the water gradually, until the dough holds together in a ball but isn't sticky.

Divide the dough in half and roll each piece out separately on a lightly floured surface to a 12" x 12" square, 1/8" thick. If the dough seems unusually resistant, just cover it with a towel and give it a 15-minute rest to relax the gluten.

Use a sharp knife or a rolling pizza wheel to cut the dough into 1 1/2" squares, and transfer as many as you can at a time (a giant spatula works well here) to the baking sheets. Or, transfer each sheet of dough directly to the baking sheet with your spatula, rolling pin or hands, and then cut it into squares, separating the squares.

Bake for 10 minutes.

Remove the baking sheets from the oven, spray the tops of the crackers lightly with nonstick cooking spray and sprinkle with salt or garlic powder.

Return the crackers to the oven and bake for 5 to 10 minutes more, until nicely golden brown. Transfer to a cooling rack.

Store in an airtight container for up to a week, or freeze for up to a month.
Nutrition Information
Serving Size

30g

Servings Per Batch

12
Amount Per Serving:
Calories

111

Calories from Fat

Total Fat

6g

Saturated Fat

Trans Fat

Cholesterol
Sodium

223mg

Total Carbohydrate

12g

Dietary Fiber

1g

Sugars

1g

Protein

2g
* The nutrition information provided for this recipe is determined by the ESHA Genesis R&D software program. Substituting any ingredients may change the posted nutrition information.
Reviews
i was intimidated by the thought of making crackers, but it was much easier than i had imagined. no worries about chick pea flour, it's super cheap at an indian/halal/asian market. i use the flour to make indian bread and have found plenty of uses for it so it won't go to waste. no need to buy the fancy oils and salt, regular olive oil and kosher salt work great. i love the idea of using the everything bagel mix though. also something you can easily put together from an online recipe. and again, i would buy all these products from kaf, if the shipping fees were lower!
These crackers are so delicious, we can't stop eating them! I sprinkled Zatar season on them... A Hit! People say: "What is that taste?" They love it. I'm looking for more crackers to make!
Oh yummy! My whole family fell in love with these crackers. Just for variation, I substituted Everything Bagel Topping and Artisan Topping for the sea salt. For my GF friends, I used GF flour with perfect results. I really recommend that 15 minute wait to allow the dough to relax. Much easier to roll. Hint: the width of a standard ruler is the perfect width for the crackers!
I called the help center and asked them if I could make this recipe without chick pea flour. The person helping me didn't know but she said she couldn't recommend it. So I made half a recipe of it anyway with the following changes: No chickpea flour (obviously) and made it up with all purpose No sugar (accidentally omitted - but read on...) No pepper flakes. Land O Lakes butter & Canola spread instead of shortening Extra virgin olive oil on 1/2 the crackers Black truffle oil on the other half Celtic sea salt They came together instantly in a food processor and I baked them as recommended in the recipe at 325 degrees for 25 minutes (I might bake them an extra 5 next time). It took a total of 35 minutes from start to finish - Easy Peasy! Well, the crackers were extraordinary! My husband and I devoured the whole batch before they even had time to totally cool. They were so crisp and delicious - they were perfect for having with a glass of wine or a dirty martini! So go ahead and make these regardless of whether you have chickpea flour - and then just TRY and wait until they cool down to eat one...I dare ya!
I'm not sure I can say I made this recipe...I've been making crackers for the past several weeks. I love chickpea flour for savory items so I made a 1/2 recipe: 90 grams white flour, 45 grams chickpea flour, 1/2 of all the spices, but instead of shortening and water, I used 1/3 cup water with 1 T olive oil. I let the dough rest while the oven heated up to 400. I rolled the crackers out with a pastry roller on a silpat that is in the half sheet pan so there's no messing with moving a very thin dough. I use a pastry wheel (not a cutter) to make 1 inch squares. I started checking crackers at 12 minutes as the thin edges brown first. EXCELLENT! The chickpea flour is perfect. I will try with rosemary and a bit more garlic next time.
Oh, good tip on measuring. I didn't realize what a difference there was in compacted vs. 'fluffed' flour density! Re: this recipe, I ended up mixing in a lot more water and then was able to roll them out fine. Came out very tasty so there was a happy ending. Thanks!
Hmm, every recipe I've ever used from this site has been fantastic, but for the first time I'm having a failure. The consistency is so... flakey? It doesn't hold together and I just can't roll it out. Have tried adding more water with no luck. Maybe it's because I'm using non-hydrogenated shortening (the solid palm oil sold in health food stores). Suggestions?
It may be the shortening. But it sounds like the dough has too much flour in it. Here is the method that we use: http://www.kingarthurflour.com/recipe/measuring-flour.html If you ever need assistance with a recipe, please contact us directly on the Baker's Hotline, we're here 8:00 am to 9:00 pm M-F and 9-5 on weekends, 800-827-6836. Frank @ KAF.
These are delicious. Use all the spices, and the full amount of water. Roll thinner than suggested, like a pasta you can see through. Dough is easy to work with, comes together in minutes, and rolls out easily. I am wondering what the addition of a little baking soda would do to these, though.