A customized print-friendly version of this recipe is available by clicking the "Print Recipe" button on this page.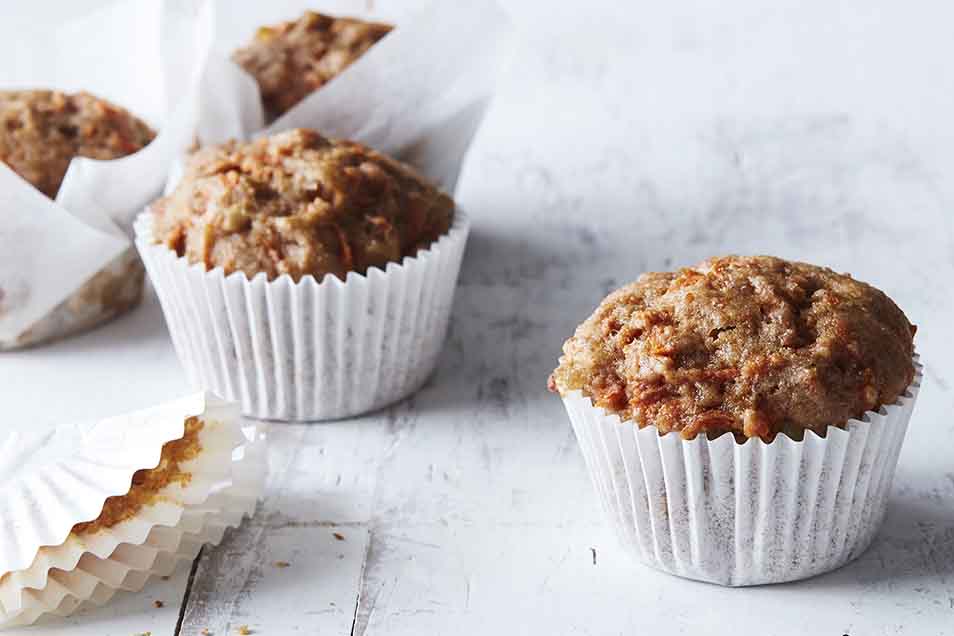 These whole-grain muffins are moist, tender, and nicely spicy.
Ingredients
1 3/4 cups King Arthur 100% White Whole Wheat Flour or Premium Whole Wheat Flour
1/2 cup oat flour
3/4 cup sugar
1/2 cup golden flax meal
1 teaspoon baking powder
1/4 teaspoon baking soda
1 teaspoon ground cinnamon
1/2 teaspoon salt
1/4 to 1/2 cup mini diced ginger
1/4 cup chopped walnuts
2 large eggs
1 cup buttermilk
1/3 cup vegetable oil
2 cups grated carrots
Instructions
Preheat the oven to 400°F. Lightly grease (or line with papers, and grease the papers) a 12-cup muffin pan.

In a medium-sized bowl, whisk together the dry ingredients, including the ginger.

In a small bowl, whisk together the eggs, buttermilk, and oil, and stir into the dry ingredients. Fold in the carrots.

Spoon the batter into the muffin cups, filling them almost full. Allow the muffins to rest for 10 minutes before baking.

Bake the muffins for 20 to 23 minutes, or until a toothpick inserted in the center of one comes out clean.

Remove the muffins from the oven, and cool in the pan for 5 minutes before transferring to a rack to cool completely.

Store, covered, at room temperature for 3 days, or freeze for up to a month.
Reviews
I used 1/4 cup of almond flour, along with regular KAF white flour, added a handful of dried cranberries, also a teaspoon of orange extract, oat flour, 1/4 cup of brown sugar in place of 1/4 cup white sugar. They made a dozen and a half muffins! Wonderful flavor. Will make these again.
Good recipe, very versatile. Needed a little more salt, and grated citrus peel would've really made it over the top.
These muffins werea delicious! I had to make substitutions for flax seed & oat flour; I used 2 cups white wheat flour & 3/4 cup rolled oats. I used 1/2 cup of crystlalized ginger. I'd like to try these again with brown sugar instead of white & possibly increasing the oatmeal.
Very good muffin! It passed the 13 yr old grandson test...he gave it two thumbs up. I had just enough crystallized ginger left (the minimum required) from a previous recipe. Next time I make these I will put the maximum. I didn't have the oat flour so I just ground some regular oats in the food processor till it looked like flour.
These are great - the whole wheat adds a great flavor. We accidentally put all-purpose in our second batch and the whole wheat was better.
These moist and pleasantly spiced muffins are quick and easy to prepare. They are a healthy alternative for the "bran phobic" among us. I substituted 1/2 tsp. Ground Ginger for the crystallized ginger. The result was a noticeable ginger-spice flavor that was not assertive. It's also nice to sprinkle the tops lightly with cinnamon sugar before baking. They taste even better the next day.