A customized print-friendly version of this recipe is available by clicking the "Print Recipe" button on this page.
Gluten-Free Blueberry Coffeecake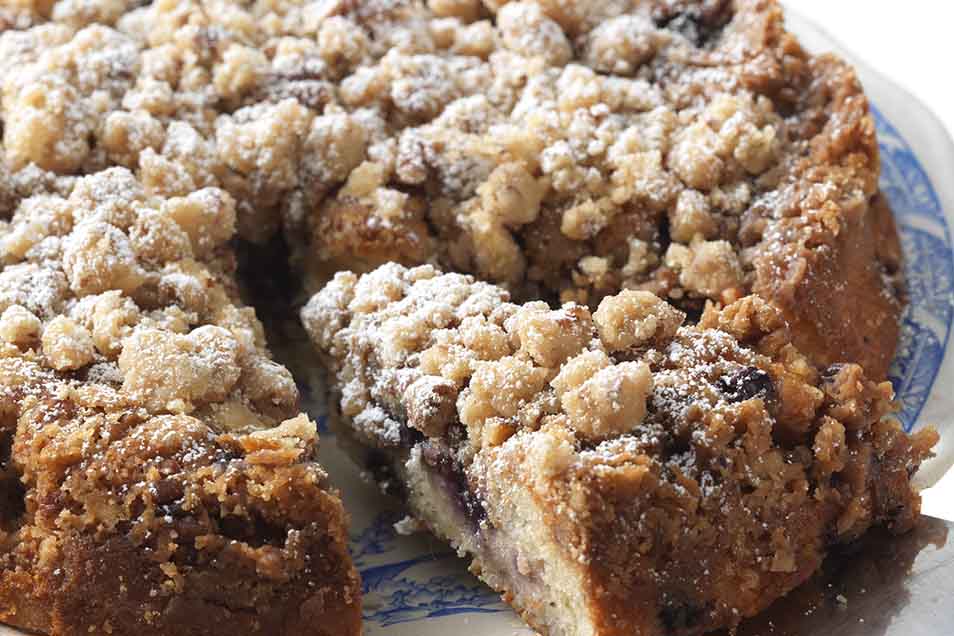 Dessert for breakfast? Here's another great answer to your need-a-sweet-treat-in-a-jiffy woes! Turn our Gluten-Free Muffin Mix into a delicious blueberry cake dressed with decadent pecan streusel.
Ingredients
Topping
4 tablespoons soft butter
1 cup brown sugar
6 tablespoons Gluten-Free Muffin Mix
1 cup chopped pecans
pinch of salt
Cake
6 tablespoons melted butter or oil
3 large eggs
remainder of Gluten-Free Muffin Mix
1 cup milk
2 cups fresh or defrosted frozen blueberries
Instructions
Preheat your oven to 375°F. Grease a 9" x 13" pan, or two 8" X 2" round cake pans.

To make the topping: Combine the soft butter, brown sugar, 6 tablespoons muffin mix, pecans and salt and stir until the mixture is crumbly. Set aside while you prepare the cake batter.

Mix the batter, starting with the remainder of the muffin mix, butter or oil and eggs, on medium-high speed until well-blended.

Add the milk, 1/4 cup at a time, blending well and scraping the sides of the bowl between additions. When all of the milk is added, mix on medium-high speed for about a minute or until the batter has thickened. Gently fold in 1/2 cup of the blueberries.

Pour the batter into the prepared pan(s)and allow to rest for 10 minutes. Top with the rest of the blueberries, then the streusel topping.

Bake the cake for 35 to 45 minutes, or until a thermometer inserted into the middle reads 210°F. Remove it from the oven, and cool slightly before cutting.

Yield: about 16 servings.
Tips from our bakers
If you use frozen berries, make sure they're defrosted and thoroughly drained. If frozen berries are added to the batter, the recipe will fail due to the release of the additional liquid in the frozen berries.
The 10-minute rest before topping with additional berries and streusel allows the baking powder and xanthan gum in the mix time to thicken the batter, so that it can support the topping.
Reviews
I served this yesterday and it was a big hit. People had seconds and thirds. I think I would cut the brown sugar down a little is was a bit sweet. I will defiantly make this again. It was a real crowd pleaser!
I made this (without nuts) for a family birthday party as my gluten free option. It was such a hit with the entire family, I had to make it again the next day with requests to make it for all the big family gatherings.
My family thought this was wonderful; my son in law remarked that you couldn't tell it was gluten free. I especially appreciated the tip to wait 10 minutes for structure to form before topping with blueberries and streusel. I 've found a 10 or 15 minute wait before baking nearly always improves gluten free goods and now I know why! I substituted buttermilk for the milk, added a scant 1/2 tsp baking soda. That introduced a great tangy taste that works well with the sweet streusel. I would also recommend 9" pans vs. 8" as the 8" are inclined to be overly full.
I loved this recipe. My husband has been the taster of my gluten free recipes and most are unfortunately aweful. He loved it too. This is a keeper and I will make it again. The muffins are great so try making them too.
This is delicious! I made if for a coffee hour at church and put half out with the gluten free goodies and half out with the regular goodies. One of the non-celiac folks complimented me on how good it was. They never knew they were eating gluten free!
Made three times now,it is cake like, no gritty aftertaste. My 12 yo niece loves it
Could I use cut up strawberries instead of whole blueberries? Would this mess with the texture? Newly diagnosed with celiac here and hosting a party on Saturday for my family! Thanks!

This recipe is quite versatile and can be made with a number of different fruits and berries. You're welcome to use strawberries, but note that they'll release a bit more moisture than blueberries since they need to be cut into bite-sized chunks before being added to the batter. Consider adding an extra tablespoon of Gluten-Free Flour to the berries if you have it on hand. Otherwise, the topping might be a little bit more moist but it will still be delicious! Kye@KAF
Delicious and moist! Doesn't taste gritty like so many gluten free items
Made for a celiac friend, and it is so good and easy to make that this will now be my go-to coffee cake recipe. Very moist. I used unsweetened coconut-almond milk and used a combination of rhubarb and blueberries. I didn't have any brown sugar, so used raw sugar for the topping. Also used a bit of salt in the topping which was perfect with the sweet and nuts.
This recipe is perfect! I have really been missing coffee cake and ran across this and just had to make it. Everyone loved it, even those not gluten free. I can't wait to make other variations with different flavors.