A customized print-friendly version of this recipe is available by clicking the "Print Recipe" button on this page.
Gluten-Free Gingerbread Cake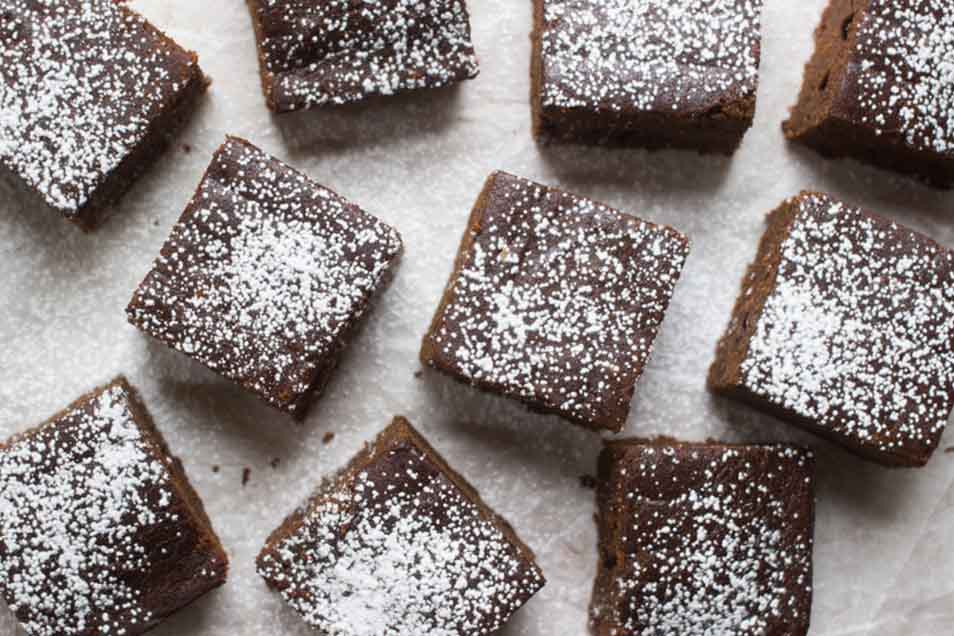 Moist, dark, and delicious, you'd never believe this take on classic gingerbread cake is gluten-free.
Ingredients
2 cups King Arthur Gluten-Free Multi-Purpose Flour
1/2 teaspoon xanthan gum
1/4 cup sugar
1 teaspoon baking soda
1/2 teaspoon salt
1 1/2 teaspoons ground ginger
1 teaspoon ground cinnamon
1/4 teaspoon each ground cloves and nutmeg
1/2 cup (8 tablespoons) melted butter
3/4 cup molasses
1/4 cup water
1 large egg
1 cup buttermilk
1/2 cup diced crystallized ginger (optional)
Instructions
Preheat the oven to 350°F. Grease and lightly flour a 9" square pan.

In a large mixing bowl, whisk together the flour, xanthan gum, sugar, baking soda, salt, ginger, cinnamon, cloves, and nutmeg.

Melt the butter in a heatproof measuring cup. Add the molasses to the cup, and pour into the dry ingredients in the bowl, mixing to moisten.

Add the water, stirring until everything is moistened. Whisk together the egg and buttermilk. Stir into the batter until it's evenly combined. Stir in the crystallized ginger.

Pour the batter into the prepared pan, and let it rest on the counter for 15 minutes.

Bake the cake for 40 to 45 minutes, until it just begins to pull away from the edge of the pan and a toothpick inserted into the center comes out clean.

Remove the cake from the oven and cool it on a rack for 15 minutes before slicing; gingerbread is best served warm with whipped cream or ice cream.
Reviews
One of the moistest, most redolent gingerbreads I have baked, bar none! It being GF is a fantastic bonus for me, and my fiance (who's not GF) loved it, too. Everybody wins. Thank you King Arthur!
I bake GF all day long. This recipe was a HIT! I went heavy on the spices and made a dairy free buttermilk out of 1T vinegar and soy milk. I can't imagine it being any better! Next time, I will cut up crystalized ginger and put it on top with powder sugar. Bake it!
My boyfriend mentioned that he wanted gingerbread recently. He's gluten and dairy free so I checked this recipe out and decided to give it a try. Made it yesterday and substituted 1 TBSP white vinegar and 1 cup coconut milk instead of buttermilk as well as dairy free butter. I kid you not half the tray was gone before the night was over. I made a second batch today to bring for Christmas with the family! It tastes great and it's light and moist which is hard to achieve with gluten free!! Definitely recommend!
These were gummy, under seasoned, and pretty nasty.

We're sorry this recipe didn't work out as you had hoped, Emily! The nice thing about gingerbread is that it's very flexible when it comes to seasonings, so if you like a more highly spiced version, feel free to increase the amount! Gummy indicates that your cake was probably underbaked. You'll know that your cake is ready to go when it reaches an internal temperature of 205°. Hopefully your next cake will turn out beautifully. Happy baking! Kat@KAF
This cake was so moist my non-GF husband couldn't believe it was GF! I used President's Choice brand GF flour (which already contained xanthan gum) and omitted the xanthan gum within the recipe. I am going to make this cake every Christmas from now on! Thank you so much!
I made this recipe like it is but had only small eggs so used 2 small ones. Also it was to much batter for the 8in.pan.i used the 8x12 in and it turned out perfect.Light and fluffy and just high enough so I don't make a pig of myself. This is absolutely wonderful.i ate two pieces as soon as I could cut it.mmmmmmm
THE BEST! I used KA gluten-free Measure for Measure flour, and it came out Perfect. Definitely will bake this again.
A good recipe. I felt like the spices were a little off, but maybe it was just the flavor of the gluten free flour. The texture was right on. I used an 8-inch pan and had a bit of batter left over that I used to make muffins. Both worked, but if your pan is too thin, you might get a really thin, crisp, tough layer on the outside, so a thick pan -- I used ceramic -- works better.
I made this as well as a batch of regular (non-gluten-free) gingerbread, the recipe for which is also on this site. Both were great. I couldn't tell them apart. My GF flour mix was one that had xanthan gum in it already, so I just skipped it.
be careful not to use a gluten free flour that already has xantham gum. I did this by accident and it came out rubbery:(

It's true, Kristina. This recipe calls for our Gluten-Free Flour, which does not have xanthan gum added to it. We hope that you give this recipe another trying using the right ingredient; the gingerbread cake is simply delicious and we think you'll like the result. Happy baking! Kye@KAF