A customized print-friendly version of this recipe is available by clicking the "Print Recipe" button on this page.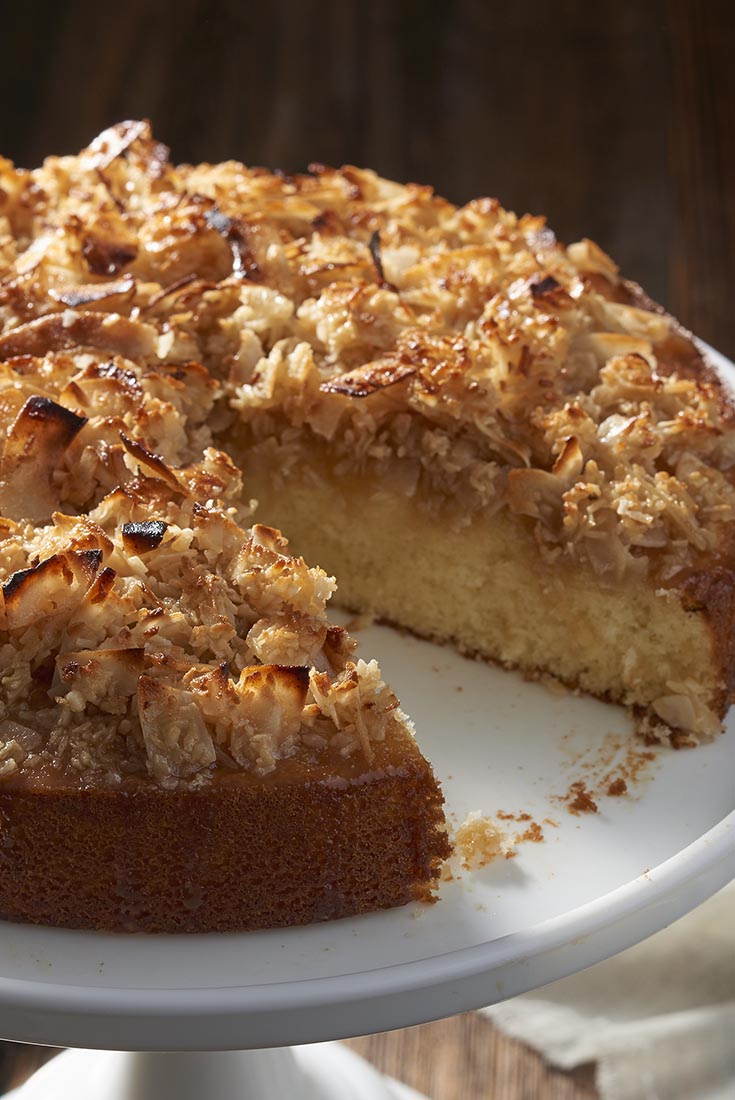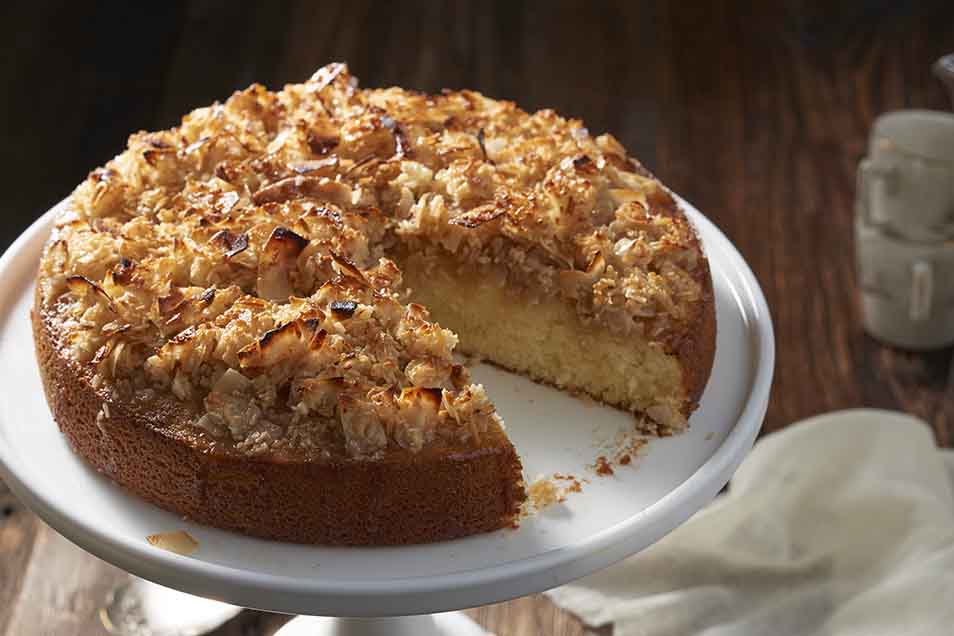 This simple yellow cake with a broiled coconut-butter-brown sugar topping is an all-time favorite. It's quick and easy, and travels very nicely right in its baking pan.
Ingredients
Cake
2 large eggs
1 cup granulated sugar
1 teaspoon baking powder
1/2 teaspoon salt
1/2 cup milk
1 1/2 tablespoons butter
Topping
1/4 cup (4 tablespoons) unsalted butter
1/2 cup + 2 tablespoons brown sugar
1/4 cup milk
1 cup flaked coconut or unsweetened coconut
Instructions
Preheat the oven to 350°F. Grease and flour an 8" square or 9" round baking pan.

To make the cake: In a mixing bowl, beat the eggs until frothy, then add the sugar, beating at high speed until mixture is thick and lemon-colored. Stir in the flour, baking powder and salt.

In a saucepan, heat the milk and butter together to boiling. Add to ingredients in bowl, beating to combine.

Pour the batter into the prepared pan. Bake for 30 minutes, until the top springs back when lightly touched with your finger, and the edges begin to pull away from the pan. Remove from oven and place on a rack to cool for 10 minutes or so.

Turn on the broiler in the oven.

To make the topping: Melt the butter in a saucepan. Add the brown sugar, milk and coconut, stirring to combine.

Pour the topping over the warm cake, and place under the broiler for 2 to 3 minutes, or until the topping is golden brown and bubbling.

Store the cake for up to 3 days on the counter, or freeze for up to a month.
Nutrition Information
Serving Size

2" x 2" piece, 56g

Servings Per Batch

16 servings.
Amount Per Serving:
Calories

177 cal

Calories from Fat

Total Fat

5g

Saturated Fat

Trans Fat

Cholesterol

46mg
Sodium

166mg

Total Carbohydrate

7g

Dietary Fiber

1g

Sugars

20g

Protein

2g
* The nutrition information provided for this recipe is determined by the ESHA Genesis R&D software program. Substituting any ingredients may change the posted nutrition information.
Tips from our bakers
Watch the topping carefully as you broil it, because it goes from golden to burned very quickly.
Reviews
I have been searching for this recipe for years. Mom made this and i lost the recipe. Shes been gone for 19 years , so its been at least this many years of searching. THANKS !!!!!
I am brand new to cake baking, and this was really easy to make and utterly delicious. I will definitely make it again, but was just wondering if a springform pan would work for this cake so it could be removed easily to get the pretty presentation in the photo.

It's a good idea, fellow baker, but you'll want to investigate how tightly your springform pan seals before trying it. With cheesecake, you have a crust that covers the seam between sides and bottom, but with cake batter, you run a greater risk of leaking. We'd suggest testing the seal with water first, and even if it seems tight, potentially wrapping the bottom rim in tinfoil (like you do when baking cheesecake in a water bath) to be extra safe. To make for easier removal from a regular cake pan, try baking with a greased parchment round at the bottom of the pan, loosening the sides by sliding a knife around the edge of the cooled cake, and flipping it directly onto a flat plate, and then flipping it back so it's right-side up. You may lose a very little bit of topping, but it's much easier to handle this way than it is if you attempt to lift it out of the pan. Mollie@KAF
I just realised my Mom made this for us when we were children. Who knew!! Full circle right. OMG Sooo Good!! As per previous reviewers I added vanilla and coconut extracts to the cake and a pinch of salt to the topping. I also slightly reduced the sugar in the topping. I halved the cake and spread with raspberry preserves and a little of the coconut topping, then on the top I also spread raspberry preserves and covered with the coconut topping. So pretty when cut. It broiled really quickly though so I know I have to watch this step like a hawk. Next time I want to add pineapple to the topping to give a pina colada riff. Make it ya'll.
Got this recipe from my Mom 40 years ago. It is the BEST! I'd like some feedback on how to make this as cupcakes. Thanks!
I have made this recipe 3x already because my family loves it so much! The coconut has so much flavor when it's been put under the broiler. Thanks again for the great quick and easy recipe!
This type of cake is my favorite cake (coconut broiled frosting on yellow cake) but I was very disappointed. Topping - tastes great; cake - very moist but the cake simply had no flavor.

This cake recipe is about as simple as it gets, you're right. It's important to use quality ingredients to get a rich flavor in the cake (whole milk, fresh butter and eggs). You're also welcome to add 1-2 teaspoons of vanilla if you want it to have a bit more flavor. This cake is more the support role for the yummy topping, but you can kick it up a notch if you'd like with these adjustments. I hope that helps! Kye@KAF
It is a great cake to take to a potluck, office or just to have at home. Our sweet mother made this cake for many, many years and we loved it. She doubled this recipe and also added 1 teaspoon vanilla and baked it in a 9x13 pan.
This was delicious as well as quick and easy to make. I made as written except that I added about 1/2 tsp vanilla to the cake batter. It took closer to 35 minutes to bake in an 8x8 pan in my oven. I found large flakes of unsweetened coconut in the grocery store so the end result looked a lot like the picture. The topping is sweet and buttery without being too rich and the cake is just a good plain yellow cake. I took it to a party and the people who tried it really liked it. I will probably make it again due to the taste, ease, and portability (I just took it in the disposable aluminum pan I baked in). One caution is that the cake came very close to overfilling a shallow disposable pan when it rose in the oven. It would be better to use a pan at least 2" deep.
Would love to bake. But, I'm concerned about a metal cake pan going under the broiler. Is this a problem??

Most ovens broil at about 500-550°F, so you'll want to be sure you use a pan that's safe up to that temperature. If you don't have a pan that can withstand that heat, you could microwave the topping mixture separately for a few minutes before spreading it onto of the cake. Be sure not to heat it too much or else it can harden and become difficult to spread. Good luck! Kye@KAF
Super easy dessert cake, quick to make too. The actual cake was on the sweet side, I could have reduced the amount of sugar to allow the topping to be the star of the show. I'm glad I baked the cake in one of my fancier pans so that I could serve it without the pan being an eyesore on the dinner table. After removing the cake from the broiler you can't exactly flip it out like you would a regular layer cakeep because it's already topped. I guess if I bake this cake again, I'll use a springform pan and less sugar in the cake batter.

Alexandra, you can also try putting a parchment round into the bottom of your cake pan to help remove it with ease and ensure a beautiful presentation. This way you can easily move it to a platter before serving. Happy baking! Kye@KAF