A customized print-friendly version of this recipe is available by clicking the "Print Recipe" button on this page.
Gluten-Free Pancakes or Waffles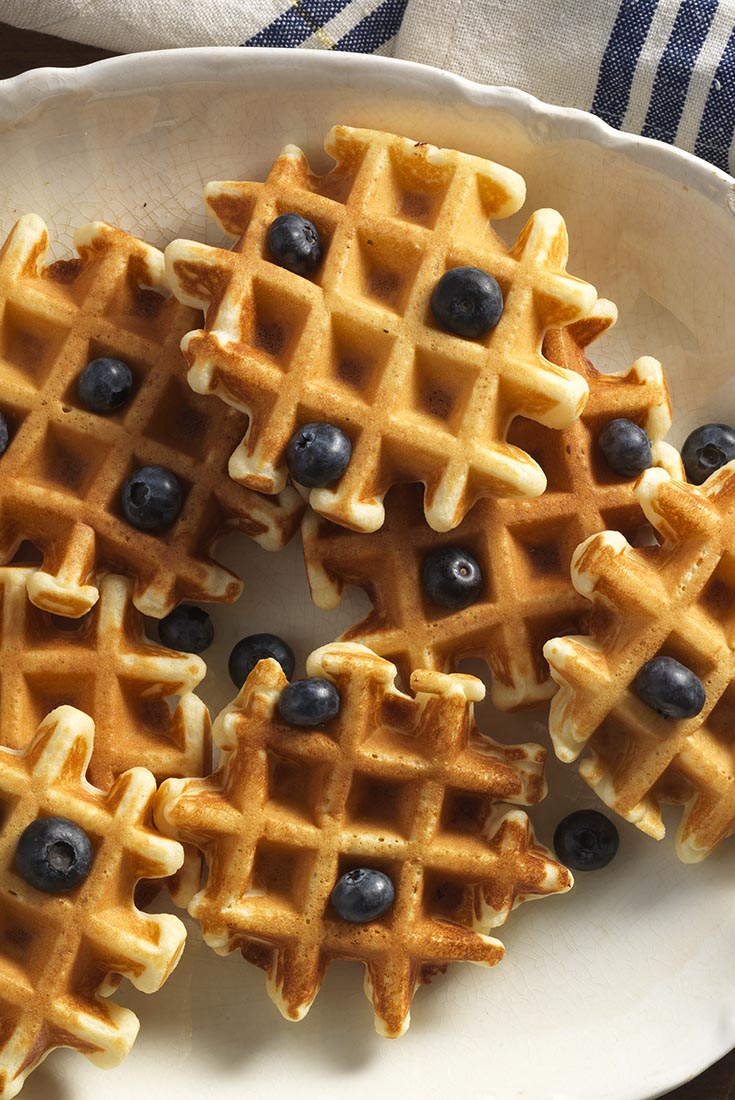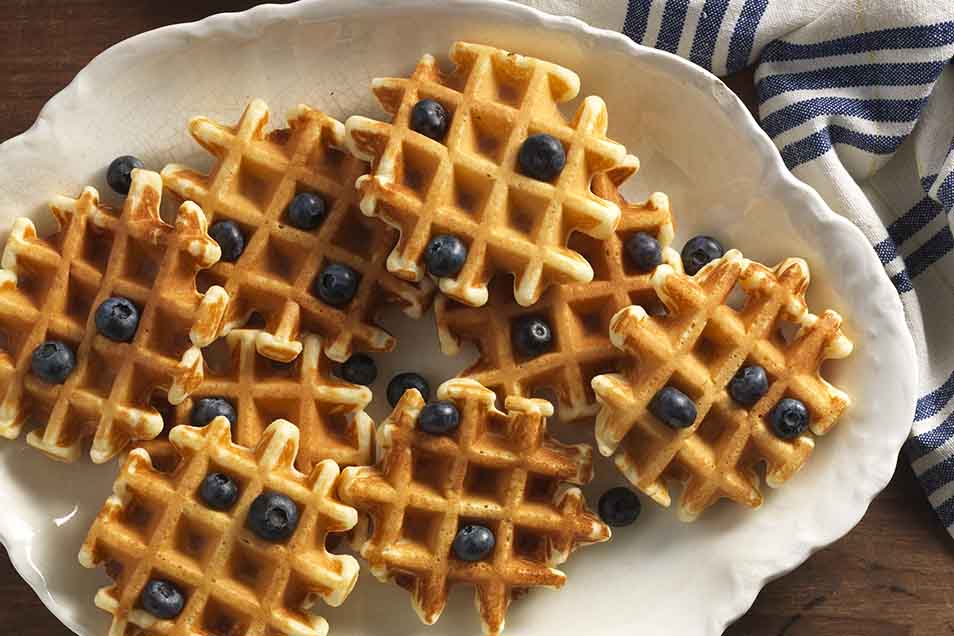 Make buttery, fluffy, moist pancakes, or crisp, golden waffles — gluten-free!
Ingredients
2 large eggs
4 tablespoons melted butter or vegetable oil - add 2 additional tablespoons (1 ounce) butter or oil to make waffles
2 cups milk
1 teaspoon gluten-free vanilla extract
2 1/3 cups King Arthur Gluten-Free Multi-Purpose Flour or brown rice flour blend*
1/4 cup buttermilk powder, optional
2 tablespoons granulated sugar
1 1/2 teaspoons baking powder
3/4 teaspoon salt
3/4 teaspoon xanthan gum
*See recipe for this blend below.
Instructions
Whisk together the eggs, melted butter or oil, milk, and vanilla.

In a separate bowl, whisk together the dry ingredients. Stir in the egg mixture.

To make pancakes: Preheat the griddle to medium (350°F), greasing it lightly. Scoop the batter by ¼-cupfuls onto the griddle.

Cook pancakes for 1 to 2 minutes, till the tops lose their shine and bottoms are golden brown. Flip and cook for 1 to 2 minutes on the other side.

Serve hot, with butter and syrup.

To make waffles: Prepare the batter as directed, adding the extra fat; this will help make the waffles crisp. To cook, follow the directions that come with your waffle iron.

Yield: 16 medium (4") pancakes; or 10 full-size waffles

*Make your own blend
Many of our gluten-free recipes use our King Arthur Gluten-Free Multi-Purpose Flour, which includes ingredients that reduce the grittiness sometimes found in gluten-free baked goods. Our flour also increases the shelf life of your treats, keeping them fresh longer.

The following make-at-home blend, featuring stabilized brown rice flour, works pretty well when substituted; and it tastes better than a blend using regular brown rice flour.

Whisk together 6 cups (28 1/2 ounces) King Arthur stabilized brown rice flour; 2 cups (10 3/4 ounces) potato starch; and 1 cup (4 ounces) tapioca flour or tapioca starch. Store airtight at room temperature. Note: You can substitute white rice flour for the brown rice flour if you like; it'll make your baked goods grittier (unless you manage to find a finely ground version).
Nutrition Information
Serving Size

4 pancakes, 241g

Servings Per Batch

4
Amount Per Serving:
Calories

374

Calories from Fat

10

Total Fat

3g

Saturated Fat

1g

Trans Fat

0g

Cholesterol

106mg
Sodium

648mg

Total Carbohydrate

78g

Dietary Fiber

2g

Sugars

7g

Protein

8g
* The nutrition information provided for this recipe is determined by the ESHA Genesis R&D software program. Substituting any ingredients may change the posted nutrition information.
Tips from our bakers
For fluffier pancakes, allow the batter to rest at room temperature for 15 minutes before making pancakes.
Note: For a dairy-free version of these pancakes, substitute soy milk, almond milk, or rice milk for the milk called for in the recipe. Results may vary from the original.
Are you chocolate lovers looking for a decadent desserty version? Simply substitute 1/3 cup of cocoa powder for 1/3 cup of flour, chocolate extract for the vanilla, and stir in a 1/2 cup of chocolate chips into the batter before it rests.
Reviews
The best GF waffles. Thank you for creating GF recipes that do not taste gluten-free.
Absolutely the best pancakes I've ever made. And the fact this recipe is gluten free makes it simply perfect! I made them for my oldest son & I, but hubby (who is not a pancake fan) said they smelled so good he'd try them, LIKED them and looked for more! Even my fussy younger (Autistic) son ate them..., and looked for more! Which is awesome!! His very small list of things he will eat just grew by 1. :D :D I only made half a batch. I'll know better next time, and double it. LOL I'm waiting delivery of a waffle maker and can't wait to try this recipe as waffles. Thank you so much for all your wonderful Gluten Free recipes. I've not had one fail me yet. (Except when it was baker error trying to take short cuts ;) ).
This was my first attempt at a gluten free recipe. The waffles came out great. I used the butter option and made a half batch. I halved every ingredient except the baking powder. I used about 3/4 of the recommended measure of baking powder. I didn't have xanthan, so I substituted chia seeds 1:1. The waffles came out fluffy inside, crunchy outside and very tasty. I will make this again soon.
I bought this flour with the pancake and waffle recipe on the box. Wonderful the first go pancakes my daughter liked. Bought this flour again with. A poo over recipe on the box. So I looked this one up. It's different and the pancakes failed. So flipping disappointed right now!!

Hi Teri, it sounds like you meant to say a "popover" recipe was on the box of Gluten-Free Flour you used. The box that has a recipe for pancakes or waffles on the back is our Gluten-Free Baking Mix. It may be that you liked the results using the baking mix better than this version here with the Gluten-Free Flour. If that's the case, look for our Gluten-Free Baking Mix to replicate those initial delicious results you experienced. We hope that helps, and happy GF baking! Kye@KAF
Made pancakes this morning and they were great! I substituted applesauce for the butter, buttermilk for the milk and honey for the sugar. Also added some blueberries while they were cooking. They were fluffy, moist and as close as one could get to regular pancakes. Added the recipe to my "favorites" folder.
I LOVE the KAF site and have found that if things don't work, it's because the directions weren't followed or ingredients weren't measured correctly on these TESTED recipes. We make this recipe at least two times per week and I've tried various GF flours and it always works. Sometimes I have to add more or less milk or flour depending on the humidity, but there is absolutely no way you could use 2 cups of milk to 2 1/3 cups of ANY GF flour and get "biscuit-like" batter. A mistake must have been made by the previous reviewer.
I usually love king Arthur recipes!! I was excited to try this. Just like some other comments, the recipe was too thick. I tried to thin it out with more milk and oil and it was basically biscuit batter. I think it's because of the gluten free flour I used. So PSA if you use Namaste gluten free flour, these will probably not work out that well. You will be better off using the recipe off of the back of the bag. :)

Andrea, we're sorry to hear your experience with this recipe didn't turn out as you hoped it would. We agree that the cause of the trouble was likely due to the different flour that was used; this recipe is designed to produce good results with our Gluten-Free Flour. We hope you consider trying it again using this flour, and we think you'll end up with light and fluffy pancakes. Kye@KAF
My family loves these waffles and pancakes, even our two non-gf kids. I've never had any trouble with it. As has been mentioned, don't use the scoop method of measuring your flour or it will be too dense. I either fluff and spoon or use a scale.
Recipe worked really well. I halved the recipe and weighed my flour. When I first mixed the batter it was very liquidy but it was perfect after 15-20 minutes.
The batter for these was so thin I had to add in more flour to thicken it up a bit and it hardly did anything. The taste was awful and they tasted like nothing. Absolutely nothing. So bad. Will not be making these again.

Sarah, we're sorry to hear this wasn't the right recipe for you, and we apologize for the poor results you experienced. We're wondering if perhaps you used another brand of gluten-free flour that absorbs liquid differently than the one used to develop the recipe, as that could have changed the texture. The batter should be relatively thin when made properly, which helps make waffles that stay crisp and pancakes that are fluffy. The flavor can always be bumped up by increasing the salt, sugar, or even adding a dash of vanilla if you like. We hope you find the right gluten-free pancake/waffle recipe for your taste preferences. Kye@KAF