A customized print-friendly version of this recipe is available by clicking the "Print Recipe" button on this page.
Gluten-Free Pumpkin Bread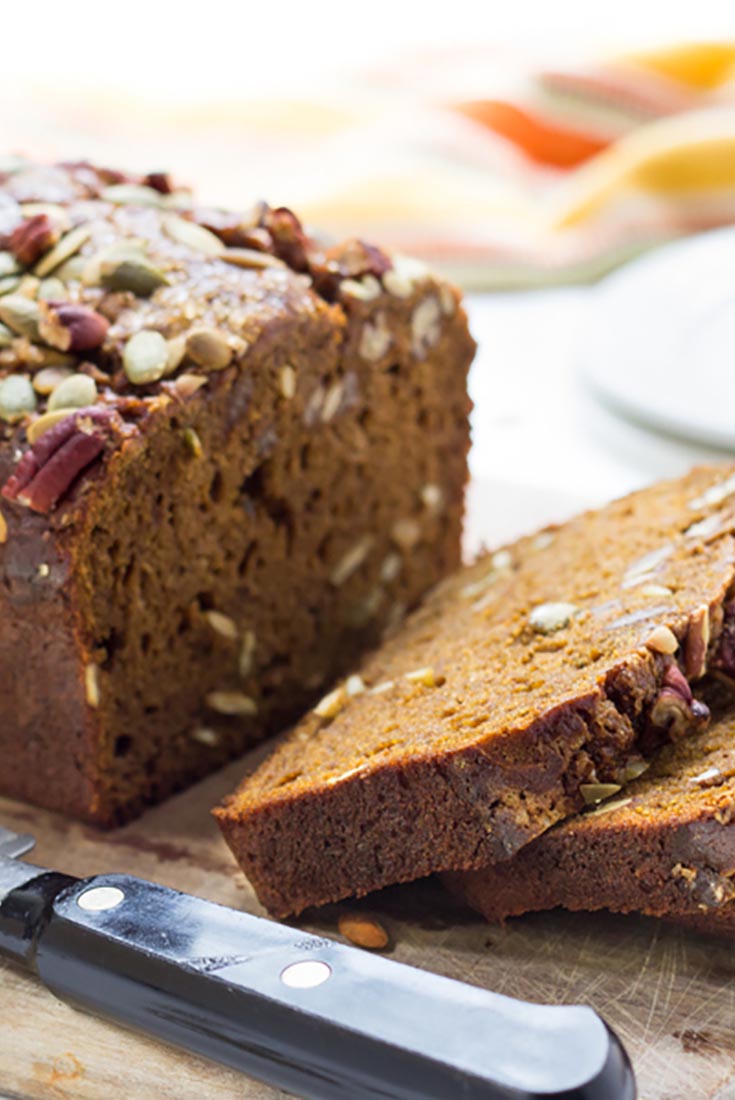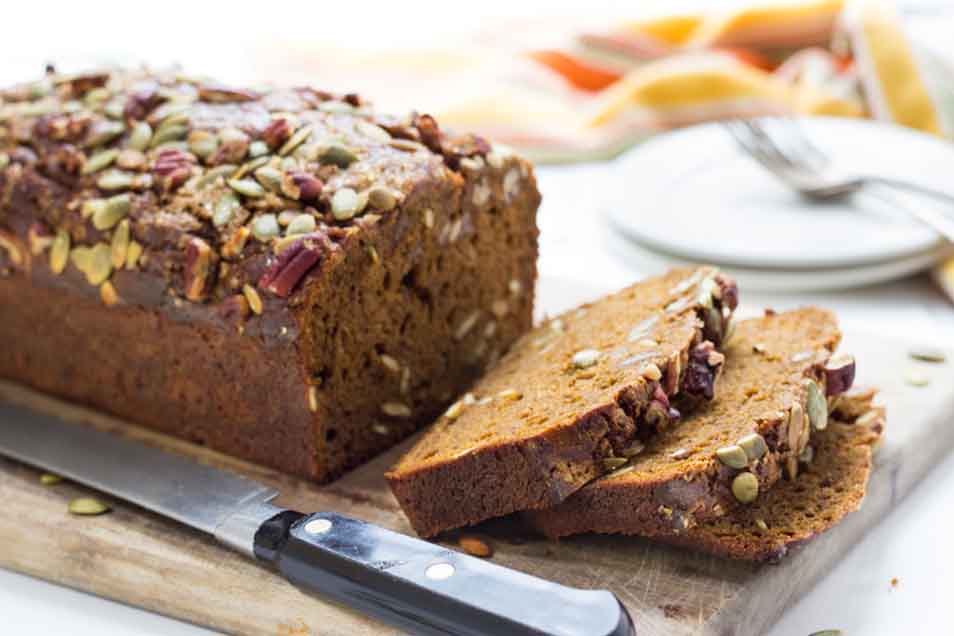 This moist, nicely spicy pumpkin loaf is so good, you'd never suspect it's both gluten-free and dairy-free.
Ingredients
4 large eggs
2 tablespoons molasses
1 can (15-ounce) pumpkin purée
1/3 cup vegetable oil
1 3/4 cups King Arthur Gluten-Free Flour or brown rice flour blend*
1 cup sugar
2 teaspoons baking powder
1/2 teaspoon xanthan gum
1/2 teaspoon salt
2 teaspoons pumpkin pie spice, or substitute 1 teaspoon ground cinnamon, 1/2 teaspoon ground ginger, and 1/4 teaspoon ground cloves.
up to 1 cup chopped nuts, chocolate chips, or other add-ins
*See recipe for this blend below.
Instructions
Preheat the oven to 350°F. Grease a 9" x 5" loaf inch pan.

Whisk together the eggs, molasses, pumpkin purée and oil. Set aside.

Whisk together the gluten-free flour or brown rice flour blend, sugar, baking powder, xanthan gum, salt, and pumpkin pie spice.

Add the egg mixture about half at a time, whisking until combined after each addition. Stir in any desired add-ins.

Scoop the batter into the prepared pan, and let it rest for 10 minutes. Sprinkle with sparkling sugar, if desired.

Bake the bread for 60 to 65 minutes, until the middle springs back when lightly touched and a toothpick inserted into the top-center comes out clean. Remove it from the oven and let it rest for 10 minutes before removing from the pan. Cool completely for easiest slicing.

Store, well-wrapped, at room temperature for several days; freeze for longer storage.

Yield: 1 loaf, about 18 servings.

*Make your own blend
Many of our gluten-free recipes use our King Arthur Gluten-Free Flour, which includes ingredients that reduce the grittiness sometimes found in gluten-free baked goods. Our flour also increases the shelf life of your treats, keeping them fresh longer.

The following make-at-home blend, featuring stabilized brown rice flour, works pretty well when substituted; and it tastes better than a blend using regular brown rice flour.

Whisk together 6 cups (28 1/2 ounces) King Arthur stabilized brown rice flour; 2 cups (10 3/4 ounces) potato starch; and 1 cup (4 ounces) tapioca flour or tapioca starch. Store airtight at room temperature. Note: You can substitute white rice flour for the brown rice flour if you like; it'll make your baked goods grittier (unless you manage to find a finely ground version).
Reviews
The texture of this bread was good, but there was something about the taste that I didn't enjoy. It may have been the molasses. Can't quite put my finger on it.

We'd love the chance to talk through the recipe with you, Melissa, so we encourage you to reach out to our free and friendly Baker's Hotline staff to help troubleshoot at 855-371-BAKE (2253). Hopefully, we'll be able to pinpoint the flavor you didn't enjoy so you can bake it again to better suit your tastes. Annabelle@KAF
This is my first time using King Arthur Gluten-Free Flour. I wanted to try gluten-free recipes before the holidays. Last year was a total bust with other gluten-free recipes for cookies. I followed the KA recipe as written using KA pumpkin pie spice mix and a clay rectangular bread loaf pan. First, I noticed the batter was more wet then sticky compared to my wheat flour recipes. Second, it wasn't quite cooked all the way to the center. The cake tester lied. Put back in oven for 5 more minutes. The outside was very dark brown turning black in a few areas. It was still wet in the center. Third, we cut around the wet section to consume. We were pleasantly surprised at the texture. The favor was right on target for pumpkin bread. We toasted a few slices to give more texture plus it helped get the feeling of the holidays while it was 120 degrees outside. Process improvement: Baking in muffin tins or mini loafs to solve the not cooked all the way to the center. Plus the smaller sizes are prefect for gift baskets. I would suggest this recipe to my family and friends as I have other King Arthur recipes. Does the 10 minute rest in the pan before baking help with flattening the top or does it have several reasons?

We're glad this recipe was enjoyed, Jena! The 10 minute rest allows for the batter to thicken up. It helps give it a stronger structure, and allows some of the grains to absorb water, leaving less of a gummy center. As you've noticed, gluten-free breads really have a batter rather than a dough, and it sounds like the muffin idea really fit the bill for your family — we love it! Annabelle@KAF
Made it with half the sugar, plus chopped cranberries and walnuts. Also added a half tsp of chopped fresh rosemary. Unfortunately, it wasn't quite cooked all the way to the center. (The toothpick LIED.) Still, it toasted up very nicely and was delicious. Next time, I want to try leaving out the pumpkin pie spice, adding the rosemary and walnuts, and perhaps baking it in muffin tins.
Absolutely delicious recipe,would recommend it to anyone.
One of my Favorite recipes! You know it's a hit when people say they can't tell it's Gluten Free! I follow the recipe exactly as written. I find in my oven it takes the full 65 minutes. (I do wonder if there is a specific temperature I should be aiming for.)

If you're testing for doneness using an instant read thermometer, the loaf should reach between 205 and 210°F when it has finished baking all the way through. Happy GF baking! Kye@KAF
I made this in 3 mini loaf pans, and it took about 45 minutes to bake, which surprised me, but the loaves rose high and were gorgeous! The taste is divine. I made it as written, except used 1 Tbsp. molasses and 1 Tbsp. honey, as I don't like the taste of molasses. I could not taste it at all (win!). Very easy recipe, and lovely as a gift.