A customized print-friendly version of this recipe is available by clicking the "Print Recipe" button on this page.
Gluten-Free Pumpkin-Spice Coconut Flour Pancakes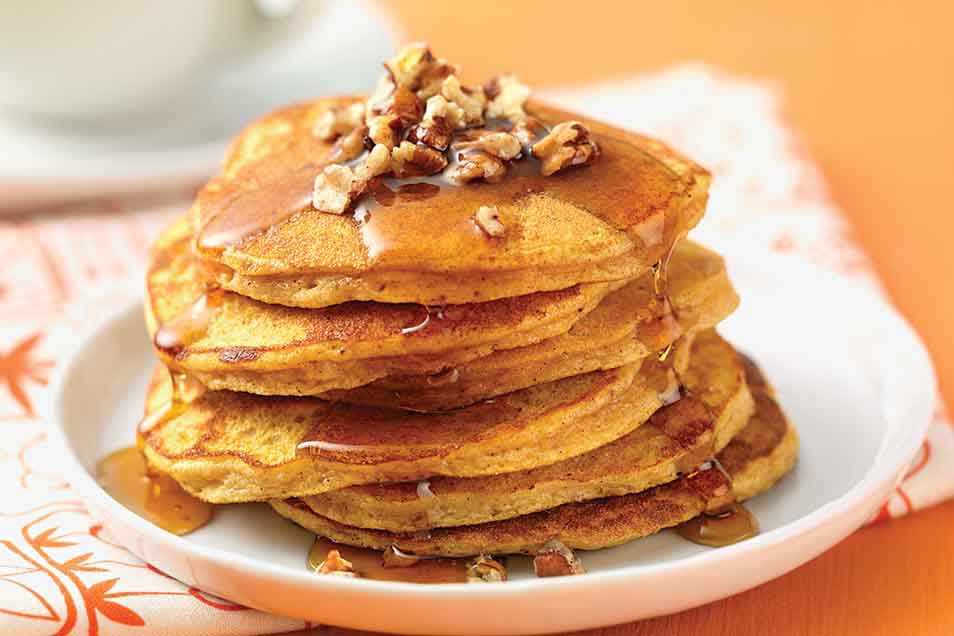 These gluten-free, grain-free, fluffy pancakes have the rich aroma of pumpkin and spice. They're tasty as is, but the option to add honey takes them over the top. Drizzle with maple syrup and sprinkle with toasted pecans for an extra-special treat.
Ingredients
2 large eggs
1/2 cup canned pumpkin
1/4 cup milk
2 tablespoons honey, optional but delicious
1 teaspoon vanilla extract
2 tablespoons coconut flour
1/4 cup whey protein
1/4 cup almond flour
1 teaspoon baking powder
1/2 teaspoon pumpkin pie spice; or 1/4 teaspoon ground cinnamon + a pinch each of ground cloves and ground ginger
1/8 teaspoon salt
1/8 teaspoon xanthan gum
Instructions
Whisk together the eggs, pumpkin, milk, honey, and vanilla extract until well blended.

In a separate bowl, combine the remaining ingredients and mix until thoroughly combined.

Whisk together the dry and wet ingredients until evenly moistened.

Heat a heavy frying pan over medium heat, or heat an electric griddle to 350°F. Generously grease the frying pan or griddle.

Drop the batter by tablespoonfuls onto the buttered pan or griddle.

Bake the pancakes on one side until the edges begin to dry, a few bubbles form on the surface, and the pancakes hold together. Gently turn them and cook the other side until firm.

Repeat with the remaining batter. Serve pancakes warm.

Yield: 14 to 16 medium (3") pancakes
Nutrition Information
Serving Size

1 pancake (25g)

Servings Per Batch

16
Amount Per Serving:
Calories

40

Calories from Fat

15

Total Fat

1.5g

Saturated Fat

0g

Trans Fat

0g

Cholesterol

25mg
Sodium

65mg

Total Carbohydrate

4g

Dietary Fiber

1g

Sugars

3g

Protein

2g
* The nutrition information provided for this recipe is determined by the ESHA Genesis R&D software program. Substituting any ingredients may change the posted nutrition information.
Tips from our bakers
These pancakes are more tender and fragile than conventional pancakes. Be sure to butter the griddle well. Also, make sure that it's not hotter than recommended, since the first side of the pancakes has to cook long enough, without burning or sticking, to tolerate being turned.
This batter thickens as it sits. You can add a little milk to thin it, but we recommend spreading the batter with the back of a spoon or ladle rather than over-thinning. Adding more milk tends to make the pancakes more fragile.
Reviews
3 stars because the flavor was very good. But I can't recommend the recipe because it was difficult to flip thesemaybe because the batter was thick and I thought they needed more liquid. Anyhow, yummy flavor but weird consistency.

It's true that baked goods made with coconut flour have a different texture than wheat-based treats; they're often more delicate and can fall apart more easily because coconut flour is naturally gluten-free. It helps to start with a skillet that's nice and hot to help set the pancakes, then turn down the temperature to let the batter cook all the way through. Only flip the pancake once it looks set in the center and you see lots of bubbles on the surface. Also try making the pancakes smaller than you might typically make your pancakes to make it easier to flip and handle the pancakes. We're glad you enjoyed the flavor! Kye@KAF
I think the failure was my part, but what should I have substituted? I did not have whey powder so I added an add'l 1/4 cup of flour. The pancakes were still mushy even though they had browned on both sides. In addition, they were quite thick.

Noreen, if you don't have whey protein powder, you can simply omit this ingredient. You're right in thinking that the additional flour was the reason why the batter was thick and the pancakes were mushy/doughy. We hope you give this recipe another try making this adjustment and find you enjoy the results. Kye@KAF
I am pleasantly surprised at how delicious these turned out, and I have tried MANY gluten free pancake recipes!! I will say, I didn't have the flour it called for, so I used sorghum flour instead. I also can't tolerate whey well, so I used collagen protein instead. It was a gamble, but I'm glad I did! I also did add some cinnamon to the flour mixture before whisking into wet ingredients. Cooked on a griddle with coconut oil. Drizzled with honey to eat. Delicious!
Made these pancakes this morning. I liked that they could be whipped up in about the time it took to prepare a cup of my morning tea. I used coconut milk beverage for the milk, and used an all-purpose gluten free flour mix for the whey. The flour mix already had xanthan in it so I didn't add anymore. I scooped out heaping tablespoons of the mixture on a hot, well oiled griddle. If they are too large, they will be more difficult to turn. We ate these with butter, maple syrup, whipped cream and toasted pecans. Delish!
5 stars. Instead of whey powder I used Purium L.O.V.E. (it's organic non-GMO meal replacement), I also used half the almond flour and added more coconut flour. My reason for this was almond flour is very heavy on my tummy. I also added about 1 Tbl. Brown sugar. I don't think what did changed the taste much at all, the pumpkin was mild and yummy with pure maple syrup on top, just a little. I was very impressed as I'm not a health nut. ;)
I made these for breakfast today and the kids gobbled them up!! My 5yr old said these are the best! I used coconut milk and subbed KAF gf all purpose flour for whey protein ( 1/4 cup ). I also added more cinnamon, ginger, and clove - to make it more of a pumpkin pie flavor. I cooked them in coconut oil instead of butter. Mine did not look as pretty as the picture but the kids didn't mind (the dog even cleaned up what fell on the floor.) Thank you for adding the bakers tips - they are really helpful!

Even your dog likes gluten-free?! We will take this as a compliment that everyone is your household is eager to taste these sweet and flavorful (and healthy!) pancakes. Gluten-free breakfast treats for all! --Kye@KAF
Thank you for answering the butter question! Now one more question: what does the whey powder do for the recipe? Is this the same as the whey protein powder I located in the health section of the grocery store? I made the pancakes without the whey powder and they received rave reviews from my children! They declared these pancakes the best gluten-free creation I have ever made. I thought they were still a bit soggy, but better than most gluten-free attempts. I served the pancakes with maple syrup, chopped pecans and whipped cream... super tasty!

They whey powder adds protein. It helps structure the pancakes. It also absorbs some of the recipe's liquid. The whey powder you saw in the grocery store is the same whey we use. If you don't want to use the whey powder, you might try adding 1/4 - 1/2 cup of a gluten-free flour - sorghum, potato, or a multi-purpose blend. This should help make your pancakes less soggy in texture.~Jaydl@KAF
Butter is mentioned in the instructions, but not the ingredient list -- could you please note how much butter is suggested? I am guessing it is supposed to be melted, but please specify. I am looking forward to trying these! Thank you!

Hi there!The butter in the directions was actually removed from the recipe so the only butter you would need would be just a little on the griddle to prevent sticking. Happy baking and I hope you enjoy these delicious fall GF pancakes! Jocelyn@KAF