A customized print-friendly version of this recipe is available by clicking the "Print Recipe" button on this page.
Gluten-Free Red Velvet Cake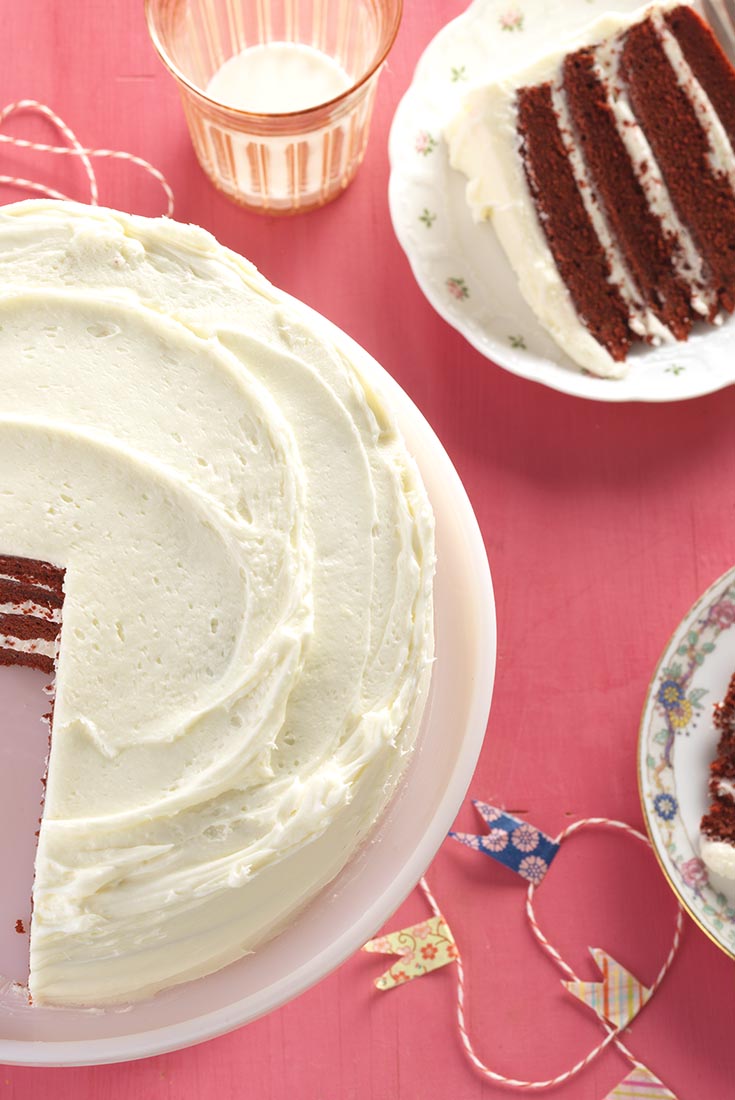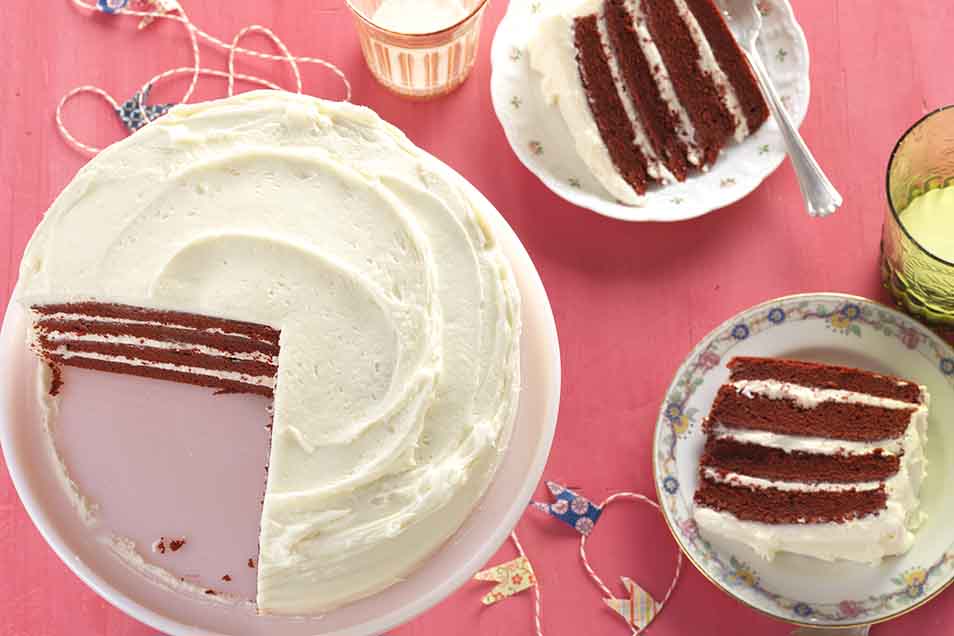 These colorful layers of Southern tradition with hints of citrus and chocolate boast a rich cream cheese frosting. Our gluten-free baking fans may finally hop on the red velvet bandwagon!
Ingredients
Cake
one box King Arthur Gluten-Free Yellow Cake Mix
1/4 cup cocoa powder
1/2 cup butter, softened
4 large eggs
2 tablespoons vegetable oil
2/3 cup milk
2 tablespoons red velvet cake flavor
Frosting
Instructions
Preheat the oven to 350°F. Grease the bottoms of two 8" or 9" round pans.

Pour the cake mix into a bowl and sift the cocoa powder into the mix. Whisk thoroughly.

Beat the butter, then add half the mix. Blend on low speed until the mixture is crumbly.

Add the eggs one at a time, beating for 12 to 14 seconds between each addition. Stir in the oil.

Add 1/3 of the milk at a time alternately with 1/3 of the dry mixture, blending on medium-low speed for about 7 seconds in between additions. Add the red velvet cake flavor, stirring just until blended.

Divide the batter between the two pans (8" pans will give you thicker layers).

Bake the cakes for 35 to 40 minutes, until the middle of the cakes feel firm when pressed. The internal temperature should reach 212°F.

Remove the cakes from the oven and allow them to cool on a rack for 10 minutes. Run a thin spatula or knife around the edge of the cakes, then turn them out of the pans to cool completely on the rack.

Fill and frost cooled layers with Cream Cheese Frosting.
Tips from our bakers
Note: Thanks to you, our readers, we retested this recipe as of May 2016, and as a result have added 2 tablespoons vegetable oil to improve the cake's texture.
Reviews
This was fantastic! I made two 9" rounds with this recipe and then made a half recipe 9" cheesecake and put it in the middle.
One word... AMAZING!!!!!!!!!!!!!!!
My family enjoyed this cake very much. I had never made a red velvet cake, nor had the ones I tasted were very good. However this was an outstanding cake everyone enjoyed. I added dutch-processed cocoa and used buttermilk. I also added some red food coloring. Everyone loved it, especially my gluten-free husband!
My baking experience tells me that when you add dry cocoa powder to a cake mix, you have to increase the liquid fat. The Gluten Free Yellow Cake Mix calls for all the same ingredients as this recipe, PLUS 2 TABLESPOONS OF OIL. I am not sure if they left out the oil on this recipe accidentally, but I made the cake as suggested in this recipe and added the oil (and used 3 tablespoons instead of 2 to accommodate the cocoa) with the butter as suggested on the back of the cake mix box. My cake turned out perfectly; moist and not dry, delicious flavor. I have used the Gluten Free Yellow Cake Mix frequently, and on its own is a wonderful product; the results are always flawless and you honestly can't even tell it's gluten free. I think you could add the Red Velvet Emulsion to the Gluten Free Chocolate Cake mix (following the box directions and just adding 2 tablespoons of emulsion at the end of blending), but you may not experience the same color effect as using this recipe as the chocolate cake mix is much darker brown. I can not comment on the icing, as I wanted to pipe icing and used a different recipe specifically for piping cream cheese frosting. I do highly recommend this recipe, King Arthur's Gluten Free Yellow Cake Mix, and the Red Velvet Emulsion, but strongly suggest adding 2-3 tablespoons of oil or the result will likely be quite dry.
Andiette, you make a very interesting point. I will pass on your suggestions to the test kitchen and see if oil needs to be added to this recipe. Barb@KAF
Very cardboard taste, spongy, running frosting, did not taste good at all...sorry KAF. I have been baking a long time using your all purpose flour from cakes to breads and muffins and always very successful but using your yellow cake mix was not a very pleasant experience.
While we'd like to transition effortlessly from wheat based baking to gluten free there is some adjustment there, especially in keeping quality of gluten free baked goods. We notice there is a wide range of review stars for this recipe and appreciate our customer/baker honesty. Irene@KAF
I believe kaf should try to come out with a better way of making a new and much better tasty and moist free gluten red velvet cake recipe. Maybe if kaf makes the cake from scratch, experimenting using the traditional ingredients with a twist substituting the regular flour and the baking soda since those are the main ingredients that need to be changed. I'm very surprised that kaf hasn't come out with a better recipe for this cake after most of the reviews are not as good as they should be. KAF should at least listen to all customers opinion and not give us the third degree and calls us culprits, after trying their horrible recipe. KAF should at least suggest that they try to come out with something new.
We certainly did not mean to imply that bakers were culprits, rather that ingredients or method can be the culprits in recipe disappointments. We've forwarded your suggestion to develop a GF red velvet cake from scratch that uses ingredients rather than a cake mix. In the meantime, happy gluten free baking! Irene@KAF
I was really hopeful after reading the reviews and consulting the blog for recipe revisions. My husband thought it was red velvet sponge cake with runny cream cheese frosting/drizzle rather than cream cheese frosting. Up to me the whole thing hits the garbage can but he is calling it sponge cake with cream cheese drizzle and calling it good. It was a disappointing birthday cake for sure...spongy texture and the frosting recipe was runny.
There are multiple culprits here - like mixing time or method for the cake, as well as the range of liquid and dry ingredients for the cream cheese frosting. To rid those culprits, it may be best to call the Baker's Hotline (855-371-2253) so we can problem solve in person. Working together, we'll get you back to happy baking. Irene@KAF
I made this for a 21st birthday party and it was awful! The texture was dry yet rubbery. The Red Velvet add made it red but that buttermilk flavor wasn't there. Everyone scraped off the frosting and threw the GF sponges away. If I haven't had success with other KAF GF mixes I would not buy from them again. So sad I made a horrid 21st birthday cake : (
We're sorry to hear that the recipe did not work out for you. Please contact our hotline and we'll be happy to help troubleshoot.
what did I do wrong, it was very dry and dense?
To better understand what went wrong, I recommend calling up the Bakers Hotline (802-649-3717) or chatting with us on the Bakers LiveChat. It sounds like it baked too long, but there might have been an issue with mixing up the batter if it turned out dense. Best, Kim@KAF

The cake was dry, not sure what I did 'wrong' as I followed the recipe. Disappointing as other recipes were great.
I'm sorry for the difficulty. Were you using a dark metal or glass pan? If so, the temperature of the oven would need to be reduced by 25°. The best way to monitor a gluten-free cake is to check the internal temperature and pull the cakes right when they reach 210°. ~Amy